It can be tough sifting through the avalanche of headphones on the market when trying to find the best studio headphones. In this article, we unpack the best studio headphones and some tips and tricks to consider when purchasing. We've tried to make this article as comprehensive as possible, with options in the budget range and high-end studio headphones.
The DT 770 PRO is comfortable and sounds exceptional. As a 250-ohm studio headphone, they produce a detailed and clear sound capable of producing high SPL with zero distortion.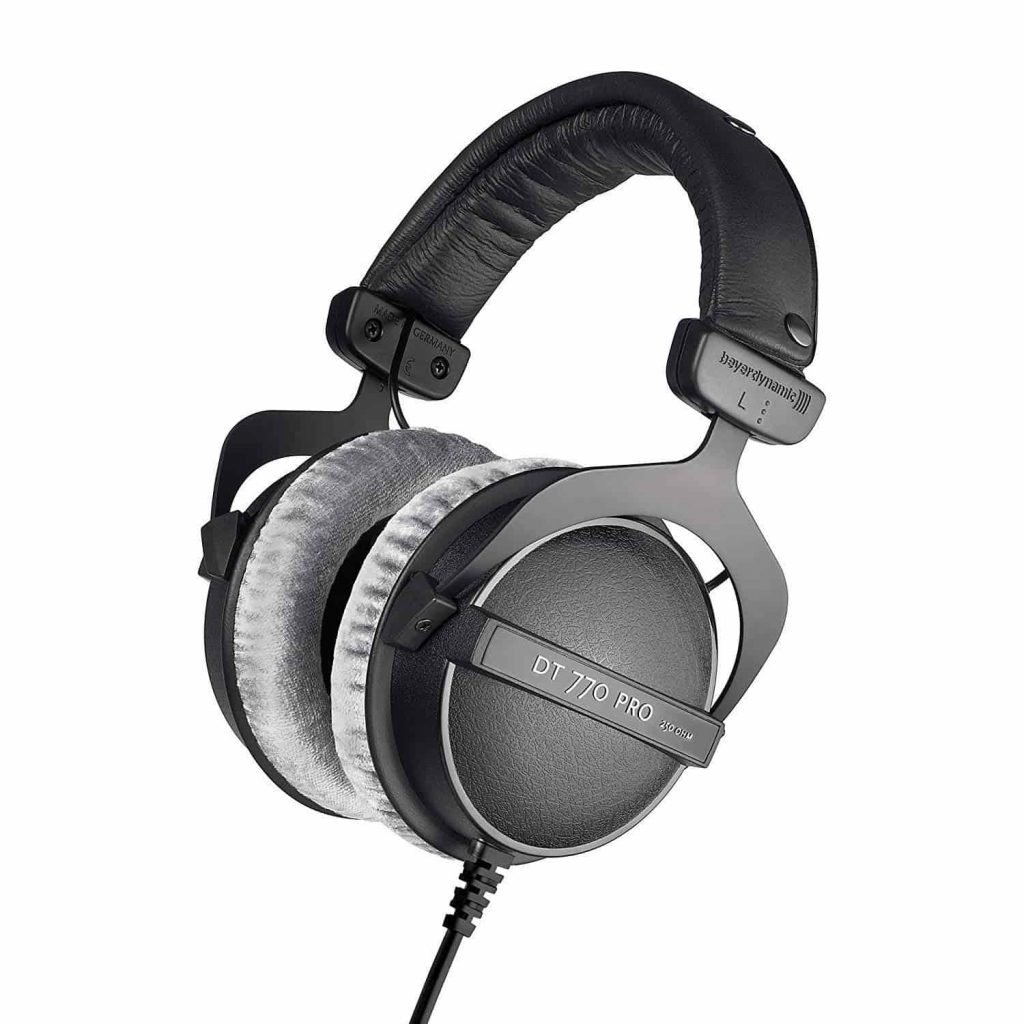 Best Studio Headphones Under $100
The Status Audio CB-1 and the AKG K240 STUDIO are the cheapest studio headphones at around the same price point. I recommend the AKG over the CB-1 as it offers a semi-open-back design with slightly improved audio quality.
Best Studio Headphones Under $200
Most studio headphones featured in this article sit within the $100 – $200 price range. I recommend Beyerdyanmic's DT 770 PRO, which I find to be the best balance of quality and cost. These are high-impedance headphones that offer excellent sound quality for the price.
Best Studio Headphones for Recording
Either the Sennheiser HD280 PRO or HD380 PRO would be my first choice. Both of these headphones offer exceptional isolation with a 32dB passive attenuation. Both are comfortable too, which is important as it allows the artist to focus on their vocals or instrument.
For drummers, I would prefer the Beyerdynamic DT 770 PRO with a headphone preamp. These headphones deliver a nice chunky bottom end with enough power and detail for the drummer to hear separation in the guide track or audio signal.
Best Studio Headphones for Mixing
If you like to mix in your cans, then the Beyerdynamic DT 770 PRO or Sennheiser HD380 PRO would be your best choice. Remember, the DT 770 PRO is a 250-ohm headphone and requires a professional audio interface or sound card, so if you're mixing on your laptop, you might want to go for the Sennheiser HD280/380 PRO.
1. Beyerdynamic DT 770 PRO Studio Headphone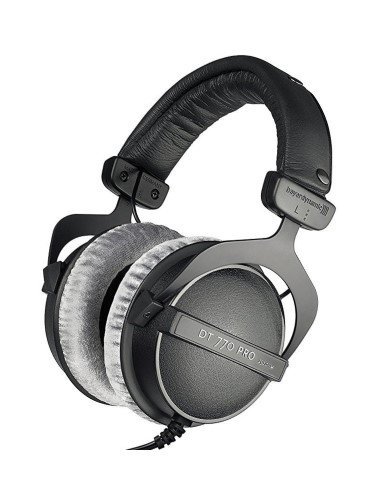 The DT 770 PRO from Beyerdynamic is one of the few headphones available in three different impedance ratings. This means that no matter which device you're using, you can find a pair of DT 770 PRO to match your device's output. The model we are most interested in for the studio is the 250-ohm version – suitable for mixing consoles and professional audio interfaces.
The DT 770 PRO is one of the most comfortable studio headphones on the market. The ear pads are a soft, comfortable memory foam with the ear cups sitting comfortably over the ear. The memory foam is lined with a soft fabric rather than PU or genuine leather. This means your ears don't get hot when listening for extended periods. The headband sits comfortably over the head with a similar memory foam with a leather lining.
Both the headband and ear pads can be easily replaced. The headband is secured by four press studs, so it's as easy as unbuttoning and replacing them – much easier than most headband replacements.
The DT 770 PRO 250 ohm sound exceptional. If you're a person who likes to mix in your headphones, then the detail and clarity are exactly what you're looking for. The bass is well defined and punchy, the mids are detailed and clear while the highs are bright, without being harsh. The headphones operate at high volumes with zero distortion. Beyerdynamic has done a great job of getting a balanced, flat mix for the DT 770 PRO.
The DT 770 PRO 250 ohms comes with a standard 3.9ft – 9.8ft coiled studio cable with a threaded ⅛ inch connector. Beyerdynamic also provides a ¼ inch adapter for professional audio equipment.
One thing to keep in mind is that the DT 770 PRO doesn't fold up. So they're not the easiest headphones to fit into a laptop bag or small backpack. So if you travel from studio to studio a lot, you might want to get a small carry bag to protect your DT 770 PRO. Beyerdynamic does, however, provide a drawstring carry bag.
Also available are the 32 ohm and 80-ohm models. The 32-ohm DT 770 PRO is perfect for small devices like mobile phones, MP3 players, and tablets. The 80-ohm model is a better option if you plan to use your headphones with guitar amps, laptops, PCs, keyboards, and similar devices. While the 80 ohms DT 770 PRO will work with mobile devices, you won't get a significant amount of volume from these smaller devices.
Both the 32-ohm and 80-ohm versions of the DT 770 PRO come with straight cables, as opposed to the coiled cable that comes with the 250-ohm version.
Beyerdynamic DT 770 PRO Studio Headphone Conclusion
If your headphone budget is around $200, then the DT 770 PRO 250 ohms is an excellent investment. The headphones are comfortable and sound exceptional. As a 250-ohm studio headphone, the DT 770 PRO produces a detailed, clear sound capable of producing high SPL with zero distortion. The DT 770 PRO is not very compact for traveling, but this can be easily fixed with an inexpensive softshell carry case.
2. Audio-Technica ATH-M50x Studio Headphones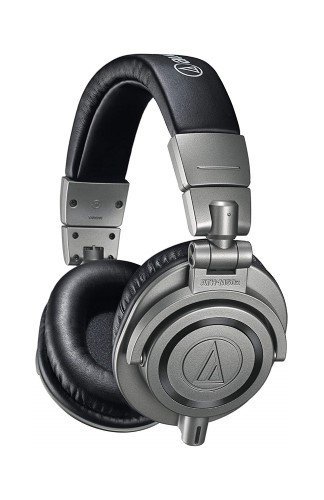 The previous model – the Audio-Technica ATH-M50 was, for the longest time, a closed-back headphone favorite among musicians and studio engineers. The headphones sound excellent with an affordable price tag. The ATH-M50x is now the latest version of these acclaimed studio headphones. So what's changed?
Those who are familiar with the ATH-M50 might be inclined to believe there is no difference between the ATH-M50 and ATH-M50x. While the headphones look identical, there have been some sonic changes. The ATH-M50x is warmer and not as bright as its predecessor.
Bear in mind, that this is not a night and day adjustment. Only the slightest change to refine the headphone's audio profile. The result is that a good headphones just became exceptional.
The ATH-M50x deliver a warm, defined bottom end with detailed clarity across the entire frequency spectrum.
The ATH-M50x is one of the most comfortable studio headphones on the market. The ear cups swivel 90° (in both directions, effectively 180°), which means they sit comfortably around the shoulders or rest flat on a table or surface. The ear cups on the ATH-M50x also fold independently, making single-ear listening more comfortable than ever. This is especially great for DJs.
The ATH-M50x is an over-ear headphone with a very comfortable fit. The ear pads have also received an upgrade, making them softer and more comfortable than the ATH-M50. The headband is also well-padded, adding to the comfort. This is great for extended studio sessions which require long periods of listening on headphones.
The ATH-M50x comes with three detachable cable choices; a 3.9ft straight cable for mobile devices, a 9.8ft straight cable, and a 3.9ft – 9.8ft coiled cable. Having these three options makes the headphones versatile for any application. The connector at the headphone is twist-lock to ensure the cable doesn't pull out accidentally.
The headphone impedance is 38 ohms which means your mobile device won't have any issues driving the ATH-M50x efficiently at any volume.
The ATH-M50x comes in a softshell protective case for storage and safe travel. There is a pouch inside to store all your cables and any connectors. The headphones fold up to be really compact, making them easy to fit inside a laptop bag or even a small backpack.
Audio-Technica ATH-M50x Studio Headphones Conclusion
If you're looking for versatile headphones for studio use or general listening, then the ATH-M50x will be a great choice. The headphones offer a decent amount of isolation which is good for both studio and travel. The three cable options make the ATH-M50x perfect for any application or device.
At under $200 the ATH-M50x is one of the most affordable professional studio headphones on the market. The ATH-M50x is also available in four color options: black, gunmetal, blue, and white.
3. Sony MDR-7506 Stereo Professional Headphones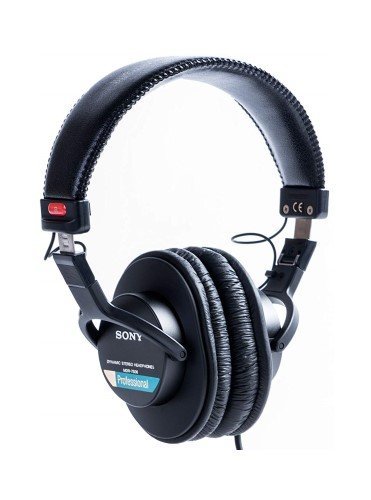 The Sony MDR-7506 has been a popular choice for a little over 2 decades. Not many electronic products can make this claim, especially with zero changes to the product since the first release!
The headphones offer impressive sound detail and clarity with the ability to push 106dB, making them popular with audio professionals, musicians, and DJs. The MDR-7506 is the perfect example of a no-frills, exceptional sound quality headphone most engineers and DJs look for.
The only sticking point, over the years, has been the uncomfortable ear pads that come standard with the MDR-7506. However, this is a minor flaw as there are earpad replacement options available on Amazon.
The sound profile of the MDR-7506 is flat with the slightest dip in the bass. While the bass is solid and defined, it does lack a little bit of weight. This, however, isn't too much of an issue and is obviously not a big influence on people choosing to purchase the MDR-7506 as at 20+ years, they have certainly stood the test of time!
If you like the sound of the MDR-7506, but the lack of bass puts your off, then consider the MDR-V6. Both headphones look and sound identical, except that the MDR-V6 produces a chunky, more defined bottom end. So the obvious choice, if you require a better bass response, would be the Sony MDR-V6.
The MDR-7506 feature an impedance of 63 ohms, which means it can be driven efficiently by any output, including mobile devices. The cable is a fixed 3.9ft – 9.8ft coiled cable with a fixed ⅛ inch connector – which comes with a threaded ¼ inch adapter. The cable is fairly bulky, which is fine for the studio, but you wouldn't want to travel or use these headphones on the road.
Although made of plastic, the MDR-7506 is extremely rugged and durable. They will definitely survive a few drops, bumps and scratches without damage. So if you are prone to breaking headphones, the MDR-7506 come with an affordable price tag built to last. Having said that, you probably wouldn't want to test this theory.
Sony MDR-7506 Stereo Professional Headphones Conclusion
The Sony MDR-7506 is an excellent choice for beginners to professionals. The headphones are affordable, offering premium sound quality and durability. The 106dB sensitivity makes these headphones popular for DJs who require clarity and volume for mixing in loud environments. Studio engineers and musicians will love the MDR-7506 because its flat sound delivers a true audio reference.
4. Beyerdynamic DT 1990 PRO Studio Reference Headphones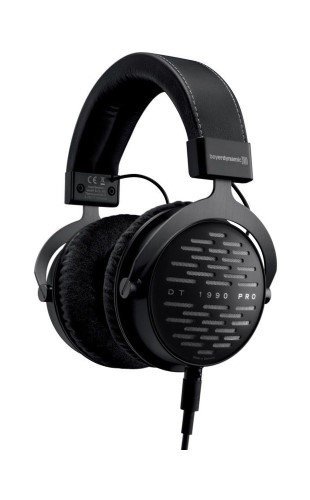 The Beyerdynamic DT 1990 PRO Studio Reference Headphones is one of Beyerdynamic's most popular premium headphones. The headphones are built to a standard that you'd expect from a premium headphone, without being flashy or over the top. Just good quality – with the right details in all the right places.
The frame and ear cups are made of metal, giving the DT 1990 PRO a premium, professional look.
The DT 1990 PRO is an over-ear, open-back headphone. The fit is extremely comfortable, and you can easily wear these headphones for extended periods without experiencing any discomfort. For this reason, the DT 1990 PRO is also favored by broadcast engineers, who are often required to wear headphones for hours on end.
The open-back gives the DT 1990 PRO an exceptional spatial sound with a wide, detailed soundstage. This enables the user to hear crystal clarity across the entire frequency range, particularly on the bottom end, which is prone to the coloration on closed-back headphones.
The highs are clear and bright without being harsh. The midrange has excellent separation from the lows and highs with exceptional detail and clarity. The bass is punchy with a nice round bottom-end sound. There does appear to be a slight drop off in the sub-bass range, but this is minimal and shouldn't have any effect on a final mix.
The DT 1990 PRO comes with a 4.2ft – 16.4ft coiled cable and a 9.8ft straight cable. Each has a mini XLR (3-pin) connector which inserts into the headphone for superior connection and ensures the cable won't pull out unless you physically release them.
The DT 1990 PRO is a 250-ohm headphone so it will require a professional audio interface or sound card to drive the headphones efficiently.
With your DT 1990 PRO, you also receive two sets of ear pads. The headphones come fitted with the neutral ear pads, which deliver a sound as the manufacturer intended, while the second pair is what Beyerdynamic calls – the analytical pads.
These pads have more holes around the outside which allows for a brighter, more detailed sound. The neutral pads have the tiniest amount of attenuation on the highs, and the overall mix sounds a little tighter.
Beyerdynamic DT 1990 PRO Studio Reference Headphones Conclusion
If you're looking for premium studio headphones with exceptional detail and clarity, then the DT 1990 PRO is an excellent choice. At a little under $600, the DT 1990 PRO isn't what you would consider a cheap headphone. However, you absolutely get value for your money. The DT 1990 PRO is made in Germany, and the German craftsmanship is certainly apparent.
The Beyerdynamic DT 1990 PRO is for established studio engineers looking for a headphone for professional mixing. Having said that, if you're a beginner or have a home studio, then the DT 1990 PRO will be an excellent replacement for studio monitors.
5. Sennheiser HD280 PRO Headphone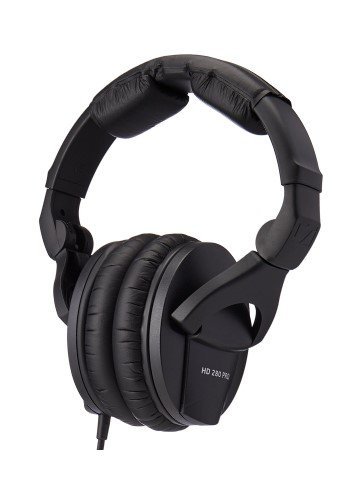 The Sennheiser HD280 PRO recently received a slight upgrade – the new model has slightly bigger ear pads with more comfortable memory foam. The padding over the head is much thicker – also with a softer, more comfortable memory foam. The result is ultra-comfortable studio headphones you can wear for hours without discomfort.
The HD280 PRO has been a long-time favorite for educational institutions and entry-level engineers/ producers. The headphones offer exceptional sound at an affordable price. The bass is defined and punchy, a great bass sound no matter what genre you're working with.
The mids and highs are clear with excellent clarity and detail – a really exciting headphone to listen to and work with. The balance Sennheiser has achieved with the HD280 PRO is incredible, especially considering they retail for under $100.
Like the HD380 PRO, the HD280 PRO features a large ear cup with a 32dB passive attenuation. This means that you can focus on the detail within the mix. Good for home studios where your mixing room might not be as isolated as a professional studio – making them great for beginners as well.
Another reason to love the HD280 PRO is that you can replace just about every element of these headphones. The headband and ear cup replacements can be ordered online and replaced at home in a matter of minutes. The fixed cable can also be replaced, although this requires a little more effort. Sennheiser provides full instructions on their website, as well as the user manual for this.
If you're unsure about opening your headphones, you can also always get a professional to do it. Many music stores or professional audio stores have a service center for things like this.
The HD280 PRO comes with a fixed 4.2ft – 9.8ft coiled cable. This is pretty standard and perfect for moving around the studio. There is a threaded ⅛ inch connector, and Sennheiser supplies you with the ¼ inch adapter.
The HD280 PRO features a 64-ohm impedance which means it will work on all outputs, including mobile devices.
The headphones are collapsible, making them ultra-compact for travel. The HD280 PRO doesn't come with any pouch or case, but you do have the option of purchasing a Gater case combo when purchasing on Amazon.
Sennheiser HD280 PRO Headphone Conclusion
There are a couple of reasons why so many schools and universities prefer the Sennheiser HD280 PRO for students. The first being the headphones are affordable. There are no other studio headphones under $100 that offer the same sound quality. In fact, regarding sound quality, you'll probably find the HD280 PRO will surpass many brands double or even triple the price.
Secondly, the HD280 PRO can be repaired easily by replacing the headband padding, ear pads, and cable. This prolongs the life of the headphones, further adding to the value these headphones offer.
Having noted that these are great for beginners, even established professionals will love the HD280 PRO. The sound is perfectly balanced and accurate for headphone mixing. The HD280 PRO will also be great for recording as there is no risk of coloration due to the headphone's superior isolation.
6. Shure SRH440 Professional Studio Headphones
Shure is another trusted name in professional audio. Just about every studio and live production company will have at least one Shure microphone in stock. Generally, Shure products sound great and are built to last. The Shure SRH440 Professional Studio Headphones are no different.
The Shure SRH440 is an over-ear headphone with soft memory foam covered in PU leather. The headband is similar to memory foam with the same pleather covering. The headphones sit comfortably on the head with very little fatigue when worn for extended periods.
As expected, the Shure SRH440 produces a clear, accurate sound perfect for studio monitoring. The headphones produce a balanced, flat response which means the SRH440 can be used for tracking and mixing.
The SRH440 produces a clear soundstage which allows you to reference exceptional detail across all frequencies. Great for critical listening and playback.
The SRH440 comes with a detachable 3.9ft – 9.8ft coiled cable with threaded ⅛ inch connector. Also included is a ¼ inch adapter for professional audio equipment. All connectors are gold-plated for superior connectivity. The ⅛ inch connector, which inserts to the ear cup, features a twist-lock mechanism to prevent the cable from pulling out accidentally.
The SRH440 is a 44-ohm headphone, which is compatible with any output including mobile devices.
Replacement cables are available from Shure's website and a 10ft straight cable is also available.
Shure SRH440 Professional Studio Headphones Conclusion
The Shure SRH440 is another great headphone available for under $100. The balanced sound means you can achieve accurate results when mixing on the Shure SRH440. Although plastic, the SRH440 is exceptionally well built and durable. These headphones will survive some abuse and even travel well. The SRH440 fold up to be ultra-compact and come with a drawstring travel case.
7. AKG K240 STUDIO Semi-Open Studio Headphones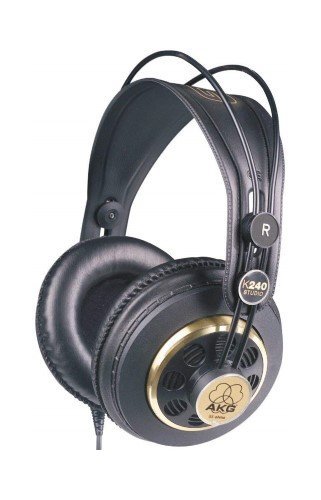 The AKG K240 STUDIO has a long legacy, dating back to the original K240 MONITOR, which first came out in 1975. The original was designed and manufactured in Austria, while the STUDIO is now built in China. The build is lightweight yet rugged, and the headphones can be twisted and stretched with enough flexibility for the normal stresses and strains of wearing headphones.
The first thing you'll notice is that the K240 STUDIO is an extremely light headphone. The build is primarily plastic, with soft memory foam ear pads. The headband is spring-loaded via a pulley system rather than the usual padding.
The result is pretty comfortable, as you don't have any weight or pressure over the head. A feature that will be appreciated for extended listening. The over-ear fit is comfortable on the ears too.
As a semi-open headphone, the K240 STUDIO gives a detailed soundstage with enough of an open-back to allow the low-end to pass through the rear of the headphone. While the sound isn't as exceptional as a full open-back headphone, the sound quality is decent, especially for a headphone listed at under $100.
The frequency range on the K240 STUDIO is well balanced. I've chatted to a couple engineers who use these headphones for fixing, and the results they get are good. When switching over to their studio monitors, they do need to make a few adjustments, but for the most part, the mix is close to what they get on their monitors. Which again (for the price) is impressive.
The K240 STUDIO comes with a 10ft straight cable. The cable is detachable and connects to the headphone via a mini XLR (female 3-pin) connector. This holds the cable in place without the risk of pulling out. You can also get this type of cable made up relatively easily and most audio or music stores will stock or make this cable up for you too.
The cable has a threaded ⅛ inch connector with ¼ inch adapter. AKG uses a copper cable that is 99.99% oxygen-free with gold-plated connectors for better signal flow.
The K240 STUDIO is a 55-ohm headphone, so it can be used on any output – including mobile devices. The K240 STUDIO is non-foldable, so it probably won't be the best headphones for travel.
AKG K240 STUDIO Semi-Open Studio Headphones Conclusion
The AKG K240 STUDIO is an affordable semi-closed studio headphone perfect for home studios or students. While the sound is accurate, the K240 STUDIO doesn't quite reach audiophile status. These headphones will also be great for DJs looking for an affordable pair of semi-open headphones. While the AKG K240 STUDIO may not be the best studio headphones under $100, they are certainly great value for money.
8. Status Audio CB-1 Closed Back Studio Monitor Headphones
The Status Audio CB-1 Closed Back Studio Monitors are a no-frills headphones designed for exceptional sound rather than build and aesthetics. Status Audio focuses on two niche headphones, which are only available online via their website or on Amazon – a tactic to keep their price low.
Status Audio uses cheaper parts for the physical build while investing more in internal electronics to create a great-sounding budget headphone.
Although the CB-1 is a budget studio headphone, Status Audio has been generous with the padding on the ear cups. The pads feature a thick foam with soft PU leather cover. The ear cups are some of the largest on the market and should easily fit over most ears comfortably.
The headband is also well padded, offering great comfort and support. The CB-1 can easily be worn for extended periods without much fatigue. Definitely, a thumbs up for comfort.
For under $70 the CB-1 sounds surprisingly good. I'd say it's a great-sounding headphone in the under $100 range. You generally don't expect anything spectacular regarding budget headphones, so it's incredible that the CB-1 sound as good as they do. The CB-1 sound is very close to the Audio-Technica ATH-M50x with the latter offering only slightly more definition and clarity.
The CB-1 would definitely work for headphone mixing with only slight adjustments needed when switching over to studio monitors.
The Status Audio CB-1 comes with two detachable cables. The first is a standard 3.9ft – 9.8ft coil cable, and the second is a 9.8ft straight cable. Each cable plugs into the ear cups with a twist lock mechanism, so the cable can't be pulled out by mistake. Both cables have a threaded ⅛ inch connector which enables you to fit the ¼ adapter if needed.
The CB-1 is a 32-ohm headphone that will work with any output, including mobile devices. At higher volumes, the CB-1 does start to distort, but this is to be expected from budget, 32-ohm headphones.
The build quality isn't the strongest, and this is where the Status Audio CB-1 doesn't win. Status Audio has put all the budget into the internal electronics, which means the CB-1 is not the most durable headphone. Twist or bend too much, and the CB-1 will break much easier than other headphones in this article.
The earpads are also easy to pull off but difficult to reattach. So if you're prone to breaking things, these might not be the headphones for you.
Status Audio CB-1 Closed Back Studio Monitors Conclusion
If you're looking for a cheap headphone that still produces a great sound for headphone mixing and referencing, then the Status Audio CB-1 is a good choice. Where Beats have produced a durable, high-quality build but not-so-great sound with the Beats Pro, Status Audio has built a cheap headphone that sounds good.
The CB-1 will be great for beginners and students looking for a good-sounding, cheap headphones. As the CB-1 is a cheap headphone, it may be a good option if you need to buy a few pairs of studio headphones for recording sessions with multiple musicians.
Even though the CB-1 folds up to be compact for travel, I would only purchase these headphones to leave in the studio. Accidentally leaning, sitting on or dropping these headphones could damage or break them.
Buyer's Guide – Studio Headphone Features to Consider
It's important to understand the metrics we have considered when making our product selections. There are some key factors and features you need to consider so you don't end up with a pair of headphones that could have a detrimental impact on your final mix.
Non-Bias Response
Essentially, finding a studio headphone is pretty simple. You want a headphone that produces a non-biased, flat response. What does this mean exactly?
The biggest headphone frequency bias is a bass boost, made popular by brands like Sony and Beats. While these might be great for listening (if you're a bass head), they aren't acceptable for studio mixing. Even if the music is bass-heavy like urban or dance genres. For the studio, you're after a flat-sounding headphone. Why? Because you need to hear an accurate representation of the track you're tracking or mixing.
If you decide to mix on bass-heavy headphones, you'll have so much bass you'll likely reduce the bass EQ on the mix. If you attenuate the bass to match bass-heavy headphones, when you switch to normal headphones or speakers, the bass will more than likely be lower in the mix.
Mixing on a flat headphone will allow you to EQ and balance each track appropriately so that the mix will sound balanced when switching to any playback device (speakers, stereo system, car, or headphones). Having said that, there's no harm in having a pair of bass-bias headphones in the studio as a listening reference.
Primary Build Material
Unlike standard headphones, where you're after a listening device and perhaps even a fashion accessory, studio headphones should not be purchased on whether they're plastic or metal. This is of very little to no importance. The majority of studio headphones are built with plastic, so more of the budget can be allocated to internal electronics. Sound quality is far more important than what the headphones look like.
For example, the Beats Pro is possibly one of the best-built studio headphones featured in this article. However, the headphones are bass-heavy and not the top choice for studio mixing. In contrast, the Sony MDR-7506 is made of PU leather and plastic. The headphone has been around for decades and is considered an industry standard by many live and studio engineers.
Headphone Impedance
Headphone impedance is another important point to consider when selecting your studio headphones. Impedance is a form of electrical resistance. This is determined by the headphone voice coil within the speaker. Low impedance headphones can be driven by just about any device, and high impedance headphones require a headphone amp or sound card.
Mobile devices work well with low-impedance headphones. Generally speaking, this will be from around 8 – 32 ohms. However, your mobile device can work somewhat efficiently with headphones up to around 60 ohms before they start to battle against the headphone resistance.
32 – 100 ohms is a bit of a gray area, but these headphones will work well with guitar amps, keyboards, budget sound cards, and some PCs. From 100 ohms to 600 ohms is where most professional studio headphones reside. However, many of the popular studio headphones sit between 40 – 60 ohms.
So, what will happen if you mismatch your impedance? If you have a high impedance headphone, like the Beyerdynamic DT 770 PRO 250 Ohm, and you plug it into your mobile device, you'll likely not hear much, even if you turn the volume up full. In simple terms, the high impedance of the headphones is too much resistance against the mobile device's low-powered output.
If you plug a low-impedance headphone into a high-powered output (like a headphone amplifier or professional audio interface), you're likely to overdrive the headphones, thus causing distortion, which could result in damaging the headphones permanently.
Using a high impedance headphone with the correct high-powered output (also called impedance matching) typically drives a better bandwidth of frequencies and thus a more detailed, clearer sound. This clarity and detail are what you want when mixing audio tracks to get an accurate soundstage.
You can still use 40 – 100-ohm headphones on these high-powered outputs, but you'd want to avoid overdriving. Anything under 40 ohms is not recommended at all.
Open-Back vs Closed-Back Headphones
The most common type of headphones is closed back. For most applications, including studio mixing, closed-back headphones are more than adequate. Open-back headphones offer a superior spatial sound image. But why?
Bass is omnidirectional. This means the bass doesn't just travel out the front of the speaker but the rear and sides too. In closed-back headphones, this causes some reflection off the back of the ear cup, which colors the sound. This coloration is so fine that most of us won't even notice; however, some mixing requires perfect clarity and detail with as little coloration as possible. Open-back headphones allow the frequencies to travel freely, resulting in less coloration and a more accurate sound image.
This is why high-end audiophile headphones are open-back. The sound produced is said to be pure and accurate. Closed-back headphones produce some coloration, but the bass will often sound tighter and more punchy as the back acts as a speaker enclosure. Open-back headphones can be good and bad for the studio. To get an initial mix, you may want to use a pair of open-back headphones.
Mixing with an open back will allow you to pick out detail, EQ, and compress extremely accurately. The downside is that most people don't listen to headphones or speakers with this sort of detail, so when you switch to closed-back or regular speakers, the mix will sound completely different.
For this reason, some professional engineers will use a couple of pairs of headphones (open and closed) to get a more balanced mix or only use closed-back headphones.
If you were to use open-back headphones in the studio, you would only ever want them for mixing. With the open-back, the headphones bleed a lot of sound. Using these while recording will bleed into the microphone and color the sound. For this reason, you only want to use closed-back headphones with as much passive isolation as possible when recording.
Budget
Budget is something that will impact most consumers. You don't need to break the bank to get high-quality when looking at studio headphones. Our top pick, the DT 770 PRO is a good example of some great sound coming from a very affordable pair of headphones. Just be aware that limiting your budget below $100 will see a slight limit in the quality you can find.
What About Wireless Options?
The short answer – NO! Copper cable over wireless headphones every time. The wireless technology in headphones incorporates compression, which effects frequency range, tone, and ultimately sound quality. If you EQ a mix on a pair of wireless headphones and then switch to cable headphones, you'll find you have had to compensate for missing frequencies resulting in a messy final mix. NEVER use wireless headphones in the studio.
We hope you have found this article helpful for choosing your next pair of studio headphones. A quick recap of the opening recommendations:
Ideally, you want non-bias headphones. Boosts or cuts of any frequencies are going to result in an inaccurate final mix, and you might find yourself having to start over.
Build material, ie: plastic, is not important. Choose sound quality before deciding on the build quality. Having said that, you certainly want to ensure the fit is comfortable, especially if you intend to wear it for extended periods.
Make sure you don't purchase a high impedance headphone if you don't have the correct equipment to drive it. If you only have a laptop, pick a headphone under 70 ohms, with 40 – 60 ohms being optimal. Less than 40 ohms is preferable for mobile devices.
For versatility, a closed-back headphone is the better choice. If you have the money to purchase a couple of pairs – pick a high-end, open-back like the Beyerdynamic DT 1990 PRO and then perhaps a closed-back like the Beyerdynamic DT 770 PRO or Sennheiser HD280/HD380 PRO. Reference using both headphones to get an accurate balance between quality and practicality.
Say no to wireless. The compression creates an inaccurate sound image, and your final mix will have EQ and processing to compensate for the losses.
What does high impedance mean?
Higher impedance headphones require more power to drive them, while you may in many cases get better quality from a higher impedance pair of headphones, you may need an additional amplifier or DAC in order to drive them.
What are studio monitor headphones?
In short, studio monitor headphones are typically defined by their sound signature. Because mixing and mastering of audio requires the truest and accurate sound, a good pair of studio headphones will have a flat / balanced sound signature.
What is ohms?
Ohms is the measurement of impedance, with lower ohms representing a lower impedance and a higher ohms showing a higher impedance.
What ohms should my headphones be?
Impedance choice comes down to the user and their setup. If you have the means for a DAC or headphone amplifier, we would recommend going with a higher impedance, and if you're unable to purchase the extra tools needed to drive a higher impedance pair, you can still get good quality from a low-impedance pair.
The DT 770 PRO is comfortable and sounds exceptional. As a 250-ohm studio headphone, they produce a detailed and clear sound capable of producing high SPL with zero distortion.