Having updated our list of the best soundbars, we're pleased to announce some amazing soundbars with incredible new technology. You'll find something at every price point, from several hundred and even a thousand dollars down to under $100. At every price point, we've managed to find the best soundbar money can buy. Check out our buyer's guide at the end of this article for info.
Best Soundbar for Movies
If you're looking for a soundbar for watching movies and playing games, I will go for the VIZIO SB46514-F6. The system offers 5.1.4 3D surround sound with sub-bass that kicks! This system will truly blow you away. The VIZIO is, however, just shy of $1,000, which might be out of many people's budget.
If you're looking for something cheaper, the Nakamichi Shockwafe Pro 7.1 comes in at just under $450 and performs exceptionally well for a system at this price. You get a nice big bass sound and virtual 7.1 surround sound. However, you don't get Dolby Atmos or DTS:X 3D sound processing at this price.
Best Soundbar for the Bedroom
If you're looking for a bedroom soundbar, you might want to consider the ultra-compact Bose Solo 5. This soundbar doesn't offer surround sound capability but does provide exceptional clarity and detail. Perfect for watching a bit of TV while you doze off at night.
Best Soundbar for Multi-Room Speaker Setups
If you're looking to build a multi-room speaker setup, you'll want to go with the Sonos Playbar. As detailed in the review above, you can add Sonos speakers to the Playbar to create a 5.1 or 7.1 home theater system. Furthermore, you can create a full home network of Sonos speakers isolating and assigning different speakers to different rooms or groups. Sonos speakers are also compatible with Alexa, creating a full smart home system.
What to Expect from a Good Soundbar?
There have been several advances in soundbar technology over the past year, and many products are starting to compete in quality with their point source counterparts.
More and more soundbars are incorporating DTS, DTS:X, and Dolby Atmos technology which offers a 3D audio experience. It's impressive how well some brands are nailing this 3D experience, and we'll likely see this as a standard feature within the next year.
Bass performance has also improved over the last 12 months. In some products, like the VIZIO 46-Inch, Sonos PLAYBAR, or Bose SoundTouch 300′ bass performance is certainly on another level compared with other brands. No matter how much bass response improves, you'll always get the best sound with a soundbar/subwoofer combo.
Should I Buy a Soundbar?
There are many reasons why you would want a soundbar. Soundbars became popular as slimline speakers to boost the sound of a flatscreen TV. While flatscreens provide excellent picture quality, the sound is often thin and not very loud. Soundbars made it possible to increase the audio quality while still maintaining a minimal footprint, often mounted below the TV.
Nowadays, soundbars have become significantly more advanced. Consumers expect bigger sound, bass, and the latest home theater features. And this is where you must decide whether to choose a soundbar.
If you want to improve your TV's sound, a soundbar is the best speaker for the job. There are also great home theater soundbar options featuring virtual surround sound, which cost more money but are quick and easy to install and do the job.
However, if you are looking for the best home theater experience, a proper surround sound system is the better option. Sure, more speakers, cables, and money are required to get the system installed, but the audio quality will be significantly better, and you'll experience a true surround sound experience.
Another thing to consider is the size of your living space. For small to medium size rooms, a soundbar will work just fine. You might want to consider a bigger speaker when you get into bigger living spaces. In bigger rooms, soundbars, especially anything under 100W, tend to get lost, and you'll have to run the speaker at close to max volume to fill the space.
In bigger rooms, you need bigger speakers and might find floor-standing speakers to offer better room-filling sound.
1. Sonos PLAYBAR TV Soundbar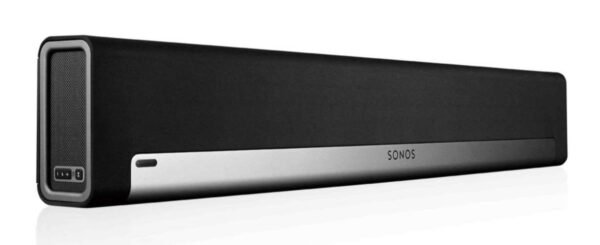 The Sonos Play series is one of the more exciting ranges of speakers to be released in the last few years. Their flagship product is the sleek and sexy PLAYBAR TV Soundbar, a design and audio quality masterpiece. If you're looking for the best WiFi soundbar, the PLAYBAR is a must-have item.
The PLAYBAR features a single digital optical input you connect to your TV. No receiver is required to operate the PLAYBAR. Sonos instructs you to remove any receiver between the TV and PLAYBAR for the soundbar to operate as it was designed to.
The PLAYBAR is also Wi-Fi-enabled and compatible with Alexa. You can connect the PLAYBAR directly to your via a LAN port and even network other Play speakers via network cable connection if you prefer cable over WiFi.
The PLAYBAR can be mounted on the wall or placed on a shelf/cabinet. A built-in gyro system tells the PLAYBAR whether it's on a table or mounted on the wall. This enables the soundbar to make adjustments to optimize the sound.
The Play Series has an app allowing you to further program and calibrate your speakers based on the room and where you place your PLAYBAR. If you have other Sonos Play speakers, you can sync and control these through the Play App.
The PLAYBAR also comes with two awesome sound options, Speech Enhancement and Night Sound. As the name suggests, Speech Enhancement adjusts the PLAYBAR to make speech and dialog more intelligible. The Night Sound feature is particularly useful if you have an apartment or can't make too much noise at certain times of the day.
In Night Sound mode, the PLAYBAR will dip loud parts of whatever you're viewing so the sound stays at a constant low level. So, for example, if you're watching a war movie, the dialogue parts are generally quiet, while the fighting or battle scenes are loud with loads of explosions. The PLAYBAR will dip the audio during those loud moments so the sound is never louder than the dialogue scenes.
The greatest feature Sonos has incorporated with the PLAYBAR is the fact the soundbar doesn't have a remote. However, you can program your TV remote to operate the PLAYBAR.
Multiple remotes are annoying, and you can program your TV remote to operate the PLAYBAR is just incredible. At least, I think it is. Set up is easy by calibrating using the Play App. You can sync your TV remote to the PLAYBAR in minutes.
If you want a complete surround sound experience, add more Sonos Play speakers to your system.
Sonos Play:1
The Sonos Play:1 is a compact, versatile satellite speaker that can be used for rear surround positions or on its own. The Play:1 connects to the PLAYBAR wirelessly, so you don't have to worry about running cables between the speakers. All you need is power for the Play:1, and you're good to go. Like the PLAYBAR, you can control the Play:1 via the Play App.
The Play:1 is also Wi-Fi-enabled and works with Alexa. As the speaker is lightweight and compact, you can take this through to other rooms in the house and use it as a portable speaker around the home. You will still need to power the Play:1 via a socket, so it's not 100% portable. The Play:1 can be placed on a shelf or mounted on a wall for surround sound installations.
Sonos Sub
A home theater system always needs some sub-bass. The Sonos Sub is a slim, stylish powered subwoofer producing exceptional bass. The Sonos Sub can easily fill most living spaces and connects to the PLAYBAR, Play:1, Play:3, or Play:5 speakers, no matter your Sonos setup.
Sonos Play:5
The Sonos Play:5 is a little different because it's more of a replacement option to the PLAYBAR than an addition. The Play:5 can be set up as a single speaker or a left/right pair. Unfortunately, you can't set up the Play:5 as a left/right pair with the PLAYBAR as a center speaker. Sonos is constantly updating the firmware of these speakers, so this may be possible in the future.
You can, however, have the PLAYBAR set up as the front left, right, and center with two Play:5 speakers as your rear surrounds. Include the Sonos Sub, and you will have one serious 5.1 surround sound system.
What Does the Sonos PLAYBAR Sound Like?
The PLAYBAR features 9 speaker drivers, 6 full-range drivers, and 3 tweeters covering a left, center, and right configuration. Sonos doesn't specify the power output of the PLAYBAR. However, I can confirm this soundbar is loud! The PLAYBAR won't have any issues filling most living spaces on its own, never mind with any of the other Sonos Play speakers.
Not only is the PLAYBAR powerful, but it also sounds incredible. Usually, I find even the best soundbars can sound a little thin. This isn't the case with the PLAYBAR. The PLAYBAR has a rich, warm sound with exceptional clarity across the mids and highs, delivering incredible detail.
For vocals and sound effects in movies, the sound quality and detail are so incredible you can't help but feel truly immersed in what you're watching.
Sonos PLAYBAR TV Soundbar Conclusion
If you're looking for one of the best WiFi speakers on the market, the Sonos PLAYBAR is an excellent contender. The PLAYBAR is simple to use yet comes with some of the most advanced internal processing and features of any WiFi speaker on the market.
The ability to easily add more Sonos speakers to your system whenever you want means you don't have to purchase a full surround sound system all at once. At just under $700, the PLAYBAR is expensive but well worth every cent.
2. Bose SoundTouch 300 Soundbar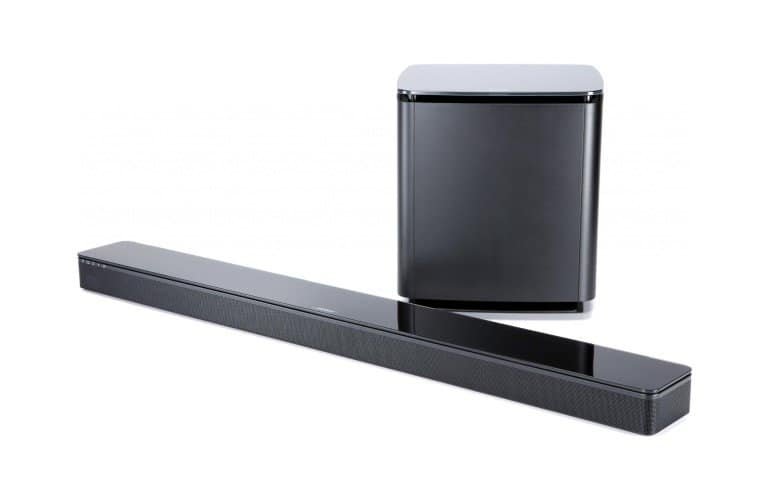 The Bose SoundTouch 300 soundbar is a WiFi speaker designed primarily for home theater applications. The soundbar is slim and sleek, with quality parts and finishes. Like most WiFi speakers, the SoundTouch 300 is compatible with Alexa, so that you can pair this soundbar with any Alexa device.
Bose supplies you with their ADAPTiQ® headset, which you wear during setup to calibrate the SoundTouch 300 to your listening position and room acoustics. The setup takes 10 minutes, and the room needs to be silent while the ADAPTiQ headset does its thing. The result is a perfectly tuned SoundTouch 300 tailored to your room and listening position.
If you need more bass, add the Bose Acoustimass 300 Wireless Bass Module for a subwoofer. The Acoustimass 300 connects to your SoundTouch 300 wirelessly, so no speaker cables are necessary.
Additionally, suppose you want to complete a 5.1 surround sound system. In that case, you can include the Bose Surround Speakers, which also connect to the SoundTouch 300 wirelessly, giving you a full wireless surround sound system. All of these speakers are available in black or white.
The SoundTouch 300 offers several input options, including ⅛-Inch AUX, 1 x HDMI, Bluetooth, and WiFi. There is also an HDMI, allowing you to connect your SoundTouch 300 however you choose.
There are no buttons on the SoundTouch 300. Instead, everything is controlled either via the remote or SoundTouch app. The remote is comprehensive and even has the thumbs up and thumbs down for streaming services. Using the remote control, you can also set up your speakers, and program presets, and much more.
What Does the Bose SoundTouch 300 Sound Like?
Bose doesn't specify the power output of the SoundTouch 300, but I can confirm this soundbar has a serious amount of power and sound. While the SoundTouch 300 doesn't quite get into the sub-bass frequency range, the soundbar does a better job than most in low-end response.
The mid-range and highs offer exceptional detail and clarity, with vocals and sound effects in movies sounding freakishly lifelike. A truly immersive audio experience. While the SoundTouch 300 doesn't advertise any virtual surround sound capabilities, the speaker delivers an impressive soundstage and detailed separation of sound.
Bose SoundTouch 300 Soundbar Conclusion
Like the Sonos Play Series, the Bose SoundTouch range allows you to build your system one speaker at a time. On its own, the SoundTouch 300 is an exceptional speaker; this might be all you need for smaller rooms.
The ability to add the Acoustimass 300 or 700 subwoofers to complete a full-range audio experience with the SoundTouch 300. Like most premium WiFi speakers, at $700, the SoundTouch 300 isn't cheap but well worth the investment for an exceptional audio experience.
3. Sony HT-Z9F Soundbar with Wi-Fi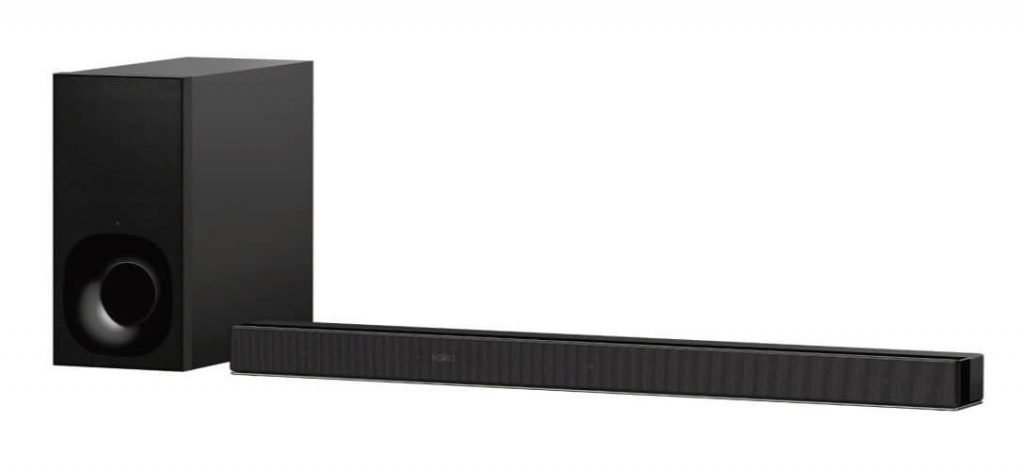 Sony is well known for its range of quality consumer audio products. Sony's soundbars and subwoofers are some of the best on the market, producing high-quality audio from premium parts and the most up-to-date technology. The Sony HT-Z9F is a 3.1 WiFi speaker system with soundbar and subwoofer.
It features a 300W soundbar with a 100W powered subwoofer. The two connect via WiFi, eliminating the need for any speaker cable. With the combination of a soundbar and subwoofer, you enjoy a full-range audio experience.
For full 5.1, you can include two Z9R Wireless Speakers for full surround sound. The soundbar features Dolby Atmos, delivering a 360° audio experience with sound from the left, right, rear, and even above. Watching movies or playing games with Dolby Atmos takes your viewing experience to another level for an incredibly immersive experience.
The HT-Z9F allows for several inputs and even gives you the option to connect from the TV or to the TV via HDMI. Inputs include 2 x HDMI (plus 1 HDMI ARC through), optical, ⅛-Inch AUX, USB, Bluetooth, and WiFi. The HT-Z9F soundbar even has an IR repeater in case your soundbar blocks your TV's IR for the remote. All the settings can be adjusted using the HT-Z9F comprehensive remote control.
The HT-Z9F comes with several audio enhancement and experience settings depending on what you're watching. The VERTICAL S button engages Dolby Atmos, which enables vertical as well as horizontal audio. The SOUND MODE button allows you to switch between the various pre-programmed Sony audio presets, including cinema, game studio, music, news, sports, and standard.
You can also set SOUND MODE to auto, in which case the system will detect the content and adjust the audio accordingly. The VOICE button enhances speech for dialogue-heavy viewing, while NIGHT will ensure the audio remains at a constant volume with no loud parts to disturb the rest of your house/apartment or neighbors.
What Does the Sony HT-Z9F Soundbar Sound Like?
The bass from the subwoofer is deep and punchy, with sub-frequencies that can be felt as well as heard. The mid-range and highs are upfront and clear, with incredible detail giving life to vocals and movie effects.
Sony HT-Z9F Soundbar with Wi-Fi Conclusion
If you're looking for a WiFi soundbar with a subwoofer combo, then the Sony HT-Z9F is one to check out. This awesome package comes with the latest audio formats, including Dolby Atmos and DTS:X.
At just under $700, you get the soundbar and subwoofer for a 3.1 system, or, for just under $1000, you can have a full WiFi 5.1 surround sound system with the two Z9R Wireless Speakers for rear surround. When you consider most premium WiFi soundbars cost the same as the HT-Z9F without a subwoofer, this package offers extremely good value.
4. Bose Solo 5 TV Sound System

If you're a Bose fan, but the SoundTouch 300 is too big or expensive for your needs, you might want to consider the smaller and more affordable Bose Solo 5 TV Sound System. At just 21 inches wide, the Bose Soundbar is a compact soundbar designed to provide high-end audio for small living spaces.
If you're looking to improve the sound of your flatscreen TV in the bedroom or your apartment, then this part of the review is specifically for you.
The Solo 5 is a very simple soundbar that only offers stereo audio. No virtual surround sound, Dolby, or any of those other exciting audio formats. Inside the soundbar, you'll find two full-range drivers for left and right, each paired with a tweeter.
If you're an HDMI fan, you're going to be disappointed that the Solo 5 does feature any HDMI inputs. Instead, you have optical, coaxial, ⅛-inch AUX, and USB (audio only). You can run all your HDMI connections to your TV and then use the optical connection between the TV and the soundbar. Since the Solo 5 only delivers stereo sound, optical is sufficient for this speaker.
While the Solo 5 is ultra-compact, the remote control is probably the biggest we have seen for any soundbar. This is because it's a universal remote that can be programmed to work with multiple electronic devices, including TVs, DVD players, gaming consoles, and more.
You can program the Solo 5 remote to replace all your other remotes and use just one. Full details on how to do this can be found in the user manual.
What Does the Bose Solo 5 TV Sound System Sound Like?
The first thing I will say is that because this is a compact, stand-alone soundbar without a subwoofer, the Solo 5 lacks bass, which is expected from a soundbar. Having said that, the Solo 5 is impressive in low-end response when compared to other soundbars at this price point.
Even larger soundbars with multiple drivers. The Solo 5 offers a decent low-end punch which is more than enough for a small living space or a bedroom.
Where the Solo 5 shines is in the mid-range and highs. Dialogue is present and crystal clear. Certainly better than most soundbars at this price point. The detail the Solo 5 offers is excellent, with even nuance sounds and special FX coming through.
You might not have the surround sound element. However, the Solo 5 does offer a somewhat immersive audio experience. The speaker can also deliver serious volume and never breaks up or distorts.
Bose Solo 5 Conclusion
It's important to note that while the Solo 5 delivers excellent sound quality and power for its size, gamers and those who like a lot of bass when watching movies might be disappointed. Playing music through Bluetooth is also a little underwhelming, but the Solo 5 works just fine for background music. For just under $200, the Solo 5 delivers a premium audio experience for small living spaces.
Frequently Asked Questions (FAQ)
WiFi vs. Bluetooth – which is better for my soundbar?
If you want to connect and play music quickly, then Bluetooth is perfect. However, this is where Bluetooth's advantage over WiFi streaming ends. WiFi offers a better range, connectivity, and far better audio quality. WiFi allows you to connect to other speakers on a network and voice assistant devices such as the Amazon Echo for Alexa.
What are DTS:X and Dolby Atmos?
DTS:X and Dolby Atmos are the latest in home theater surround sound technology. Also referred to as 3D sound, this technology uses upwards-firing speakers to reflect sound off the ceiling and create the illusion of sound from above.
As you can imagine, for helicopter or jungle scenes, the sound coming from above creates a whole new dimension of experience and immersion. In some advanced home theater systems, you can adjust the ceiling height for fine-tuning.
What is virtual surround sound?
Soundbars feature virtual surround sound because they use internal processing within a single speaker to achieve a surround sound image. Here are two common ways manufacturers may configure their soundbars for virtual surround sound.
Scenario A
Sometimes, a soundbar will be used as the front left, right, and center speaker, while additional satellite speakers make up the rear surrounds. In this scenario, the soundbar acts as a virtual left, right, and center speaker. The soundbar might also incorporate upwards-firing speakers for DTS:X or Dolby Atmos.
Scenario B
Other soundbars, especially the cheaper models, will use internal processing to create a full surround sound experience. Like the example in scenario A, the soundbar will house the front left and right center speakers and the rear left and right speakers. Usually, the rear surrounds are mounted on the side of the soundbar, firing at 45° angles at the surfaces on either side of where you sit.
The sound is reflected off the surfaces and over the back of your head to create a surround sound experience. The obvious downside is that if you don't have surfaces on either side of your sofa or living area, the experience might be somewhat underwhelming. This soundbar is best used in a bedroom where you'll typically have walls on either side of the TV.
How do I get more bass out of a soundbar?
One of the biggest consumer complaints about soundbars is the lack of bass. You must realize that soundbars are made of many small speakers optimized for virtual surround sound and dialogue clarity, not bass.
Having said that, there is one way to ensure you get the most bass out of your soundbar. Almost all soundbars feature a bass port on the rear of the speaker. Often this is connected to a passive bass radiator to improve low-end performance.
For this bass radiator to work optimally, it needs to have a solid surface, such as a wall, behind it. This is why mounting a soundbar to a wall is the best way to improve bass response. It's not going to be mind-blowing bass, but it will certainly be better than just placing the soundbar on a shelf or TV cabinet.
Thanks for your feedback!