In a Nut Shell:
In terms of sound quality, they're virtually the same. When it comes to new features, the Sonos One offers Amazon Alexa as well as Sonos Boost. If those are important features for you, go for the Sonos One. Otherwise, save yourself the $100 and get the Sonos Play:1 instead.
When it comes to home audio, Sonos an industry leader. The Sonos Play:1 is really the product that launched the brand and placed them on the map. With the fast-growing rise in popularity of smart speakers, Sonos updated their best-seller and introduced the Sonos One.
You might be wondering how the two speakers compare, what the differences are, or even if it's just worth getting the Sonos One vs Play 1. We'll cover all your questions in this in-depth review comparison.
Sonos Play:1
The Sonos PLAY:1 is a compact, yet powerful wireless speaker system jam-packed with many great features. The unit famously 'sounds bigger than it looks' – delivering mighty, rich tones even while nestling comfortably on your bookshelf. A long-standing favorite in the wireless speaker market, the enduring popularity of the Sonos Play:1 speaker speaks volumes both about its reliability, its performance, and its high build quality.
Quite frankly, we believe this is the best $200 you can spend on a speaker right now.
Straight out of the box, the speaker sets up easily and delivers powerful sound capable of bringing out the character of a wide range of musical genres as well as excellent ambiance and crisp dialogue for movies, sports and television series. Whether the roar of a crowd or intricate and subtle acoustic guitar tones, the Sonos PLAY:1 is a fantastic option for those looking for a high-quality listening experience.
Sonos One
The Sonos 1 offers many of the same great features as the Play:1. Released in 2017 as an updated version of the Play:1, the Sonos One combines the smartness of Alexa with Sonos' excellent sound quality. Think of the Play:1 with an Amazon Echo Dot inside.
The Sonos One also features Sonos Boost. This is particularly useful if you have an unstable WiFi connection or too many devices connected to your WiFi network. The Boost essentially creates its own WiFi signal for your other Sonos gear. While the Play:1 doesn't feature this, the Sonos Boost can also be purchased separately too.
The Sonos One does come in at a higher pricepoint to the Play:1 but is still value for money if Alexa is something you require.
Sonos One vs Play:1 – Design
In terms of design, the Sonos One and the Sonos Play 1 are very similar. They are both identical in size, shape, and weight. The Sonos One features touch-capacitive sensors on the top with a single button on the rear of the speaker. Whereas the Play 1 features its play/pause and volume buttons on the top. Neither of the models has Bluetooth, Aux inputs, or the ability to be used as portable speakers.
They are available in white with a light metallic grille, or black with a graphite grille. The Sonos PLAY:1, as well as the Sonos One speaker, is a stylish unit, with a sleek functional look. They both sport their distinctive feature, the wrap-around grille, giving the speakers a smooth and rounded appearance that fits well in any setting. Though portable, the Sonos speakers are sturdily built with a reassuring weight and durable exterior. With no physical connections and a simple LED light, the overall impression of the speakers is one of elegant minimalism.
Under the hood, the Sonos PLAY:1 and the Sonos One both feature two Class-D amplifiers with custom-built drivers which means that both of these wireless speaker compromises neither on sound quality nor on power. Capable of handling beefy low-end tones as well as gentle speaking voices, the sound produced by the twin Class D amps is impressively versatile and character-filled.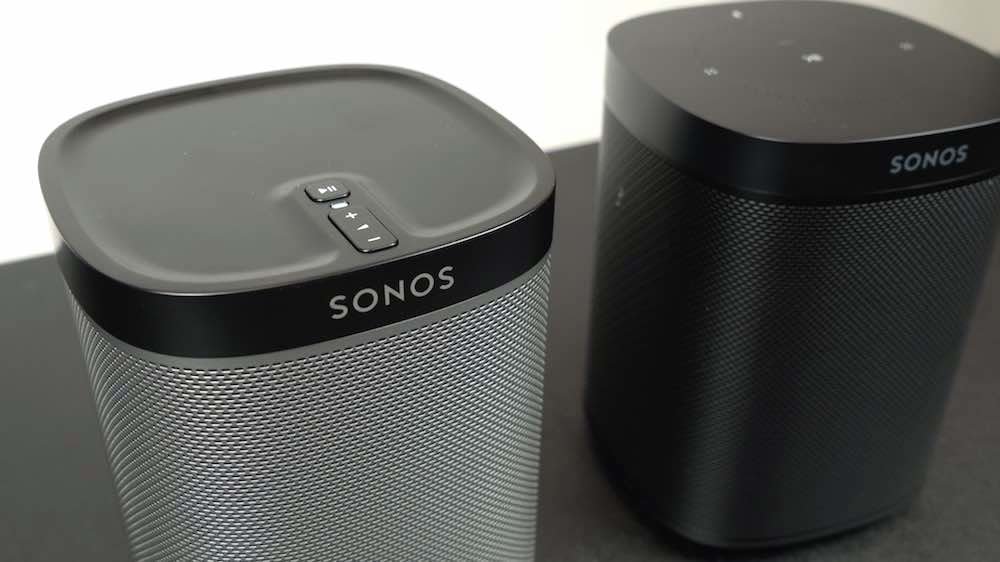 One final fantastic build-feature of the Sonos One and Play:1 is their flush power cable input. This means that the speaker is humidity resistant: a crucial protective feature if you'd like to set your speaker system up in the bathroom or at an outdoor party. The importance of this small benefit cannot be underestimated, as anyone who suffered electrical damage an appliance due to humidity related problems will know.
Although the Sonos One and Play:1 speakers are easy to set up on any surface, they do also feature a 1/4 inch threaded mount and can be set up on a custom-built Flexson Floor Stand (sold separately), wall-mounted, or even placed on an existing speaker stand. Raising the speakers in this way can bring added power to the sound, not to mention the ability to place the speakers in the ideal position for maximum aural quality in that particular space.
| Sonos One | vs | Sonos Play:1 |
| --- | --- | --- |
| Two Class-D digital amplifiers | Amplifier | Two Class-D digital amplifiers |
| One mid-woofer, one tweeter | Speakers | One mid-woofer, one tweeter |
| 6.4 x 4.7 x 4.7 in. | Size | 6.4 in × 4.7 in × 4.7 in |
| ☑️ | WiFi | ☑️ |
| ☑️ | Amazon Alexa | |
| | Bluetooth | |
| | AUX Input | |
| ☑️ | Microphone | |
Sonos One vs Play:1 – Set-Up
Set-up with the Sonos One and Play:1 is fast and simple. The speaker's wireless interface means you can set it up in 10 minutes, and it is controlled through a slick, easy-to-use Sonos App, giving you immediate access to over 30 music streaming services including Amazon Music Unlimited, Pandora, Apple Music, Tidal, Spotify, Deezer, Qobuz, Google Play Music and Amazon Music, plus TuneIn Radio for access to thousands of internet radio stations. This affiliation to the world's leading music streaming services has helped Sonos stay ahead of the game, providing a premium selection for listeners.
However, as the speakers are compatible with any 802.11b/g, 2.4 GHz broadcast-capable router, you can actually use your phone (or any mobile device) to stream directly from services such as Spotify to Sonos, without needing to use the app – a great feature for parties, when everyone wants to have a go at playing DJ. This feature also allows you to utilize the speakers while watching your favorite television series or movies on sites such as Netflix or Amazon TV.
While the lack of any physical connections to external devices such as iPods or turntables might be familiar to modern buyers, the one serious drawback to the Sonos speakers is its simultaneous lack of Bluetooth connectivity. This means that you simply cannot listen to music if your network connection is offline. Clearly this is a disadvantage for people who intend to use the speaker outside of the home or out or wifi range, but – of course – it is always possible to use your mobile phone or other devices, as a wireless hub in order to activate the speakers even in unusual spaces.
Naturally, for homes or offices with stable wireless connections, the possibilities offered by bot speakers are endless. Since you can seamlessly connect wireless speakers together, two Sonos PLAY:1s together make for a potent stereo system or an ideal pairing for the rear speakers in your home theatre set up. Of course, you can also distribute your wireless speakers throughout the house and play songs in different rooms in perfect synchronization. This is a wonderful feature for parties in spacious homes or gatherings that spill from indoors to outdoors ensuring that all guests get to enjoy the same music at the same time.
Sound: Mellow Base and Crisp Highs
Equipped with one mid-woofer to deliver rich, mellow bass tones and one tweeter for sharp and crisp high-frequency responses, the Sonos PLAY:1 and Sonos One unitd also feature adjustable bass and treble controls, so you can dial in the exact tone you're looking for. It excels across the spectrum of musical genres, providing a sensitive response for quiet listening and a great body for loud playing at parties.
What's immediately clear about the Sonos wireless speakers is that they are a highly adaptable speaker units. Perfectly at home with pop and RnB, where the vocals gain prominence over lushly produced backing tracks, the speaker also delivers a convincing performance when tested with more obscure sounds and genres. The intricate acoustic sitar playing of Anushka Shankar is beautifully mellow, with each note sounding out clearly from the mix. Meanwhile, the speakers handle heavier sounds like Nirvana and Royal Blood impressively, with a rich and rounded bass response and the ability to articulate the fuzzy, distorted guitars without the overall mix sounding murky or cluttered. Streaming from the radio, the Sonos speakers show their dexterity, with the transitions between music and dialogue being very soft on the ear.
Finally, the Sonos One and PLAY:1's Trueplay Tuning feature will appeal to true audiophiles. Because the layout of a room and the position of a speaker within the room can have a significant impact on the sound that reaches your ears, the Trueplay Tuning feature uses the microphone of your Apple iOS device to measure how sound reflects off the walls, furnishings and other surfaces in the room, and fine-tunes your speaker to ensure the perfect settings for producing high-fidelity, crystal-clear sound. This tuning process only takes three minutes to complete – so you can perform it whenever you adjust the position of your speaker – and the payback, in the form of sculpted sound, is incredible. If you have more than one wireless speaker connected together, this can also be factored into the Trueplay Tuning process, creating even more fine-tuned settings for the individual speakers in the setup.
The bottom line is that these Sonos speakers have been engineered for fun. No matter what you choose to listen to, the sound is responsive and intuitive – a powerful and even-sounding platform to explore new sounds.
Verdict: Sonos One vs Play 1 – Which is Best?
Those looking for a cost-effective but high-quality wireless speaker system should look no further than the Sonos PLAY:1. This robust speaker has stood the test of time and continues to be a major player on the wireless speaker market. Its fast and simple set up makes for extreme portability, while its built-in access to the world's best music streaming services means you'll never be at a loss for something to listen to. For those looking to invest in a full home speaker system, the ability to connect wirelessly to other speakers is a major attraction. The speakers' sleek and attractive design means it can look at home in any setting, and its flush power socket means that you are protected against humidity-related shortages and other problems.
Of course, with any speaker, the main concern is the sound – and neither will disappoint in this regard. It's Class D amplifiers and custom-built drivers are powerful and sensitive, while the Trueplay Tuning feature might soon make you wonder how you ever listened to music without it.
The one major drawback to the Sonos speakers is its lack of external connections to hardware devices and lack of Bluetooth connectivity. A lack of one or the other is usually to be expected, but to miss both could be problematic for buyers who know they will wish to use the speaker at times when a wireless connection is impossible to find. However, with mobile phones being able to provide a wireless signal, this should be a concern that can be put aside. The speakers are not weatherproof but taking it outside on a good-weather day turns it into a very capable outdoor wireless speaker. Try it!
The Sonos PLAY:1 and Sonos One provide big sound from a small and maneuverable unit. It is also filled with features, such as Trueplay Tuning and the ability to mount it anywhere you like, that allow you to truly customize the sound of the speaker for your own particular home or business. Solidly built and easy to set up, those looking for a reliable and fun wireless speaker system won't be disappointed.
In terms of sound quality, they're virtually the same. When it comes to new features, the Sonos One offers Amazon Alexa as well as Sonos Boost. If those are important features for you, go for the Sonos One. Otherwise, save yourself the $100 and get the Sonos Play:1 instead.
Thanks for your feedback!