If you're after an affordable, multi-purpose, in-ear style headphone – then you should definitely consider the Sbode Bluetooth Headphones. These versatile headphones are Bluetooth, waterproof, have a great battery life and include a microphone for hands-free calling too. Let's have a closer look at what the Sbode Bluetooth Headphones can do and why you might want to buy them.
See more waterproof headphones
Features
Plastic & silicone (6.9oz)
Design
The Sbode Bluetooth Headphones feature a trendy design in black with red trim. The headphones are made of a mixture of silicone and plastic which adds to the waterproof features of the headphones but also makes them easy to clean. The silicone is soft to the touch giving the headphones a premium look and feel.
The Sbode Bluetooth Headphones features a short, flat cable which is best suited for sports and fitness but also great for travel and general use. The cable flat cable is designed to be tangle free which means hassle free! The benefit of short cables for sport is that there's no excess to get caught on your clothing, body or equipment when working out. The cable sits behind your neck, not much further than below the top of your shoulders. A cable clip comes with the headphones so you can clamp the cable excess out of the way, adding to a more secure fit.
The earbuds are designed to fit inside your ears with the speaker driver sitting against your ear canal providing great isolation. Included with the Sbode Bluetooth Headphones are three silicone earbud options; small, medium and large. Once inserted, the earbuds expand to fit your ear, offering additional isolation. On each earbud is a silicone ear hook to secure the headphones in place. The result is a snug fit which feels secure no matter if you're running, doing yoga, lifting weights or any strenuous movement activity.
Waterproof
The Sbode Bluetooth Headphones are waterproof with an IPX7 rating protecting the headphones from complete submersion for up to 1 meter (3.28ft) for 30 minutes. This is suitable protection for sweat, to rinse under a faucet, or even sit in the pool but should not be used for swimming lengths or diving in the pool.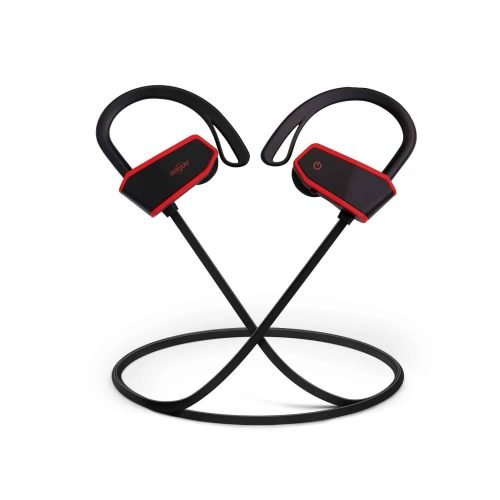 Bluetooth
The Sbode is 100% wireless using Bluetooth version 4.1. Bluetooth pairing is really easy with the headphones, connecting to your device within seconds. The connectivity is excellent and can easily surpass the 33ft recommendation with a direct line of sight, which is all you need for Bluetooth headphones – especially for activities where you always have your device close by.
Sbode allows you to pair up to two Bluetooth devices simultaneously. This feature allows you to switch between your smartphone and your tablet without having to pair and unpair each one.
The Sbode has three multi-purpose buttons so you can control your Bluetooth device remotely. This is especially useful if your phone or Bluetooth device is strapped to you, in a backpack or not easy to reach. All three controls are on the right ear with the large power button being the most visible. The power button turns the headphones on and off, initiates pairing, and answers, ends or rejects incoming calls. Above the power button, somewhat hidden from sight, are two multi-function buttons for volume or skipping tracks.
The Headphones also features a built-in microphone on the right ear which allows you to take incoming calls. The call quality is excellent with both ends of the call sounding loud and clear with no audio issues. The call quality is impressive for what is essentially considered a budget headphone.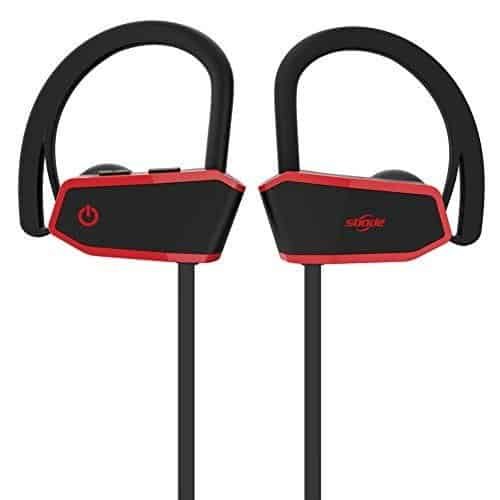 Battery
The Sbode features a battery with an 8-hour battery life. There is a micro USB connector discreetly hidden on the underside of the right ear, behind a watertight seal. Next to the micro USB input is an LED which indicates when the battery is fully charged. From flat, the Sbode Bluetooth Headphones will fully recharge in around 1.5 hours. For iOS users, a battery life indicator will appear on the top notification panel.
Sound Quality
The most important feature for a headphone is sound quality and the Sbode is a win here. You're not going to experience the detail of a premium set of headphones, however, the Sbode certainly come very close. There is a surprising amount of bass with crisp sounding highs. The only issue the Sbode headphones have is the midrange is a little boxy, but not bad enough to affect the audio clarity. For both workouts and general use, the Sbode audio quality is more than acceptable for all types of music and dialogue from digital radio or podcasts.
Even the incoming call quality is decent with no issues in hearing or being heard on the other end of the line.
If you push the Sbode past 80% volume on an iPhone, you will start to experience some distortion and the sound gets a little thin. However, even at 40-50%, you get enough volume from the Sbode to hear music and vocals perfectly. At 80% volume, the Sbode is really loud, so I'm not sure you'd even want to listen at this volume anyway.
What's in the Box?
Included with the Sbode Bluetooth Earbuds:
Sbode Bluetooth Earphones
Micro USB charging cable
Three memory foam earbuds
Cable management clip
Hard shell carry case
Conclusion
At under $25, the Sbode offers an excellent headphone built with good sound and premium features. The IPX7 waterproof rating means you can use the Sbode for just about every exercise activity, except swimming and diving. The earbuds offer excellent noise isolation which is not just useful for noisy gyms but for general use on public transport and in-flight too. Unlike most budget headsets, the Sbode built-in microphone actually works really well, with a sound quality good enough to have a conversation.
Final thoughts – the Sbode Bluetooth headphones are surprisingly good for a budget headphone. If you need a versatile set of earbuds for working out, general use or even travel, the Sbode is a great product to consider.
[su_button url="https://www.amazon.com/dp/B07DZRJGJT/?tag=outeraudio-amceda-20″ target="blank" style="flat" background="#e5a02e" color="#FFFFFF" size="8″ wide="no" center="yes" radius="auto" icon="icon: star" icon_color="#FFFFFF" text_shadow="none" desc="" onclick="" rel="" title="" id="" class=""]Check Price[/su_button]