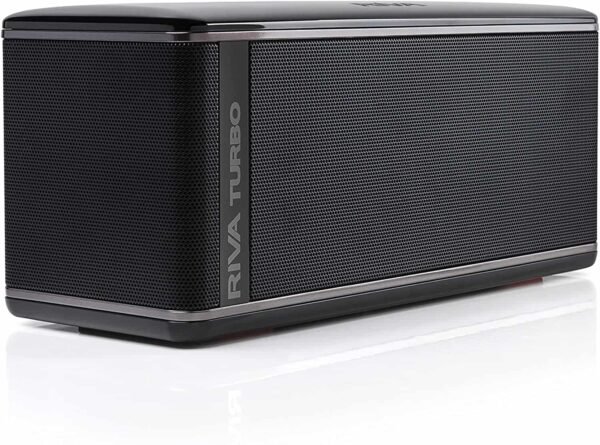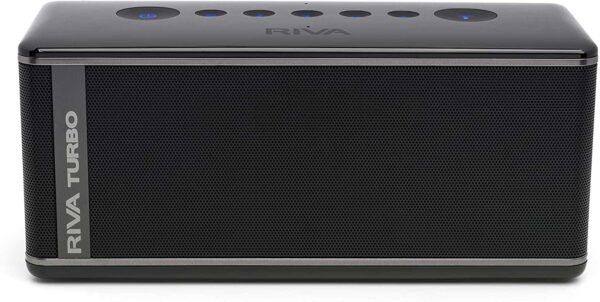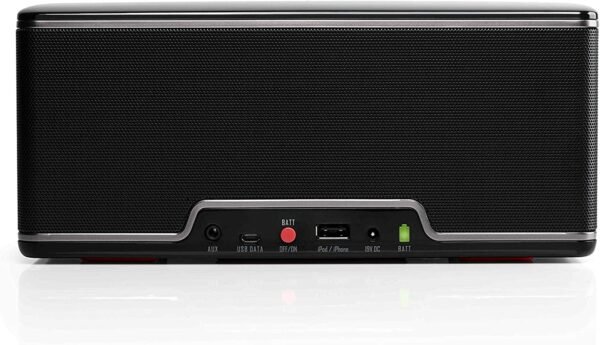 The Riva Turbo X is one of the most exciting compact Bluetooth speakers to date. This ultra-compact wireless speaker is a game-changer, so much so, it has won multiple awards! So what makes the Riva Turbo X so special? Let's take a look…
The Sound
The Riva Turbo X sounds unlike any portable Bluetooth speaker you have ever come across. The Turbo X delivers 45 watts of power, as much as some TV soundbars! This is extremely impressive for a speaker that weighs only 3lbs and is 9.1 x 3.5 x 4.1 inches in size.
Unlike most compact Bluetooth speakers that feature 1-3 speaker drivers, the Turbo X has a total of seven. Three full-range drivers deliver crystal clarity, while four custom-designed bass radiators allow the Turbo X to produce solid low-end. The multiple speaker drivers make the Turbo X more of a sound system rather than a single Bluetooth speaker.
The Turbo X also features Riva's TRILLIUM® Sound Technology. Trillium is effectively a surround sound feature. Internal processing enables the Turbo X to deliver a front/left/right sound profile, commonly referred to as a virtual surround sound. The speaker is producing a surround sound effect using internal processing rather than having physical speakers left and right. This is similar to how soundbars achieve their surround sound effects as well.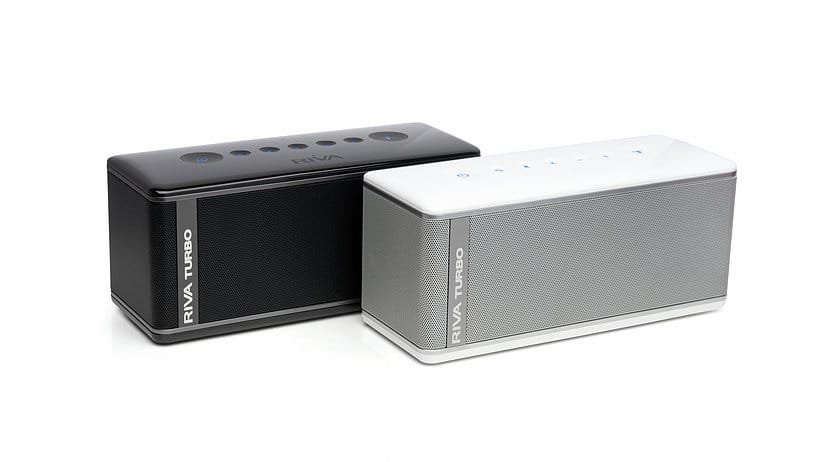 The Turbo X also features a couple of sound modes. A standard or music mode is designed for general listening with minimal processing from the speaker. The Turbo and Phono modes deliver up to 100dB of sound with the addition of Turbo X's smart bass.
The phono mode is specifically for those wishing to listen to vinyl using the Turbo X. If you are going to listen to vinyl, a recommendation is to go via a phono preamp and into the ⅛ inch AUX input rather than connect wirelessly. You will lose the detail and sound characteristics that vinyl is known for if you choose to pair wirelessly.
The fourth sound mode is one that is rarely found on compact Bluetooth speakers. Turbo X's Conference Mode is specifically configured for voice calls. The sound EQ is set up to enhance vocal clarity so you get clear voice clarity. The built-in microphone incorporates noise and echo cancellation processing technologies, so the speaker won't affect the sound for either the caller or yourself. This is great for general home use but could also function as a conference call speaker for the office boardroom table.
The Riva Turbo X's sound is exceptional. When you crack the volume full on a normal compact Bluetooth speaker, you usually get some vibration and distortion. With the Turbo X cracked up to 100dB, the sound remains clean without any vibration.
Riva Turbo X Features
Ground Control App
The Riva Turbo X can be controlled remotely via the official app, Ground Control. Through the app, you can control volume control, switch between sound modes as well as general controls like play, pause, skip, etc. You can also pair a new Bluetooth device, monitor battery life, and rename the Turbo X from the app. Ground Control is available for both Android and iOS.
26 Hour Battery
One of the most impressive features of the Turbo X is the 26-hour battery life. The 26-hour battery life can only be achieved when listening at an acceptable 75dB. As soon as you crack the Turbo X up the battery life does get eaten up somewhat. Having said that, even if you run the Turbo X at full power it'll last 6 hours.
USB Input
Another great feature is the USB port on the input panel. This allows you to charge your phone. A handy feature when out camping or away from a socket. Just be aware that this will reduce the battery life of the Turbo X.
Splash-Resistant
The Turbo X is splash-resistant with waterproof seals on the bottom of the speaker. In addition, Riva supplies you with a handy cover for the input panel. This means you can place the Turbo X right near the action without worrying about damage from spills or splashes.
Proximity Sensing
The Turbo X also has a proximity sensor around the control panel. When you move your hand over the control panel, the buttons light up so you can see what you're doing. This feature is handy in poor light conditions but also saves battery by turning off when not needed.
What's in the Box?
Riva Turbo X Bluetooth Speaker
External power supply
8′ 3.5mm-to-RCA connector
4′ 3.5mm-to-3.5mm connector
Splash-resistant I/O cover
Owner's manual
For an extra $30 you can also purchase the Riva Turbo X travel bag which holds the speaker and its cables.
Conclusion
If you're looking for the ultimate compact Bluetooth speaker, then the Riva Turbo X is it. While the Turbo X is slightly more expensive than its competitors, it must be noted, this is no "normal" portable speaker. With the surround sound feature, you get an exceptional audio experience when playing games or watching movies. This is especially useful if you're traveling or want to watch in a room without a sound system.
At 3lbs, anyone can pick up and move the Turbo X and, there aren't any cables to hook up. The ability to charge your phone via the USB output solidifies the Turbo X's status as the ultimate portable Bluetooth speaker, or should I say – sound system.