The Bottom Line
The Raycon The Power Boombox is a budget-friendly Bluetooth speaker that can be treated as an entry-level home audio speaker or party sound solution that offers the sound quality, internal features, and build quality one would expect for a speaker far beyond its price point.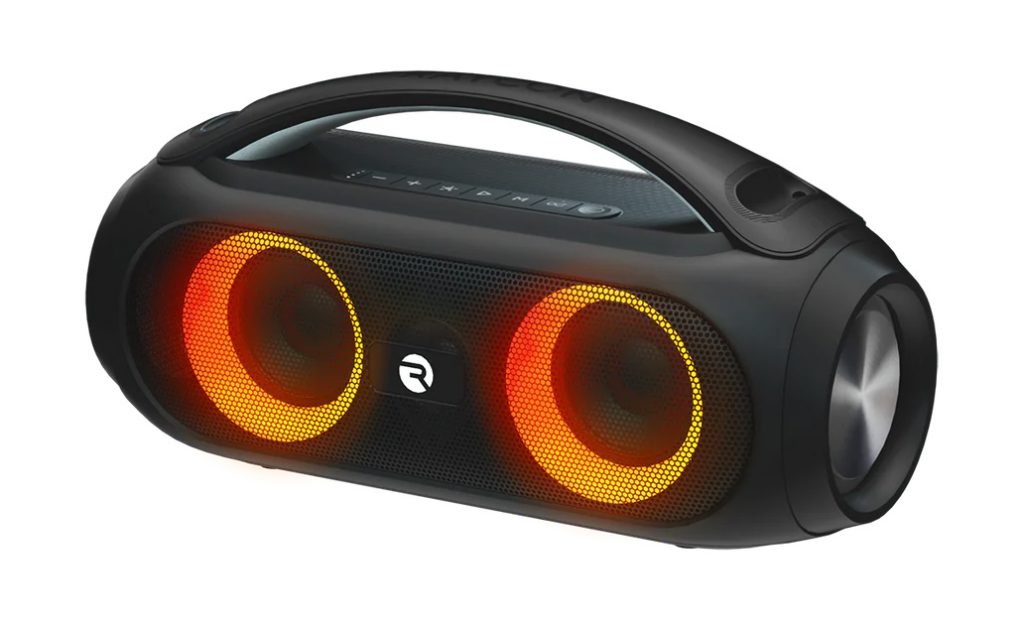 I'll be honest, having not heard of Raycon before the opportunity arose to review this speaker, I was intrigued by the affordable price for what appeared to be a versatile speaker packed full of handy features. Let's take a deeper look…
Design and Feel
IPX5 water resistant
Easy to use the controls
Small and light enough to carry around
Adopting the classic modern boombox speaker design made popular by brands like JBL, Sony, and Bose, the Raycon The Power Boombox is made to lay on its side with the arch-like carry handle upward. Fitted with LED rings around each 3-inch full-range driver that synchronize to the beat of your music and can change colors, The Power Boombox is most certainly a party starter.  
The Raycon Power Boombox is reasonably large but not too big to make it awkward to carry across the beach and is surprisingly lightweight compared to other similarly-sized speakers. The previously mentioned carry handle is comfortable and convenient, and the controls can still be accessed while the speaker is held.
As for durability, the Raycon Power Boombox feels well-built, and its IPX5 water-resistance rating means it can be used in environments where it may come into contact with water, just as long as it isn't dropped in the pool or sprayed with a hose, so for everything between casual listening or parties at home or elsewhere, the Raycon The Power Boombox should be safe.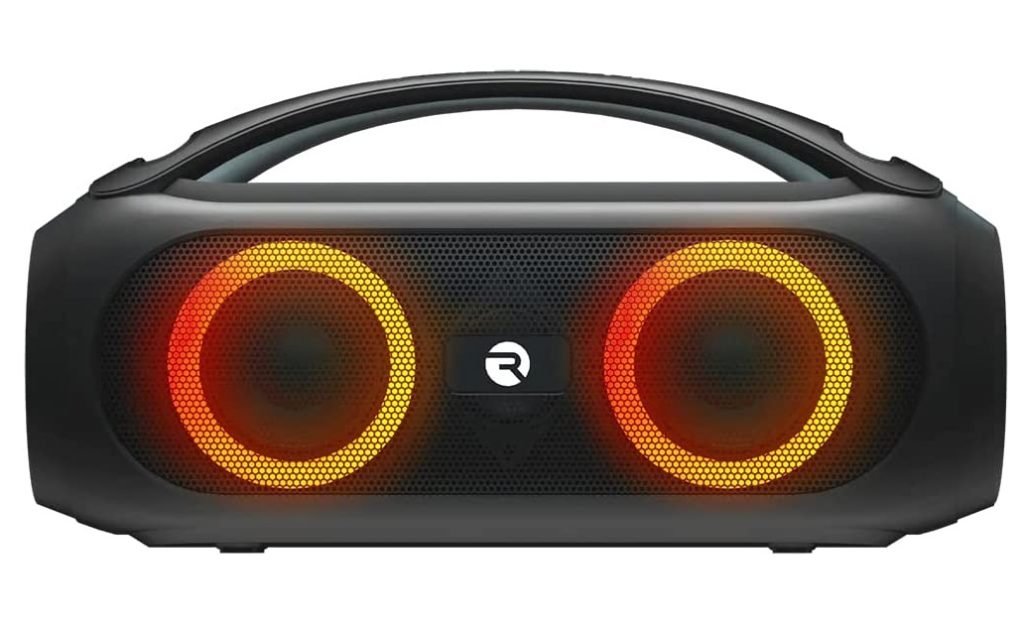 Sound Quality
Three sound profiles to choose from
Fairly narrow frequency response
It can't get very loud
The Raycon The Power Boombox is powered by a pair of 3-inch full-range drivers, capable of pushing 20W of power, delivering a reasonable amount of volume which can comfortably provide the atmosphere for a small gathering.
The Raycon Power Boombox shows a measured frequency response of 70Hz to 16kHz. This isn't a great response, but it isn't terrible either, especially since Bluetooth speakers at this same price are often far more limited in terms of frequency reproduction, and given the drivers are only 3 inches and handling the full spectrum, I'm fairly impressed here.
You'll notice some missing low-end bass, and while this can't be solved using equalization techniques, the 'Bass' mode on the Raycon Power Boombox thickens the low end to a reasonable middle ground. The midrange and higher frequencies are well-defined, and the remaining two sound profiles, 'Balanced' and 'Pure Sound', tweak the sound signature further.
The stereo field of the Raycon The Power Boombox is one of the better spreads I've heard from a Bluetooth speaker and can be further improved by making use of the multi-link mode, which allows you to pair two Power Boomboxes to form a widened stereo pair.
Overall, the sound quality here far exceeded my expectations for a speaker under $100.00. It can't get loud enough to power a party, but for one-on-one listening around the house or some background music for a small gathering, the Raycon The Power is a reliable choice.
Connectivity
Bluetooth 5.0 for uninterrupted streaming
FM radio, auxiliary, and USB playback are also available
Here is where I was quite impressed: the connectivity options of Raycon's The Power Boombox are great for its budget. Everyone's favorite connectivity method today, Bluetooth, runs on the 5.0 version, promoting low-latency and higher-fidelity data transfer. At the same time, there is a wide range of wired and alternative connectivity options available.
The Raycon The Power Boombox supports FM Radio, something you don't see too often on Bluetooth speakers nowadays but is always a nifty feature. I was initially concerned about the lack of a screen to provide a visual guide when channel-surfing, but Raycon has employed a handy feature here to help with this. The Power Boombox automatically scans stations with strong connections and can be switched by holding both volume buttons. With no visible antenna, I expected poor signal strength, but most stations are crystal clear.
In addition to Bluetooth and FM radio streaming, the Raycon The Power Boombox also supports auxiliary inputs using a 3.5mm connector and USB playback: simply load a playlist onto your USB drive, and it'll play by itself when plugged into the speaker. If you've read any of my other speaker reviews, you'll know I'm a big fan of auxiliary inputs, but USB inputs excite me on a whole new level. Having a speaker that can play without needing your phone to be nearby and charged is a really handy feature.
Battery Life
21-hour battery life at lower listening levels
Around 6 hours at full volume plus extra features
The Raycon The Power Boombox is advertised as capable of running for 21 hours nonstop, though you'll probably experience a playtime closer to 6 hours when you're running the speaker at full volume and making use of additional features, such as Bluetooth and the LED light show. Still, this figure is on par with many competitors, both within the Power Boombox's price bracket and those far above it. The Raycon The Power Boombox charges using a USB-C type cable, which is nice and convenient.
How We Found the Power Boombox
Raycon clearly aimed at building an affordable speaker that can compete with speakers at higher price ranges. While the sound quality could definitely be improved, I must acknowledge that high-end speakers have spoiled me. If I were to ignore those on the market that cost ten times the price of The Power Boombox, I'd be thoroughly impressed with how the Raycon stacks up for its price point. The connectivity options and onboard LED show are all pleasant additions.

The biggest hurdle for the Power Boombox is standing up to the Soundcore Motion Boom, which, similar in size, offers a broader frequency response range, high IPX rating, and more volume – at a similar price point. You can also read our full review on the Motion Boom for more about that speaker.
Thanks for your feedback!