The Pyle Pro PDIC60 is a budget friendly solution that will fit on almost any type of ceiling due to its flush mount design and lightweight built. You'll get decent sound quality for the fraction of the price you'll need to spend on some more high-end solutions and the best part is that you won't even need to go through all the hassle when installing the Pyle, compared to other more popular items.
People will try and convince you how you need to spend at least $200 on a decent pair of in-ceiling speakers. These thing are complicated. The shape needs to be right, and they have some sort of a magic component inside of them that will make sure there are no crackling noises coming out of your wall once you install them. Plus you'll need to hire an expert that will cost you couple of hundred bucks more, just so you can place those two speakers in your ceiling.
This speaker is featured as part of our 10 Best In-Ceiling Speakers article.
Things don't have to be like this. You don't need to spend hundreds of dollars just to set up two speakers in your ceiling.
The Pyle Pro PDIC60 is here to prove that with its smooth design and a price tag that will surprise even the most hardcore bargain hunters. For only 20 something bucks per speaker, you'll get the opportunity to create your own surround system mounted in the ceiling of your home.
Now that's some value for your money, but what about quality? Each speaker is made out of the same basic elements, but the difference lays in the quality of built and the nature of materials used during production. Believe me, you'll notice how a speaker with a polyester and a paper dome sounds.
The team at Pyle is aware of the importance of using high quality materials during production. They wouldn't last almost sixty years on the competitive US market with low quality products after all.
Yes, you heard that right, Pyle is a company founded in the 1960's in the USA, which specialized into creating affordable car speakers, but is also known for their huge offer of 2-way speakers as well. The PDIC60 is their best selling home entertainment set of speakers due to the level of sound quality this set of powerful drivers can provide to the end user.
To learn why people love this model so much, we'll need to explore in great depth what makes this pair so special in the eyes of the consumer. The price is affordable, there's no doubt about that, but do these white circles actually provide a sound good enough for you to buy them?
Let's see. We'll start with one of the biggest questions you (and your wife) have when getting a new set of mountable speakers.
Are they easy to install?
Installation Process is a Breeze
The biggest problem you'll face when getting an in-ceiling speaker is installation. Even if you have a lightweight ceiling with no brick and stuff, you'll still have trouble installing your brand new speakers.
This is where great number of companies fail to provide a solution that will make the setup process as easy as one-two-three. There are various designs available on the market that just seem impossible to fit in your wall.
You need to think about the angle of the driver, the direction of each speaker, whether it will fell of from your roof and most importantly how will it will fit with all the other items in the room. If you don't have a carpet that really ties the room together (not everyone can be as good of a interior designer as the Big Lebowski), your in-ceiling speakers can look really awkward when installed.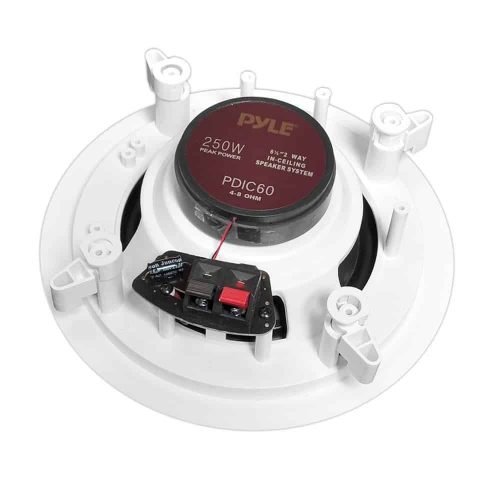 That's why it's always a good idea to avoid bulky designs that cover too much space and weight a ton. They're hard to mount and they can actually damage the ceiling. Robust industrial looking designs are great for professional studios and large houses, but if you're looking for something to put above the TV in your living room, stick with lighter speakers.
Luckily for you the Pyle Pro PDIC60 features a slick design consisted solely out of a circle shaped driver and that's pretty much the whole thing. Every other element is placed on the back and you will never have to look at it once the speaker is mounted on your wall. Even the tweeter isn't placed on the side, but instead in the middle of the main woofer.
This is one of the simplest looking designs we've come across when looking for the best in-ceiling speaker on the market, so it should be a great fit for people running a clean cut design throughout their home. The speaker is so low-key it doesn't even have an additional grid to hide it from the outside world, which is the case with many other similar types of products.
Being such a lightweight pair of speakers gave Pyle the opportunity to simplify the installation process and that's probably why they've decided to go with a flush mount design system. This is the same system used to setup lights and fans on your ceiling. The main reason why companies decide to go with this option is because:
It can be completed by anyone as it's extremely easy to follow the guidelines,
Leaves little room between the ceiling and the back of the speaker,
Doesn't require too much digging and cutting.
You'll just need to use the pre-cut cardboard provided by Pyle and draw the size of the required holes on your ceiling. Once you're done with this you'll need to cut through the wall and make a somewhat precise circle. Don't worry if you're a little bit off target as the speaker itself will cover around one to two inches from the hole.
When ready, you can just clip the speakers inside the hole with the help of four really handy wall holders that will keep the PDIC60 nice and tight once installed.
Some people want to change the color of the speaker to make sure it matches their wall. If you want to do this you just need to remove the metal grill by swinging the small locking clips towards the middle and pushing the grid on the outside. You can do the same with all the plastic elements as well.
Now that we know the PDIC60 can fit almost anywhere by going unnoticed by people that visit your home and you won't even need to go through lot to get the pair of speakers installed on your ceiling, let's see what does this Pyle product offer in terms of sound quality.
Before we start, we would just like to state how your audiophile friends will not be happy with your choice and they'll find tons of remarks with the Pyle Pro series, but for this price, this is a real value for your money. Trust me. You won't find anything better for $20 per speaker.
Now, let's analyze the sound. That's why we're here, right?
Satisfying Sound That Depends on Installation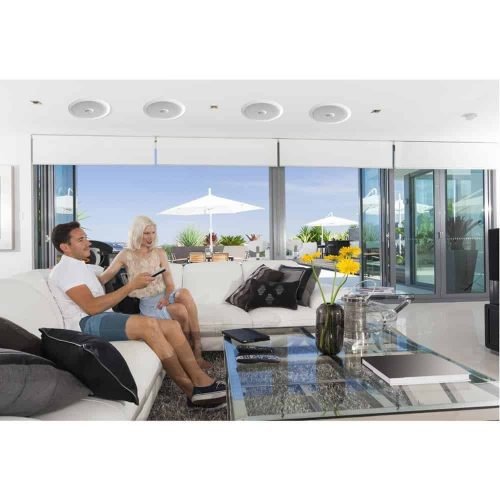 When you have to deal with cheap items it means you'll need to put a little bit of effort on your own, so you get the max out of the speakers you got.
The same goes for the Pyle Pro PDIC60. The speakers on their own have a more than decent set of elements that will allow them to produce a satisfying sound quality, but you also need to consider surroundings and the way you install your new in-ceiling speakers.
Good advice we encountered while we were browsing customer reviews is to put additional isolation around the speakers, like a rubber band or something like that, so you're able to fixate the PDIC60 in your wall. This way, you'll make sure how your speakers stay glued to the same place and don't produce any static or crackling noises echoing through your walls.
With an impedance level of 8 ohms these speakers won't need too much power to produce a maximum sound quality and the fact that each driver has a 125 watts power output range (250 watts for the pair), means you'll be able to enjoy your music on high volume without any problem.
The sound signature probably isn't as clean as some of the frequencies we've measure with other in-ceiling speakers, but you're not getting these speakers to win any awards at your local block party. You're simply getting a pair of cans that will make your home entertainment system more bearable and improve your movie watching experience.
Although they're packed with enough watts to bring the house down, you won't be able to compete with some industry standard setting products that actually have lower power output because of the overall quality of built and the nature of the elements used during production.
Think of the Pyle Pro PDIC60 as a cheap solution that looks good on your wall and will produce more than decent sound quality. If you're looking for a powerful set of built in 2-way speakers that will amaze everyone that comes to your home, then you should increase your budget a little bit and spend above $100 on audio equipment.
This also applies for all of your bass heads out there searching for that deep bass line that will make your body shiver. The frequency range of the Pyle starts from 65 Hz, which is pretty damn high for anyone to expect an over the top bass quality.
Conclusion
If you're looking for your first set of 2-way speakers and you're trying to make your ceiling a true sound machine, the Pyle Pro PDIC60 is a great choice not only because of its low price tag, but the fact that it's really easy to install it while also getting more than decent sound quality. We would love to answer any questions you may have regarding the Pyle Pro, so don't hesitate to fill up our comment section.
Also, if you have any experience with the PDIC60 model, share it with us and we'll make sure the community shows its appreciation.
Thanks for your feedback!