Polk Audio is an audio equipment manufacturing company with more than 45 years of experience in the industry and the RC85i model is one of their most successful products because of its ability to produce a high quality sound accompanied by a deep base line where your lows and highs won't get in the way of each other. If this isn't enough, know how you can always count on this stealth 2-way speaker on producing impeccable sound, even in harsh and humid environments like your second floor sauna thanks to the high quality of build level and the list of materials that includes items like stainless steel and butyl rubber.
This speaker is featured on our list of Best In-Ceiling Speakers and the list of Best In-Wall Speakers.
Getting the right in-wall speaker that will fit well with the feng shui energy of your living room isn't an easy task. There are literally unlimited aspects you'll need to take into consideration from the type of wall your house is built from to the size of the speaker that will actually look good with everything else in the room.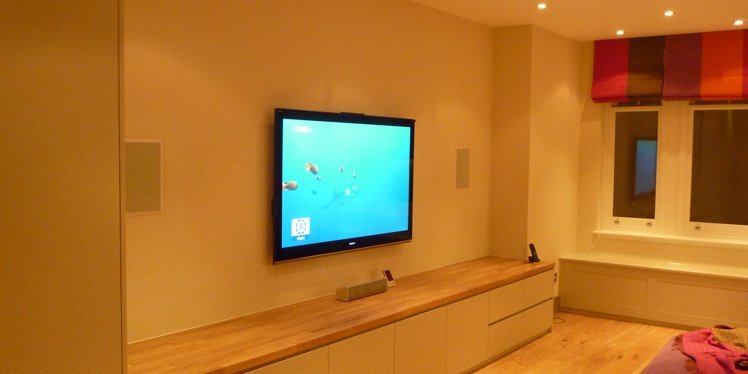 Countless hours of browsing on Amazon and you can't find anything that feels right. You start nagging your friends to recommend an affordable solution that produces some high quality bass. You become desperate and even try compromising by going with a in-ceiling speaker instead, just because you can't find a nice little speaker you can put in your wall.
Ceiling speakers are great, but get them only if you really need them.fcei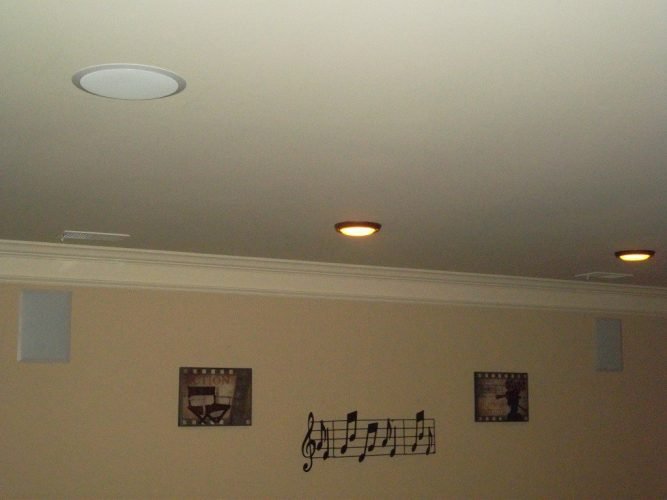 We know how painful the lookup for a quality in wall speaker can get and that's why we've reviewed dozens of options before selecting a group of long lasting speakers you can actually count on.
Polk Audio is one of those brands that caught our attention thanks to their ability to create high end products that won't hurt your budget while giving you the chance to build a home entertainment system that looks good to each member of the family. They have couple of really interesting in-wall speakers to choose from. A list that also includes the bulky powerful 265RT (Ea) option and the horizontally positioned tiny 255C-RT model.
Somewhere in the middle of the spectrum you have the RC85i, a 2-way in wall speaker that offers both great design and out of the world functionality without the need to compromise when it comes to sound quality. It's a true rarity to see a speaker that looks good placed on the inside of your wall and offers an audio experience you'll never forget.
Here's why Polk Audio's RC85i model is viewed as an industry leading piece of audio equipment in that price range:
Adjustable Size That Can Endure Everything
One of the most important elements that will surely affect your decision of which mountable speaker you'll go with is the ability to choose from different sizes and dimensions. This is a burning questions great number of companies fail to address, but we're happy to inform you how Polk is a manufacturer that gives you enough options to choose from.
When getting your Polk RC85i you'll be able to select one of three available speaker sizes:
This may not sound as an important factor for those of you living in huge houses with ten feet walls, but we're considerate enough to know how efficiency is something that great deal of people look for when planning the arrangement of their home entertainment system.
Professional musicians also tend to be picky and look for a compact solution that will blend with its surroundings, so it's always good to know how there's no need to get stuck with a one size fits all type of speaker.
Even enthusiasts that want to equip their bathroom or outdoor jacuzzi with a set of powerful speakers can get the job done with the RC85i thanks to its quality built and the fact that all materials used during production are moisture-resistant.
Now, that's one pair of versatile speakers that can make even the pickiest audiophiles happy.
But, what about the quality of built?
Top of The Line Quality
Speakers with great design that aren't there yet when checking the level of sound quality they provide, are flooding the market. The number of companies unable to build a quality speaker due to their lack of experience and overall incompetence in the field of audio equipment manufacturing grows by the minute.
Check AliExpress if you don't trust us. There are literally hundreds of different speaker manufacturers it's not even funny.
The problem with these guys is that they don't invest enough time and resources into researching on how to get a better sound from their product. They just buy a low quality driver by the bulk from a cheap manufacturer and try to be clever with the design they push on the market.
This is not how you build a reputable brand.
Sure, you can go on and get some $5 in-wall speaker, but you won't get nearly the same sound quality as with the Polk Audio RC85i.
For a company that has been in the game since the early 1970's Polk really knows how to adjust to current trends and promote a product that satisfies the needs of everyday music listeners and industry professionals.
After all, we're talking about more than 45 years of experience in athe audio industry. Imagine all the connections the company developed over that timespan. They must be using only high quality production materials and get them with some loyalty discount from their list of trusted suppliers, right?
And they surely do.
Polk Audio is a part of the Sound United groupation, which includes companies such as Denon, Heos and Classe. This places them in a position where they can use top of the line equipment and materials, but at the same time their pricing strategy can go in a direction where a wider audience could afford their line of products.
Now that we know the RC85i will look great when set up on the inside of your wall and ceiling, let's check out what can you expect in terms of sound quality.
Precise Yet Powerful Sound
People have the tendency to focus on design and price little bit too much when browsing for their new in-wall or ceiling speaker. I'm not saying this isn't important as you clearly want a budget friendly solution that will look good in your house, but there are some other important stuff you need to take into consideration or you'll get stuck with a cheap speaker that makes weird ghost like sounds echoing throughout your walls.
Thanks to the high quality standard Polk Audio set when creating the RC85i you won't have to fear that something weird will happen once you place the speakers inside your wall. Each piece is made out of a high quality material, so sound isolation shouldn't be a problem.
Depending on which size option you'll go with (8", 6.5", 5.25") you'll get the appropriately sized dynamic-balance system based on a speaker cone made out of blue polymer. This little blue shiny circle will even make you reconsider whether you actually need the white protection grid on your wall.
And this isn't the only positive that the blue polymer cone will provide when you start listening to your favorite music in the comfort of your jacuzzi.
The size of the driver isn't the only factor affecting the quality of the deep and low sounds your speaker produces. It's important that the company producing the speaker uses high quality materials capable of withstanding heavy vibrations. Polk Audio has done this with their RC85i 2-way in-wall speaker and that's why this little baby can produce sounds so deep, that the human ear can't even hear them.
You may not be able to hear them, but you'll certainly feel them thanks to the robust driver used with the RC85i that has a range of frequency starting from 32 Hz and going up to whooping 20kHz. This is some serious power making this innocent 13 inch tall speaker capable of blasting music so loud, it will wake up your neighbours.
To avoid this and increase the quality of the sound reproduced by your speaker, keeping the sound signature curve close to that sincere V shape we're all looking for, you'll need to use the one-inch adjustable tweeter.
The reason why there's a handy swivel holding the tweeter is because you'll want to adjust the direction of the high pitched sounds and this is the perfect tool to do that. Having a high quality driver cone and a solid one inch tweeter gives you the opportunity to enjoy your favorite music without the need to sacrifice on volume levels. These two hardware elements keep the low, mid and high tones in check keeping the sound signature close enough to the V line.
Conclusion
The RC85i model created by Polk Audio, a company with more than 45 years of presence on the US market, can be considered a state of the art piece of audio equipment, perfect for novice and experienced users that want to create the perfect home entertainment system.
It's loud enough to make your party a success yet it can cover deep sounds characteristic for the opera. This makes the RC85i speaker a high end solution that can fit the needs of different types of users.
For those of you looking for a more budget friendly option, you can check out the Micca M-8S, a stable in-wall speakers available for under 100$ we've found online.
It won't be as good as the Polk Audio RC85i, but there's a noticeable difference in price.
Hope this review pointed out all the reasons why industry professionals always include the 85i among the best in-wall and in-ceiling speakers money can get. We would really love to hear your experience with this speaker or answer some of your burning questions, so don't be shy and fill up the comment section.
We'll answer ASAP.
Thanks for your feedback!