The Bottom Line
While we're used to outdoor rock speakers providing somewhat disappointing performance, the RS850 is a bit of a diamond in the rough. It excels in vibrant sound that puts out a lot of volume and a good amount of bass. The durability could be better, but with proper maintenance and thoughtful placement, you can extend their life fairly easily.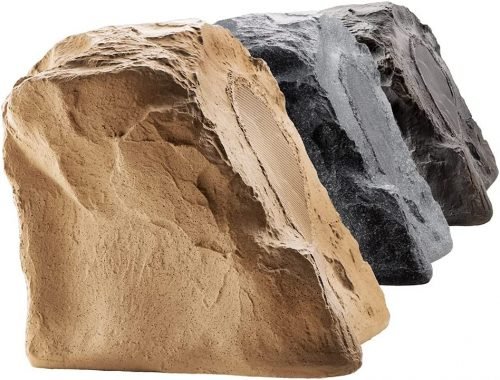 OSD Audio is arguably the leading manufacturer of outdoor rock speakers, a speaker market that, in all transparency, is riddled with cheap, low-quality white-label products. OSD Audio is a brand that stands out as one of the exceptions where their products tend to perform better than most in this space. Their extensive catalog of rock speakers can satisfy virtually any requirement and are some of the more powerful and better-sounding units out there. There's a reason we have it listed as one of our favorite rock speakers.
Design and Technical Features
Dimensions: 17.5 x 13 x 16 inches
Weight: 16lbs
Power: 200W
Drivers: 8" woofer, 1" tweeter
The OSD Audio RS850 houses a powerful 8-inch woofer and 1-inch tweeter within an aerospace-grade, multi-layer composite cabinet designed to withstand rain, extreme temperatures, and other hazardous conditions. The realistic-looking rock is available in granite grey, sandstone canyon brown, and slate colors to blend in with your garden, water feature, deck, or any other outdoor entertainment area.
Easy to Install
To install the OSD RS850 rock speakers, you'll need a high-powered amplifier and the necessary cabling. OSD recommends using their CL3 Burial Rated Speaker Cables, which are available in various gauges, conductor variations, and lengths to suit your specifications. As for amplification, you'll need something capable of pushing at least 100 Watts to the speaker.
We found that the process of getting them set up was quite easy, just your routine process of connecting a speaker to an amplifier. When installing it at home, though (and not in a testing area), we do recommend that you bury the cables underground for aesthetic and practical reasons. This is often the most challenging and time-consuming part of the process. Just make sure your cables are waterproof, and you're using the correct gauge for the length required.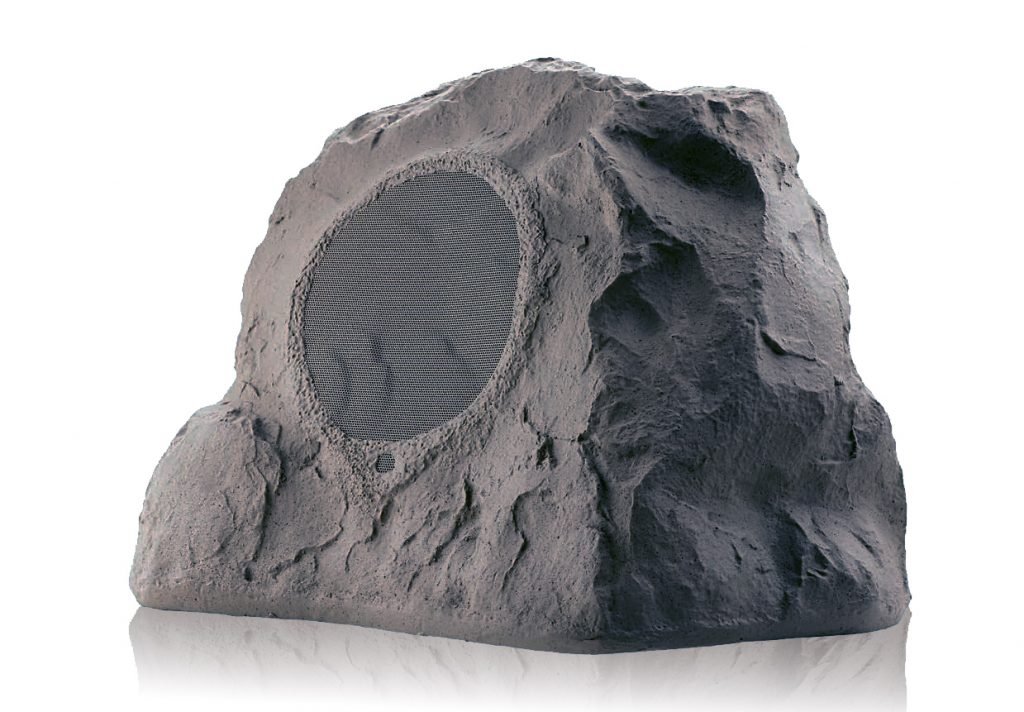 I would recommend a 12 or 14-gauge cable for longer distances (greater than 50 feet). This will supply the speakers with enough power to run efficiently, or if you're setting up a shorter distance between the amplifier and the speakers, a 16 gauge will be fine.
Sound Quality
The OSD RS850 rock speakers carry 200W of power per speaker and operate on an impressive frequency response starting at 28Hz and reaching its limit at 20kHz. Driven by an 8-inch woofer and 1-inch tweeter, this leads to what, in my experience, is one of the best-sounding outdoor rock speakers I've ever heard, which you can take with a grain of salt, given the scarcity of high-quality outdoor rock speakers on the market.
Overall, the sound quality is very clear, punchy, and natural. The bass response is exciting and will, without a doubt, satisfy the listening needs of fans of hip-hop, electronic/dance, and pop. I found the midrange also to be clear and well-detailed, and the high end is crisp enough without becoming harsh, as some outdoor speakers can be.
If you pair these up against some of the outdoor patio speakers on the market, there are areas where they can hold their own and even outperform some popular brands in that space.
These speakers also impressed me with their volume performance; not only are they some of the loudest outdoor rock speakers on the market, but they maintain high-fidelity audio characteristics even when pushed fairly aggressively, assuming one is using an amplifier that can drive them to their potential. These speakers sound best when they're cranked a little, so using them in a larger garden/outdoor space is recommended. While you could use these in a smaller area, I'd instead recommend OSD Audio's RX550 model, which is slightly more affordable as well.
Furthermore, I feel the multi-layer composite construction also adds to the sound quality, as cheaper plastic materials often used in outdoor speakers are regularly a contributing factor in poor sound quality.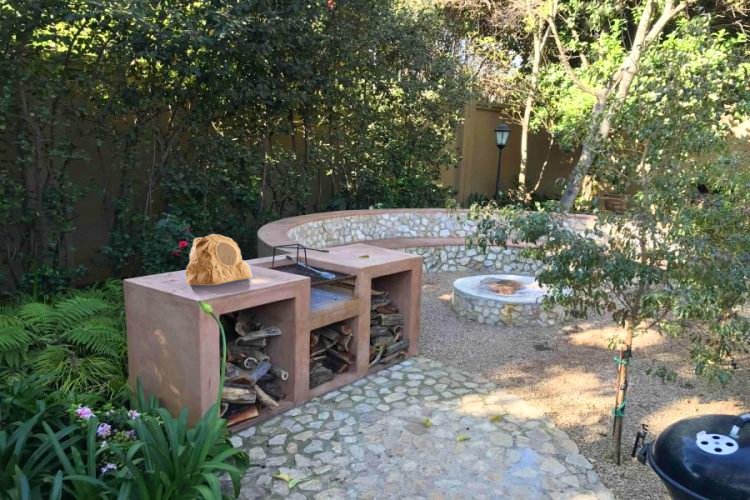 As I mentioned earlier, the RS850 speakers are sold individually rather than in stereo pairs. Even though the RS850 packs that impressive 8″ woofer, chances are you're still going to want to be able to produce a stereo sound from your rock speakers and not rely on a single speaker. For smaller gardens or entertainment areas, you can likely get away with just two of these speakers, but for larger gardens where you're looking for more coverage, you'll want to invest in some additional units. If you're using the RS850 configured in stereo, I would strongly advise this distance be kept below 30 feet, as per the manufacturer's recommendation.
But Do They Last?
It's not all rainbows and unicorns for the RS850 however, and basically, every product has a weak point. With the RS850, poor maintenance can result in a shorter lifespan, mostly an artifact of the type of speaker they are designed to be. When we think about outdoor speakers, there are only a few options that don't need some protection. For instance, patio speakers, even when waterproof, should still be mounted under some protection.
Because rock speakers are often left outside for the whole of the winter season without use and sometimes even without proper maintenance, they can be prone to reliability issues over time. The RS850 is no different. Even though these speakers can last well if maintained well, we do know that some customers find that they start struggling a few years into use.
Even your car can suffer from issues when left unused and unmaintained over an extended period, so we highly recommend following a few basic steps to ensure your RS850 has the longest life it can.
Consider removing the speaker from the garden during winter if you are not regularly using it. You can use wire protectors to cap the ends of your wires over this period and then simply store the speakers indoors for that period.
Use some sort of protection over the speakers when there is extreme weather forecast.
Place your OSD RS850 under a bush or other protected area to minimize the severe conditions it has to go through.
Every few months, perform basic maintenance on your speaker, cleaning any dirt and debris from the speaker and ensuring your cables that sit above the ground are still in good condition.
So Is It Worth Buying?
The OSD RS850 sounds great. They have a rich bass presence thanks to their 8″ woofer while still providing an impressive midrange and highs that are well-tuned. They perform far better than most other rock speakers we've encountered, but they aren't perfect, nor for everyone.
If you're looking for speakers that are intended to play music for an entertainment area, such as a patio, we would still recommend going with a pair of patio speakers, which offer better longevity than most rock speakers. They can also, in many cases, provide better overall audio quality.
For garden audio in areas that don't offer protection, the RS850 by OSD Audio will be one of your best bets for a great-sounding rock speaker.
Thanks for your feedback!