If you're a fan of in-ear earphones but have battled to find a decent sounding pair, particularly when it comes to bass response, then the Optoma NuForce BE Live5 Wireless Audiophile Earphones might be what you're after. Now, before we start, it's important to note that although I think these are great earphones, I wouldn't classify them as an audiophile headphone. I'll tell you why before the end of this article.
At a Glance
Type: In-ear/Earbuds
Cable or Wireless: Wireless Bluetooth 4.1
Noise Cancelling: Noise Isolating
Battery Life: 8 hours (2 hours to recharge from flat)
Primary Build Material: Silicone and aluminum
Color options: Black or gold
Waterproof: IPX5
Weight: 0.49 oz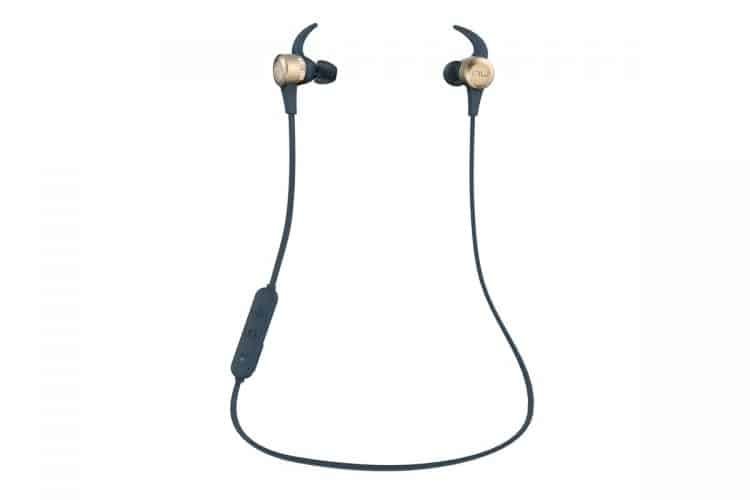 The NuForce BE Live5 is a wireless in-ear headphone featuring Bluetooth version 4.1. Not quite the version 5 we're expecting from Bluetooth products in 2019 but close enough. Unlike many of its competitors, the NuForce BE Live5 is constructed of aluminum rather than plastic making them slightly heavier than your average wireless earphone. This is by no means a bad thing, in fact, it's a positive. The extra weight helps keep the NuForce BE Live5 sitting inside the ear securely and they feel more robust than plastic models.
The NuForce BE Live5 features a flat, tangle-resistant, silicone-coated short cable which fits neatly behind the neck. In addition, there is a cable management clip which adjusts to tighten any excess out of the way. This is especially useful when working out.
Speaking of working out, the NuForce BE Live5 is IPX5 waterproof rated which basically makes these earphones splash and sweat resistant. This means the NuForce BE Live5 will be great for working out but you wouldn't want to use the earphones in the pool or activities where they might get submerged.
Battery Life
As the NuForce BE Live5 is a wireless headphone, it operates on a built-in battery. The battery life gives you up to 8-hours of playing time which is more than enough for a full days use or a week at the gym (depending on how long your workout sessions are of course). The NuForce BE Live5 recharges in under 2 hours from flat which is on par with the competition.
There is a 3-button inline remote and microphone on the NuForce BE Live5 which allows you to control your Bluetooth paired device. Buttons include volume up, volume down and multi-function. The multi-function button gives you a lot of control over your Bluetooth device. You can play/pause tracks, handle incoming calls, activate voice commands (Siri or Google), and activate Bluetooth pairing. The volume up and down buttons also control track skip next and previous. The call quality on the NuForce BE Live5 is really good but the mic is sensitive to wind noise. So not a great earphone for calls outside when on the run or if it's excessively windy or noisy.
Multipoint Connection
Through what Optoma call multipoint connection, the NuForce BE Live5 can be paired to two Bluetooth devices at the same time. The first device you pair become your primary device and the second your secondary device. The primary device takes preference and as soon as audio is playing on your primary device, the secondary device is cut off. This is a great feature if you are using your earphones at your desk with your laptop and mobile both paired to the NuForce BE Live5. You can pair your mobile as the primary device and laptop as your secondary where you can watch videos or listen to music. If a call comes in on your mobile, the audio from the laptop will be cut and you can take the call by simply pressing the multi-function button on the NuForce BE Live5 inline remote. A very useful feature and I'm sure others will find more uses to make this work for them.
Drivers
The NuForce BE Live5 features 8mm drivers in each earbud which produce a surprising amount of volume and bass. The earphones are actually a little too loud and don't turn down low enough. It's not a major issue, but I have seen other people commenting on this online. The bass is really good, certainly better than most wireless earbuds. The mid-range is decent although ever so slightly muddied by the bass. For the average consumer, this won't be an issue, and I probably wouldn't have mentioned it, however, Optopma did say these are audiophile earphones. If you're willing to put that stamp on an audio product, you're opening yourself up to the harshest critics. The high frequencies are great and offer the NuForce BE Live5 good clarity. Even though I would consider the NuForce BE Live5 to be one of the better sounding earbuds on the market, I wouldn't class them as audiophile quality.
Comfort
One thing that the NuForce BE Live5 does very well is fit and comfort. The earbuds sit snug in the ears offering good passive isolation and a comfortable fit. With the NuForce BE Live5, you get three types of ear tips – Comply (foam), silicone, and ear wings.
The Comply (foam) ear tips come in two sizes, medium and large, and offer the best fit for general use and travel. The silicone tips come in small, medium and large and are best for activities where you might sweat. The ear wings come in three sizes, small, medium and large, and keep the NuForce BE Live5 securely in place. This is especially useful when it comes to working out.
What's in the Box?
Included with the Optoma NuForce BE Live5 Wireless Audiophile Earphones.

Optoma NuForce BE Live5 Earphones
3 Pairs of silicone tips (small, medium, large)
2 Pairs of foam tips (medium, large)
3 Pairs of ear wings
Cable clip
Carry pouch
Micro USB charging cable
Conclusion
I'm not usually a fan of in-ear headphones. Unless they're really high-end professional in-ears, I just can't seem to get used to the fit. But the NuForce BE Live5 actually fit pretty well and sound surprisingly good at the same time. The NuForce BE Live5 come with all the features you would expect to find in a premium set of earphones and they all work really well. For just under $100, the NuForce BE Live5 is well priced to compete with premium in-ear headphones. I just think they need to remove "audiophile" from the product title.