Unless you enjoy listening to other people while you work or study, or you have never had children, then you have probably thought about investing in a pair of noise-canceling earbuds. I'm writing this article with a pair in my ears as we speak. The only thing I can hear is Niall Horan singing Slow Hands and my own thoughts, and let me tell you – it is therapeutic.
Now try not to judge me too harshly on my taste in music, and let's concentrate on the technology. If you do not know exactly what noise-canceling earbuds are, then I will make it simple. If you think that it just blocks out noise through soundproof earbuds then you would not be completely right.
While many noise-canceling earbuds do work this way (and even some on this list) there is a more advanced technology that is much cooler – well, to me, at least. I like to think of these as the 'real' noise-canceling earbuds.
With Bose noise-canceling technology, these earbuds reduce surrounding distractions and allow you to listen to your favorite music at high or low volume without the outside world breaking through.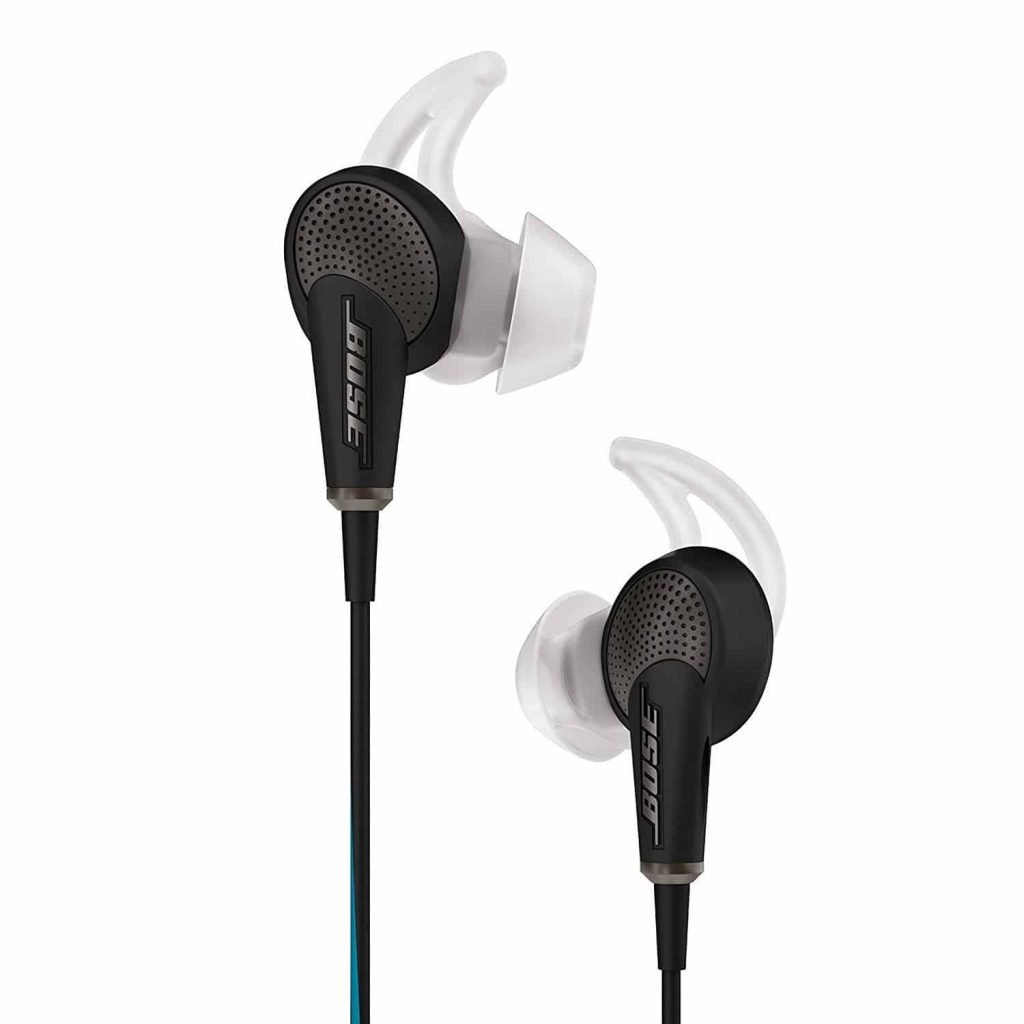 How active noise-canceling earbuds work
Some noise-canceling earbuds use a cool type of technology called ANC – or Active Noise Control. This is the simple yet fascinating action of the earbuds detecting unwanted sounds around you and then producing a counteractive sound that actively cancels out the sound around you – resulting in you hearing virtually nothing.
Now, I can go into detail about destructive interference and bore you with all the technical terms, but honestly, you can just read about it here.
Being quite the audio enthusiast let me tell you, there is nothing better than listening to good music on great equipment. Hearing those crystal clear mids and highs that are so vivid you can practically see them is a memorable experience. So, let's consider which noise-canceling earbuds are the best choice for you.
1. Bose QuietComfort 20 Acoustic Noise Cancelling Earbuds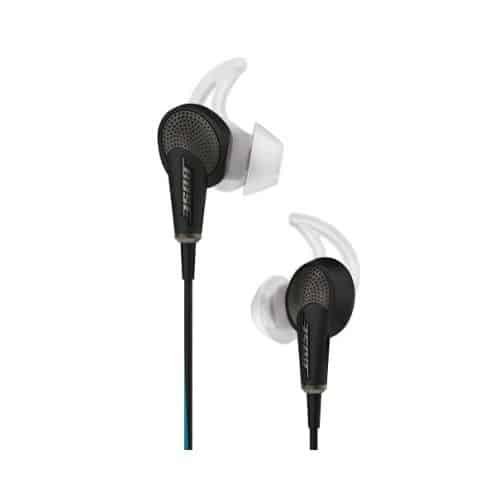 Most people already know Bose since they have managed to build a pretty great reputation for themselves and they proved themselves again with the QuietComfort 20. With Bose noise cancelling technology, these earbuds reduce surrounding distractions and allow you to listen to your favourite music at high or low volume without the outside world breaking through.
With the QC20 the choice to shut out the world is up to you. With the mere touch of a button, you can switch on the Aware mode which ultimately allows you to tune into your environment and listen to the world around you without having to remove the noise-cancelling earbuds.
There are two versions of the QC20 namely the Apple and the Android versions. The Apple version was designed to work perfectly with your iPod, iPhone, and iPad. You can also have a simple and clear hands-free conversation without any trouble, using a built-in mic that is located on the cable, a few inches from your mouth to ensure that your voice comes through clearly on the other end of the line.
The Android version is equally great but they are custom engineered to work on your Android device.
For optimal sound, Bose utilized Bose Active EQ and TriPort technology. Thanks to this you will be able to enjoy the lifelike, digital-quality sound that will allow you to lose yourself in the music without any outside noises breaking through unless you activate the Aware mode.
As for comfort, Bose QC20 is extremely comfortable even after you have used them for a long period of time. Thanks to their proprietary StayHear+ tips the noise cancelling earbuds feel soft and secure in your ears, unlike many other earbuds that constantly slip out or cause pain after being worn for a while.
2. SoundWhiz Noise Cancelling Waterproof Workout Earbuds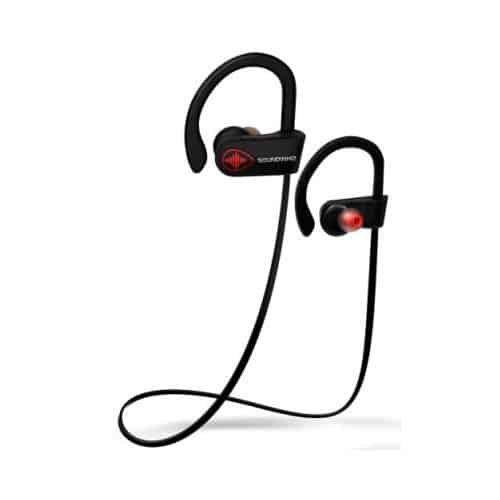 These SoundWhiz noise cancelling earbuds are the perfect choice for runners. They have a locked-in option where the feather-soft hooks attach firmly to your ears so that you wouldn't have to worry about the earbuds falling out while running.
However, if you do not want to lock them in, you can also wear them looser for a more casual fit. Either way, these earbuds are extremely comfortable and come with various size buds that you can easily switch to find the perfect fit.
The noise cancellation on these little guys is excellent, thanks to the CVC6 active noise control technology as well as their noise isolation buds. When you put them on, it will feel like you are in your own world. The CVC6 allows you to have clear voice calls with background echo reduction.
You can also access Siri and other voice controls through the mic for maximum convenience. So whether you are running or driving or simply sitting in your office, you can be sure that you will be able to have clear and coherent conversations over this device.
With an IPX7 rating, these earbuds won't break due to sweat or rain so if you are one of those runners who enjoy running regardless of rain or snow then this is definitely the right choice. Other than their IPX rating and secure fit, they also have easy control buttons on the wire for easy access and super fast Bluetooth 4.1 connectivity.
You will get about 9-hours of playtime from these noise cancelling earbuds before they will need to be recharged. The sound is also quite amazing – with powerful bass and incredibly clear mids and highs you are sure to enjoy your workouts more.
3. Symphonized NRG 3.0 Earbuds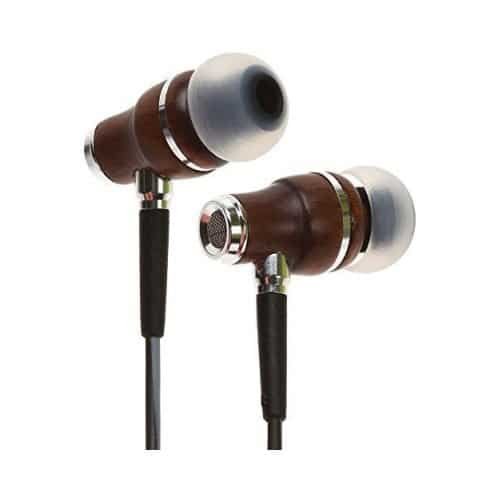 Personally, I love these earbuds. First of all, I think they look amazing. The noise cancelling earbuds are handcrafted with all-natural genuine wood – no wood printed plastic for these guys. So I do love the wood style it looks very sophisticated and the wood is very in at the moment as you might have noticed by the countless wooden iPhone covers and jewelry that we millennials are constantly carrying around.
Also, it just screams quality and they look far more expensive than they actually are. This is only the start of it though, if you know anything about sound then you should be aware of the fact that wood plays a crucial role in sound quality. That is why the majority of instruments are made from wood.
I mean don't you think that it would be easier for them to print a guitar rather than treat and bend the wood and go through all that trouble? But, if they did, then it would sound awful.
So thanks to the wooden body, the quality mechanics, and of course the gold-plated jack (gold is great for connection) you get the best possible experience with these noise cancelling earbuds. The bass is deep and powerful without sacrificing the mid and high ranges which are outstandingly clear.
The earbuds come with 3 different custom-sized ear tips that you can easily change to fit your ears. You also receive an eco-friendly carrying pouch with your noise cancelling earbuds. To further improve your listening experience, these earbuds have noise cancelling properties that block out ambient noises and allow you to enjoy every detail of the music even when you are in a noisy environment.
Overall these are great sounding earbuds and the perfect choice for millennials, giving us quality and style at an affordable price.
4. Shure SE535-V Sound Isolating Earphones

These noise-cancelling earphones are more on the audiophile side and deliver great spacious and detailed sound with rich bass thanks to the dedicated tweeter and dual woofers.
These are not your typical earbuds that hang from your ears but rather over-ear earphones. This simply means that the wires on either side of your head will hook over the top of your ears. This will ensure that the wires do not get in your way. The ergonomic build provides long-lasting comfort and causes less strain on your ears.
The noise-canceling earbuds come with sound-isolating technology that can block out up to 37dB of ambient noise. This will ensure that outside sounds won't disrupt your listening experience and allow you to concentrate on your task at hand without distractions – even when you are working or studying.
In order to ensure proper sound isolation, you will get a number of different-sized tips with your earphones in order to get the perfect fit for your ears. This is essential to achieving optimal noise cancellation.
The Shure SE535-V places great emphasis on sound quality and several steps were taken to ensure that these earbuds produce the best possible sound. The Triple High-Definition MicroDrivers play a substantial role in the epic sound production of the earphones and to further improve the sound, the jack is gold plated for the best possible connection.
Tested by several sound engineers, musicians, and audiophiles, the verdict on the Shure SE535-V is that they provide a high-quality listening experience. I would say that due to the powerful sound that these earbuds produce, they might be better suited for rock music than the Top 40. Basically, if you like music that consists of real instruments rather than electronic sounds then these earbuds will be perfect for you.
5. Shure SE846-CL Sound Isolating Earphones

Here we have a pair of truly outstanding noise-cancelling earbuds. This is without a doubt probably the best earbuds on this list if you look only at built, quality, and sound – however, if you throw the rather substantial price into the mix of considerations then they get knocked down a couple of places due to their cost.
There probably aren't too many people who would pay the same price for their earbuds as they do for their iPhones. However, there are tons of audiophiles out there who wouldn't think twice about this purchase.
Let's start with the most awesome thing about these earbuds – the sound quality. The Shure SE846-CL sounds absolutely outstanding. I cannot quite put into words how good these little guys sound.
The soundstage and layering are incredibly impressive. These are generally two areas where earbuds fall short however with this model, it feels like you are listening to a pair of expensive open-back headphones. It is just remarkable. The treble is crisp and clear, exposing even the finest details of the music and as for the bass, it is deep and powerful and comes through incredibly naturally.
The noise-cancelling earbuds can block out up to 37dB of ambient sound and provide you with the quiet environment that is required to truly appreciate music to its fullest. The earphones also have customizable frequency response where you can adjust sound signatures via changeable nozzle inserts and a removable metal nozzle – options include balanced, warm and bright.
The lightweight earbuds consist of an ergonomic flexible design and the over the ear configuration ensures that the wires stay out of your way. Overall the earphones are super comfortable, they have amazing sound and come with a ton of accessories including various-sized ear tips, a carry case, adapters, two different length cables, and more. They are definitely worth the money.
6. Audio-Technica ATH-ANC23 QuietPoint Active Noise-Cancelling In-Ear Headphones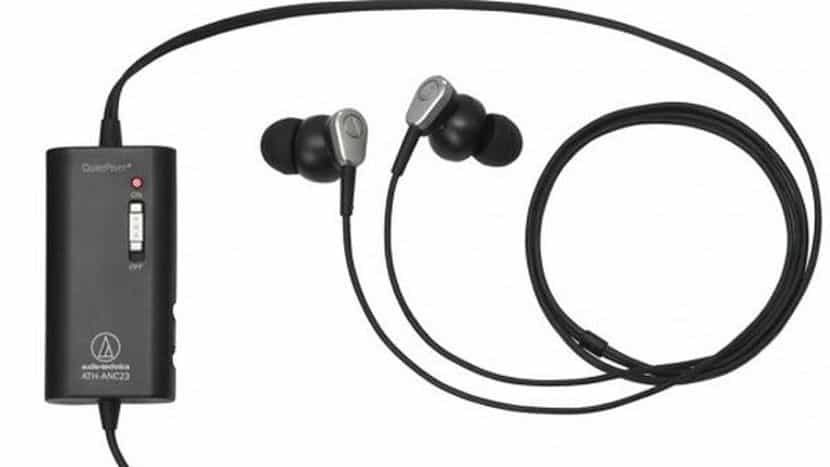 Let me just start this off by saying that Audio-Technica is one of my personal favourite brands when it comes to audio technology. I am very accustomed to the styluses that are used on turntables – I actually have one on my turntable at home.
So, if you are somehow not familiar with the brand then I would like to assure you that it is top-notch. I am not too familiar with their earbuds but I do know that they have made some great headphones like the Audio-Technica ATH-MSR7GM Sonic Pro which is just supreme. So let us take a look at their ATH-ANC23 QuietPoint Active noise-cancelling earbuds.
Let's kick this off with the design. Audio-Technica, being a bit of an audiophile brand, went with a classic design on these earbuds, as they always do – and yes, we love it. The cable is thin, simple and black with a small rectangular-shaped black box which is where you can control your music and activate or disable the ANC.
By activating the ANC, you can reduce unwanted background noise by up to 90%, resulting in a quieter and more controlled environment where you can focus on work, reading, or even watching your favorite series regardless of the noisy environment you might be stuck in. I have been binge-watching Victoria and noise cancelling earbuds have made it a far more enjoyable experience.
The sound quality of these earphones is as impressive as the noise cancelling properties. I mentioned that Audio-Technica is an audiophile brand and this is evident in the sound quality. The mids and highs are clear and crisp with decent bass.
One thing that you might notice when using these noise cancelling earbuds is that they make your ears feel like you are underwater or sort of like when you are driving up a hill and your ears feel all shut. This is an interesting sensation but you ought to get used to it rather quickly and if you are used to noise cancelling earbuds then this might actually feel rather normal.
As for the fit of these earbuds, there are three different sized gel ear tips that you can switch out for the perfect fit for your ears as well as foam ear tips that fit more securely and have the ability to block out even more sound.
It is important that you find ear tips that fit perfectly into your ears as this plays a huge factor in the noise cancelling. If there is space open due to loose ear tips then the sound will simply slip through, leaving little hope for the noise cancelling technology.
7. Libratone Q Adapt In-Ear Adjustable Noise Cancelling Headphones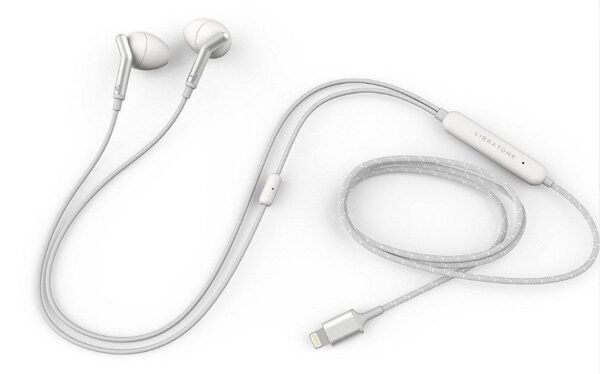 The Libratone Q Adapt noise cancelling earbuds allow you to control just how much of the outside world you let in. With their signature sound profile, you are guaranteed to not only satisfied with the Libratone Q Adapt but thoroughly impressed.
This high-quality set of earbuds offers four levels of CityMix Adjustable Noise Cancellation so that you are able to get just the right level of quiet to go through your day without any disruptive and annoying noises – making it the perfect device for those unbearable Monday mornings when you just can't.
You can choose to tune out around 60% of ambient noise which will make the world a bit quieter without shutting it all out completely. This way you will be able to comfortably carry on a conversation even in a noisy room.
Alternatively, you can set the noise cancellation to full which will completely block out the world and allow you to bathe in the superior sounds produced by the Libratone Q Adapt noise cancelling earbuds.
Libratone thrives on simplicity which is why they made sure to keep things pretty straight-forward when designing the remote for the Q Adapt earbuds. The four-button remote enables you to access CityMix™, activate the Hush function, Play and Pause your tracks, take and make calls, and control the volume. What more could you possibly need?
Noise Cancelling vs. Noise Isolation
On this list, we featured many different products of which some would be classified as noise canceling and others noise isolating; however, these are just technical terms, and in reality, they both do the same thing – keep you from hearing the noises around you. We already touched on the topic of active noise control at the beginning of this article, but we felt a need to expand a bit to help you know what you need.
If you look at it from a technical point of view then active noise canceling earbuds with ANC will seem like a better choice since it makes use of a bunch of fancy technology that is incredibly fascinating to anybody with an interest in tech.
However, if you look at it from a more practical point of view and look at the reality of the situation, then it is clear that both these types of noise canceling have their own upsides and downsides, and it becomes clear why some people prefer one while others will always choose the other.
First, let's take a look at noise-control earbuds that utilize active noise control. As I mentioned, ANC is when the speaker detects the ambient noise that surrounds you and then, in return, produces a counteractive noise that actively cancels out the intrusive noise.
Sounds great right? Well, yes and no. As with everything in life, it is not perfect. ANC typically cancels out low-droning sounds like cars, airplane engines, and so on. It will also have an effect on the surrounding noises, but unfortunately, they probably won't be much help when you are trying to block out the sound of a baby crying.
Luckily many ANC noise-canceling earbuds also incorporate noise isolation which makes them extremely effective in almost all situations.
Now for noise isolation earbuds – these earbuds block noise by placing a dense physical barrier between your ears and the surrounding noise. These types of earbuds block out all sounds, and if it is a high-quality product, then you should be left in peace unless bombs are going off around you. The effectiveness of noise isolation earphones depends on how well the tip of the earbuds fits in your ear.
This is why it is important to buy noise-canceling earbuds that provide different-sized tips. If the tip fits in your ear perfectly it will not only isolate the unwanted noise, but it will also be comfortable even after long periods of time. Of course, the quality of the product also matters but when it comes to the products listed on this particular page you can rest assured of the quality.
Conclusion
Having a good pair of noise-canceling earbuds is essential if you enjoy your peace and quiet. Personally, I cannot stand disruptive noises, and constantly hearing my surrounding environment while trying to listen to music can get very annoying. I always carry a pair of noise-canceling earbuds on me just in case I end up in a noisy environment, need to concentrate, or just get a bit fed up with the world.
Selecting a pair of good quality noise-canceling earbuds is essential, or you can end up wasting your money. After days of reviewing the products on this list, I can almost guarantee that you will find a product that suits your needs, and you will never be able to go back to regular earphones.
Thanks for your feedback!