While we reviewed some of the best noise cancelling earbuds available on Amazon, we couldn't stay indifferent towards one of the quirkiest designs we've ever seen. I mean come on, why do you need a neckband for your earbuds? It's just plain silly.
Once we got over the initial shock thanks to the overall design of the Mpow Jaws 4.1 model we decided to give this pair of noise cancelling buds a try. Sincerely, it was mostly due to their price tag and the fact they had tons of positive reviews around the Internet, so testing them on our own and checking whether all the hype is trustworthy seemed like the noble thing to do.
Click Here to See Our List of the Noise Cancelling Earbuds.
After all, we're always trying to find a budget friendly option for our readers that will give you (almost) the same sound quality as every other model out there. Now, to answer the burning question you all try to figure out on your own, we'll need to analyze the design of this peculiar piece of audio equipment.
What's with The Neckband?
The Mpow Jaws model isn't the only one featuring a weird looking neckband. Manufacturers always try to improve comfort levels and increase the average battery life cycle, which can prove to be extremely hard when you have two earbuds and a cord on your disposal. The size of the battery matters and that's why it's easier to increase its usage hours when you have an entire neckband where you can place a larger sized ion battery compared to the ones your competitors use.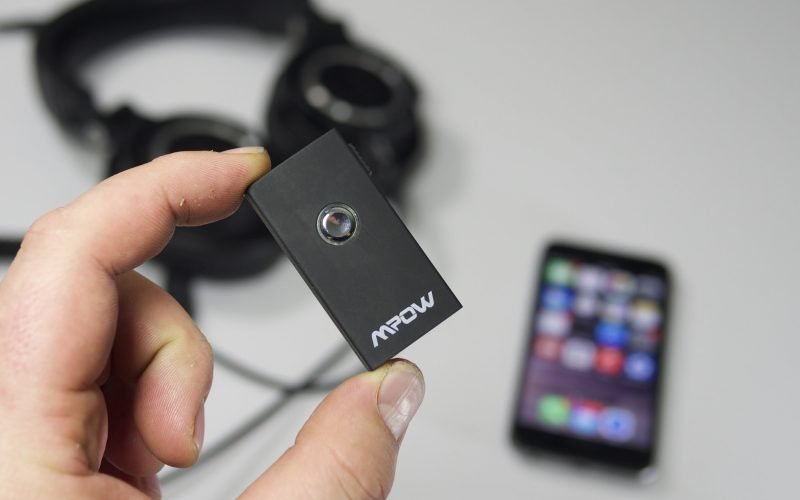 The LG Tone Pro earbuds were among the first earbuds featuring a neckband and it seems like this trend has caught a drift over the past couple of years, as we experience and increase in the offer of neckband based earbuds. Mpow is just one of many audio manufacturers trying to target different audiences with their innovative design aiming to improve the overall experience of using buds.
For a pair of cans that feature active noise cancellation and go under that price tag while being able to offer wireless connectivity to a plethora of different devices,the Jaws 4.1 is a true hidden treasure. Thanks to the shark inspired neckband design the 4.1 model is perfect for users that spend great number of hours hooked on their earbuds. Whether you're a businessman or sales representative comfort is important as you spend most of your day talking to someone through your headphones.
If this is the case, you'll simply fall in love with the professional design of the Jaws featuring a black matte finish on the neckband, which is something you won't see that often with any type of audio equipment in this price range.
Besides this the company has also made sure how you won't even feel the neckband while you're using the earbuds as it's made out of silicone, material that not so many manufacturers decide to go with because of the complex production process.
By doing this, Mpow managed to reduce the weight of the Jaws 4.1 version by more than 60 percent when you compare them with similar available models. Weighing in at "whooping" 1.2 ounces (35 grams), you won't even notice them around your neck and you can go hours at the time without feeling any discomfort by wearing the neckband.
Another reason why Mpow decided to go for a neckband model is because the structure, as it is, offers a certain level of stability to the earbuds element, which is extremely important when we talk about noise cancellation capability.
Although the ergonomic shape of the earbuds will put you in a position where you can just sit back and enjoy your favorite country artist, forgetting all about dinner, the probability the actual buds won't fit your ears or will just feel plain weird is present at all times. That's why Mpow includes a set of three different earbud sizes you can try on before you find your perfect fit.
Battery Life is Astonishing
Besides making the Jaws 4.1 one of the more comfortable earbuds available, the role of the neckband doesn't end here. Manufacturers always try to find innovative ways to increase the average life of batteries used in different products and it seemed like they've stuck with producing new and fresh ideas when we take earbuds into consideration.
Up until the promotion of the neckband, wireless earbud producers struggled with finding the perfect way to increase the life cycle of the product battery. Today you have tons of companies that just insert a brick looking dashboard somewhere on the cord of the headphones. This is an ingenious solution, but it simply won't work with earbuds because it will create too much pulling power on your ears, making regular usage almost unbearable.
That's why the neckband is a perfect solution that not only increases the level of comfort the Jaws 4.1 provides, but it also gives the manufacturer the chance to install an ion battery that can last up to 13 hours when you use the item actively and provide more than 350 hours of standby availability.
The best part is that you'll need only 3 hours to fully charge the battery.
Just for comparison, the Beats by Dr. Dre Powerbeats model has a battery life of around 10 hours and the price bar is set at $200. Just something to think about. Now that we're all clear why Mpow used such an usual design and you understand how this relates with the increase in battery life, let's see what do the Jaws have to offer in terms of sound quality.
Noise Cancellation Perfect for Users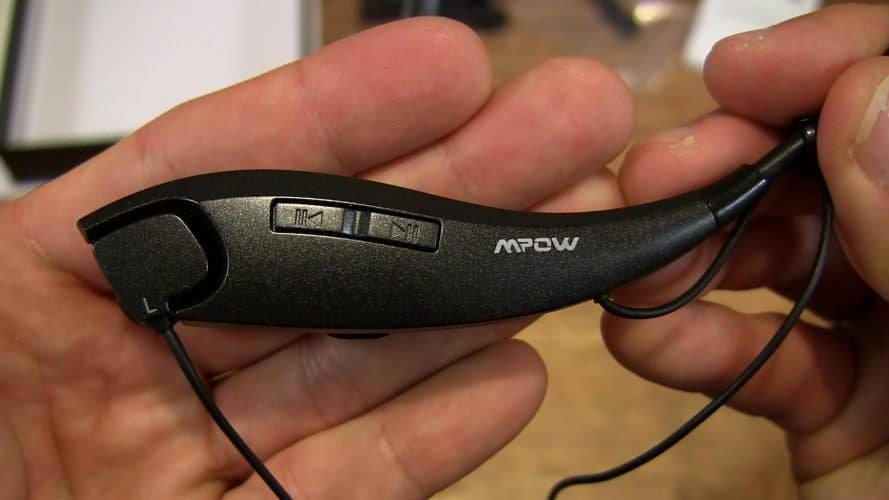 The reality of the situation is that you won't hit some extreme volume levels or feel a deep bass line when using the Jaws 4.1 noise cancelling pair of earbuds. The reason why this is the case is because of the fact that this type of cans, the ones with a neckband especially, are mostly used by business users.
You're not getting this product, so you can listen Metallica while you're on your lunch break, you're mainly interested in them because you know they can offer above average environmental noise reduction and can provide superior incoming call voice quality.
This is where this interesting Mpow product really excels.
Thanks to the innovative cVc technology created by Qualcomm, industry giant when it comes to wireless technology improvements, the Jaws 4.1 model is capable of providing top notch surrounding noise cancellation, which is only enhanced by the overall design of the earbuds.
This feature is priceless when you work in a dynamic environment where each of your colleagues makes dozens of calls per hour. Imagine yourself isolated from the group thanks to the new pair of weird looking earbuds you got for only $20 bucks.
CEOs will also fall in love with these buds because they connect with your computer or cell phone using a Bluetooth 4.1 technology for wireless frequency transmission. If this doesn't mean nothing to you, just know how you'll be able to walk around the room and go as far as 10 meters from your device before you lose connection.
The item is so versatile it will allow you to connect it with multiple devices at the same time without the need to lose any connections. Even iPhone users will be able to use the 4.1 with no problem.
Stable and Clear Sound
The Jaws 4.1s are created with the goal of catering for the needs of business users, but this doesn't mean you won't be able to use them in other scenarios as well. Everybody is afraid from the neckband when they see this type of earbuds because they immediately think its lack of flexibility will prevent you from wearing this item while you're jogging or hitting the gym.
The right question you should be asking yourself is whether you actually like the design and if sound clarity is something you're after or you just want a piece of powerful headphones ready to blast your favorite track to the maximum.
If you're looking for loud earbuds that produce a deep bass line you'll feel going straight to your core, it's maybe best to go with a different product, just be aware how the price tag will definitely differ.
The Mpow Jaws Neckband 4.1 doesn't produce a heavy bass line, but it surely keeps your low, mid and high tones in check, preventing them to mix with each other. This is probably the most important feature a noise cancelling pair of buds can provide for the end user, having mind sound clarity is the thing we're looking for when reviewing this particular line of audio equipment.
Conclusion
If you're looking for a set of earbuds you won't even feel while wearing during your office hours, then the Mpow Jaws Neckband 4.1 model is just the thing you're after. With a perfect noise reduction system capable of minimising environmental sound and a structure that will allow the drivers to produce an impeccably clear sound, this weird looking pair of earbuds is just what the doctor ordered for business users.
We would love to hear your own personal experience with the Jaws 4.1 earbuds and see whether they can provide the same experience for users while they're out jogging.
Feel free to write a line or two in the comment section and don't be afraid to send us your questions and we'll make sure they get answered.