If you're looking for a pair of wireless earbud headphones, you might want to consider the Mpow Flame Bluetooth Headphones. The Mpow Flame has held the number 1 position for headphones for much of 2018 which can only be put down to their competitive price point and versatility. Is the Mpow Flame the headphone for you? Let's find out in this Review.
The Mpow Flame also features in our list of the 10 Best Waterproof Headphones of 2018. 
At a Glance
7 hours (1.5 hours charging from flat)
The first thing you'll notice when unboxing your pair of Mpow Flame is these headphones are really small and lightweight. This makes these earbuds an excellent choice as a workout headphone. The earbuds fit snug inside the ears with soft rubber hooks to go over your ears keeping the Mpow Flame in place. The result is the Mpow Flame will stay in place no matter how strenuous the activity you engage in. In addition, the cable linking the two earbuds is short and fits behind the neck so it's out of the way which is great for exercising, working out or even traveling. Mpow supplies you with a cable clip so you can wrap up any slack behind your neck to get that perfect fit. The cable is a flat cable which is designed to be tangle resistant. This is great for throwing them in your backpack or the provided carry case without having to spend time untangling every time you want to use them.
IPX7 Waterproof Rating
With its IPX7 waterproof rating, there is no need to worry about sweat damage to the Mpow Flame. In fact, the earbuds are protected to a depth of 1m for up to 30 minutes. While the Mpow Flame wouldn't be good for swim training, you could use them in the pool, hot tub or sauna without worrying about damaging the headphones. Additionally, if you do sweat a lot, you can rinse the Mpow Flame off under water after your workout without worrying about damaging the earbuds.
Mpow has been generous enough to provide two types of ear tips, the standard generic silicon buds in three different sizes and a single pair of memory foam ear tips. The silicon tips come in small, medium and large while the memory foam times come in one size fits all. The earbuds feature a generic fit so you can use your preferred choice of ear tips. The silicon tips are best for exercising as they don't absorb any sweat or moisture while the memory foam tips are better for traveling as they offer the best noise isolation.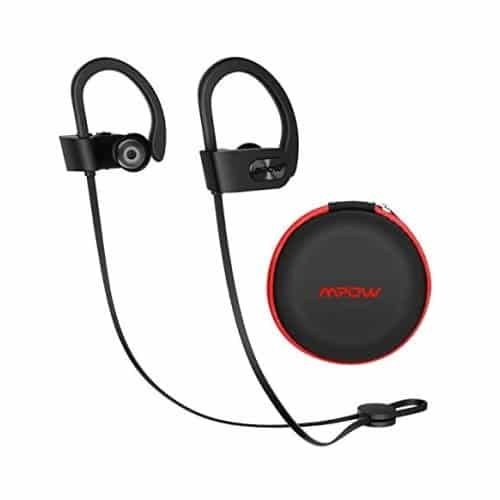 Bluetooth Version 4.1
The Mpow Flame is 100% wireless featuring Bluetooth version 4.1. This means you don't have the option of connecting the Mpow Flame via a ⅛-inch cable connection. The Bluetooth pairs fast to your device and, after the first pair, the Mpow Flame will auto pair when booted up and the same device is in range. The Mpow Flame features a standard 33ft wireless range which is perfect for working out, traveling and general use. The connection is solid and, if in range, you won't experience any dropout.
The Mpow Flame a couple buttons on the right earbud to control certain functionality of your paired Bluetooth device. On top of the right earbud are volume up and volume down buttons which also double as track next/previous. The Mpow logo on the right earbud not only looks cool but also functions as a button for power, play/pause, and call management. You can answer, reject and end calls via the multifunction Mpow button. Useful for taking calls on the go.
7 Hour Battery Life
The built-in battery lasts up to 7 hours of continuous use which is perfect for most applications. The Mpow Flame will fully recharge from flat in around 1.5 hours. One thing to be aware of is that Mpow strongly discourages the use of 'fast charge' USB socket chargers as this will cause permanent damage to the earbuds built-in battery. If you own an iOS device, the battery life will be displayed on your top navigation panel beside your signal strength. A useful feature for Apple users. Hopefully, this feature will be extended to other makes of mobile devices in the future.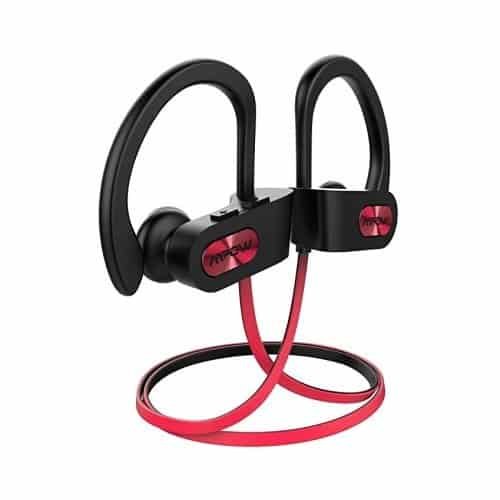 Even though the Mpow Flame cost less than $20, they actually sound really good. Mpow has gone to great lengths to try to make the Flame as bass heavy as possible. The result is close to as good as you're going to get from a pair of earbuds. It's not a very deep bass sound but has a decent amount of weight and punch. The midrange is a little muddy but this doesn't distract from the listening experience. The highs are clear and crisp which is great for music and speech like listening to the radio or podcasts. If you're purchasing the Mpow Flame as a headphone for playing audio while working out, then you will definitely not be disappointed with the audio quality.
The built-in microphone is decent enough to make calls without worrying about the caller on the other end not making out what you're saying. While the voice is ever so slightly distant, the call quality is comparable to most hands-free car kits.
What's in the Box?
Included with the Mpow Flame Bluetooth Headphones:
1 x Mpow Flame Earbuds
3 x Pairs of silicon ear tips (small, medium, large)
1 x Pair of memory foam ear tips
Cable management clip
Carrying case
Micro USB charging cable
Conclusion
If you're looking for a pair of earbud headphones for working out but also for listening to music and taking calls on the go, then the Mpow Flame is definitely one to consider. The audio quality is great for working out, traveling, and even making or receiving calls. With the IPX7 rating, you don't have to worry about damaging the Mpow Flame from sweat and can be used in water as deep as 1m. The Mpow Flame comes with a compact carry pouch which is perfect for putting in your gym/work out tog bag or even popping in your pocket while traveling. For $20, the Mpow Flame offers excellent value and good sound quality.