Since they were first launched in 2015, the Meze 99 Classics Headphones have created a lot of buzz and praise from some notable influencers in the audio world. Meze Audio is a boutique headphone and earphone manufacturer out of Baia Mare, Romania. The company focus on designing and manufacturing unique audiophile quality products for headphone enthusiasts around the world. The 99 Classics is Meze's flagship headphone winning awards and 5-star reviews from many of the top international audiophile publications.
At a Glance
Cable or Wireless: Cable
Speaker Driver: 40mm
Impedance: 32 ohms
Primary Build Material: Walnut/wood, metal & PU leather
Color: Available in black, gold, or silver
Weight: 9.2oz
Design
The 99 Classics features genuine walnut ear cups which take around 45 days of sanding, lacquering, and finishing to complete each one. The wood is ethically sourced from certified plantations which only harvest trees that have reached the end of their life cycle. This kind of care and attention to detail is rarely found in consumer electronics these days. Or in most products for that matter.
The headband is manufactured using metal with zinc trims and feature prices which can be ordered in either gold or silver colors. The metal finishes give the 99 Classics a premium feel while offering superior strength and durability. The headband is a spring-loaded piece of thin padding covered in pleather which adjusts to the size of your head as you put the headphones on. The ear cups feature a soft memory foam with similar pleather cover. The 99 Classics sit comfortably on the head, however, the headband does pull ever so slightly on the ear cups which means the fit is a little tighter than your average headphone. Still, you can easily wear the 99 Classics for a couple of hours before you begin to feel any wearing fatigue.
What's particularly great about the 99 Classics build is every part can be removed and replaced. Unlike plastic headphones which are glued or bonded in some way, the 99 Classics is put together using nuts and bolts. This means if something breaks, you can take the headphones apart and either replace or fix it. Another feature many products don't offer these days. In some headphones, even if the cable breaks you have to replace the entire headphone!

Cabling & Controls
The 99 Classics comes with two detachable Kevlar cables, a 4 ft with inline remote and microphone and a 10 ft straight cable. Each cable features gold plated connectors for superior signal transfer. The cables connect to the headphones in stereo which means the cable splits with the left going to the left ear cup and right going to the right ear cup. It's not a detachable cable design often seen on modern headphones and I don't see this adding or taking away from any part of the 99 Classics experience. Accessories include a ¼-inch adapter and in-flight adapter making the 99 Classics a versatile headphone ready for any application.
The inline one-button remote works with both Android and Apple smartphones allowing you to play/pause, skip tracks, answer, reject and end incoming calls. The remote also houses a microphone for hands-free calling. The call quality is excellent and you won't have any issues using the 99 Classics as a hands-free device.

Sound
Moving on to the sound. Do the 99 Classics just look pretty or can they actually perform? The 99 Classics features a 40mm driver in each ear cup which, as mentioned, can be removed and serviced if ever necessary. The 99 Classics perform exceptionally well. The bass is nice and punchy with a good thick low-end response that even bass heads will enjoy. The mid-range is perfectly balanced and unaffected by the slight bump in the low-end. The highs deliver excellent intelligibility with a crisp but not harsh high-frequency response. Overall these headphones cannot be faulted, especially given their price. For a little over $300, you're getting the same quality you would expect from premium headphones double the price.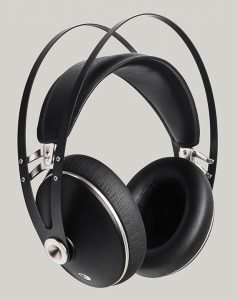 Meze 99 Neo
For those who are not a fan of the walnut finish, the 99 Classics is also available as the Meze 99 Neo. The 99 Neo is identical to the 99 Classics but with metal instead of walnut ear cups. The headphones are black all over with silver trims which looks incredible. Personally, as a fan of the minimal aesthetic, I'm finding it hard to decide whether I prefer the walnut or the metal finish.
What's in the Box?
Included with the Meze 99 Classics Headphones:
Meze 99 Classics
Hard EVA carrying pouch
Cable & accessory pouch
4 ft Kevlar cable with inline remote and microphone
10 ft straight cable
¼-inch adapter
In-flight adapter

Conclusion
The 99 Classics is an exceptional headphone at an affordable price. Affordable for a premium audiophile headphone that is. These incredible headphones win on every metric, build quality, unique aesthetic, mobile phone control, travel, and of course sound quality. Not only are these great to look at but the 99 Classics are fun to listen to.
What I love most about the 99 Classics is this is one of the few audiophile headphones which will appeal to everyone. Typically audiophile headphones are industrial and hard looking. They're not the type of headphones you want to take when traveling or commuting. The 99 Classics is trendy and stylish which means you won't look out of place wearing these in public. If you are a fan of the vintage aesthetic, then the 99 Classics will definitely appeal to your tastes.