MarkAudio-SOTA brings together the knowledge and experience SOTA Acoustics and Markaudio Loudspeakers, LTD. MarkAudio-SOTA has set out to create a range of high-end speakers to impress both audiophile and general consumers looking for exceptional sound and quality. The company manufactures every part from the ground up to ensure their speakers achieve the highest standard of quality with custom parts to meet the requirements of MarkAudio-SOTA's unique speaker designs.
First Impressions
The exceptional design and craftsmanship are the first impressions when you look at the MarkAudio-SOTA CESTI B bookshelf speakers. The modern speaker design and lacquered finish might leave you admiring the CESTI Bs for some time before you even attempt to plug them in. This is especially true for the red CESTI B bookshelf speakers, a color which can be best described as Ferrari Red. The CESTI B is also available in black or white and looks just as sexy.
MarkAudio-SOTA has recessed the speaker cone and tweeter to that everything sits clean and flush with the speaker cabinet. A curved design around the speaker cone and tweeter give the cabinet lines that better resemble a sports car rather than a speaker. These bookshelf speakers come with a removable speaker grille however, I doubt anyone would want to hide the front of these speakers. My advice – leave the grille in the box.
The Sound
Once you stop ogling over how beautiful the CESTI B's look, you'll want to plug them in and give them a listen. As expected from high-end speakers, the CESTI B bookshelf speakers sound incredible! Music is especially impressive – vocals are crisp, clear and present. For a 4.4" driver, the CESTI B delivers a surprising amount of bottom-end. Solid and punchy with a smooth bass sound. A pleasant listening experience for all music types. If you are listening to vinyl, then you will be in audio heaven playing your records through the MarkAudio-SOTA CESTI Bs.
MarkAudio-SOTA designers and engineers have gone to great lengths to create a smooth, natural crossover for the CESTI B. They have adopted a 2nd order shallow slope design with a crossover at 1.9kHz. The resulting sound is exceptional with the CESTI B delivering a clean, flat sound.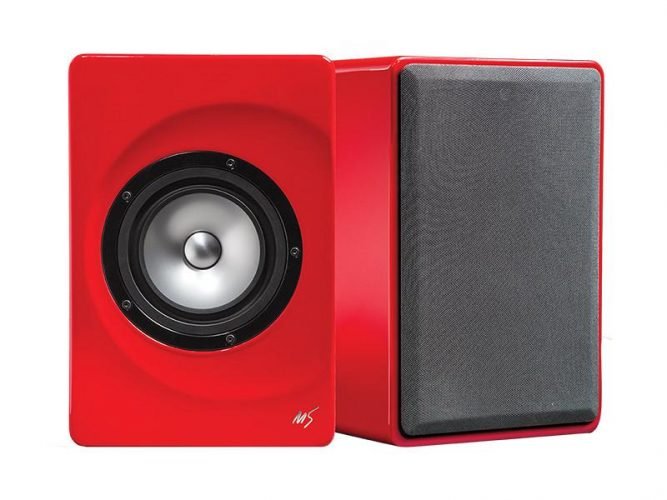 Best Applications for the MarkAudio-SOTA CESTI B
If you're a vinyl junkie, then you will love the MarkAudio-SOTA CESTI B bookshelf speakers. In my opinion, music playback (vinyl in particular) is what the CESTI B was designed for. Music just sounds better through the CESTI Bs. If you are going to use the CESTI B for your home theater system, a pair would make a good replacement for your front left/right speakers. Having said that, I would honestly prefer the CESTI B by themselves as a stereo TV system rather than mixing them with other speakers. Unless of course, you fill the entire surround system with MarkAudio-SOTA speakers. But that's an article for another day. The CESTI B can also be used in a studio. While I can't comment on the CESTI B's ability to record live instruments, for digital music production these speakers will deliver a flat, clean sound.
Recommended Speaker Position For TV
For usage as TV speakers, it is recommended to position the CESTI Bs left and right of the TV 8.2 – 9.8 foot apart. Make sure there is a minimum clearance of 3.9 inches behind the CESTI Bs. This will avoid any sound coloration from reflections off surfaces behind the speakers. This speaker placement would work for listening to music too. Be careful not to place the speakers too far apart or you will lose stereo imaging and create "dead spots". This is true for any bookshelf speakers.
Amplifier & Installation Recommendations
MarkAudio-SOTA has specific instructions for amplification of your CESTI B bookshelf speakers. Instructions from the manual:
"Class A/B 50 Watts to 100 Watts per channel at 8 Ohms. Class A from 12 Watts to 25 Watts per channel at 8 Ohms and Class D from 30 Watts to 60 Watts per channel at 8 Ohms. Amplifier design and performance varies so these recommendations can only be a guide."
My advice when it comes to amplification – don't try and run the CESTI Bs on anything outside of these recommendations and DON'T go using a cheap, inferior amplifier. My recommendations for amplification is the Marantz HD-AMP1 or the Rega – Brio for music only installment. Both of these amplifiers would be great for vinyl with a good external phono preamp.
For home theater, I would go for something like the Cambridge Audio CXA60 Integrated Amplifier. The CXA60 offers the right amount of power for the CESTI B speakers also allows digital audio inputs from your TV. You also have the option of purchasing the Cambridge Audio BT100 which would allow your CXA60 to connect to Bluetooth devices. If you have a turntable with line out or an external phono preamp, then you could plug into the CXA60 and have a top of the range complete home theater system with the exceptional sound of the CESTI B bookshelf speakers.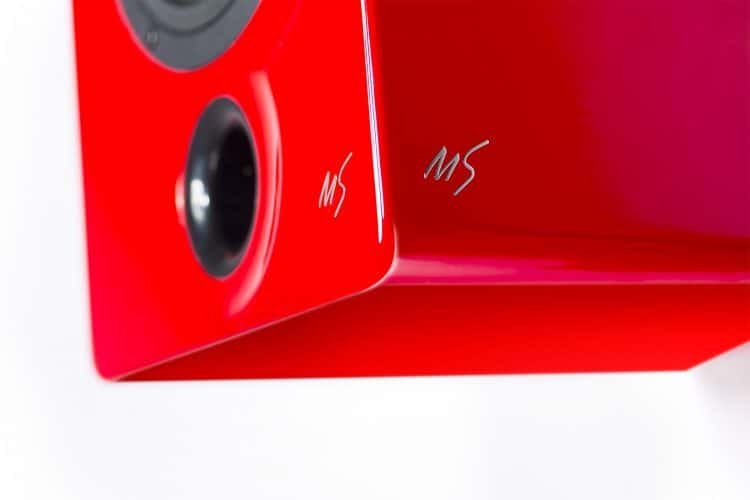 What's In The Box?
Included in the box when you purchase a pair of MarkAudio-SOTA CESTI B bookshelf speakers is:
2 x CESTI B Bookshelf Speakers
2 x Speaker Grille
8 x Rubber Feet
1 x Warranty Card
1 x User Manual
Conclusion
If you have the money to spend on some high-end speakers, then you will not be disappointed with the MarkAudio-SOTA CESTI B bookshelf speakers. These speakers are still relatively new to the market so you can impress your mates with something "exotic".
The only reason I can see someone not enjoying the CESTI Bs would be for the aesthetics. The CESTI B design may be loved by most (including myself) however, those who prefer a traditional, wood design might not like the stylish, contemporary finish of the CESTI B. Having said that, the incredible sound of these speakers may sway you even if the design doesn't.
Thanks for your feedback!