Those who follow regularly will know we're big fans of Klipsch here at OuterAudio. We have yet to be disappointed by a Klipsch product. It's a brand you can trust to incorporate the best quality parts in every product they put out. Furthermore, it's an American brand with some of its products made in the USA. In 2018, Klipsch released The Three which was well worth the wait! It's so good in fact that it made it onto our list of the best WiFi speakers. Let's take a deeper look at The Three and find out what makes this such an awesome WiFi speaker.
Klipsch The Three Specs
LF Driver: 5¼" + 2 x 5¼" bass radiators
HF Driver: 2 x 2¼" high-frequency full-range drivers
Power Output: 60W RMS 80W Peak
Frequency Response: 45Hz – 20kHz @ -3dB
Dimensions: 13.7" x 7.0" x 8.0"
Weight: 10.32lbs
Klipsch The Three Design
If you're into the vintage, retro look, then you'll love the aesthetic of The Three. The speaker features a wood veneer top and bottom with woven acoustic fabric around the front, back, and sides. There are two versions of The Three, the standard model and The Three with Google Assistant. Each of these differs slightly in aesthetics. The standard model features tactile spun copper switches and knobs while the Google Assistant model features a brushed metal look for the knobs and switches. Both models have that vintage look like they were resurrected from the '60s or '70s. Overall, it's a beautiful speaker that you could easily be mistaken for a piece of decor.
Inputs
When it comes to inputs, you're spoiled for choice with The Three. Physical inputs include USB, ⅛-inch AUX, and a switchable line/phono RCA. There is also a ground connection for a turntable. The switch for the RCA is plastic which takes away from the vintage character of the rest of the buttons and knobs, however, since this is on the rear of The Three and out of sight, it's not a serious sticking point. It just would have been nice to see some uniformity across the whole speaker.
Wireless inputs include WiFi and Bluetooth. It's important to note The Three with Google Assistant only features WiFi and Bluetooth with no physical inputs.
Both models of The Three are compatible with voice assistance. The standard model with Amazon Alexa while the second features built-in Google Assistant allows you to connect The Three to your Google Home Network. What's nice with the Google Assistant model is you don't need an external device as you do with the standard model which requires an Echo or other Amazon Alexa device. If, however, you're a serious shopper, then Amazon Alexa will make more sense.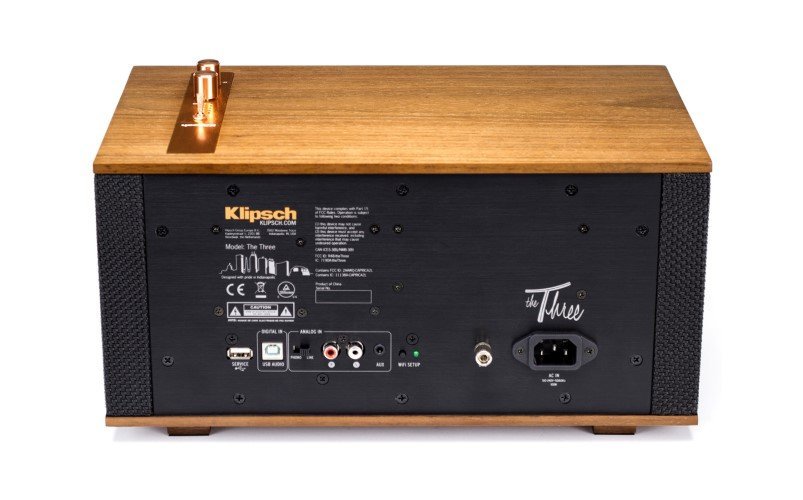 Buttons, Remote & App
Both versions of The Three feature an onboard control panel while only the standard model comes with a remote and app to control the speaker. On the standard model, you have three onboard controls, on/off, input selection, and volume. The input selector and volume controls are rotary knobs while the on/off is a vintage dip switch.
In addition to the onboard controls, you have a remote control which features separate buttons for each input, play/pause, track skip next/previous, mute, and LED dim. You can also download the Klipsch Heritage app which allows you to access your favorite stream services to play on The Three via WiFi connection.
On the Google Assistant model, you have buttons for microphone mute, Bluetooth pairing, and Google Assistant while a multi-function knob adjusts volume and play/pause. The speaker doesn't come with a remote, however, you can use voice commands and control the speaker via the Google Home App (works with Android and iOS). You can also connect The Three with Google Assistant to other Google compatible speakers in your home for a multi-room setup. The Google Assistant model also features built-in Chromecast which means you can stream music direct to the speaker from any device.
What Does The Three Sound Like?
The Three is well powered with a single 5¼-inch low-frequency driver paired with two 5¼-inch bass radiators. For the top-end, you have two 2¼-inch full range drivers which cover a large portion of the mid-range and treble. The combined power output is 60W RMS with an 80W peak. A serious amount for a speaker this size, especially considering this is louder than most TV soundbars!
As to be expected, Klipsch has balanced these drivers perfectly with The Three sounding incredible for a wireless speaker. The speaker can produce some serious volume too at 106dB according to Klipsch which I would say is pretty accurate. Even at full volume, there is no break-up or distortion which is more than you can say for most wireless speakers, Bluetooth or WiFi.
If you're a bass fan, then you'll love The Three. The low-end response is nice and punchy without interfering with the mid-range. An issue we often see in compact wireless speakers. The mid-range and treble are well-balanced offering great intelligibility for both music and dialogue content. The Three might not be audiophile quality, but it's certainly a lot of fun to listen to. If you're thinking of installing The Three in the bedroom, you'll be happy to wake up playing music out of this awesome speaker each morning.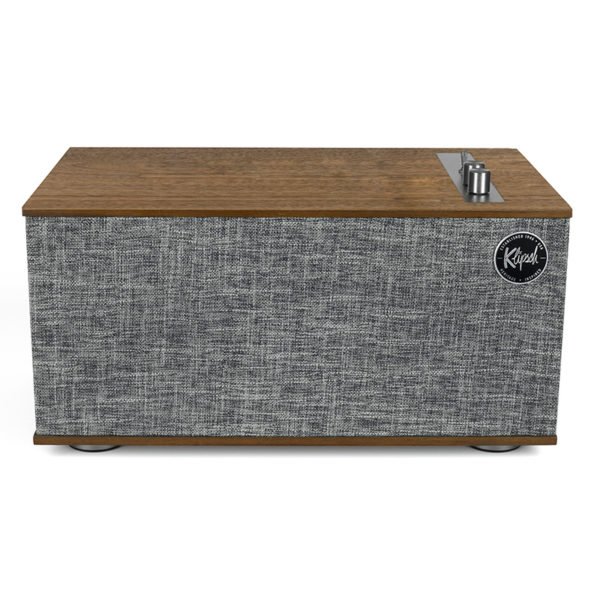 What's in the Box?
Included with the Klipsch The Three:
The Three wireless speaker
⅛" AUX cable
USB type B to USB type A cable
Wireless remote control
Power cord
Conclusion
I'm so happy Klipsch has finally put out a compact wireless speaker to compete in a space that is dominated by cheap and nasty products. While you can expect to pay a premium for The Three, you can also expect quality features and the great Klipsch sound we know and love. If you want multiple inputs with Amazon Alexa, then the standard model is the way to go. If you prefer Google, then The Three with Google Assistant is the better option, however, you don't get all the additional physical inputs as you do in the standard model. At just under $500, The Three isn't cheap but certainly well worth the money.