Often dubbed a hidden gem of the outdoor speaker domain, Kicker KB6000 Black Full Range indoor/outdoor speakers often have the crowd caught by surprise with a vast array of positive features and performance stats surpassing the listed $90 price tag.
Featuring a 17 x 15 x 10 inches (43 x 38 x 25 cm) size and a 7 lbs (3.17 kg) weight, these speakers deliver high-quality audio output and are sturdy and reliable, not exactly something you can expect from $90 outdoor speakers, especially to this extent.
Speakers are equally efficient for indoor use and deliver top-notch sound even in closed environments. The fact that they were also built for outdoor use guarantees a high level of durability when it comes to indoor use, meaning they can easily withstand a drop or two without major consequences. There's still much to discuss about this set of speakers, so make sure to scroll down and join us in the full review below for a more detailed description.
Sound
Kicker KB6000 takes great pride in its surprisingly high-quality sound as a key factor behind earning the mentioned hidden gem title. The majority of users typically describe the output audio as crisp and bright with a lower, yet well-present amount of bass. This means that bass overload should be the least of your concerns with these.
6.5-inch Woofers and two 5-inch, compression-loaded horn tweeters bring a top-notch audio output surpassing the listed $90 price tag by miles. The sound is also quite natural with little to no distortion or noise. Every musical style is well covered, although the output audio might require a few tweaks and adjustments to achieve that mega-bass sound of certain styles, cut this is hardly a down side of the product. There are several other components that affect the overall sound, but more on those in the features section, so make sure to read on for further info.
Features
As noted, the speakers fall into somewhat of a medium-sized category with 17 x 15 x 10 inches (43 x 38 x 25 cm) dimension and a 7 lbs (3.17 kg) weight. Other notable features include 6.5-inch Kicker subwoofers and a total of two 5-inch horn tweeters with massive compression.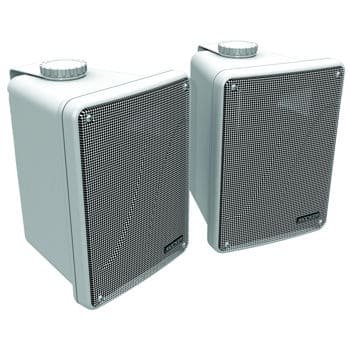 Furthermore, polypropylene cones and rugged Santoprene surrounds are also included, allowing the system to acoustically blend with a 12 dB octave low-pass crossover and deliver the distinctive output sound. Brackets for easier transport and handling also come as a part of the product.
Durability and Reliability
Kicker KB6000 speakers feature a sturdy built and are made to withstand various weather conditions, so unless you plan on using then in a bit more extreme environments, the speakers should work like a charm. The outer casing is also strong enough to sustain rough transport and even a small drop or two. They're not indestructible of course – therefore, so proper handling is still required.
When it comes to reliability, the device once again scores high grades and positive remarks from the crowd. The inner circuits are not easy to shake up and don't have a tendency towards malfunctioning.
Overall: Pros and Cons
If we were to take all the previous remarks into consideration, Kicker KB6000 are definitely the speakers you won't regret purchasing. So right now we'll bring you the users' impressions in a nutshell, check out the brief rundown of pros and cons below.
Kicker KB6000 Pros
Price – $90 price tag is as cheap as indoor/outdoor speakers of this quality can go, so the price department definitely had to be singled out as one of Kicker KB6000 positive sides.
Sound – The crispy clear sound tends to surprise most users, especially considering the price mentioned beforehand. The power department hardly lags behind, resulting in speakers' ability to deliver top-notch performance in the most important category – sound.
Kicker KB6000 Cons
Still not pro level – This one's hardly a genuine con, but still needs to be pointed out. So although Kicker KB6000 speakers score nothing but high grades within their own league, they can still hardly compete with the big league. It would be ungrateful to compare them to ten times more expensive products, so this point is simply noted due to excessively high expectations from a certain portion of users.
So that about wraps it up, hopefully, our guide gave you the right kind of info and ultimately helped you in making your final decision. To sum it all up, this is simply not a product you'll regret purchasing and stands right at the top of its league.