Type: 2-Way
Components per enclosure: 6-1/2″ Woofer; 2×5″ tweeters
Max Rec Amp Power (Watts Peak): 150W
Max Rec Amp Power (Watts Peak): 75W
Frequency Response (Hz): 55-21k
Standard Dimensions: 11W x 8-1/8H x 8-1/8D
Impedance (ohms): 8
Sensitivity (dB 1w/1m): 90
Standard Dimensions: 11W x 8-1/8H x 8-1/8D
Often dubbed a hidden gem of the patio outdoor speaker domain, the Kicker KB6000 outdoor/indoor speakers offer many positive features and performance stats surpassing the listed $90 price tag, and that's how we'll be approaching this review. We don't expect the best quality from budget speakers, but what we look for instead is a speaker that excels in its price bracket and still offers what we'd consider great value for money.
Coming in at dimensions of 17 x 15 x 10 inches and a weight of 7lbs, they're slightly on the compact side, which is great if you're looking to use them indoors or even if you have a small installation area. Smaller-sized speakers will usually mean a smaller driver, but the Kicker KB6000 still manages to pack some solid 6.5″ woofers.
These speakers are equally efficient indoors and deliver top-notch sound even in closed environments. The fact that they were also built for outdoor use guarantees a high level of durability when it comes to indoor use, meaning you'll end up with much more usage out of your speaker in the long run.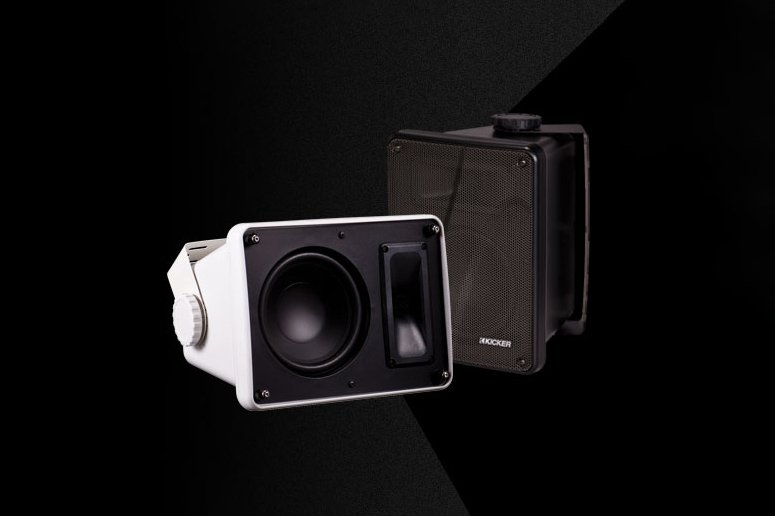 Sound
The Kicker KB6000 takes great pride in its surprisingly high-quality sound as a key factor behind earning the mentioned hidden gem title. We would describe the output audio as crisp and bright with a lower yet well-present amount of bass.
6.5-inch Woofers and two 5-inch, compression-loaded horn tweeters bring a top-notch audio output. The sound is also quite natural, with little distortion or noise, even at the lower end of the response range. Every musical style is well covered, and although the output audio might require a few tweaks and adjustments to achieve that bass-heavy sound of certain styles that are preferred by bass heads (EDM & Hip Hop, for example), this is hardly a downside of the product.
Easy To Drive / No Need For An Amplifier
What really makes the Kicker KB6000 stand out in a competitive market is the fact that it can run at an extremely efficient 8 Ohms. This allows for these speakers to connect directly to most receivers and be powered without the need for an additional amplifier. Amplifiers can often end up costing more than speakers themselves, so not having to invest in an amplifier is a massive win for consumers.
As noted, the speakers fall into somewhat of a small to medium-sized category. Other notable features include 6.5-inch Kicker subwoofers and a total of two 5-inch horn tweeters with massive compression.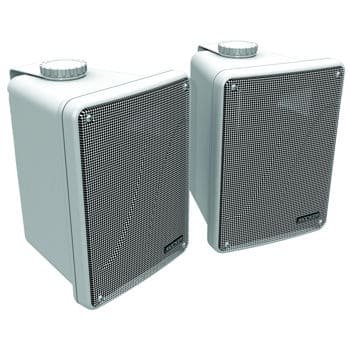 Durability and Reliability
Kicker KB6000 speakers feature a sturdy build and are made to withstand most weather conditions, so unless you plan on using them in a bit more extreme environments, you shouldn't encounter any issues, especially if you follow proper outdoor speaker maintenance. The outer casing is also strong enough to sustain rough transport and even a small drop or two. They're not indestructible, of course – therefore, so proper handling is still required.
Regarding reliability, the device once again scores high grades and positive remarks from the crowd. The inner circuits are not easy to shake up and don't tend to malfunction.
Overall: Pros and Cons
If we were to consider all the previous remarks, Kicker KB6000 is definitely the speaker you won't regret purchasing. So right now, we'll bring you the users' impressions in a nutshell. Check out the brief rundown of the pros and cons below.
Kicker KB6000 Pros
Price – $90 price tag is as cheap as indoor/outdoor speakers of this quality, so the price department definitely had to be singled out as one of Kicker KB6000 positive sides.
Sound – The crispy clear sound tends to surprise most users, especially considering the price mentioned beforehand. The power department hardly lags behind, resulting in speakers' ability to deliver top-notch performance in the most important category – sound.
Easy To Drive – Being able to drive your outdoor speakers without an amplifier is not a common ability to come across, so the Kicker KB6000 brings a lot of value to the table with their efficient impedance.
Kicker KB6000 Cons
Still not pro-level – This one's hardly a genuine con, but it still needs to be pointed out. So although Kicker KB6000 speakers score nothing but high grades within their own league, they can still hardly compete with the big league. It would be ungrateful to compare them to ten times more expensive products, so this point is simply noted due to excessively high expectations from a certain portion of users.
So that about wraps it up; hopefully, our guide gave you the right kind of info and ultimately helped you in making your final decision. To sum it all up, this is simply not a product you'll regret purchasing and stands right at the top of its league.
Thanks for your feedback!