Founded in England in 1961 by Raymond Cooke OBE, KEF has been a long-time favorite among audiophiles around the world. KEF is most well-known for its popular dual-concentric design which can be found throughout its range of loudspeakers. The KEF LS50 is one of those dual-concentric loudspeakers and is stated by KEF to be their flagship product. The LS50 is a versatile loudspeaker designed for both studio and home use. The speaker incorporates several patent-pending acoustic designs as well as other KEF technologies that make the LS50 a superior bookshelf speaker.
KEF LS50 Specs
LF Driver: 5.25″
HF Driver: 1"
Crossover Point: 2.2kHz
Power Handling: 25W – 100W @ 8 ohms
Frequency Response: 79Hz – 28kHz
Dimensions: 11.9″ x 7.9″ x 10.9″
Weight: 15.8 lbs per speaker

KEF LS50 Design
The LS50 features dual-concentric mounted drivers, or what KEF calls the Uni-Q design, with a 5¼-inch low-frequency driver and a 1-inch tweeter. Unlike conventional speaker designs which have two separate drivers, dual-concentric drivers are mounted together with the tweeter in the center of the woofer. Dual-concentric drivers offer a wider dispersion and greatly reduce or eliminate frequency interference issues around the crossover point (which is often the case in conventional speaker design).
What Does The KEF LS50 Sound Like?
The KEF LS50 certainly features the stereotypical characteristics of a dual-concentric loudspeaker and more. The low-end response is tight and well-defined, certainly more bass-heavy than most bookshelf speakers in a similar price range. While the LS50 certainly delivers on bass, it might not be sufficient for certain genres of music or if you plan to use these speakers as a home theater set-up. As is always the case with speakers, this comes down to personal preference and how you plan to install the LS50. As a reference speaker or for use as a bookshelf speaker, the low-end response on the LS50 is more than sufficient. KEF does design and manufactures several subwoofers which can be paired with the LS50.
When it comes to mid-range and high-frequency response, the LS50 truly shines! The sound stage is incredible with jaw-dropping detail and clarity. At less than $1500 for a pair, the LS50 is truly remarkable, capable of competing with many audiophile bookshelf speakers 3 or even 4 times the price. The mid-range and high-frequencies are perfectly balanced which is in part thanks to the KEF Uni-Q speaker design. The mids are upfront and present while the highs are bright without sounding harsh. The separation of vocals and instruments is incredible with every detail and sound effect reproduced with exceptional clarity. If the LS50 was a TV, it would be 4K UHD picture quality.
To achieve this exceptional audio quality, especially in the low-end response, you must allow for a 200-hour run-in or burn-in time for the LS50 to perform as they are supposed to. In addition, you must ensure you are powering the speakers with the right amplifier or receiver.
KEF LS50 Power Requirement
Getting optimum performance out of your LS50 speakers requires the right amplification. KEF specifies the LS50 power handling at 25W to 100W into 8 ohms. To power the LS50 effectively and efficiently, you should be using a high-end amplifier with as close to 100W as possible. Anything less than 80W and you start to lose low-end definition and overall power from the LS50. For home theater set-ups, we recommend choosing a Marantz for surround sound amplification. If you're looking to power the LS50 as a stereo pair, then there are several Marantz integrated amplifiers that pair with the LS50 nicely. Most notable are the PM8005, PM6005, or M-CR510.
If you're looking for something in the $1,000 or cheaper range, then the NuPrime IDA-8 is a great match for the LS50. Other stereo amplifiers I have seen recommended online from LS50 users include the Rogue Audio Sphinx, Devialet 120/200 or a tube option in the way of the hugely popular Rogue Audio Cronus Magnum III Integrated Amp.
If you're going to power an A-grade speaker with an A-grade amplifier, make sure you use an A-grade speaker cable or you're going to get an inferior sound. It always amazes me when people purchase expensive audio equipment and don't pay attention or go cheap on cables and connectors. It's recommended you use a premium 12-gauge speaker cable for the LS50 from brands such as Mogami (which can be purchased on Amazon) or Audioquest GBC. For short cable runs, you can go down to a 14-gauge cable on the LS50.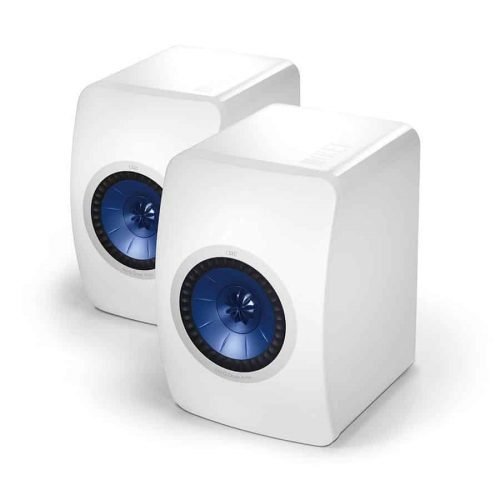 Conclusion
If you're looking for an affordable ("audiophile affordable" that is) audiophile bookshelf speaker, at under $1,500 for a pair, the KEF LS50 is an excellent choice. In fact, I would recommend the LS50 over many speakers 3 or 4 times this price. The detail and clarity are exceptional for a speaker at this price point delivering punch and definition in the low end with impeccable detail and clarity in the midrange and high-frequency response. The sound stage is impressive and the frequency separation will be especially appreciated for listening to vocal and instrumental music.
Is the LS50 worth the $1,500 price tag? For the sound quality and superior KEF technology, absolutely. Not only are the LS50 great as a stereo pair, but the wide dispersion means they're perfect home theater installations too. This makes these speakers versatile for just about every application.
The LS50 comes in several color options with the flagship gold speaker driver and piano black enclosure being the most popular. If you're a fan of the minimalist look, then the deadly-looking Black Edition is certainly one color option to consider.