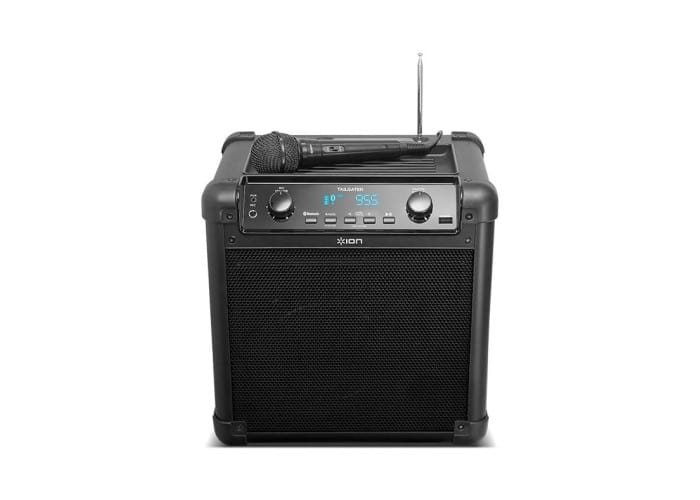 Whether it's a pre-game tailgate party or simply a backyard gathering, the ION Tailgater is ION's best tailgate speaker to date! Designed specifically for outdoor use, the Tailgater is rugged, durable, and provides excellent sound quality. In this article, we'll be taking a closer look at what features the Tailgater has to offer and why it's worth looking at if you're wanting to buy a tailgate speaker.
ION Audio Tailgater iPA77 Features
The ION Tailgater speaker is a portable mini-monster of a speaker that features a microphone, a USB charge port, and an AM/FM radio. With a battery lasting an impressive 50 hours, it's sure to keep the party going! The lush sound that it gives you, along with the general sturdiness of the speaker, guarantees a lot of fun – for a long time!
ION Audio knows their stuff when it comes to making outdoor Bluetooth speakers. With a wide range of products, the Tailgater remains their best speaker to date. While compact and portable, the Tailgater doesn't compromise on durability nor quality!
Built-in Rechargeable Battery
Providing a maximum of 50 hours of playback. The battery itself takes less than an hour to fully charge and comes with a charging cable included.
USB power bank
When you're looking for a remote powerhouse party speaker you're also looking for enough added functionality for you and your crew while you're on the road. The USB charging port located on the top of the speaker gives you the convenience of charging your phone, tablet, or even Kindle while you're on the go.
Imagine how useful a battery of this size would be while you're on your seven-day camping trip with your family or you're organizing a party for your friends in your backyard. No more unnecessary trips to the inside of the house just because you forgot to plug in your phone in the charger before you came to the party!
Inputs
The ION Tailgater features a ¼ inch and ⅛ inch AUX input, along with Bluetooth connectivity. While Bluetooth pairing is simple, NFC devices are able to simply tap the NFC sensor for instant pairing.
The Bluetooth connection is excellent, with a range of 100 feet. You can control it with your iPhone or Android device from basically anywhere. It's compatible with any Android or IOS device, and you control it by using a free app. This means if you want to play with the equalizer of the speaker, you don't even have to get up out of your chair. Simply open the app and adjust the EQ right then and there where you're sitting.
If karaoke is your thing, the ION Tailgater has you covered! The speaker has a separate volume control to balance the mic and music volume. A microphone is also included in the box as well.
Finally, the ION Tailgater features an AM/FM Radio allowing you to tune into your favorite radio station. This feature is useful when you're wanting to connect to pre-game radio commentary, as well as when you're exploring hiking trails and you need to connect with the ranger's cottage.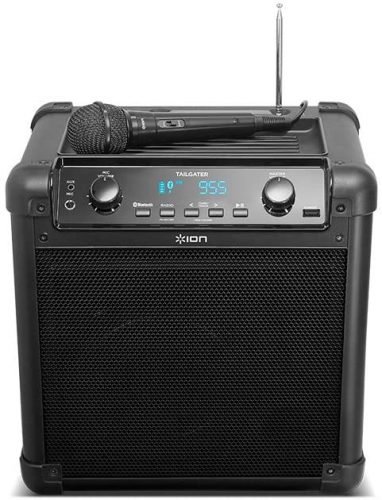 Design
The ION Tailgater is fairly lowkey and plain in design, available in a plain black color only. Something that some users will love and others not so much. For those who want more excitement and color, the Tailgater Flash is an alternative option. The Tailgater Flash features an LED light display behind the front grille but is otherwise identical to the standard Tailgater in terms of features.
Weighing in at 17 pounds, the ION Tailgater measures 12.5 x 9.2 x 13 inches in size. This compact speaker is easy to carry, featuring handles on either side. The ION Tailgater also features reinforced corners for added durability and protection.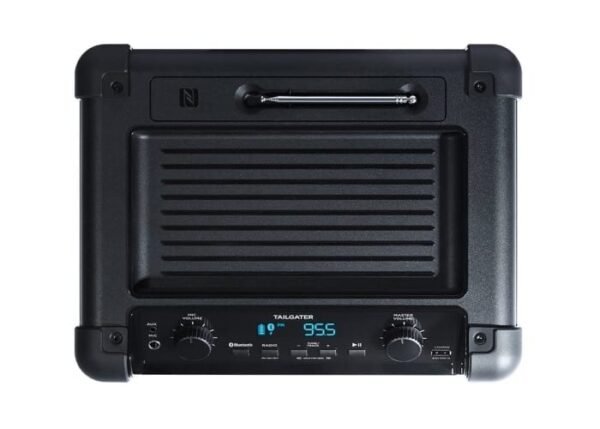 The Sound
Featuring crisp, high-quality sound, the ION Tailgater has a frequency response between 77Hz-20000Hz. While this indicates how powerful the sound output is, there's also enough room for the woofer to cover deeper bass lines and reproduce higher notes without mixing mid-level sounds.
Thanks to the smartly placed tweeter on the inside of the speaker, you're able to adjust the sound whichever way you want by simply using the dashboard on the top of the ION Tailgater.
What helps to produce some loud volume is the powerful 6×6″ woofer and 50-watt amplifier. These two elements are crucial for people that want to pump up the volume to the max and bring the party in their backyard. Thanks to the high-standard equipment used while creating the ION Tailgater, you'll notice how there are minimal to no distortions – even when playing music filled with overlaps between highs and mids.
The bass response isn't too impressive, something you can quickly see just by looking at the speaker's frequency response levels. A speaker with the low-frequency response limit set at 77 Hz simply can't produce a deep bassline.
However, the high-quality wide-dispersion tweeter allows the sound to travel well, sounding wonderful even if you're in the woods, surrounded by trees and nature.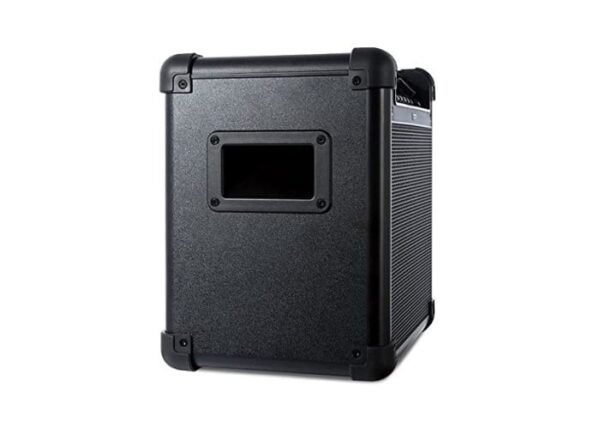 The Verdict
Packed with all the features you'd expect to have in a tailgate speaker, the ION Tailgater is a popular choice for good reason! With 50W of power and an impressive 50-hour battery life, this compact speaker is our top choice for any tailgate event!