Is there anything more fun and exciting than organizing a big party? Of course, if you want a mind-blowing party, you will need to invest in top-notch party speakers. With a good portable party speaker, you can organize a party at the beach, at your backyard, by the pool, or at your friend's house, and it certainly will exceed your expectations.
But, how can you know which party speaker has all you need, when there are a thousand of these on the market? Well, we suggest you read this review, as we will talk about one of the best party speakers right now.
Overview
The Block Party Sound Speaker is a self-reliant sound system, with 50 watts of power, and a durable battery. Moreover, this speaker is easy to move, since it comes with wheels and a practical handle, so you can throw the party wherever and whenever you want. It's a great choice for a tailgate speaker. The speaker delivers good sound quality, and the dazzling lights will surely make your party memorable. Also, you can use a provided MIC and let your voice be heard at the party. Not to forget the nice and modern design of the speaker, as it will look awesome at the party.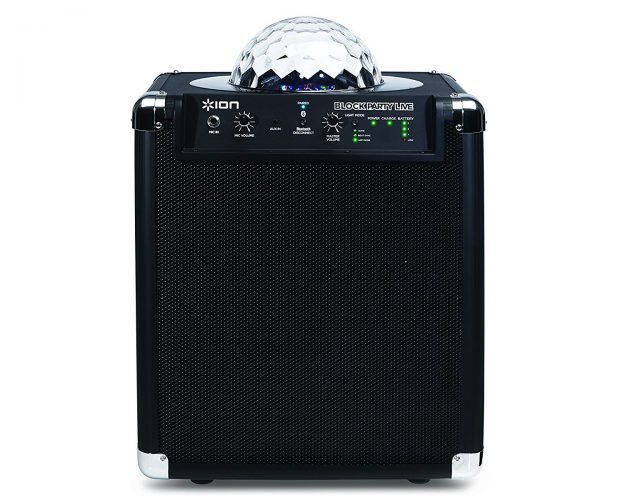 This party speaker is a good choice for those who take partying seriously and want only the best, regardless of the price.
Highlighted features:
Weight:20 lbs
Dimensions: 10" x 15" x 20.4"
Battery life:Up to 75 hours (music only); up to six hours with both lights and music
4 Lighting Modes: Auto, Off, App, Beat Sync
An indicator for power and battery level
Bluetooth Range: Up to 100 feet
Frequency Response: (±3dB): 77 Hz-20,000 Hz
Supported Bluetooth Profile: A2DP
Microphone type: Dynamic microphone
Output Power: 50W Peak
Input Voltage: 100-120VAC, 50/60 Hz
The Package includes:
A mic and cable
Power cable
Block Party Live Speaker
User Guide
Warranty
Safety manual
Auxiliary cable that comes with 1/8 inches connector
The Design
Now, when someone says "A party speaker" the first thing that comes to your mind is a big, heavy speaker that you can't move around, at least not without putting in a lot of effort. However, gone are the days when party speakers looked like that. Today, they are more lightweight, MUCH smaller, and, most importantly – PORTABLE. Therefore, you can move the speaker easily.
The Party Block is just one of these portable speakers that you can bring wherever you think the music is needed. At first, when you see that the weight is 26.20 lbs and dimensions are 10" x 15" x 20.4'', you may think that this unit is hard to move, but relax.
The reason why you won't have any trouble with moving the speaker is that it comes with wheels and a telescopic handle. Therefore, you can move it like you would move a suitcase. Well, how's that for convenience?
As for the speaker itself, it's made of high-quality materials and is rugged. Thanks to this, it will handle much transporting without being damaged. In addition, it is one of the most durable party speakers at this price point.
Apart from that, you will love the look of the speaker. It has a simple design, yet it looks very powerful and cool. But, we must admit that the lights on top of it make this speaker even more powerful.
Speaking of lights, they are not just any kind of lights. No, boy. They will pulsate in the rhythm of your music while dispersing red, green, blue, and orange patterns all over the room. If the speaker alone is not enough to shake up the party and make people dance, the lights surely are!
And just when you thought it can't get better, we have something more for you. You can control lighting modes with the included Party Rocker app via your phone. In addition, the front panel of the speaker is easy-to-read and simple to use, so you can adjust the volume and use Bluetooth without any problem.
With all this being said, it looks like your next party will be tailored to you and your guests.
The Sound
As for the sound, this speaker will manage to impress you. With 50 watts of power and 77 Hz-20,000 Hz Frequency Response, this speaker delivers some serious sound quality. The sound is full and clear, even at the maximum volume (which is a huge bonus).
Nevertheless, if that's not enough for you, no problem! There is a 1/8" input so that you can amplify non-Bluetooth audio devices.
As mentioned, the unit comes with a 1/4" input and a microphone cable for those times when your guests want to do the karaoke thing. Just keep in mind that the MIC volume is not very loud, even at the maximum.
On the other hand, you can simply plug in your favorite music instrument and show your talent to the world.
Bluetooth connection
Thanks to the stable Bluetooth connection, you can effortlessly stream music from numerous Bluetooth-enabled devices.
But, if you don't want to use Bluetooth and you'd rather go the old-fashioned way, use the Aux input.
The Battery
What we really love about this speaker is actually its long-lasting battery. It provides up to 75 hours of playtime, which means there is no risk of stopping your party just because the battery is dead. What's more, you get up to 6 hours, if you want to listen to music and enjoy the light show.
The Price:
Since this party speaker comes with all the bells and whistles, its high price doesn't surprise us. However, it's not about how much you pay for something, it's about how much you get for that price. And, with this unit, you get a lot.
Pros:
Durable
Long-lasting battery
Dazzling lights
Stable Bluetooth connection
Ease of use
Easy-to-read control panel
Cons:
Expensive
The MIC volume is too low
The Final Word
Well, that is all we have to say about the ION Audio Block Party Speaker. Now that you've found out all the details about this remarkable speaker, you can decide whether this speaker is the one for your party. With excellent sound quality, a top-notch design, and a long-lasting battery, we dare to ask, what is not to love about this speaker?