Whether you want to have a home cinema, want to dance to the rhythm of your favorite music, or throw top-notch house parties, you are going to need good in-ceiling speakers. Sure, you can buy just any in-ceiling speaker, but why do that? Choosing the right speaker for your space and your intended use will provide you with quality sound that you can enjoy for years to come.
Polk Audio is well known in the world of powerful sound as it delivers top-notch products. The RC80i 2-way in-ceiling speaker delivers great sound, is easy to install, and comes at a good price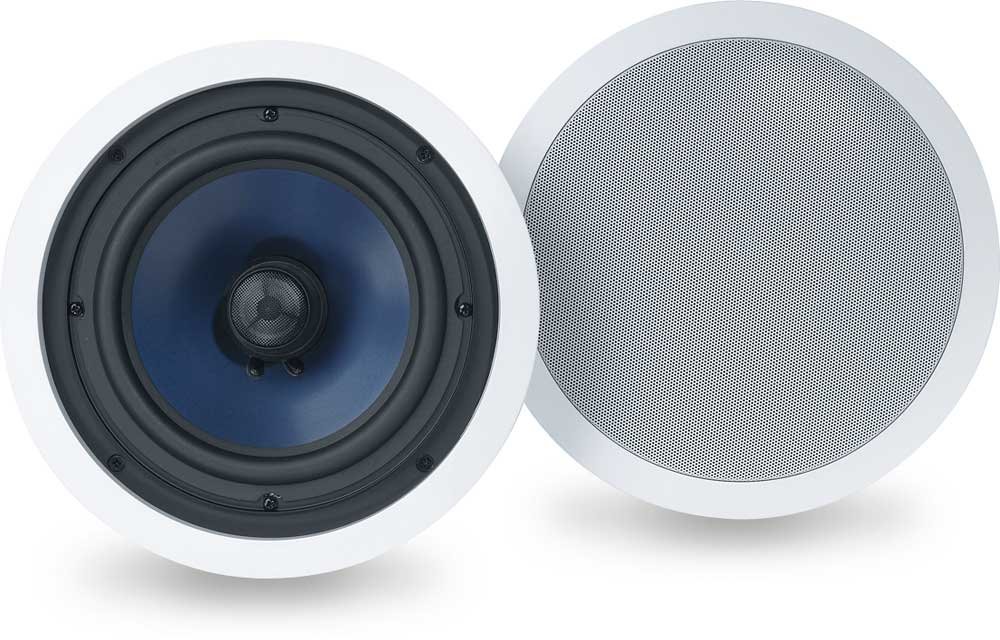 To help you locate the right speakers for your needs, you can go through this article, learn a thing or two on these speakers, and along the way, find the best in-ceiling speaker for your home. So, if you want to do things the right way, stick with us.
It is important to remember that, not unlike with in-wall speakers, a correctly fitted in-ceiling speaker system will offer a number of benefits:
Wiring is hidden behind the wall; no tripping over and no unsightly tangle of cables.
Space-saving, good quality speaker systems can take a large amount of your available living space; this is not the case if they are in the ceiling.
Sound direction is optimized; the music filters from above, ensuring you have the maximum benefit from the different sounds.
These are just a few of the benefits that will be explored more later in this guide.
Our Selection of The 10 Best In-Ceiling Speakers:
There isn't a wide variety of in-ceiling speakers available on the market due to their specific use, but there is a big difference between a good in-ceiling speaker and a bad one. We've gone through all the options and listed the ten best ones below.
1. Polk Audio RC80i 2-Way In-Ceiling Speakers
Polk Audio is well known in the world of powerful sound as it delivers top-notch products. Here we have one model just like that – The RC80i 2-way in-ceiling speaker. Being one of the most popular speakers right now, it is no wonder why this speaker is at the top of this list. It delivers great sound, is easy to install, and comes at a good price; you should be able to get a set of two for between $100 and $150.
Design & Durability
It's a good choice for anyone who wants to take listening to music to a new level.
Let's start with the design. The Polk Audio RC80i has a stylish look thanks to the combination of white, black, and navy blue. It will add a splendid touch to your home. Furthermore, this speaker is made in such a way that it promises durability since the parts are of high quality, and its casing is quite sturdy. In addition to that, this speaker can be placed in a bathroom, and you won't have to be worried about the moisture damaging the speaker.
The materials used for making the speaker are moisture-resistant. This is not the same as water-resistant or waterproof you should still consider where to locate your speakers so that they are not affected by corrosion.
Next, this speaker is easy to install, and it won't take too much time. This is aided by the tools which are provided when you buy a Polk speaker. You will receive an accurate template, precision flanges, and pre-constructed brackets, all of which will help to ensure you get the install right on the first attempt.
In addition, you can receive a rotating cam system that will allow you to move the speaker after it has been fitted; this provides an even greater level of control over the sound direction of your speaker.
Sound Quality & Performance
As for the sound, the Polk Audio RC80i won't disappoint. Sure, you cannot expect it to sound like a party speaker, it does what is supposed to do, and it does it great. This speaker delivers excellent sound quality due to an 8-inch dynamic-balance polymer-composite cone. The speaker has a 2-way design so that you will hear both highs and lows without any trouble.
But, what you will appreciate the most about the speaker is its metalized soft dome tweeter with a 15-degree swivel mount. This means that you get to choose the direction from which the high-frequency sounds will come. This is a nice little feature, as you can basically direct the sound in whichever direction you want.
However, a slight issue is that the speaker doesn't have a strong bass; to get the most from your system, you will need to add a good quality bass speaker. The speaker is matched perfectly to the Polk RTi series range for just this purpose.
The speaker is designed to work efficiently within the 35Hz to the 20,000Hz range. The pair of speakers weighs just 8.6 pounds, 4.3 pounds each, and you will need an 11.7-inch diameter hole to mount them in. The actual size of the speaker, including grill, is 12." And you will need a depth of 3" for a comfortable install.
All in all, this unit is a breeze to install, delivers great sound, looks fancy, and is moisture-resistant.
2. Micca M-8C 8 Inches 2-Way In-Ceiling Speaker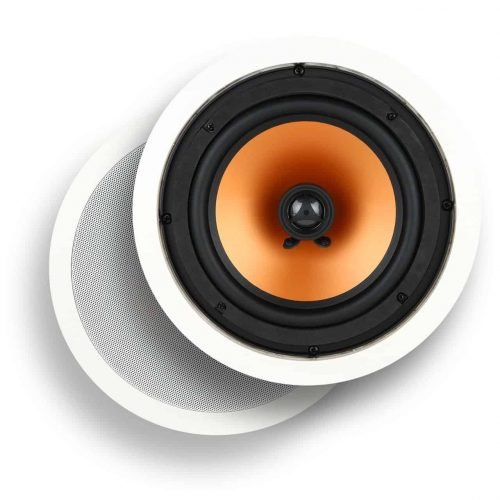 This is a 2-way speaker, so you get quality highs and lows. In addition to that, this model features an 8-inches poly woofer for producing excellent low-pitched frequencies. This model has outstanding bass, even compared only to the second-best model on the market. A pivoting tweeter allows for better dispersion of the sound, giving you a great listening experience.
Design & Durability
The tweeter is made from silk, allowing it to recreate all the highest frequencies pitch-perfect. In contrast, the polypropylene material of the main speaker allows it to be flexible and offers a good range of quality across the mid and low ranges of your music. This ensures you have just the right amount of each frequency as you need it.
It is possible to add a subwoofer to this system, but the majority of people using the Micca 8" speaker will find that the bass from these speakers is enough for your needs.
The thing that impresses us the most is that this speaker can look just the way you want. But, how's that possible, you ask. Well, because you can paint it to complement the room's interior. The icing on the cake is the easy installation. As you can see, this model is indeed one of the best that money can buy, so that it won't let you down.
Sound Quality & Performance
The speaker also features a 6dB crossover network. This is built-in and automatically controlled but does assure you that you will receive the perfect balance of high and low frequencies; without distortion. This creates a sound that gently fills your room while giving the bass even emphasis to ensure it is natural sounding and making a positive contribution.
In fact, the 8" speaker is capable enough that you should not need a separate subwoofer.
The speaker operates at between 40Hz and 20,000Hz. Each speaker is designed to provide 100 watts of music to your home with a 90dB sensitivity range. Although listed as an 8" speaker, the actual speaker, including grill, is 10.75" diameter, and you will need a 9.375" hole with a minimum depth of 3.5 inches.
The speaker is generally purchased as an individual item; you should be able to purchase one for under $50, and you can add as many as you like to your system or as many as your stereo can handle.
The speaker weighs just 4.7 pounds which should make it a good fit for any ceiling; without pulling your house down!
The quality of the product is obvious when you first remove it from the box. This is because Micca is dedicated to providing high quality and well-engineered speakers and audio equipment.
It is worth noting that you can control the frequencies through the built-in crossover and the equalizers on your system to maximize the bass, mid-range, or even treble sounds; quality is virtually assured.
It is also good to see that Micca has developed a tab system for installing these speakers on either your wall or ceiling. This makes installation extremely easy, assuming the cables are in place and the hole is already on your ceiling or wall.
3. Pyle PDIC60 In-Ceiling Dual 6.5-Inch Speaker System
Our second model comes from Pyle, and here we're talking about 6.5-inches Pyle PDIC60T in-ceiling speakers that come at a great price. This pair of speakers is, without a doubt, one of the best models that you can get for this price.
Of course, it is slightly smaller than the offering from Mica; this makes it easier to fit if space is limited but will influence the quality of the sound. Since this model is a 2-way speaker, it produces both high and low frequencies. In addition, the speakers feature a directable 1-inch dome tweeter and 1-inch voice coil.
Meaning the sound is full and rich, while the tweeter can direct it wherever you want. Not only that, but there will be no alteration, so you can turn the volume to the max and enjoy the amazing sound.
As for the power, these speakers will deliver about 150 watts of power at maximum volume, which is more than enough for a home-theater experience.  Even though the bass is a bit weak, that's not a big of an issue, considering the price.
Build & Performance
As for the design, the speaker looks elegant, thanks to the white color and simple design. It will be a great addition to your ceiling, especially because there are no visible wires to spoil the looks. It should be noted it is possible to paint this speaker to assist it with blending into your home.
As with most in-ceiling speakers, it offers an impedance of between 4 and 8 ohms, making it acceptable for car entertainment systems as well as home ones.
The speaker has a 6.5-inch soft polypropylene woofer combined with a 1" dome tweeter, which is made of titanium, ensuring longevity.
Installation
Next, the unit is a breeze to install, so that you can do that on your own. That means that you will save some money, as you won't have to call a professional to install the speakers. What's more, the speakers come with an extensive user manual that is quite helpful.
You generally purchase these as a pair, although you can add as many as you desire to your current system. Each speaker is 9" in diameter and 2.75 inches in depth. To install these in your wall or ceiling. You will need a 7.785" hole and a depth of 2.75 inches, just enough for the speaker. The two speakers together weigh just over 6 pounds, and they are exceptionally easy to mount anywhere; the template supplied with the speakers obviously helps! The trickiest part is getting the cables to the right places.
The speakers arrive with built-in terminals that are designed to allow anyone to connect the cables within moments.
Overall, this model is perfect for those who don't want to spend much money and want a good sound system in their home.
It is interesting to note that the grills on these speakers can be removed. They are held against the speaker's body with a form of putty that never fully sets and appears to have no issue holding the grill in place over the long term.
4. Yamaha NS-IW280CWH 3-Way In-Ceiling Speaker System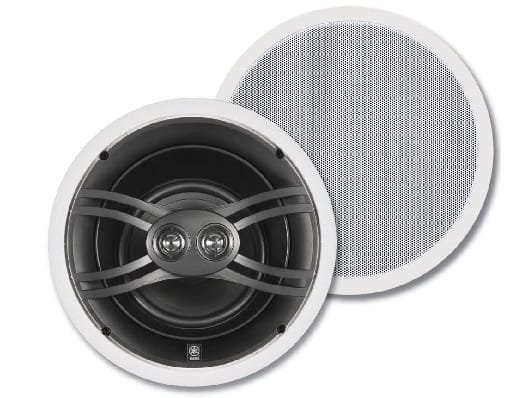 Now, for those who want something even better than 2-way speakers, this is the real thing. This Yamaha NS-IW280CWH is actually a 3-way speaker. This means that it sounds better than the 2-way speaker because it is capable of detecting the mid-range as well.  This is not to say that a two ay speaker cannot play midrange frequencies. However, you will notice a marked difference in the clarity of those sounds when using a 3-way speaker.
Sound Performance
This mid-range speaker is designed in such a way that it the frequencies are outputted in a way that is most natural for human hearing.
However, a 3-way design is not all that this pair of speakers have to offer. It is also capable of producing 100 watts of power, filling the room with vibrant sound. Much like other products on the list, this one also features a swivel tweeter so that the sound can be widely spread around the room. However, if you want to make the speakers sound even better and have greater bass, you can insulate them.
These speakers are designed to work in conjunction with each other. This will prevent the need for you to turn your system up high and potentially distort the sound. Instead, you can enjoy quality sound through several of these speakers; you will be pleased with the results.
Build & Design
The look of the speaker is contemporary, reflecting the current range of modern but virtually invisible speakers. However, it does come with an aluminum grill. This can be left like this to keep the contemporary look or can be painted to match your room, ensuring the speaker is invisible.
The speaker uses a 6.5-inch polypropylene mica cone woofer with dual ¾ inch dome tweeters. Each of these uses the patented 'SoundMax' system to boost the quality of the sound in the high-frequency range.
The whole woofer is tilted; this should be considered when installing it, as this gives you a reasonable level of directional control. The tilt is set at 12°, which allows you to angle them across the room instead of having sound directly below the speaker.
This special feature will ensure that four of these speakers in one room can all be aimed at a center point to provide stunning sound quality.
If you also consider the fact that these speakers have a unique crossover design, you will appreciate why the sound quality is so excellent.
Of course, this speaker is sold as a pair; the combined weight of two speakers is 8 pounds. Each speaker is 9 inches by seven by 5 inches. You will receive a high-quality fitting template with it to help ensure you create the right size hole for it.
All in all, this speaker delivers good sound quality and will make sure you enjoy the music and movies more than ever. Best of all, this speaker is perfect for those on a budget. Considering its amazing features and its price (in the $100 to $150 range), this speaker is hard to beat.
5. Polk Audio RC60i In-Ceiling Speakers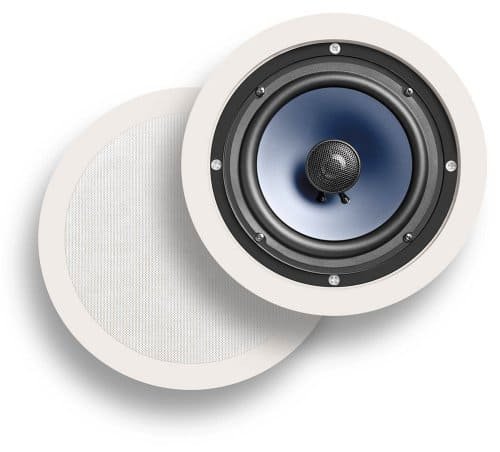 The fifth model also comes from Polk Audio and is similar to the above-mentioned one. In fact, you may simply dismiss it as the baby brother of the Polk RC80i; fortunately, it is more than that.
The Build
The Polk Audio RC60i is a contender in its own right for the title of the best speaker. There are several reasons for this. It is durable, simple to install, and looks great. However, this one is a bit pricier. This model delivers a slightly better sound (when paired up), but the first one is more popular due to the more affordable price.
These speakers work well by themselves, but their sound field is somewhat limited due to the narrow cone. Because of that, this pair of speakers will perform at its best when you pair it up with other Polk Audio speakers. That way, you'll have your very own home theater.
While the abovementioned Polk Audio speaker has an 8-inches polymer-composite cone, the Polk Audio RC60i has 6.5 inches. But, unlike the first model, this one features a rubber surround. Meaning the sound and the bass will be better. When it comes to sound quality, this model delivers crisp and pure sound, even at the highest. As mentioned, keep in mind that this model works best when connected to other speakers.
Sound Performance
By themselves, they are excellent as simple background speakers; team them with a couple of larger ones and a subwoofer, and you will have a sound system to make your friends jealous.
This model has a 40Hz – 20 kHz frequency response, while the previous one has 35Hz – 20 kHz. Furthermore, this speaker features a 0.75-inch dynamic-balance soft dome tweeter and comes with a ball-and-socket swivel mount. This means that the mount is adjustable so that it will provide a better sound dispersion.
Made of high-quality materials and with a moisture-resistant coating, this pair of speakers will hold up well in a bathroom or even in your personal spa room; if you have one.
Aesthetics
As far as the looks are concerned, we really love it. The speakers are noticeable and attractive, yet they don't look too flashy. Once you install them, you will fall in love in with their design. Speaking of installation, it is simple and fast.
The package comes with a quality template and a selection of other useful pieces to help ensure your install goes smoothly.
The speaker measures 10.8 by 10.8 by 3.2 inches. This means you will need a mounting depth of at least 3.2 inches to accommodate the speaker and cover your room with high-quality sound. You will need a hole 9.375 inches wide to accommodate the speaker.
Each speaker weighs just under 3 pounds, making them light enough to mount anywhere in your ceiling. No bracket is required or supplied; unless you have a particularly weak ceiling. In this case, you may need to have your ceiling examined before you mount these speakers.
It is worth noting that the grills are removable but is fairly flimsy; handle with care.
All in all, the Polk Audio RC60i will be a great addition to your speaker collection, complementing the sound with clear and pure tones while looking sophisticated.
6. Bose 742897-0200 Virtually Invisible 791 In-Ceiling Speaker II
If you are looking for a speaker which will blend into your ceiling, then this may be the one for you. In this sense, it is designed for people who are after quality sounds without feeling the need to show-off their speaker collection off others.
Speakers which blend into the ceiling allow you to enjoy them and keep all family members happy.
Features & Build
Bose is a well-established name in the world of speakers. They have been creating speakers for a long time and have mastered all the different techniques to create the perfect speaker for every occasion.
This particular offering from Bose has a 7-inch woofer and 2 1-inch tweeters. The speaker has passive amplification, although you can add an amplifier to your system; the recommended amplification is just 10 watts RMS per speaker, but this can make an impressive difference.
It does, however, have a 2-way crossover to ensure each sound is heard clearly as it is played.
The woofer cone is made of polypropylene, while the surrounds are rubber; to ensure a good quality connection and minimal sound distortion.
The Bose 742897-0200 is designed to run at 6 ohms and produce 50 watts of power each. Although this may not be the highest of the ones tested here, it is adequate and provides a surprisingly clear sound quality.
The grills are attached to the speaker basket via magnets and catches, making them simply to take on or off whenever needed. In addition, the grill can be painted to help ensure it blends perfectly into your ceiling or wall.
An additional feature of the grill is the fact that it is no cloth scrim; this means you can paint the grill in one easy go without worrying about clumping or the paint soaking into the speaker. Select the right color, and your speaker will truly be invisible on the ceiling.
Each speaker is 4.4 inches deep; this is the minimal amount of room required within your ceiling void in order to successfully mount your speakers. One speaker weighs 4.8 pounds and has a diameter of 10 inches.
To ensure these correctly, you will need to use the template provided. The hole needed is 8.6 inches wide and 4.4 deep.
Sound Quality
The sound quality of the Bose 742897-0200 is surprisingly good. It has a good range of frequency response, going from 40Hz to 16,000Hz. The slightly decreased range compared to other speakers in this group reduces the ability of these speakers to locate the lowest bass notes and highest trebles.
This is actually a good thing as the speaker response better to the medium range and produces a good quality sound, with sole bass notes and some high notes. The dedication to quality has paid off in the form of better quality music by sacrificing the very lowest notes that a human can hear.
The price range of these speakers varies, but you can expect to pay upwards of $500. Although this makes them very expensive, the quality of sound you will receive is excellent, as is the quality of the materials used.
7. Boston Acoustics HSi 480 8-Inch In-Ceiling Speaker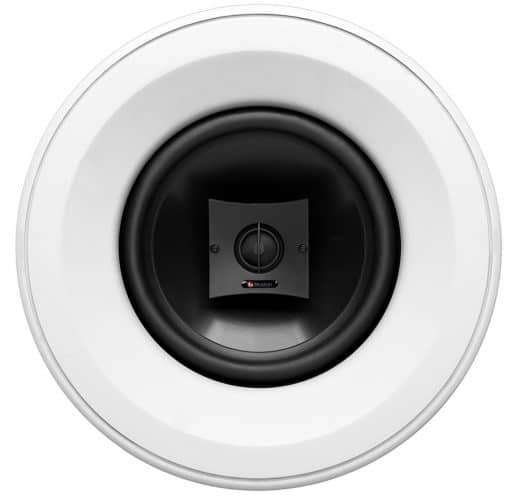 This is another 8-inch speaker designed to blend perfectly into your ceiling. It comes in white which is the traditional color for most ceilings. However, it is possible to paint the outer casing if required; to ensure it matches your home and personal tastes.
Appearance & Build
A good tip is to remove the grill before painting and then use a roller to go across the grill lightly. It will prevent paint from clumping or collecting in the grill and allow you to get just the effect you want.
The speaker has a reduced bezel design to help it integrate into your ceiling. But it also comes with magnets to hold the grill in place; this makes it much easier to install and to keep clean. You will even note the presence of wide mouth flanges; these are designed to make it very easy to slot the speaker into your hole in the ceiling.
It is possible to leave the grill off, although it performs a valuable function by protecting the interior parts from dirt and much of the dust found inside the average home.
These are complemented by pivoting mounting arms to ensure you can mount your speakers in moments. These arms have been designed to resist the pressure of a battery powered screw gun, making sure that the speaker can be fitted without distortion, no matter how tough the wall or ceiling is.
This is another speaker that is in the higher price bracket; you can expect to pay approximately $250 – $300 for it. However, it is worth the investment.
Sound Performance
Boston Acoustics has created a deep channel for the woofer on this speaker; this ensures the bass response is much better, with crisp, clear sounds as low as your hearing can go.
But Boston Acoustics have also taken care of the top end as well. The inbuilt tweeter is made from kortec to ensure the speaker can deliver crystal clear high-end sounds. The tweeter can also be moved to make sure you are facing it in the right direction, namely the position you sit in most when listening to your music.
You purchase these speakers individually; they weigh just 6.4 pounds and measure 8.5 inches by 13.4 by 13.2 inches. Everything you need to install them comes with the Boston Acoustics HSi 480, and they can be set up as your center speaker or one of your side ones. There is no limit to the number of speakers you can add to your system; this will be controlled by the number of channels and output levels on your stereo.
As you may have already assumed, this is a 2-way speaker; the focus is on a good bass sound and treble. It does not disappoint! However, you will also be pleased to realize that it provides a good range of mid-range, making it a very versatile and practical speaker for virtually any occasion or location.
If you have any issues when installing this speaker, the team at Boston Acoustics is on standby to help! You can even obtain a construction bracket to help with the install and make sure it is fast and effective.
The Boston Acoustics HSi 480 runs at 8 ohms, making it suitable for the majority of home entertainment systems. The crossover is designed to run at 3,000Hz while the frequency it can hear is set to between 45Hz and 20,000Hz. It has a sensitivity of 89dB, which is similar to all the other speakers listed in this guide.
To install, you will need to cut a 10.785 "hole with a depth of 5 inches; it is important to check the space you have in your ceiling before you purchase these high-quality speakers!
8. Niles CM7SI 7-inch 2-Way In-Ceiling Loudspeaker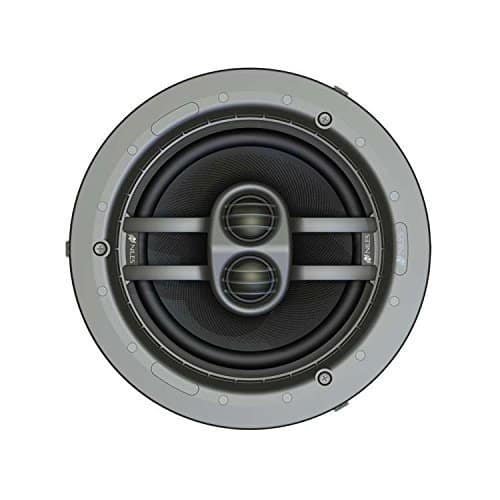 This is the first 7-inch speaker which has managed to make the top ten list. It is another 2-way speaker with an emphasis on good quality bass and treble sounds. It can be used as a stand-alone speaker if you wish to have just one in your room, although you will probably prefer the balance when you have two of these speakers fitted. A subwoofer can really finish your set-up.
Design & Build Quality
The Niles speaker is exceptionally well designed. They have used glass fiber to create the woofer cone and give it a curvilinear profile. This is to help provide smoother response to frequency changes and a smoother overall sound; it works!
The voice call is also made from glass fiber; in fact, there are two voice coils built into this speaker to create two channels, effectively creating a stereo sound while using just one speaker.
The surround is made from butyl, which ensures that every sound is translated and played properly. This material is also exceptionally durable, making sure that your speaker will last for years to come.
Sound Performance
Perhaps one of the most intriguing and innovative parts of the Niles CM7SI speaker is the fact that the 1" UltraSilk tweeters are liquid-cooled. The purpose of this is to ensure that the high frequencies are captured and played perfectly for you. This speaker is designed to provide the very best quality sound.
An additional feature that is worth mentioning is the fact that the tweeters are bridge mounted. The sound is collected from both the left and right channels of the speaker and then sent out at opposite angles; to help ensure the stereo sound is perfectly portrayed.
As with many of the other top-quality speakers, the grill is attached via magnets, making it very easy to remove it for cleaning or during installation.
The Niles speaker has been designed with materials that are weather resistant. This means that you can mount these speakers in places where you would not normally, such as the eaves or above the shower. This does not mean the speaker is waterproof, but it can handle moisture without corroding.
Another useful feature is the integrated baffle assembly. This is designed to deepen the cone allowing for a better range of bass than would otherwise be possible. You will also note that the basket is equipped with tension clamps; this allows you to install the speaker without screws quickly and effectively, even on uneven surfaces.
Value for Money
The Niles CM7SI are sold individually and represent excellent value for money; the price range is between $130 and $175. Although this is not the cheapest option available, the amount of technology and the quality of the materials involved in creating these make it a fair price. You will certainly be pleased with the range of sounds coming from just one of these speakers.
Each speaker has an 8-inch diameter and a depth of 5 inches. This means you will, again, need to verify you have the space available in your ceiling before you purchase them. It weighs in the region of 5.5 pounds, and if you wish to, you can paint the grille to improve the way it blends into your ceiling; or stands out; if you prefer!
The front of the speaker is 11 inches in diameter, and the hole you will need to create is 8.5 inches; of course, there is an excellent template which comes with the speaker.
The speaker runs at 8 ohms and provides 130 watts of music. It can handle frequencies between the 55Hz and 21,000Hz range, with a sensitivity of 89dB.
9. Klipsch CDT-5650-C II In-Ceiling Speaker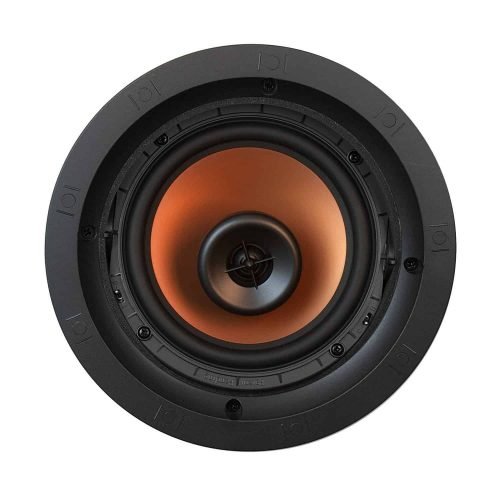 Klipsch has been making electrical components and speakers for many years.  They have an excellent reputation and are constantly looking to provide a quality product at an affordable price.
Design & Build
As with many of the in-ceiling speakers, this is a 2 way 8" speaker with a 1" tweeter. In this instance, the tweeter is titanium, making it light and flexible. The 8" woofer is made from cerametallic, which is designed to increase both strength and flexibility; improving the sound quality of the process.
This is because the ceramatallic woofers have a high stiffness to mass ratio and offer top of the range damping, encouraging an excellent bass response on all frequencies.
Sound Quality
A unique feature of this speaker is that it has horn-loaded technology. In effect, this means that the internal parts of a speaker are designed to resemble a horn. This encourages accurate sound replay and a dynamic range of frequencies. It also reduces distortion and can produce very soft and very loud sounds to the same level of clarity.
The horn technology also allows the speaker to have directionality. The exit point of the horn is the direction the sound will predominantly travel in. This technology has been designed to replicate the sounds of the orchestra or any musical instrument as accurately as possible, helping you believe you are actually at the concert, not in your living room.
You will also find this speaker benefits from wide dispersion surround technology. This allows the speaker to fill a room as though it has been placed in the perfect position, even when it has not been. It is exceptionally clever technology and likely to infiltrate into many of the leading designs within the next few years.
The Klipsch speaker also offers attenuation switches for both the treble and the midrange frequencies. This helps you to control the exact sound you are hearing and ensure it is as close to the original as possible.
The speaker is also well designed; it looks stylish and comes complete with a slimline grille that magnetically attaches to the speaker basket. Installing the speaker is also easy, thanks to the installation kit, which includes an accurate template and everything else you might need.
The Klipsch CDT-5650-C II operates between 63Hz and 23,000Hz with an impressive sensitivity of 94dB. It runs at 8 ohms and has a built-in passive crossover. You can comfortably put 200 watts of sound through this speaker without damaging it; this is the same as 50 watts RMS.
Installation
You will need to cut a hole 8.3 inches wide in your ceiling and have an available depth of 4.5 inches to ensure you can mount your speaker properly. The actual outer casing of the speaker is 9.5 inches in diameter. Each one weighs 7 pounds, and you can over-paint the white frame and grill; if you wish to.
Because of all the latest technology packed into this speaker, it is not the cheapest option on this list, but it is one of the best for offering a high-quality sound that remains excellent at low or high volumes.
The average price range of this speaker is between $250 and $300. However, this should not put you off if you have the budget for it! The speaker is excellent quality will survive in moisture-rich environments, such as your bathroom, and can provide you with the best quality sound in every room of your home.
10. OSD Audio ICE660 6.5″ 150W Angled In-Ceiling Speaker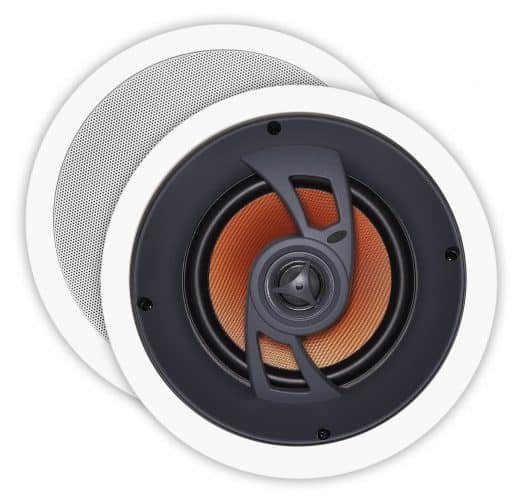 The final contender in the top ten best in-ceiling speakers is the OSD Audio ICE 660. It is a 6.5-inch speaker with a few interesting details.
Design & Build
The first thing to note is that, although this is designed as a ceiling speaker, it is also directional. The speaker is set at an angle of 15° inside its mounting cage. This means by swiveling the cage. You can point the sound at any spot in your room. This is an excellent idea to centralize the sound, especially when your television or stereo is against the wall. The front speakers can be next to it and still be projecting into the room and onto your favorite chair.
The OSD is weather resistant, which means you are able to install it in the shower room or even your sauna; without damaging the speaker of electrocuting yourself.
Sound Performance
In addition to this, and in common with the majority of the other speakers on this list, the ICE660 has a moveable tweeter, helping to provide you with the best possible sound.
You may be pleased to learn that these speakers can be mounted just one foot away from the wall; this is because you can set the direction for your music. If this is not the case, the speaker will simply project the music downwards; the sound will be lost in the wrong spot, and your entertainment experience will not be as impressive as you hoped. To avoid this, speakers which project downwards must be located at least three foot away from the walls. In a smaller space, this means they will be right over your head!
The ICE660 comes with a 6.5-inch woofer cone which is made from polypropylene; this assists with durability and your ability to get quality sounds. Even the pivoting dome tweeter is created from a silk-based material. To finish the inside of your speaker, you will find a butyl rubber surround; this is to protect the speaker from dirt while allowing flexibility for the music.
The speaker has a frequency response of 50Hz to 22,000Hz and runs at 8 ohms. It will deliver 150 watts of music to your home while the sensitivity is set at 92dB. The speaker weighs four just pounds, and they arrive individually; you are ordering one at a time.
Installation
To install the speaker, you will need to cut an 8.2-inch diameter hole which will need to be 5 inches deep. You should be able to locate one of these speakers within the $40 to $60 price range.
It is a stylish looking speaker that offers high quality sounds whether you are watching the big game, playing on your X-Box, or throwing a party. You will not be disappointed with how well it blends into the ceiling and how easy it is to fit.
It is worth noting that the speaker has a variety of connection options in the back. This is because it is designed for several different environments. If you are planning to add it to a home system, with or without amplifier, then you should use the C connector and the 8Ω.
Being able to control the direction the music is moving in will allow you to, if you wish, center all the music on one spot in the room. This will become the perfect spot to listen to any type of sound and should be where your favorite armchair goes!
You will also find that there are three contour witches built into this product. These will automatically adjust the bass and treble according to which position they are in.
Buyers Guide to Buying In-Ceiling Speakers
Before you start deciding which is the right speaker for you and understand how best to choose the speaker for your home, it is advisable to consider the following points.
This will ensure you are choosing a speaker for the right reasons and you know how to choose the right one. Once they are installed and have been used, you cannot normally return them!
Why do you need in-ceiling speakers?
Now, you must be thinking: "Can't I just buy a party speaker and put in my room? Why would I bother with installing the speakers on the ceiling?" Well, firstly, a party speaker will take up significant space in your room, which is not a good thing, especially if your room is small. In-ceiling speakers, on the other hand, will free up the floor space, leaving more room for furniture.
This is an important consideration if you have limited space or you have children. Young children, in particular, have a tendency to knock things over or fiddle with the settings of items which they do not understand. This is not an option with an in-ceiling speaker as they will not be able to reach it to damage it.
Secondly, you will not trip over the cables each time you step into the room. This also means that there won't be a lot of dust that usually collects on the cables and wires.
Of course, installing an in-ceiling speaker system is more complicated as you need to run cables behind your walls: never an easy task if your walls have already been created. However, the end result is worthwhile.
Lastly, in-ceiling speakers will deliver a superior sound, and you will enjoy watching movies and listening to music like never before. This is because they provide a better directional response than a speaker sat on the side. Speakers sat next to your television will also often suffer from distortion as you move around your home.
Now that we've got this straight let's see what things you should consider when choosing in-ceiling speakers.
Consider Your Space
Naturally, the size of the in-ceiling speaker will depend on your room's size. For example, if your room is spacious, you will need bigger speakers. Otherwise, the sound quality will be poor. It's important to pick the speakers of the right size for your room, to get a full and rich sound. The way to find out what would be a perfect size is to contact the manufacturer or talk to home audio specialists.
However, it is not as simple as this! Larger speakers will generally create more volume than smaller ones, but this does not mean that they offer the same quality. In addition, you can choose to add more speakers. Six small speakers could cover the space much more effectively than 3 or 4 large ones.
Since it is not possible to position the speakers first and test them before buying, it is advisable to visit some showrooms and listen to the set-ups they have to offer. This will give you an idea regarding the best arrangement for your own space.
You can also use this calculator to help you establish how many speakers you need to cover your room effectively. Again, this is just a guide, as your personal space may be used for a variety of purposes, and you may not wish to hear the sounds across the entire room. A good approach can be to start with one or two front speakers and work your way up from there; this will also help to spread the cost.
The Sound Quality
Speaking of the sound, here's what you need to focus on when buying in-ceiling speakers – frequency response, Watts, and decibels.
The frequency response (measured in Hz) is actually the range of the sound that the speaker can produce. Human hearing is from 20Hz (refers to the lowest bass tones) to 20 kHz (refers to the highest treble notes). This means that your speaker should have 50 Hz to 20 000 Hz frequency range to provide you with good sound quality.
As for the watts, they refer to the highest amplified power output. Meaning the greater amount of watts, the better and more powerful the sound is. Most speakers have less than 250 watts. You can choose the speakers that have 100 watts of power each, and the sound will be good enough.
When it comes to decibels, they refer to the sensitivity of the speaker. In addition, they determine how much power the speaker will use the amplifier. Most speakers have 85Db TO 92dB, which is ideal. You should not buy anything less than 85dB because the sound will be far from good.
The Safety
Since here we're talking about in-ceiling speakers, the safety is the most important feature your speakers should have. You have to buy speaker wires that are specially designed for this specific use in order to comply with building regulations as well as with fire regulations.
It may be tempting to cut corners on this part, but this can dramatically increase the risk of a fire in your building, which is not an outcome you will want.
The Installation
Before buying particular in-ceiling speakers, you should think about the installation. Do you want to install the speakers all by yourself, or would you want to call a professional?
Even though the installation is not very complicated, you do have to be careful, so if you are not very handy, maybe you should call the professional.
In general, speaker installation requires you to drill the correct size hole in your ceiling and slide the speaker in. This will then be secured in place either through raw plugs in your ceiling and screws through your speaker or the securing it which came with the speaker. Some manufacturers use spring tension clips to lock the speaker in place.
Although this is straightforward, the part where you may need expert help in getting the cables into the walls. You will need to know how to access the walls or the best way of sending a cable to the ceiling and down to where your sound equipment is. This can be very challenging.
Of course, if you are in the middle of construction, then the cables can be put in place before the wall is completed.
Whole House Music
You can fit one in-ceiling speaker to your living room and enjoy the better sound quality. However, you can also fit speakers into every room of your home! This will allow you to listen to the radio wherever you are and move around the house while listening to your favorite tunes; without needing to deafen the neighbors in the process.
This approach can really improve the ambiance of your home, but you will need to decide how far you wish to go with your in-ceiling speaker installation before you can choose the right speaker for your needs.
If you are opting for a whole house set-up, then multi-channel speakers are best.
What's Your Budget?
You will need to decide how much you can afford to spend. As you can see from these recommended speakers, range quite dramatically in price. While the most expensive do offer the best quality, many of the budget in-ceiling speakers also offer excellent quality sound.
It is better to spend what you can really afford than to overstretch yourself; just for a music system.
Don't forget; you can always build your system soy by purchasing a speaker when you can afford it; this might be a slower process, but the end result will be worth it.
Understanding Stereo Sound
If you install one speaker, then you will almost certainly have a mono sound. There are a few speakers that are designed to be fitted by themselves and offer stereo sound, but generally, you will need two speakers to cover the right and left channels.
There are very few situations where you will prefer the mono sound. You, therefore, need to consider the space you have available and decide whether one stereo speaker is preferable or two mono speakers.
Location and Moisture
Most of the speakers you choose and install will be in standard locations around your home. However, if you are thinking of adding speakers to your bathroom, spa room, or even your kitchen, you will need to consider their moisture rating.
A speaker that is not designed for these locations is likely to suffer from corroded terminals and possibly blow, wasting your money and potentially damaging the rest of your system.
It is therefore, important to consider where you wish to put your speakers and which ones are compatible with the moisture-resistant speakers. Your system needs to remain balanced even if you have speakers all over your home.
Ceiling Depth
Most ceilings will comfortably accommodate the standard speakers which range from 3 to 5 inches in depth. However, if you are looking to fit an in-ceiling bass speaker, you may find that the ceiling void is not big enough. It is important to check this before you purchase the speaker and then look at what other options are available, if necessary.
Bass speakers can add a nice tone to your music, but the woofers are almost always deeper, and this must be taking into consideration.
Speaker Enclosures
The speakers listed in this guide are all high quality and produce a good range of sound. However, any speaker can produce a better sound if you enclose it. This prevents distortion from matter in the ceiling void and prevents it from becoming damaged by bits of insulation of other debris in the ceiling void.
Making a speaker enclosure is fairly easy, but you will need to gain access to the ceiling from above; the box will be bigger than the hole for the speaker; you cannot install it from the ceiling side.
While this is worth doing, it is important to check with the manufacturer guidelines before creating the enclosure. They may specify a minimum size to prevent the speaker from overheating.
In the Wall
This guide covers in-ceiling speakers. However, there is also a benefit to having in-wall speakers in your home. This is particularly true if you hope to have surround sound from your television; it can make any film or program seem more authentic.
If you think it is likely that you will want to install wall speakers, then you must consider this before choosing your ceiling speakers. Both can work together well, but you need to have a balance between where all the sounds are coming from.
The best approach is to draw your room and calculate the volume of the room; this will allow you to work out the best location for all the different speakers.
Bass Boost/Amplifier
We have already mentioned boosting your bass by adding bass speakers to your ceiling, providing you have enough void space. If this is not an option, you may choose to have a subwoofer mounted on the floor by your television.
However, subwoofers and even your in-ceiling speakers can sound much better if you add an amplifier or two to your system. This increases the power to the speakers and improves the quality of the sound, especially at low volume levels.
Most speakers are able to work effectively with an amplifier, but it is important to consider whether you wish to fit one or not and, if you do, where it will go and where your wiring needs to be fitted.
Purpose of Speakers
You should not forget to consider why you actually want in-ceiling speakers. If you want better sound quality and do not have the space for standalone speakers, than the in-ceiling option is the perfect solution.
However, if this is part of a drive to have the perfect balance of music in your home, then your in-ceiling speakers will be part of a larger scale project, and you will need to consider it as a whole.
It is, of course, possible to upgrade your speakers at any time, but this is not something you want to be doing too often. It is better to get it right the first time!
Final Thoughts
In-ceiling speakers can make a perfect addition to your room while maximizing your listening and viewing experience. These speakers offer top-notch sound, will free up space in your room, and will look stylish and neat.
With a plethora of models on the market, you have to choose wisely and focus on what you really want out of your in-ceiling speaker. However, keep in mind the important features your speaker should have, and your purchase will be successful.
All the speakers listed in this guide represent good value for money; the real question is what you need them for and how many you want. Once you know this, you can work through the guide and narrow your search to find the perfect speaker for your needs.
With just a little bit of work, you will be able to install your chosen speakers and enjoy quality sounds inside your home; you will never need to go to the cinema again, and you might even look forward to throwing parties; or at least to having your own, private party, every week.
Thanks for your feedback!