One of the more trendy audio brands to appear this decade is iFi Audio. Founded in 2012, the company design and manufacture a range of trendy audiophile quality products from its headquarters in Southport, UK. The iFi Audio Retro Stereo 50 is an integrated tube amplifier with a built-in DAC, MM & MC phono pre-amp, headphone amp, and Bluetooth. Yes, you read that correctly, an integrated tube amplifier with Bluetooth! While the Retro Stereo 50 is designed with audiophiles in mind, I think this could be the first integrated tube amplifier designed for a much wider market. Let's find out why.
At a Glance
Power Output: 25W into 8 ohms per channel
Digital inputs: USB, coaxial, optical
Analog inputs: Phono, 2 x RCA line, ⅛-inch AUX
Outputs: ⅛-inch headphone, ¼-inch headphone
Features: Built-in DAC, MM & MC phono pre-amp, Bluetooth (with NFC)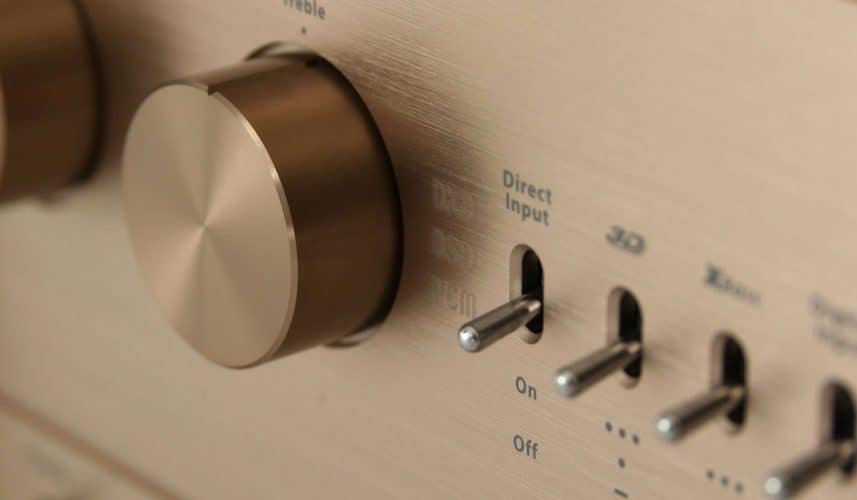 iFi Audio Retro Stereo 50 Design
One thing I'm sure we can agree on is the Retro Stereo 50 is one of the most beautiful integrated tube amplifiers on the market. The mixture of brushed metal, bamboo, rotary knobs, and dip switches gives the Retro Stereo 50 a vintage aesthetic with a modern twist. On the front panel, you have four rotary knobs. Two are for tone control, bass and treble, a third for input selection and the last is for volume. The action of the rotary knobs is just perfect. There is a decent amount of resistance on the volume and tone controls which not only makes them pleasing to adjust but reinforces the attention to detail and quality ifFi Audio have put into the Retro Stereo 50.
Also on the front panel are five dip switches, a ⅛-inch AUX input, ⅛-inch headphone output, and a ¼-inch headphone output. Having the AUX inputs and headphone outputs on the front offers a degree of practicality which I'm sure users will appreciate.
Dip Switches
The dip switches allow you to control some of the cool features available in the Retro Stereo 50. The first switch allows you to switch between PCM, DXD, and DSD listening. There are two switches which control pre-programmed audio presents within the Retro Stereo 50. The first is iFi Audio's 3D Holographic Sound Systems switch. This offers you three options of sound stage profiles which are especially great for use with headphones but works well for speakers too. This is a switch you can play around with depending on the headphones or speakers you are using.
The second pre-programmed audio preset is the XBass feature which allows you to adjust the bass response in three stages. Both of these audio presents offer some fun and excitement which is often lacking in true audiophile tube amplifiers.
The fourth dip switch is a simple digital input selector which is activated when the rotary input selector is set to digital. Lastly, you have a dip switch to turn the unit on and off.

What About Those Tubes?
A look under the hood of the Retro Stereo 50 reveals one of the neatest and hip looking circuit boards found on any integrated tube amplifier. Before we get to the tubes, I have to mention, you can see how much iFi Audio care about every detail simply by opening the Retro Stereo 50. iFi Audio have used premium cables, the layout is neat and everything is fitted perfectly in place. It's like an interior designer went to work on the inside of the Retro Stereo 50.
There are a total of six tubes in the Retro Stereo 50. Four power tubes (EL84X) and two signal tubes (ECF82). If you're familiar with tubes, you'll likely be familiar with the EL84 and might be wondering "what is an EL84X"? It's a military grade tube not advertised or specified for audio use. Furthermore, EL84X is the replacement name given by iFi Audio, the true identity of the tube is withheld. Very mysterious!
According to iFi Audio, "the peak cathode emission is higher than standard EL84, so higher peak current can be sustained. There are many other small aspects that make it in our book better than the rest.". In short, the EL84X is a more superior tube which sounds fantastic in the Retro Stereo 50 than the standard EL84. You obviously have the option of changing to the EL84 if you prefer. The EL84X is only available through iFi Audio with each tube having a lifespan of around 1,000 hours.
The smaller ECF82 signal tubes are a little hardier and will likely last three or so years before you have to change them. The EFC82 is obviously a lot easier to come by than the EL84X.
Self-Biasing
One of the many reasons I say the Retro Stereo 50 will appeal to a wider consumer market is the circuit is self-biasing which means you don't have worry about biasing volume pot when changing tubes. Just plug and play, no hassles. For a tube amplifier newbie or, someone who doesn't want the hassle of a high-end tube amp, then the Retro Stereo 50 is just perfect in that regard.
Inputs & Outputs
When it comes to inputs and outputs, you're spoiled for choice with the Retro Stereo 50. The only thing the Retro Stereo 50 doesn't have is a pre-out to connect a subwoofer, other than that, you should find every input you'll need from a modern integrated tube amplifier.
Analog inputs include 2 x RCA line, 1 x ⅛-inch AUX (shares with line 2), and 2 x phono (MM & MC). The phono input also has a ground connection for your turntable.
Digital inputs include 1 x USB, 1 x coaxial, 1 x optical, and Bluetooth (aptX). In addition to Bluetooth, you have NFC for quick pairing. To my knowledge, I don't think there is any other integrated tube amplifier on the market with both Bluetooth and NFC.
Built-In Features
Not only does the Retro Stereo 50 offer a lot of input options, but it also has many built-in features including a phono pre-amp for both moving magnet and moving coil cartridges, a digital-to-analog converter (DAC), and a headphone amp.

iFi Audio Retro LS3.5 Speakers
When purchasing the Retro Stereo 50 you have the option of with or without speakers. If you choose the speaker option, you get two iFi Audio Retro LS3.5 speakers which are specifically designed to pair with the Retro Stereo 50. The Retro LS3.5 are constructed with the same bamboo enclosure which is said to add to the tonality of the speakers. Each speaker features a 4.5″ Paper Cone Wideband Driver with a 1.1″ Silk Dome Tweeter.
What Does the iFi Audio Retro Stereo 50 Sound Like?
Now, with all the features and hype, what does the Retro Stereo 50 sound like? Firstly, the bass is warm and smooth as you would expect from a typical tube amplifier. When paired with the Retro LS3.5 speakers, the low-end response warm, tight and punchy.
The mid-range is upfront and present which adds a beautiful clarity and enhances the sound stage. The highs are a little bright, especially with the LS3.5 or other bookshelf speakers, however, with the tone control, you have the ability to dial this back if necessary. Overall, the Retro Stereo 50 is extremely well-balanced and will be great for listening to your favorite vinyl, digital audio, or even Bluetooth playback.
What's in the Box?
Included with the iFi Audio Retro Stereo 50:
iFi Audio Retro Stereo 50 integrated tube amplifier
Bluetooth antenna
Remote control (volume adjustment only)
RCA – RCA cable
⅛-inch AUX cable
USB A-B cable
Optical audio adapter
2 x Silver coated copper speaker cables
Conclusion
I really love the iFi Audio Retro Stereo 50. Since the resurgence of vinyl several years back, for many consumers, there has been a gravitation towards high-end audio. The Retro Stereo 50 opens the joys of tube amplifiers up to a much wider market. While the audiophiles might scoff at features like tone control, bass boost, and Bluetooth, I think iFi Audio have found a good balance which will appeal to regular consumers and audiophiles. The quality of the Retro Stereo 50 is something everyone will appreciate. For under $2,000, you'll get the Retro Stereo 50 with speakers, built-in DAC, phono pre, headphone amp, and more. You will not find better value for money than this! If you don't want the speakers, you can pick the Retro Stereo 50 up for under $1,500. Also included in the price are a tonne of cables to get you started.
Thanks for your feedback!