If you're on the hunt for a new headphone amp, you've come to the right place. In this article, we take a look at the 10 best headphone amps. We break down each product and give you reasons as to why you would, and wouldn't, want to buy it. But what type of headphone amp do you need? Good question! We answer this and many more questions throughout this article.
At the end of the headphone amp reviews, be sure to check out our comprehensive buyer's guide, headphone amp Q&A, how to connect your headphone amp, and safe headphone usage. Before we get into the best headphone amps, we answer a few questions about the different types of headphone amps and which you might be more inclined to choose.
Best Headphone Amp Under $100
The best headphone amp we can recommend under $100 is the FiiO E10K USB DAC headphone amp. This compact device is easy to use and sounds great. If you're looking for affordable simplicity, the FiiO E10K is just what you're after.
Best Headphone Amp Under $200
If you have a $200 budget, you'll definitely want to consider the Little Dot MK2. At $147 the Little Dot MK2 will leave you with enough change to invest in some quality cables or perhaps even some different tubes. The Little Dot MK2 is a great introduction to tube headphone amps and while providing excellent sound quality.
Best Headphone Amp for Studio Recording
If you're looking to do a live recording you'll need a headphone amp so the artists can monitor themselves and the rest of the band or any backing tracks. The PreSonus HP60 is by far one of the best headphone amps on the market for the $245 price tag. If you already own other Presonus gear, then the HP60 will enable you to keep some uniformity in the studio. With two stereo master inputs and a dedicated input for each channel, the HP60 gives you some versatility when putting together mixes for each artist.
Best Headphone Amp for Podcasts
Making sure everyone can hear themselves on your podcast is important. You definitely don't want technical issues to ruin your final mixes. Ensuring everyone can hear themselves, other guests and any external audio is key to good discourse. The Behringer Microamp HA400 is our best choice for podcasts or amateur radio stations. At $24 the HA400 is affordable but certainly not cheap in terms of quality. Each headphone output has dedicated volume control so each person can control their own volume. The HA400 is compact enough that it won't take up too much room on the desk or get in the way.
Best Portable Headphone Amp
If you're looking for quality audio while on the go, then you'll definitely want to consider the FiiO A3 Portable Headphone Amplifier. This ultra-compact device features a built-in battery with 16 hours of playing time. More than you'll need for most domestic and even international flights. The A3 is also a DAC with Micro USB input so it's great for use with the laptop when you're away from home, at the office, or even working remotely. At $56, the A3 is affordable and provides premium features found in DAC headphone amps 3 times the price.
Best Overall (Our Pick)
The Microamp HA400 delivers some serious power. Even when recording loud instruments like drums, the volume won't need to go past 60% or so.
What is a headphone amp?
A headphone amp is a device that takes an audio signal and amplifies it to a suitable level for a pair of headphones. This is the simplified definition. In fact, it can be a little more complicated than that.
For example, there are DAC headphone amps, tube amps, instrument headphone amps, headphone distributers or mixers, and just stock standard headphone amps. In this article, we cover all of these variations. Let's take a closer look at what each of these headphone amp types does.
What is a DAC headphone amp?
Firstly, what is a DAC? DAC stands for digital-to-audio convertor. Just about every MP3 player, mobile device, laptop, computer, CD player, you name it has a built-in DAC. So, why do you need an external DAC? Digital-to-audio conversion is not high on the list of priorities for manufacturers. There are so many other components to worry about and often the DAC isn't high on that list.
Most products provide you with a standard-sounding DAC. It's never going to sound bad, however, if you're looking for the best audio experience, then there is significant room for improvement. Also, many audiophiles who prefer an analog sound, want a device that will convert digital audio to a very high standard.
This is where a DAC headphone amp becomes very useful. You can convert a digital signal from your PC into a high-quality analog signal while powering your favorite headphones at the same time. In some cases, the DAC headphone amp will have a line out which can then be fed to a pair of speakers or amplifier.
What is a headphone tube amp?
Headphone tube amps use tubes to amplify and drive an audio signal to your headphones. Most tube amps will incorporate power tubes and driver tubes. headphone tube amps are favored for their warm full sound characteristic. How tube amps work is very technical so, for the purposes of this article, we'll try to keep things simple.
A tube has three characteristics:
Voltage amplification
Current amplification
Output impedance
The driver tube has a high voltage amplification but it also has a high output impedance. The power or output tube has high current amplification with low output impedance making it capable of handling a high load from a transformer. With the two tubes working together, the driver tube amplifies the signal to the power tube which then drives the signal to the output.
Now, it's important to note that tubes behave differently depending on the way the tube amplifier is designed. The above is a simple example and may not explain how all-tube amplifiers behave. You can also have single tube amplifiers without a driver tube.
What is an instrument headphone amp?
An instrument headphone amp is used as a replacement for instruments that typically require external amplification to operate. Electric and bass guitars being prime examples. Instead of using a big guitar or bass amp, which is obviously bulky and noisy, the musician can play their instrument using a headphone amp connected to their headphones.
Instrument headphone amps are especially useful for musicians who want to practice but don't have an amp or, can't make too much of a noise.
What is a headphone mixer amp?
Headphone mixer amps or distributer amps are used when you need to send an audio signal to several pairs of headphones at the same time. You can use a simple splitter for this, however, without independent volume control or amplification, the signal will be pulled down by multiple headphones plugged into the same cable.
This is where headphone mixer amps make more sense. In most cases, each output will have an independent volume control so the user can adjust their volume without affecting the others. Some of the studio headphone amps even have multiple inputs and an independent input for each output so each musician can have a separate mix. These headphone amps are most commonly used in recording studios but can also be used for podcasters and radio stations.
Which headphone amp do I choose?
Now that you have a better understanding of the types of headphone amps, you can know to identify which one is right for you. If you're still confused, here is a detailed breakdown:
DAC Headphone Amp
This option is best if you're looking for a better alternative to a standard computer audio output. A DAC headphone amp will deliver a warmer sound and better sound stage. If you're looking to get really technical, you can purchase a high-end DAC and a separate headphone amp. If you're just starting out, it's probably best to start with a DAC headphone amp combo.
Make sure to check the output impedance of the headphone amp to ensure it will be powerful enough to drive your headphones.
Headphone Tube Amp
A headphone tube amp is for those looking for a high-quality sound. By using an analog method for amplification, the tube amp delivers a much warmer, fuller sound. In most cases, tube amps have the ability to power all makes of headphones efficiently. Keep in mind, you will need a DAC if you are sourcing audio from your PC. Most tube amps have RCA inputs. Some headphone tube amps have the ability to power speakers as well as headphones. This gives you a premium sound whether you're listening on the cans or speakers. Tube amps do not travel well, so if you're looking for an amp with portability, then you will want to invest in a standard headphone amp instead.
Instrument Headphone Amp
If you're looking to play your bass or electric guitar through your cans, then an instrument headphone amp is the way to go. These devices are battery-operated, ultra-compact, and plug directly into your instrument.
The 10 Best Headphone Amps
1. Behringer Microamp HA400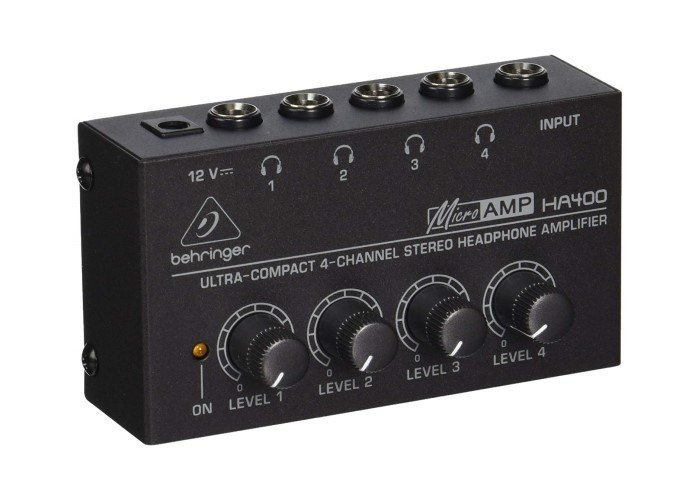 Behringer is a leading professional audio brand. The company design and manufacture quality pro audio products on the budget end of the spectrum. The Behringer Microamp HA400 is a 4-channel headphone amp designed for use in recording and podcasting studios.
Design & Features
The Microamp HA400 is an ultra-compact headphone amp incorporating an all-metal chassis. If you're looking for an amp to hold up to life on the road, the Microamp HA400 is durable enough to survive being thrown in a carry bag or flight case.
The Behringer headphone amp has a minimal footprint so, you can place the device in the middle of a table or desk without taking up too much room. Perfect for podcasters and small music studios.
The Microamp HA400 features a single 1/4-inch input with four 1/4-inch outputs. Each input has its own rotary volume control giving each user control over their own volume. This is especially important if you have different headphone makes and models. Each output will effectively power headphones up to 80 ohms. This is perfect for most consumer audio headphones but won't be sufficient for high-end audiophile cans.
Verdict
If you're looking for an affordable headphone amp for your podcast or recording studio, then the Behringer Microamp HA400 is certainly one to consider. The Microamp HA400 is not a high-end headphone or DAC, the purpose of this amp is for audio distribution rather than improving sound quality.
Essentially, what you put into the Microamp HA400 is what you will get out. The sound is clean with no noticeable noise or coloration to the sound quality. The only thing which may be an issue is the overall volume when there are four high-powered headphones plugged into the Microamp HA400. This does draw on the amp a little but can be adjusted using the independent volume controls.
Having said that, the Microamp HA400 delivers some serious power. Even when recording loud instruments like drums, the volume won't need to go past 60% or so. For podcasters, you won't have any issues distributing enough quality audio to each user. At high volumes, the Microamp HA400 does distort somewhat; however, max volume on this amp is significantly loud, and I doubt anyone would be able to wear a pair of headphones at these levels.
2. VOX amPlug 2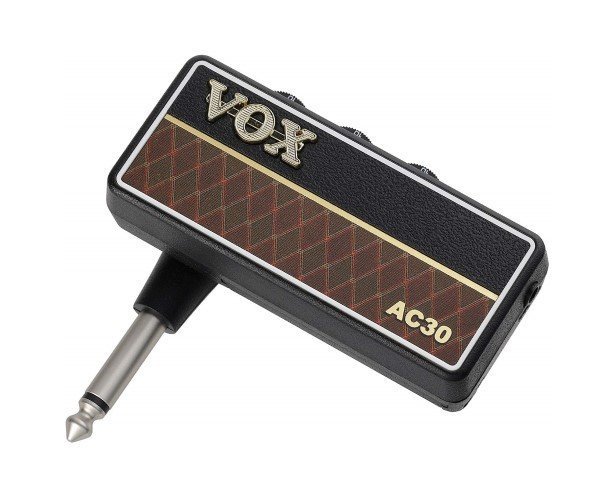 VOX has been designing and manufacturing guitar amps for more than 60 years. VOX amps are used by many professional musicians, and it's likely you've been to many concerts where a VOX guitar amp has been used on stage.
If you have ever played an electric guitar, you'll know practicing can be difficult. A guitar amp is too loud, and playing without any amplification is just dull. That's where you need a guitar headphone amp like the VOX amPlug 2.
Design & Features
The VOX amPlug 2 is designed to fit in the 1/4-inch jack output of a guitar and is therefore lightweight and compact. This means you can plug the amPlug 2 in without worrying about damaging your guitar's output. In addition, you can rotate the 1/4-inch connector to get the right position for your headphones. The connector also folds down flat so it can't be damaged when in your guitar bag or backpack.
The amPlug 2 features three separate controls for gain, tone, and volume. There is also a button to switch between the nine built-in effects. Effects include 3 x reverb, 3 x chorus, and 3 x delay.
If you like to jam with backing tracks, the amPlug 2 features a 1/8-inch AUX input so you can connect an MP3 player or music device.
The amPlug 2 is battery operated using three AAA batteries for power. The batteries should last between 9 to 17 hours depending on the features and volume you choose to operate the headphone amp.
Verdict
The VOX amPlug 2 is an excellent solution for those looking to practice the electric guitar or bass when you don't have access to a guitar amp. There are six amPlug 2 guitar headphone amps to choose from:
| VOX AC30 Headphone Amp | Provides the AC30 top boost sound |
| --- | --- |
| Classic Rock | Delivers the classic crunch of a UK-made 100W amp. |
| Metal | Designed specifically for low frequencies, offering a wide-range response. |
| Bass | Designed specifically for low frequencies, offering a wide-range response. |
| Clean | The ideal choice for fat, boutique-inspired clean sounds. |
| Blues | The authentic, crunchy blues tone of a cranked tweed amp. |
| Lead | Searing, high gain lead tone that's perfect for solos. |
The sound from the amPlug 2 is surprisingly good. It's never going to sound like your real VOX amp, but for a quiet practice in your cans, there isn't a better solution under $50.
Pro Tip:
The amPlug 2 is also great if you're looking to record a quick demo or YouTube video demo. This can actually be achieved using another headphone amp, like the Behringer Microamp HA400. Use a 1/4-inch cable from the amPlug 2 headphone output into the input of the Microamp HA400. Send one output to your recording device and use another output for your headphones. This way, you can record and listen to the playback at the same time.
3. FiiO E10K USB DAC and Headphone Amplifier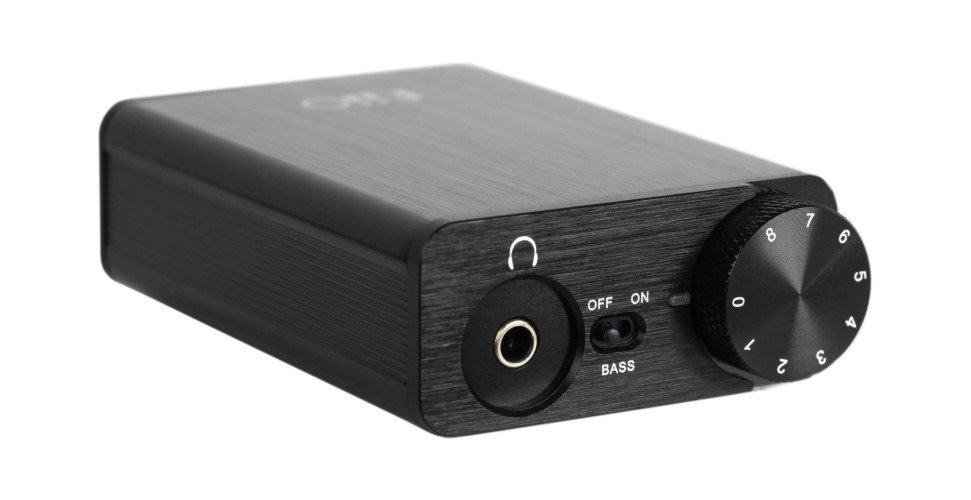 When you think of DACs and headphone amps, the name FiiO doesn't often come to mind. This Chinese brand is incredibly popular in China but has yet to achieve the same notoriety in other parts of the world. One of the companies most popular products is the FiiO E10K USB DAC and headphone amplifier.
Design & Features
One of the E10K's best features is its size. This palm-sized FiiO headphone amp will take up almost no room on your desk or work surface and is small to fit in a laptop bag or backpack. The device is housed in a solid brushed aluminum case providing a premium aesthetic and excellent durability.
The E10K is a USB DAC with a Micro USB input which connects to your PC or laptop. The same USB port is used to power the device. Outputs include coaxial, ⅛-inch line output, and a ⅛-inch headphone output.
One of the most controversial features on the E10K is the bass boost switch. When engaged, the E10K boosts sub frequencies. This feature is frowned upon by audiophiles and loved by bass heads. The bass boost on the E10K is quite substantial and might be overpowering with bass-heavy audio.
Next to the bass boost is a rotary volume control which also doubles as the power switch. The action of the knob is smooth and firm giving the E10K a premium feel. On the rear of the DAC is a gain attenuation for hi/low gain adjustment.
Verdict
If you're looking for an affordable DAC, the E10K is an excellent choice. Due to the bass boost, the sound is somewhat bass heavy, even when disengaged. If you're a purist, this might not be to your liking. If you're a bass head, this is THE DAC for you!
The mid-range and treble are clean, however, this is not as detailed as you might find on a premium DAC. Still, at $100, you can't fault the E10K sound.
The E10K might not be a premium hi-end DAC, however, it certainly sounds better than most built-in PC digital-to-audio converters. If you're looking for a headphone amp / DAC to take on your travels, the E10K is small and lightweight.
4. Rolls HA243 4-Channel Studiophile Headphone Amplifier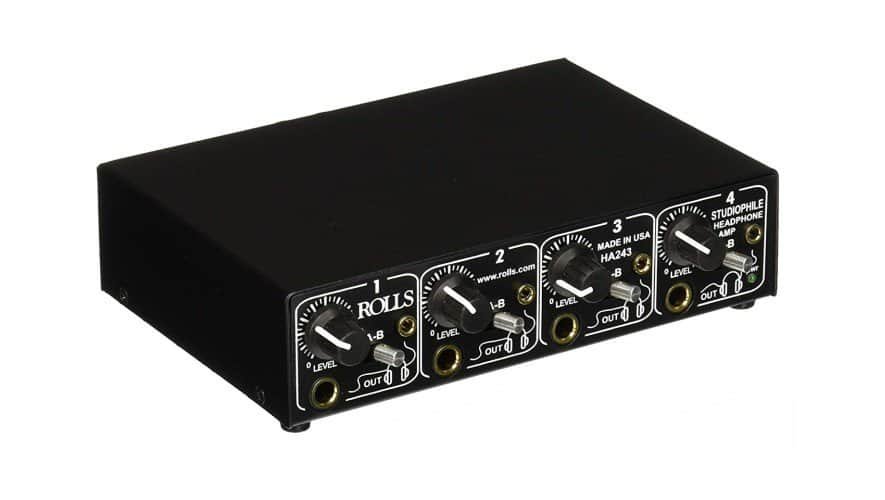 Rolls has been around since the late '80s. The company designs and manufactures a range of professional audio products including DACs, phono preamps, DI boxes, personal monitoring systems, mixers, and more. The Rolls HA243 is a 4-channel headphone amplifier primarily used in radio stations, recording and podcasting studios.
Design & Features
The HA243 is housed inside a tough aluminum chassis with metal switches and gold-plated connections. One of the best features of this rolls headphone amp is the option of either ⅛-inch or ¼-inch headphone output. The headphone outputs are rated from 8 to 1,000 ohms which means you can efficiently power any headphone on the market.
When it comes to audio inputs, you're spoilt for choice on the Rolls HA243. On the rear, you have the option of stereo or mono for ¼-inch, ⅛-inch, and RCA connectors. These channels can be individually selected using the A/B selector on the front panel. Each headphone output has its own A/B selector and volume control giving users the option to choose their preference. There is ample gain from each output so users should have no trouble with volume.
Verdict
The Rolls HA243 is a premium headphone distribution amp. This amp is simply for distribution and does not have any digital-to-analog or audio filtering characteristics. The HA243 is best suited for studios and podcasts where multiple users require headphone outputs with independent volume control. The HA243 delivers premium sound quality with no filtering or coloration.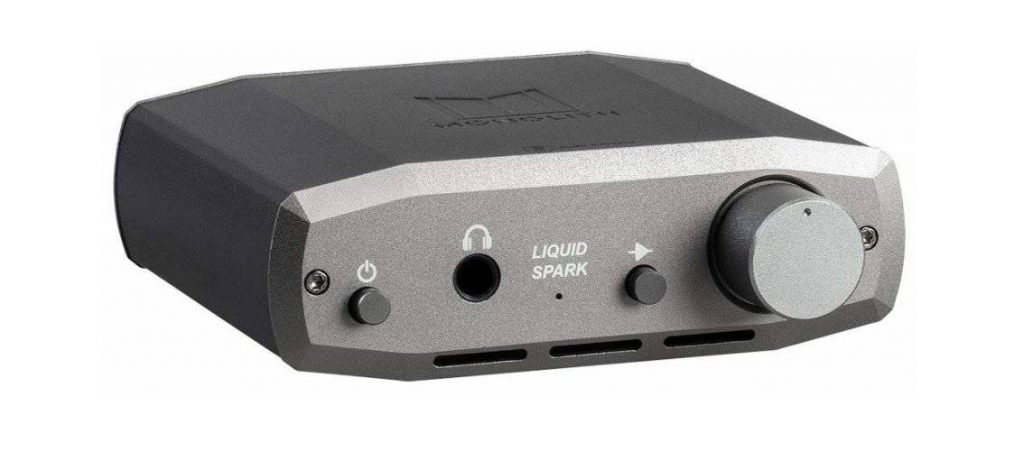 The Monolith Series from Monoprice features an extensive range of trendy consumer audio products. Included in the range are several DACs and headphone amplifiers. The Monolith Liquid Spark is one of the more popular budget headphone amps offering premium features and sound at an affordable price.
Design & Features
The Liquid Spark is a robust headphone amp with a solid metal exterior designed to last. The amp is somewhat lightweight and compact making it suitable to take on the road.
The Liquid Spark features a single RCA input with a single RCA pre-out. There is a ⅛-inch headphone output on the front of the device with gain attenuation and volume control. The Liquid Spark provides ample gain and you'll rarely need to take the rotary fader past 50-60% volume.
One small, but appreciated feature, is the line out will mute when headphones are connected. This means you can hook up your speakers and when you want to switch over to headphones, you simply plug in the ¼-inch jack and the speakers are muted.
Monoprice Monolith Liquid Platinum
If you're looking for a more premium headphone amp, there is the Platinum version of the Monolith Liquid. The Platinum is a headphone tube amp and comes with two Electro Harmonix 6922 tubes.
You also get stereo XLR outputs for connecting professional and hi-end audiophile equipment. In addition, there is a 4-pin XLR headphone output on the front panel for audiophile headphones. Like the Liquid Spark, you also have the RCA input, RCA pre-out, and ¼-inch headphone output.
The premium features on the Monolith Liquid Platinum come at an additional $660 to the Spark's $110.
Verdict
The Monolith Liquid Spark Headphone Amplifier is an excellent choice for those looking for something just out of the budget range. While the Liquid Spark is still a budget headphone amp, it does incorporate some premium features and delivers better sound quality than other amps at this price point.
The Monolith Liquid Spark is a somewhat neutral sounding headphone amp. There are no noticeable dips or boosts across the frequency spectrum. If you like a natural-sounding amp, then you'll appreciate the Monolith Liquid Spark sound. If you're after a more premium, tube sounding headphone amp, then you'll definitely want to upgrade to the Monolith Liquid Platinum.
6. PreSonus HP60 6-Channel Headphone Amplifier

PreSonus design and manufacture affordable studio recording equipment for a range of applications. The PreSonus HP60 is a 6-channel professional headphone amplifier designed specifically for live studio recordings. Having said that, the HP60 would be great for podcast studios or radio stations where multiple inputs and personalized channel mixing is required.
Design & Features
The PreSonus HP60 is a 1U rackmount headphone amp allowing you to install the device in your studio. All the inputs are ¼-inch TRS connections with the exception of the XLR talkback mic input.
The HP60 provides each channel with 3 inputs; two master inputs and a dedicated channel input. This is especially useful when live tracking. You can have your master mix in channel A, click track in channel B and then the artists personal vocal or instrument going into their dedicated input.
If you're using the HP60 for a podcast studio, you can have the master mix of all voices on channel A, external audio (YouTube feed, phone line, etc) on channel B, with each person's voice going into their dedicated feed.
On each headphone output, the listener has the option of mixing between channels A and B connected to a master level and then independent control for their dedicated input. The dedicated input can be switched between mono and stereo and you also have the option of muting each headphone output.
The HP60 also allows for a talkback input from a studio control room or producer. This allows the engineer to talk to the musicians or participants even if they are in a separate soundproofed room.
Verdict
If you're looking for an affordable professional headphone amp, the PreSonus HP60 is certainly one to consider. This Presonus headphone amp provides six 60-ohm headphone outputs which are fine for most standard headphones.
The sound quality from the HP60 is clean with near zero noise and no coloration. Perfect for accurate, high-quality playback.
7. Mayflower Electronics Desktop Objective2 with ODAC Rev B
Mayflower Electronics design and manufacture some awesome headphones, DACs and headphone amps. They also make premium cables for connecting your equipment. The Mayflower Electronics Desktop Objective2 ODAC Rev B. is a mid-range USB headphone amp and DAC. Mayflower Electronics is a Dutch company, however, the Desktop Objective2 is handmade and tested at their facility in New York.
Design & Features
The Desktop Objective2 resembles that of a standard DAC headphone amp. The aluminum chassis is solid and gives the Desktop Objective2 a premium feel. The rotary volume control delivers a firm action which again adds to the DACs premium character.
The Desktop Objective2 provides a 1/8-inch AUX input on the front for mobile devices and a Micro USB input on the rear for your PC. Unlike most DACs at this price point, the Desktop Objective2 features a separate power input. This allows you to isolate the digital input from the power.
On the front of the Desktop Objective2, you'll find a 1/4-inch headphone output, power switch, gain attenuation, and volume control.
The headphone amp is rated to power headphones from 32 to 600 ohms. This is sufficient to power 99% of professional headphones on the market. The amp has plenty of gain and, even with 600-ohm headphones, you shouldn't have any issues. Of course, you always have the gain switch if you require more power.
Verdict
If you're looking for a neutral sounding DAC headphone amp, then the Desktop Objective2 with ODAC Rev B. is definitely the way to go. There is no noticeable frequency manipulation or coloration with the Desktop Objective2 delivering a smooth, natural sound.
At $260 the Desktop Objective2 is in the middle price range and, I feel this is the perfect price point for this Mayflower Electronics headphone amp. The Desktop Objective2 delivers premium features in a simple no-frills device.
On a side note, earlier versions of the Desktop Objective2 did not come with ASIO capability. The latest version now comes with ASIO drivers you can download and install.
8. FiiO A3 Portable Headphone Amplifier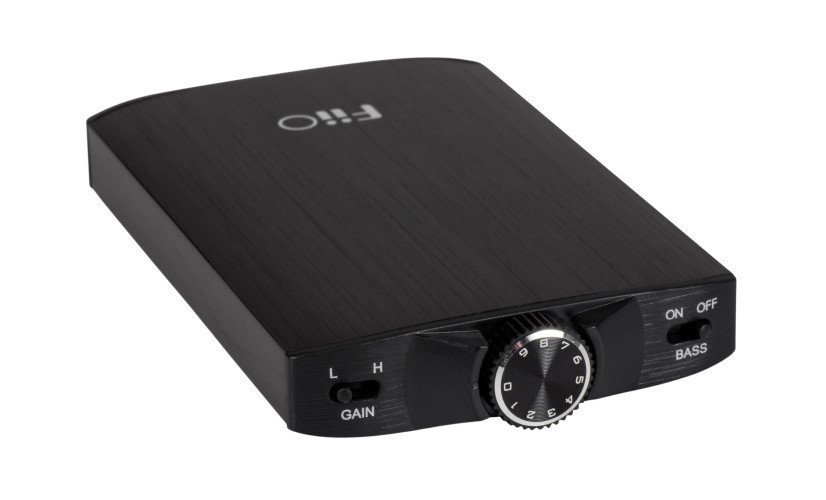 Looking for a portable headphone amp to take on your travels? The FiiO A3 may just be what you're after. This ultra-compact DAC headphone amp measures 3.6 x 2.2 x 0.5 inches and weighs a mere 3.2 ounces. That's smaller than most Samsung and Apple smartphones!
Design & Features
The FiiO A3 looks and feels very similar to the FiiO A10K. The A3 features the same brushed aluminum chassis with gold plated connectors, power switch, bass boost, and large rotary volume/power control.
Careful thought has gone into the design and everything is laid so the A3 can be plugged in and operated from your pocket. The inputs and outputs connector are on the same end so you can put the device in your pocket with the cables leading out to your headphones and MP3 player or smartphone.
There is a single ⅛-inch AUX input and ⅛-inch headphone output. iPhone users will need a Lightning to AUX adapter to connect to the A3. There is also a micro USB input for recharging and connecting the A3 to your PC to use as a DAC headphone amp.
The A3 features a built-in battery giving you up to 16 hours of operating time. The battery will fully recharge from flat in around four hours.
Like the FiiO A10K, the A3 has a bass boost feature. The bass boost on the A3 isn't as pronounced as the A10K, however, it does a good job of adding more weight and definition to the low end. I feel this is far better than a massive bass boost which ultimately muddies the rest of the frequency response.
The A3 is rated to power headphones from 16 to 150 ohm which is good enough for most mid-range headphones. There is also a high/low gain attenuation switch if you need more power. While the A3 won't efficiently power a pair of 600-ohm headphones, it will do a better job than your PC, mobile device or MP3 player.
Verdict
If you're looking for an affordable home DAC headphone amp to use on your travels, then the A3 is an excellent choice. I wouldn't, however, purchase this as an affordable headphone amp or DAC to use at home. It's not powerful enough and there are better solutions on the market. The FiiO A10K would be a better option.
The A3 is best for those looking to improve their audio experience while on the move. With an in-flight adaptor, you could even use the A3 to deliver a richer, fuller audio experience when watching movies or listening to audio through an in-flight system.
9. Little Dot MK2 Headphone Tube Amplifier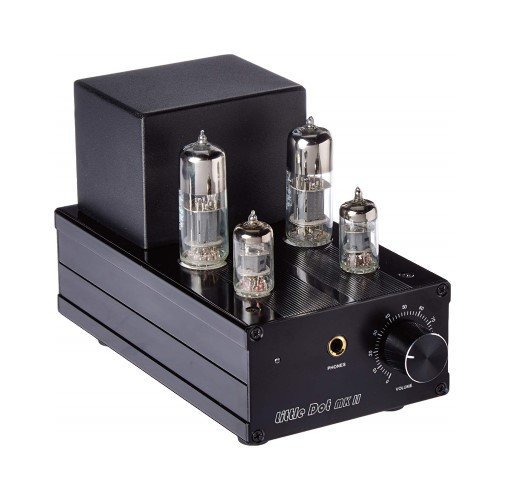 headphone tube amps are extremely popular at the moment. The only problem, they're expensive. Not the Little Dot MK2 headphone tube amplifier. This affordable tube amp will run you a little under $150 and provide surprisingly good sound for the price.
Design & Features
On the first impression, there is nothing which stands out on the Little Dot MK2. It's a standard looking headphone tube amp with two power and two driver tubes sticking out the top. The Little Dot MK2 comes with 2 x 6J6 driver tubes and 2 x 6N6 power tubes. These can be swapped out for your preferred equivalent should you choose.
The Little Dot MK2 is rated to power headphones from 32 – 600 ohms which should cover the majority of the headphone brands available. There is a single ¼-inch headphone output located on the front with a large rotary volume knob. One quirky feature of the Little Dot MK2 is the fact the volume dial goes to 100 rather than the standard 10 or MAX. On the back of the Little Dot MK2 are gold-plated RCA inputs and outputs.
You need to look under the hood to access the gain controls for the Little Dot MK2. There are four gain modes to match the various headphone impedances. If you're using standard headphones between 32 – 80 ohms, you shouldn't need to make any adjustments. However, if you're using anything higher than 100 ohms, you might want to start tweaking the gain using the dip switches. The Little Dot MK2 provides as much as +10 dB of gain which should be enough for headphones in the 600-ohm range.
The Little Dot MK2 comes with some RCA cables and a ¼-inch adaptor. The adaptor seems fine but the cables are pretty stock standard home audio cables so you might want to invest in something more premium if you don't already have.
Verdict
The Little Dot MK2 is the perfect entry-level tube amplifier. If you're looking for an introduction to tube amps, the Little Dot MK2 is a great option. You have the option of swapping out tubes which will allow you to experiment and find a sound you like. Little Dot MK2 is well priced and delivers a decent "tubey" sound.
There isn't a specific sound signature to the Little Dot MK2. It's not the most bass rich tube amp on the market, however, it does provide a warm sound. The mid-range is somewhat recessed but still present and warm. The treble is upfront but never bright or overpowering. Overall, the Little Dot MK2 delivers a somewhat predictable tube sound.
10. Pyle PHA40 4-Channel Stereo Headphone Amplifier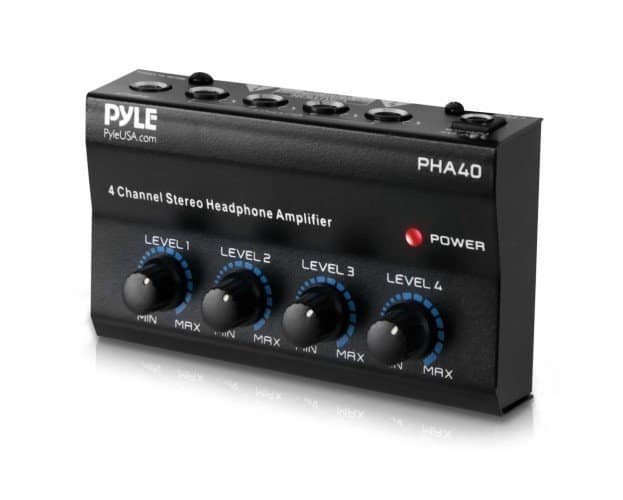 If you're looking for an alternative to the Behringer Microamp HA400, the Pyle PHA40 4-Channel Stereo Headphone Amplifier is certainly on your might want to consider. Pyle produces an extensive range of affordable audio equipment, most of which sounds pretty decent for the incredibly low price point. The PHA40 comes in at $21 which is only $3 cheaper than the Behringer, but still a saving!
Design & Features
The PHA40 looks almost identical to the Microamp HA400. It's a compact box with an aluminum chassis and four volume controls. The inputs and outputs are all ¼-inch connectors which means you can connect professional audio equipment any set of headphones.
The PHA40 is small and lightweight which means it'll take up almost no room on your desk or work surface. It's small enough to take in a backpack or bag but does require external power to operate.
Each of the headphone outputs will power headphones up to 80 ohms, so not suited for your high-end audiophile cans, but then this isn't the purpose of the PHA40. This headphone amp is designed for audio distribution rather than amplification.
Verdict
If you're looking for a cheap headphone amp for your recording or podcast studio, then the Pyle PHA40 is an excellent choice. While the Pyle is slightly cheaper than the Behringer, I don't see a massive difference between the two. The Behringer is, however, ever so slightly cleaner sounding than the Pyle.
Like the Behringer, the PHA40 doesn't change the sound profile of the input. It simply distributes and amplifies the signal. The only issue with the PHA40 is the loss of power when all the outputs are connected. If you are using all four headphone outputs, the power is somewhat reduced and you'll likely have to dial the volume up a little. Since each output has a separate volume control, this isn't a major sticking point.
Headphone Amp Q&A
In this section, we'll answer many of the burning questions around headphone amps. We'll also look at dispelling some of the myths around headphone amps and what you should or shouldn't worry about.
Do I need a headphone amp?
The short answer is no. The average person does not need a headphone amp. Especially if you're using standard IEMs or cheap headphones. A headphone amp will simply be a waste of money. So, why would you want one? Here are three primary reasons you might want or need a headphone amp.
1. Powering High-Impedance Headphones
The main reason most people get a headphone amp is because they need to power their high-impedance headphones. These are typically audiophile quality cans in the range of 300 to 600 ohms. The output impedance on your mobile device or PC is going to be in the range of 5 – 15 ohms.
This is enough to power your generic IEMs and headphones up to the 32-ohm mark, however, anything beyond that just won't get sufficient power. Invariably, you'll end up maxing the volume which could damage both your media device and/or headphones. A headphone amp allows you to boost an audio signal to efficiently power your headphones.
2. Improving Sound Quality
One of the biggest advantages a headphone amp provides is enhancing audio quality. The first thing you'll notice is the sound is warmer and usually has a richer, tighter low-end response. A good headphone amp will also deliver a cleaner sound and improve the sound stage.
If you're buying a DAC headphone amp, you will enjoy the added benefit is a better quality digital-to-analog conversion than your PC or other media device will provide.
3. Alternative to Speakers
If you live in an apartment or you are unable to make too much noise, then headphones are the way to go. If you're planning to use your headphones for extended periods of time, then you'll definitely want to invest in a headphone amp. With improved clarity and sound quality, you'll be able to listen to audio at lower volumes without compromising experience and quality. A headphone amp will also be better for your ears when listening for extended periods.
With a decent pair of headphones, you can experience the same experience, possibly even better than listening to speakers. You won't be bothering anyone so you can turn the volume up to any level you like.
4. Headphone Distribution
Headphone distribution is another reason why many people want or need to purchase a headphone amp. The main reason you might need to distribute audio to multiple sets of headphones is in a studio recording or podcast environment. A distribution amp means each person gets their own feed with volume control.
The problem with these devices is they often don't support headphones with impedances beyond 80 ohms.
How do I know which headphone amp to buy?
Impedance
The first place to start is with your headphone impedance. If you have just purchased a new set of high-impedance headphones, you want to consider headphone amps which can match the impedance of your new cans. If you're just looking for a more efficient way to power low impedance headphones, then you probably won't need to fork out loads of money for an expensive amp built to power high-impedance headphones.
Application
Next, you want to consider the application. If you're looking to improve the audio from a PC, then you'll definitely want to consider a DAC headphone amp. You can purchase a DAC and headphone amp separately, however, unless audio is something you're passionate about, the added expense and connections just won't be worth the hassle.
Try to stay away from cheap models. For headphone distribution like the Behringer Microamp HA400 and others we feature in this article, the cost isn't too much of an issue. There is very little processing going on inside these devices and they're simply designed to distribute audio to headphones.
Where you want to be careful is with dedicated headphone amps and DAC headphone amps. Cheap audio components can be very telling and you'll easily hear the poor sound quality, noise or other defects.
Inputs
If you're purchasing a DAC headphone amp, you'll want to make sure you choose a device with the right digital inputs. Most DACs have a USB input option, however, your audio device might only have optical or coaxial audio outputs. Also, some DAC headphone amps only have a digital input, if you need digital and analog inputs, then you'll want to keep this in mind when choosing a device that's right for you.
Do cables make a difference to sound quality?
Short answer, not really. Cheap cables can be telling when it comes to connecting high-end DACs and headphone amps. If the cables are not soldered correctly or the copper is of poor quality, you'll hear the noise in the cable. Standard cables you get from Amazon are usually fine. It's the cheap cables you find in a sale bin and those which come free with products from China you want to avoid. But if you ask many audiophiles they'll disagree with this statement.
Here is why I say it doesn't matter. While you can certainly hear a difference between using gold and copper cables, is the improvement in quality relative to the price you're paying? No. It's just not. If you're very particular about your sound, then expensive high-quality copper or even gold cables might appease you. But for us average consumers, the sound difference is so marginal it's just not worth the extra expense.
Having said that, I do prefer Canare cables. The cables are built to last and they use high-quality components. While Canare is more expensive than the average cable, they're not unreasonably more expensive like some audiophile cabling.
Does a more expensive headphone amp mean better sound?
The more money you spend on a headphone amp, the better the sound will be. There are exceptions and, in some cases, a cheaper model may sound better than a more expensive one. Sound is one of the most subjective issues. What sounds good to one might not sound good to another. Some people are even satisfied with something which sounds awful. You just have to look at some of the best selling audio products on Amazon. Many of these are complete rubbish but people buy them and enjoy them because they're cheap.
A good example is going out for dinner. If you go to a fast food joint and get a greasy burger, you'll likely be full and satisfied. If you go to a Michelin Star restaurant, you'll still be full at the end of the meal. The difference is you'll likely have a far superior culinary experience at the Michelin Star establishment. Instead of a cheap soda, you'll enjoy an incredible bottle of while. Instead of a processed beef patty, you'll bite into some incredible organic meats and vegetables beautifully presented.
The difference is the same with DACs and headphone amps. You can buy a cheap device with cheap parts or an expensive model which has been handmade using expensive, components. The audio experience will be completely different. Some might be happy with the cheap model, but, if you're serious about sound quality, you'll appreciate what expensive high-end headphone amps have to offer.
Which is better, ¼-inch (6.3mm) vs ⅛-inch (3.5mm) connectors?
There is a perception that a ¼-inch connector is more superior to ⅛-inch. The main for ¼-inch inch connectors is that there is a greater surface area and thus better transfer of signal. This simply isn't true. If we consider an XLR connector for example. These connectors are widely used in professional audio. The pins are smaller than ⅛-inch connectors and yet they produce exceptional sound quality.
⅛-inch connectors are designed for smaller devices because a ¼-inch connector would simply be too large. That's the only difference. Also, a ¼-inch connector is a lot stronger than the smaller ⅛-inch. For professional audio applications where you are constantly plugging and unplugging equipment, the ¼-inch connector will outlast the smaller ⅛-inch and less likely to break if bumped while plugged in.
Balanced or Unbalanced Connections?
Another question relating to cables and connections is whether or not you should choose a balanced or unbalanced. Balanced cables are superior to unbalanced cables, especially when it comes to canceling out noise and distortion. With balanced cables, you can also have longer cable runs.
XLR is the most common example of a balanced cable, however, ¼-inch cables can also be made up as balanced or unbalanced.
Tips for Hooking up Your Headphone Amp or DAC
Here are some quick tips for connecting your DAC or headphone amp correctly.
Keep Cable Lengths Short
Now, this might seem to contradict what we talked about in the Q&A section when we said cables don't make a difference. This only applies to the amount you spend on cables. The length of your cables does matter, no matter the quality. If your cables are too long, you'll experience frequency loss, a loss of gain, and even increased analog noise.
HDMI is the most telling example. If you have ever replaced a short HDMI cable with a really long one, you'll likely find the device no longer works. HDMI cables have a really high impedance so when you extend these cables, you will find a noticeable difference.
AUX cables and RCA cables perform significantly better than HDMI and other digital audio cables, however, too long and you will notice an increase in noise and possibly poor sound quality. If you only have a couple of feet to connect your headphone amp to your audio device, don't use a 10-foot cable. Rather go for something shorter or even place the headphone amp close to the source and use foot-long jumper cables.
Stay Away From Electricity
One way to induce noise in your headphone amp is through electricity. Many people mount power strips up on their desk so it's easier to access and plug things in. If you have several plugs with transformers and other electrical devices, you effectively create a small electrical field around that strip. For most equipment, this won't do anything, however, for audio devices such as headphone amps, electricity can cause all sorts of issues.
Hums and buzzes are the most common noises you will hear but the electric field could create all sorts of issues. There is a reason why some high-end headphone amps and DACs use an external power supply. It's to minimize contact with electricity.
Many people find themselves in a basement or spare room close to the main distribution board for the house. If this is the case, move your desk and equipment to the opposite side of the room to put some space between you and the electricity. Mobiles phones, computer towers, and WiFi routers may also cause some interference if placed too close to your headphone amp.
If you're using cable sleeves or the like, it would be wise to invest in two sleeves. One for audio and one for power. This will eliminate the likelihood of introducing noise into your system from electricity.
Best Practices for Safe Headphone Use
Many people are unaware of how much damage they can do by overusing headphones. The problem with hearing loss is it doesn't happen straight away so you don't realize the damage you're doing until it's too late. We have put together this helpful guide on how to use your headphones and prevent long-term hearing loss.
Reduce The Volume
The first thing you can do is simply turn the volume down. Here is where a headphone amp can actually help. A quality headphone amp and DAC will reduce frequency loss and thus improve sound quality. With a higher quality audio signal, you'll hear more detail, even at lower levels.
Here is a chart breaking down the damage to hearing in relation to sound pressure levels. One thing to note, for every 3 dB of gain, you double the volume. Hence, with every 3 dB difference, the time before you experience damage halves.
Noise Level Time Before Damage Equivalent Real To:
| Noise Level | Time Before Damage | Equivalent Real To |
| --- | --- | --- |
| 80 dB | 25 hours | Telephone dial tone |
| 83 dB | 12 hours | |
| 86 dB | 6.5 hours | City traffic |
| 89 dB | 3 hours | |
| 92 dB | 1.5 hours | Highway traffic |
| 95 dB | 45 mins | Jackhammer 50' away |
| 98 dB | 23 mins | |
| 101 dB | 12 mins | Hand drill at 3' |
| 104 dB | 6 mins | |
| 107 dB | 3 mins | Lawnmower at 3' |
| 110 dB | 1.5 mins | |
| 113 dB | >1 min | Rock concert, power saw |
Source: Audio Recovery Inc. USA
Use Noise-Canceling Headphones
Noise-canceling headphones are closely linked to the first point of reducing sound levels. With noise-canceling activated, you shut off the surrounding environment and any noise. This allows you to keep levels at lower volumes because you don't have to compensate for the noise around you.
Use Over-Ear Cans
Like noise-cancelling, over-ear headphones allow you to shut off your surrounding environment. With less noise, you can listen to audio at lower volumes. While in-ears provide similar isolation, the speaker drivers are closer to your ears and thus more likely to cause damage than their over-ear counterparts.
Limit You Usage
An obvious solution to prevent hearing loss is to limit your headphone usage. US-based Audio Recovery Hearing Aid and Recovery Center (Audio Recovery Inc.) recommends a 60-60 rule when using your headphones. The Audio Recovery Inc. says "Don't listen at any louder than 60% of max volume for any longer than 60 minutes at a time."
Thanks for your feedback!