Do you live in a part of the country that is frequently impacted by severe weather conditions like storms, hurricanes, floods, or bushfires? Or are you somebody who enjoys wandering into unexplored territory for prolonged periods? If so, investing in an emergency radio is a no-brainer.
An NOAA weather radio is essential to help you survive a crisis. It can be critical in warning you of impending danger and keeping you informed as a crisis unfolds. Some of the best emergency radios are quite affordable, so keep reading, and we'll step through some of the top choices on the market and what you should consider before buying.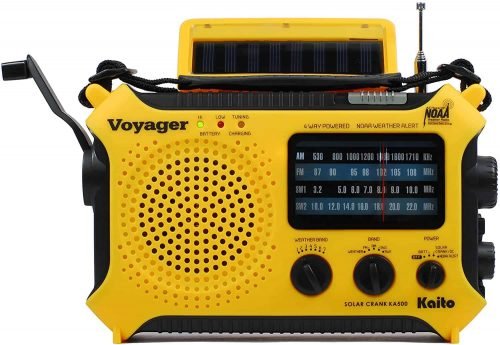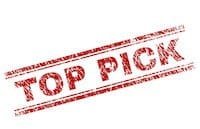 The KA500 is a reliable emergency radio with six power sources. Kaito included all the essential survival features in this radio, and you can't go wrong with having this with you during an emergency.
Our Category Winners
Best Outdoor Emergency Radio
If you're looking for an emergency radio that will serve you indoors and outdoors, pick the Kaito KA500. With six power source options, a wide frequency range, and useful lighting and alarm features, this unit will serve you well through almost any crisis.
Best Indoor Emergency Radio
The Midland WR120B is a full-featured indoor weather alert station with over 60 highly customizable alert levels. The WR120B can be fine-tuned to provide news and alerts down to a specific county level.
Early Warning Is The Best Protection
The primary purpose of your emergency radio is t warn you about impending danger. The ability to quickly and reliably tune into NOAA weather broadcasts for vital real-time information about extreme weather and other crisis events is non-negotiable.
No amount of survival features in a radio will ever be safer than avoiding a crisis situation completely.
Outdoor vs. Indoor Emergency Radios
Emergency radios are not merely outdoor radios designed to listen to music and entertain outdoors. Some emergency radios are designed to serve as alert stations inside the house. These units are better than nothing and certainly fulfill the primary function of an emergency radio. We think that a more rugged, feature-rich emergency radio makes more sense. Crises are unpredictable, and relying on a fragile emergency station that could stop functioning at the first exposure to light rain would be foolish.
We included an indoor emergency radio on this list. Still, If you're looking for the best emergency radio, we propose you buy a durable, reliable unit that will serve you under challenging conditions.
The Best Outdoor Emergency Radios
1. Kaito KA500 Weather Alert Radio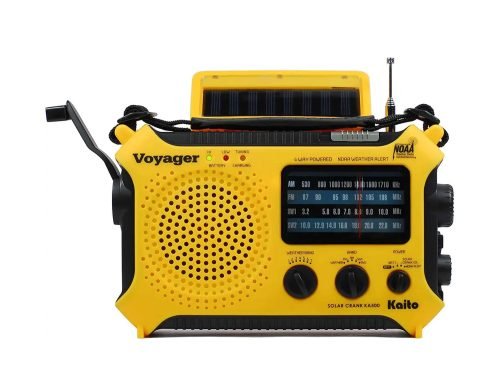 Also available from Walmart
Kaito has been collaborating with the US State Department, the United States Army, the United Nations, the American Red Cross, and other government agencies and NGOs for many years, providing emergency outdoor radios for their humanitarian relief efforts. The brand sports a few different emergency radio models.
Emergency and NOAA Weather Alerts
The Kaito Voyager KA500 is a full-range AM and FM radio that includes 2-band shortwave reception. It comes with seven pre-programmed NOAA weather radio channels, 24/7 real-time weather forecasts in the US and Canada, and PEAS (Public Emergency Alert System).
When set, the "alert" mode on this outdoor radio will automatically switch the device on when it receives an alert signal from any NOAA weather broadcast.
And, of course, you can tune in to stay in touch with breaking news, sports, and even your favorite entertainment channels. The Kaito will cover the following frequencies:
NOAA: 162.400/162.425/162.450/162.475/162.50/162.525/162.55
FM: 88 – 108 MHz
AM (MW): 530 -1710 KHz
SW1: 3.20- 8.00 MHz
SW2: 9.00- 22.00 MHz
Power Sources
The Kaito KA500 can be powered in 6 ways. Being able to keep your radio powered and connected during an emergency is the single most important requirement. The Kaito has a hand crank generator, flip-up solar panel, a compartment for 3 AA batteries, 5V USB input, 5V AC/DC input with a wall power adapter, and a built-in 600 mAh NiMH replaceable and rechargeable battery pack.
The battery doubles as a power bank for your other USB charging devices. Our one complaint is that we would have liked to see a higher-capacity rechargeable battery. 4000 and even 10000 mAh batteries are not uncommon in emergency radios.
Lighting
The Kaito KA500 features a 5-LED reading lamp, providing enough light to operate without draining your power source. It also includes an LED flashlight with a stronger directional light for moving around or finding items in the dark.
Emergency Alarm
When activated, a red LED S.O.S. beacon light flashes to alert and attract the attention of potential rescuers.
Why The Kaito KA500?
The Kaito KA500 is a reliable emergency radio with a range of power options to ensure your device keeps functioning in any crisis. The preset seven NOAA channels and a wide range of radio frequency options ensure you stay in touch with alerts, news, and emergency communications.
Six Power Sources
Packed with features
Preset NOAA Channels
Wide Radio Frequency Coverage
Sound quality isn't great
Low Capacity Rechargeable Battery
2. FosPower Model A3 Emergency Radio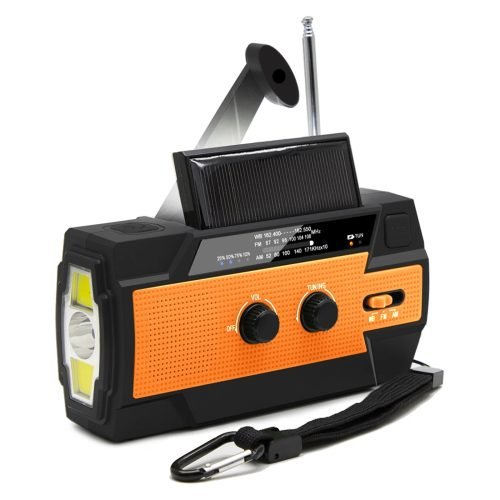 Also available from Walmart

FosPower A3 Emergency Radio is an upgrade to their wildly popular A1 model. Aside from some aesthetic changes, the only major difference between the two is the 4000mAh battery on the A3 vs. the 2000mAh battery on the original A1. That may not sound like much, but this is still a substantial improvement, given how crucial battery life is in an emergency.
Emergency and NOAA Weather Alerts
The FosPower A3 is a NOAA weather radio and will access any emergency alerts or local weather forecasts from your area. It is an analog dual-band radio that readily connects to any frequency on the AM or FM bands. The one downside (present in most analog radios) is the lack of station preset features to jump to your preferred frequencies.
Power Sources
The primary power source for this emergency radio is the 4000mAh battery and power bank. If you run out of power, the solar panel and crank lever can be used to recharge the battery to keep the lights on or extend your listening.
Turning the hand crank at 130rpm for 1 minute will generate enough power to sustain the flashlight for 30 minutes or add 6 minutes of radio listening time. Unlike its predecessor, the A1, the FosPower A3 cannot be powered with AA batteries.
The rechargeable battery also serves as a power bank to charge devices using a standard USB cable.
Lighting
Short of providing you with access to weather forecasts, the next most important feature in most emergency radios is arguably the flashlight and emergency beacon. The FosPower sports a 20-lumen flashlight that can be set to either spotlight near-area lighting or a combination. Holding the SOS button down for 3 seconds will activate a loud siren and red flashing emergency light to alert rescuers of your position.
Emergency Alarm
As with most emergency radios, the FosPower is equipped with an emergency alarm feature that, when activated, will sound a loud alarm and emit a flashing light to attract the attention of any potential rescuers.
Why The FosPower A3?
The FosPower A3 is a quality affordable emergency NOAA weather radio that delivers on the basic requirements of an emergency radio without too many additional bells-an-whistles. While it may not have the best sound quality, it is still decent for an emergency radio.
4000 mAh Battery
Solar charging option
Hand-crank charging option
N.O.A.A alerts
The sound quality is not great
IPX3 doesn't protect from most forms of rain
No Headphone Jack
3. RunningSnail MD-088P Emergency Outdoor Radio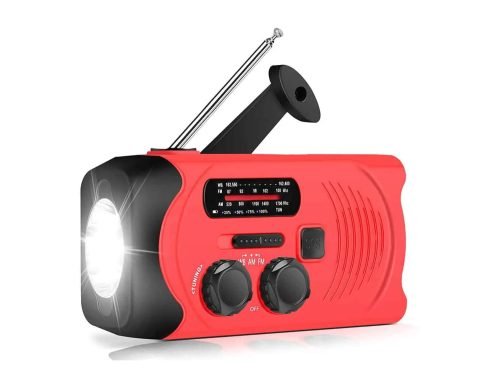 Also available on Walmart
The RunningSnail MD-088P emergency radio is an upgrade of the ever-popular MD-088s model by the same company. The new version has a slightly larger body. Still, more importantly, the battery has been upgraded to a 2000mAh battery from the previous 1000mAh version, providing you with more assurance when you're outdoors. The solar panels are slightly larger, and they have added battery level indicators, which are useful.
Emergency and NOAA Weather Alerts
AM/FM and NOAA weather reception are crisp and clear, and you can keep track of your local hazard and weather warnings like pending storms or hurricanes. The RunningSnail MD-088P will cover the following frequencies:
NOAA:162.40-162.55MHz.
AM:520-1710Khz;
FM:87-108MHz;
Power Sources
The RunningSnail MD-088P emergency weather radio has three power sources. It can be charged via a USB cable, hand crank, or solar panels. As with most other emergency radios, the 2000mAh battery doubles as a power bank to charge your phone or other devices in an emergency. The RunningSnail MD-088P now also has battery level indicators, a clever and useful addition to the features list.
Lighting
This weather alert radio includes a 1W LED flashlight that is not the brightest flashlight you'll have but is more than sufficient for emergency situations. No reading or low-energy area light option is included beyond the flashlight, which is regrettable.
Emergency Alarm
A dedicated SOS button will switch on a flashing red light with low power consumption to alert potential searchers or rescue teams of your location. We do like the large button on the side of the device. You need to hold the button for 3 seconds to activate the SOS signal, which is smart as it prevents you from accidentally activating the alarm.
As with many emergency radios on the market, the build is not exactly what we'd consider top-tier. While the plastic feels fairly thin and lacks focus on waterproofing and sealing components, this is a budget device and should be seen as a solution for low demands.
Why The RunningSnail MD-088P?
The RunningSnail MD-088P is one of the few emergency radios that features a robust 2000mAh Lithium-polymer battery built in. It carries much of the Kaito features but at half the price.
Affordable
Built-in Lithium Polymer battery
Prominent SOS Button
The build doesn't feel very durable
The sound quality could be better
4. Midland WR120B Emergency Weather Alert Radio
Also available on Walmart
The Midland WR120B Emergency Weather Alert Radio is designed to be an indoor weather and emergency alert base. It lacks some of the outdoor features you've seen in the emergency weather radio models above, but it has other capabilities and features.
Emergency and NOAA Weather Alerts
Weather monitoring and emergency alerts are what the Midland WR120B was designed for and what it excels at. Like the other radios on this list, it will monitor seven pre-programmed channels with flood, tornado, thunderstorm, and other warnings.
Unlike the other radios on here, it goes further in that it has a 25-county memory system, and the incorporated SAME alert programming sounds an alert only when specific counties are threatened. This is a very useful feature to reduce unnecessary alarms and to focus alert services as threats become more eminent in specific areas.
Power Sources
As this emergency radio was designed for indoor use, your primary power source is an AC connection to your power outlet. Backup power comes in the form of three AA alkaline batteries. There's no onboard rechargeable battery, hand crank, or solar panels as on some outdoor models.
Emergency Alarms
The Midland WR120B Emergency Weather Alert Radio has a 90 dB siren, a voice alert, and a flashing LED warning, all activated whenever an emergency alert or notification needs to be communicated. The init can respond to over 690 types of weather hazards and emergencies.
Other Features
Midland WR120B has a built-in alarm clock and a port for an external antenna if you need to improve the reception of the onboard radioscopic antennae.
Why The Midland WR120B?
If you're not moving your alert station outdoors and need a comprehensive and customizable emergency radio, then the Midland WR120B is a high-quality solution. It exceeds at covering a broad range of possible emergencies and allows you to program the alerts to your specific needs.
Quality Product
60 Customizable Alerts
Local County-level Emergency Monitoring
No Onboard Rechargeable Battery
Indoor Use Only
What is the NOAA, And Why Is It Important?
NOAA stands for the National Oceanic and Atmospheric Administration. It is a scientific agency within the United States Department of Commerce. NOAA's mission is to provide essential environmental intelligence and data to understand and predict changes in the Earth's environment. The agency's work encompasses many areas, including the atmosphere, oceans, weather, climate, fisheries, marine ecosystems, and coastal management.
Some of NOAA's primary responsibilities include:
Weather Forecasting: NOAA is responsible for providing accurate and timely weather forecasts and warnings for the United States. This includes severe weather events like hurricanes, tornadoes, floods, and winter storms.
Climate Science: NOAA conducts research and monitoring to understand changes in the Earth's climate, studying long-term climate patterns and providing climate-related data and information.
Oceanic and Atmospheric Research: NOAA's scientists and researchers study the oceans and the atmosphere to understand better and protect marine ecosystems, coastal areas, and atmospheric phenomena.
Fisheries Management: NOAA manages and conserves marine fisheries to ensure sustainable fishing practices and protect endangered species.
Environmental Stewardship: NOAA protects and manages coastal and marine resources, including marine sanctuaries and national marine monuments.
Satellite Operations: NOAA operates a network of weather satellites that provide valuable data for weather forecasting and environmental monitoring.
NOAA Weather Radio Broadcast Frequencies
Accessing NOAA broadcasts and emergency information is the primary purpose of any emergency and weather radio. The NOAA frequencies are pre-programmed on some models, while you must manually tune in on others. The frequencies used for NOAA Weather Radio broadcasts vary depending on your location within the United States. NWR operates on seven frequencies in the VHF (Very High Frequency) band:
162.400 MHz
162.425 MHz
162.450 MHz
162.475 MHz
162.500 MHz
162.525 MHz
162.550 MHz
To find the specific NOAA Weather Radio frequency for your location, you can visit the NOAA Weather Radio website (www.weather.gov/nwr) or check with your local NWS office.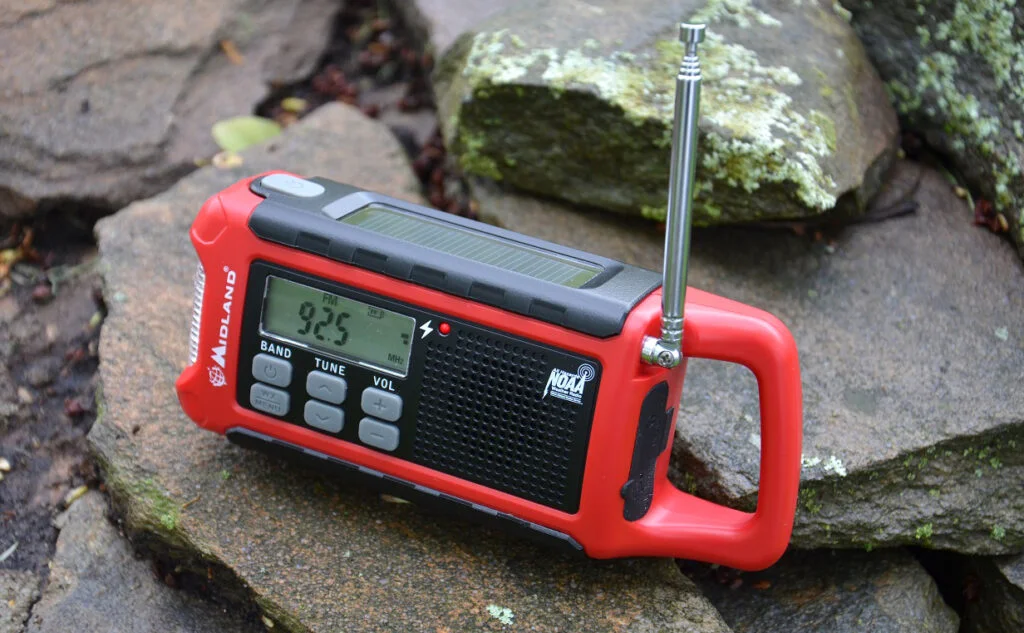 Buying the Best Emergency Radio – A Buyer's Guide
If you're looking to buy an emergency radio, some features are essential and non-negotiable, some that are very useful to have, and some nice-to-haves
1. Essential Features
These features are the core necessities of any emergency radio. A device would hardly qualify as an "emergency" radio without them.
Multiple power options – During an emergency, losing access to grid power is very common. Suppose you cannot keep your emergency radio powered. In that case, you will lose your connection to the outside world, and the entire function of the device is negated, effectively turning it into a doorstop. At the very least, any emergency radio should have a primary power source and one backup. Multiple sources like a rechargeable built-in Lithium battery, hand-crank, solar, AC/DC adapter, and AA batteries are available; the more your device accommodates, the better.
NOAA weather alerts – It is an emergency radio, and your primary source for emergency weather and hazard information in the US and Canada is the NOAA. An emergency weather radio should have crisp, clear access to all seven NOAA frequencies, even better if they are pre-programmed and easy to access.
AM/FM radio reception – During an emergency, beyond accessing the NOAA channels, you should listen to local broadcasts and news updates. For this, you must be able to tune into AM/FM bands.
High sound quality and volume control – There is no point in being able to tune into any emergency radio station and then not discern any information due to poor sound quality. Unfortunately, emergency radios are often not the highest quality devices; one of the early victims is sound quality. You will need a radio that has substantial volume. You want to hear your radio above the noise of a storm or howling winds.
Durable, rugged design – While some emergency radios are specifically made to be used indoors, others are built to be taken outdoors. Outdoor emergency radios should be rugged and preferably have rain and weather protection. (An IPX4 or above rating should be ok). Even indoor units can be exposed to severe conditions depending on the emergency and should not be fragile or prone to malfunctioning.
Compact, portable design – While you will be well served in most cases by finding shelter and protection and hunkering down during a crisis or emergency, you may be required to move around or relocate to another safe spot. Having an emergency radio that is too large and heavy to take with you under those circumstances, renders it useless.
Telescopic or adjustable antenna – To fulfill its primary purpose as a radio, a weather radio should be equipped with a quality telescopic or adjustable antenna. Some models also provide an additional port or jack for an external antenna which can be useful to set up and ensure you have the best possible radio reception when an emergency strikes.
Broad frequency range – Access to information can mean the difference between life and death in an emergency. Your emergency radio should be able to access as broad a frequency range as possible. During a crisis, emergency crews and authorities will revert to whatever frequencies are available and functioning to reach survivors or communicate messages to anyone in peril.
2. Very Useful Features
These features greatly enhance the utility of the radio in emergencies. They aren't strictly necessary, but their presence makes the device more effective and adaptable.
Shortwave band reception – As discussed above, the more frequencies you can access with your radio, the better. Shortwave band reception can provide access to local radio stations, news updates, and even sports and entertainment to pass the time.
Water-resistant or waterproof construction – Weather and water resistance are not essential, but any form of protection that will help prevent your radio from stopping functioning is beneficial. However, emergency radios are notoriously hard to waterproof due to the extended features like cranks, solar panels, and multiple ports.
USB charging ports for other devices – an emergency radio with a significant rechargeable onboard battery can be a power bank to charge your phone and other devices during a crisis. Remember, it's essential to keep your radio functioning, so ensure you have some ways of recharging your radio battery before running it on other devices. A hand crank is the ultimate all-weather, all-circumstances recharging mechanism, but you will only get small amounts of power from the dynamo, so use your stored power smartly.
User-friendly interface – Emergency radios are designed to be simple to operate. Still, there is a chance that the first time you'll use the device will be during an emergency. Having to figure out how a device works, what the features are, and how to access the functionality under the stress of an emergency is not easy. Get an emergency radio with a user-friendly interface, and familiarize yourself with its workings beforehand.
Squelch control – Squelch control helps to eliminate background noise or static when there's no radio signal. When you're trying to tune into a particular station or frequency, especially a weak one, squelch control can help you hear that transmission more clearly by muting the static or white noise from the device when there's no broadcast.
Digital or analog tuning – The ability to accurately and finely tune your radio to your desired frequencies is important. Either analog or digital tuning will suffice, but having the option to combine them to do both is a great feature incorporated in some higher-end emergency radios.
Built-in SOS alarm – An SOS alarm alerts rescuers or search parties about your location or whereabouts in an emergency. Many emergency weather radios have a built-in SOS function that triggers an audible alarm and flashes a light to indicate your position. It's obvious how this can be beneficial.
3. Nice-to-Have Features
These features may not be crucial in an emergency, but they add value and functionality that can be appreciated under certain circumstances.
Built-in flashlight – A built-in flashlight is one of the most common additional features on most outdoor emergency radios. Lighting up your environment and seeing where you are going may not be essential to your survival, but it is incredibly comforting. The emergency flashing light discussed above is more important than an actual flashlight.
Headphone jack – A headphone jack is another nice-to-have feature. Being able to plug headphones into your phone enables you to hear the broadcast more clearly with less interference from environmental noises. It also helps preserve battery power as driving headphones are usually less power-consuming than the larger built-in speakers on the radio.
Time display – In situations where you may be isolated from the outside and cannot discern the approximate time of day, having a working clock on your emergency radio can assist in orienting yourself and planning your day and activities.
Sleep timer – A sleep timer can be helpful when taking turns to stay awake and monitor the radio or for any activities that require exact time-tracking.
Built-in compass – A built-in compass is a less useful feature on an emergency radio as you will likely hunker down and stay in a safe spot, waiting out the storm. This could be somewhat helpful in extreme situations where you need to move and orient yourself in that direction.
Frequently Asked Questions
What is an emergency radio?
An emergency radio is a radio designed to keep you informed during various emergencies such as severe weather, natural disasters, or power outages. They have multiple power options, including battery, hand-crank, solar, and AC/DC adapters, and can receive AM/FM broadcasts and NOAA weather alerts. Their primary purpose is to provide access to crucial information when regular communication channels may be unavailable.
Do I need an emergency radio with multiple power options?
Yes. Multiple power options ensure that your radio can operate even when one power source is unavailable. For example, a battery-powered or hand-crank radio can still function in a power outage. Solar power is a renewable source that can keep your radio running in extended situations without electricity.
What is NOAA Weather Radio, and why is it important?
NOAA Weather Radio (NWR) is a nationwide network of radio stations that broadcast continuous weather information directly from a nearby National Weather Service office. It provides official weather service warnings, watches, forecasts, and other hazard information 24/7. It's vital to have access to NWR broadcasts in an emergency radio because they provide real-time, reliable updates about imminent severe weather or disasters.
What is the advantage of having USB ports in an emergency radio?
USB ports in an emergency radio can be a lifesaver during emergencies or power outages. These ports allow you to charge other devices, such as smartphones or GPS units, ensuring you stay connected and have access to important information or rescue services.
What is squelch control in an emergency radio?
Squelch control is a feature that suppresses the audio output of the radio in the absence of a strong signal. It eliminates background noise or static when no radio signal is present, making it easier to tune into weak or distant stations. This can be critical in emergency situations when clear, uninterrupted communication is necessary.
Thanks for your feedback!