Car speakers have come a long way since their introduction alongside AM radio for vehicles almost 100 years ago. High-fidelity audio within cars has generated a cult-like following where enthusiasts are practically worshipping the bass frequencies their cars can produce.
Today, all cars come fitted with a series of components that work together to provide in-vehicle entertainment for all, and everybody can benefit from upgrading their car audio system from the factory-installed setup. Whether it's for music appreciation, radio listening, or handsfree calling and navigational uses- increased power, clarity, and efficiency will make your commute an enjoyable experience.
Here we'll be breaking down our list of the best car speakers to help you find your dream setup. We'll be discussing the basics of car audio– the gear that makes up a system, the different system types available, and what to look for in searching for your ideal car audio system.
Later in this article, we'll also be chatting about some additional equipment you may need to complete and enhance your new purchase, as well as a basic installation guide and some commonly encountered problems (and how to solve them).
Delivering superior audio quality, excellent low-end response, and a road-worthy design capable of withstanding high volumes and unforgiving roads.
Best Budget Car Speaker System
Pyle's budget-friendly system, the Pyle 6.5" 3-Way Coaxial Speaker System, promises a long-lasting lifespan while capable of operating at high volume levels. Lightweight and featuring an eye-catching colorful design, these speakers will definitely jazz up your ride and provide superior sound quality for you and your friends.
Best Premium Car Speaker System
A highly efficient component speaker system from audio manufacturing legends, JBL. The JBL GTO609C Component Speaker Set is incredibly versatile, easy to install, and will without a doubt satisfy all music tastes. Revolutionary new technology sets this speaker system apart from most others on the market.
Best Car Speaker System for Bass
Reproducing bass frequencies from the subsonic domain, and rolling off high frequencies at the upper threshold of the mid-frequency territory, the Pyle 2-Way 6.5" Component Speaker Pair provides all the warm and fat bass sounds that will amaze fans of electronic, rap, hip-hop, and more.
Best Sound Quality
Sturdily built and ready to reproduce sound at audiophile-grade quality, the Polk DB6501 6.5" 2-Way Component Speaker Pair features an incredible frequency response and high-power capabilities in an easily fitted component speaker set available for a great price considering its capabilities.
Best Coaxial Speaker System
Capable of reproducing exceptional sound quality at a great price, the Boss Audio CH6530 Coaxial Speaker System will last long and won't disappoint no matter what your music preferences are. An impressive frequency response, high power rating, and lightweight speaker system that will prove to be the perfect upgrade from your factory-installed speakers.
Best Component Speaker System
A highly adaptable component speaker set, the JBL GTO609C Component Speaker Set empowers any vehicle with excellent sound quality. Powerful speakers, coupled with a large enough frequency response and durable construction will keep everyone from the average listener to the pedantic audiophile entertained for a long time.
Best for Bass and Overall Sound Quality
The JBL GTO629 Premium Coaxial Speaker Set, set up in a coaxial configuration is capable of handling everything extreme low-end, to warm and full-bodied mid frequencies to crisp, piercing highs. An amazingly versatile package delivering crystal-clear audio quality for all music preferences.
Before looking at any speaker models, one needs to decide between one of two speaker configurations. We'll break down the speaker configuration options below:
Coaxial vs Component Speakers
Choosing the correct type of speaker for your needs is vital, and will be influenced by several factors including sound quality and frequency response you're after, ease of installation, and how much you're willing to spend on your car sound system upgrade.
Coaxial speakers, also referred to as 'full range' speakers, are easy to find and are the most commonly found speaker sets on the market. Coaxial speakers are available in a wide array of sizes, allowing for easy shopping and a straightforward installation process. All one needs to know is the size of the current speakers in your car, and you'll find a coaxial speaker pair to match it.
These speakers feature various drivers in one cabinet/box, usually a woofer and tweeter combination although some offer midrange drivers as well. This speaker configuration will cover a wide frequency range using only two speakers.
Component speakers are made up of a set of drivers, each handling a specific region of the frequency spectrum, rather than all-in-one speakers. A crossover system is used to designate frequencies to the different speakers in the system.
A component speaker system is considered superior in terms of sound quality as the array of speakers used makes for an overall flatter frequency response, enhancing clarity and all-round linearity across the frequency spectrum.
The Best Coaxial Speakers
1. JBL GTO629 Premium 6.5" Coaxial Speaker Pair
A revolutionary offering from consumer and pro audio icons, JBL.
Design and Features
JBL's GTO629 Premium speaker pair is a coaxial speaker setup designed with new technology in place to reinforce low-end response on a smaller speaker, ultimately providing the listener with more 'bass' in their car stereo without the need of a large-diameter subwoofer. This is due to JBL's patented Plus One woofer-cone technology, which makes use of carbon-injected cones on the GTO629 speakers, to enlarge the surface area of the speaker cone itself. A larger cone means more low-end, and the carbon-injection technology makes for a lighter and sturdier cone.
The JBL GTO629 is housed within a carbon-composite non-magnetic frame, which adds to the road-worthiness of the speaker by extending the lifespan of various components by protecting them from even the most demanding of conditions. In addition to this, the speaker's power-handling abilities add to its reliability and lifespan. These JBL's are designed to produce strong, crystal-clear sound from any head unit or power amplifier with the ability to deliver up to 180W of power.
Sound Quality
As discussed, JBL's patented Plus One woofer-cone technology empowers smaller speakers with stiffer, lighter and larger speaker cones to enhance their ability to reproduce low frequencies. This means for less bass-cranking on the EQ of your head unit.
Aside from the bass response, the GTO629 features another patented design: JBL UniPivot technology. This design allows you to alter the angle of the tweeters to be aimed at ear level, rather than across your legs. This feature is particularly handy and will without a doubt improve sound clarity and quality in your car, as tweeters are highly directional speakers, and sweeping the angle of impact can make a dramatic difference. The GTO629 also includes a dual-level tweeter volume control to compensate for improper speaker placement or color the tone of the music to your liking. The speakers make use of a built-in crossover system to divide frequencies between the appropriate speakers, functioning at a 12dB/octave roll-off point.
2. Rockford Fosgate R165X3 Prime 6.5" 3-Way Coaxial Speaker Pair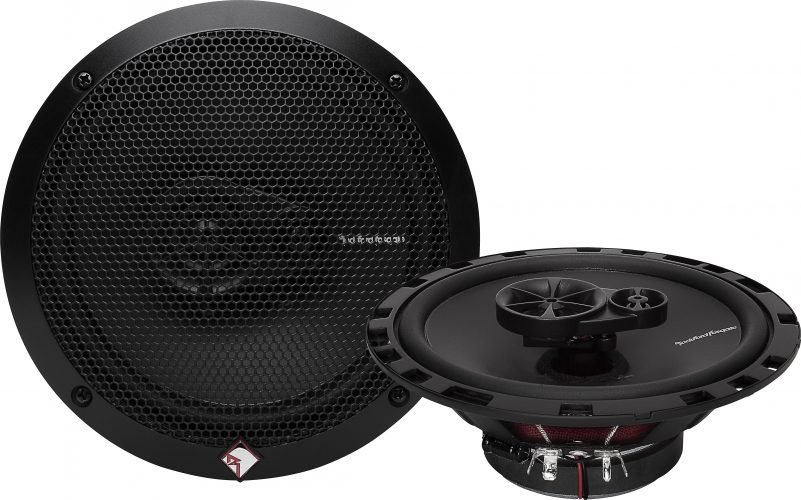 An all-round decent pair of car speakers ideal for upgrading your stock car speakers.
Design and Features
Rockford Fosgate's R165X3 pair are easy-to-install and well-built car speakers at a fairly reasonable price. These speakers are housed in a steel frame to protect them from rough driving conditions, and further reinforced with rubber around the drivers. The tweeters (responsible for high frequencies) are made from mylar and titanium, providing crisp high-end and a longer lifespan.
If speaker aesthetics and the look/feel of your car is important to you, these Rockford Fosgate speakers are an attractive pair of speakers that highlight a professional appearance, and their compact design allows for installation in most cars including smaller vehicles
Sound Quality
The Rockford Fosgate R165X3 speakers are highly capable of handling high volume while accurately reproducing a frequency range of 53Hz-20KHz. A 3-way configuration allows for coverage of a large frequency range. This provides a fairly balanced listening experience, however, a lack of low-end can be expected. This won't be much of an issue for most uses, though electronic/hip hop fans may be disappointed in the absence of bass in their music. The addition of a subwoofer will solve this problem, at an extra cost.
A power amplifier can be used in conjunction with these car speakers to improve power and sound quality and these speakers can easily handle high volumes without fear of 'blowing', however, higher volumes may cause slight distortion in the high-frequency territory. Overall, if you're looking for an upgrade from your factory speakers, these will without a doubt improve sound quality in your car.
3. Infinity REF6522IX 6.5" Reference Series Coaxial Speaker Pair
A well-built and ultra-high-quality car speaker set making for a perfect upgrade to your factory-installed car speakers.
Design and Features
Infinity's REF6522IX speakers are available in several sizes, here we'll be evaluating the performance of the 6.5" pair. These speakers are solidly-built and will last a lifetime if taken care of and used correctly. The available sizes can be installed in virtually any vehicle, and offer a classy aesthetic to suit any car. These Infinity speakers make use of independent tweeter output level control to suit any music preference or unideal speaker placement.
Sound Quality
The Infinity REF6522IX Reference Series speakers utilize Harman's patented Plus One cone technology to provide greater overall speaker cone surface area, therefore enhancing sensitivity which in turn emphasizes low-end response and high-quality sound reproduction. The independent tweeter level control allows for in-depth tweaking to better suit your equalization preferences or to compensate for speaker's placed in unwanted locations. High quality tweeters promise to deliver clear and smooth high-end, eliminating ear fatigue caused by exposure to high pressure level sounds for long periods of time. These speakers can be cranked to the max without causing any distortion or speaker failures or blowouts.
All in all, the Infinity REF6522IX Reference Series speakers are a road-worthy pair that reproduce sound extremely accurately and professionally. The perfect upgrade from your stock car speakers.
4. Boss Audio CH6530 6.5" Coaxial Car Speakers
High-quality and long-lasting car speakers from Boss Audio.
Design and Features
Constructed from high-grade materials, The CH6530 coaxial speaker pair from Boss Audio will last a lifetime even under abuse by bumpy roads and high sound pressure levels. A polyurethane speaker cone provides impeccable sound quality and extends the lifespan of the cone itself.
Stronger voice coils are installed in these speakers to maintain strength and enhance performance when operating in high temperatures, and the rubber framing reduces wear and tear on the speaker over time. Lastly, the stamped basket design further protects the speaker from damages and provide a crystal-clear listening experience. A 3-year is included when purchasing through Amazon.
Sound Quality
As for its sound reproduction capabilities, Boss Audio's CH6530 coaxial speakers are capable of generating audiophile-grade quality music due to high-quality materials and a decent frequency range. This speaker operates between 100Hz and 18KHz, so an all-round stable listening experience can be expected, however, if your music taste calls for pumping bass, you'd need a subwoofer installed.
The piezoelectric tweeter is a handy component as it requires no crossover system and is unaffected by overloads that typically destroy high-frequency drivers. The high-temperature resistant voice coil performs at a high, heavy-duty standard, and polyurethane cones provide flawless sound quality while lasting an impressively long time through high temperatures, excessive sound pressure levels, and unforgivingly rough drives.
5. Pioneer TS-G1620F 6.5" Coaxial Speaker Pair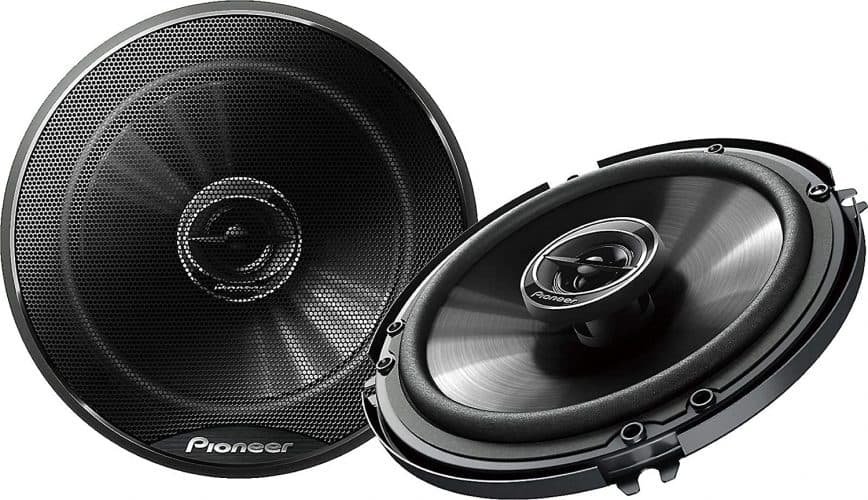 An affordable pair of speakers from pro audio giants Pioneer, capable of producing professional-quality sound.
Design and Features
Pioneer's TS-G1620F coaxial speaker pair for car audio is a solidly-built set guaranteed to last. Fitting snugly into any vehicle, including tightly-fit door panels, these speakers are easy to install and can perform even at high volume levels without fear of a speaker blow or any audible distortions.
The Mica reinforced injection-molded polypropylene cone used on the woofer component allows for accurate reproduction of low to mid frequencies. Progressive Flex Suspension System technology supports the voice coil of this speaker by reducing the large cone vibrations and supporting a fairly linear frequency response.
Sound Quality
The Pioneer TS-G1620F coaxial speaker pair is capable of producing audiophile-grade sound in your vehicle and will satisfy most music preferences. Reproducing a frequency range of 31Hz to 18Khz, most music tastes will be fulfilled here, from bass-thumping hip-hop and dance music to crystal-clear orchestral pieces. The low-profile balanced dome tweeter allows for accurate high-frequency representation and overall well-rounded sound quality, even in smaller vehicles and non-ideal speaker placements.
6. Pyle 6.5" 3-Way Coaxial Car Speakers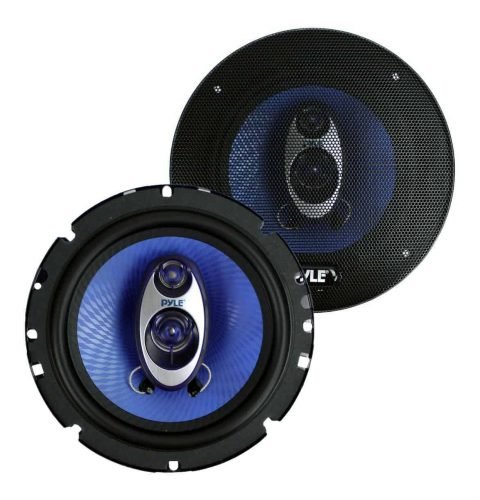 Pyle's powerful, durable, and eye-catching 3-way coaxial car speakers.
Design and Features
Pyle's 3-Way Coaxial Speaker Pair is fitted with modern speaker technology to ensure a longer lifespan of the drivers, richer sound qualities, and low levels of distortion. These speakers included a 20 oz magnet structure to deliver up to 360W of power in your vehicle.
Poly-injection cones offer further reinforcement of the speakers, protecting them from rutted drives and lengthening the life of the speakers. A low impedance compensates for undersized wire used in most modern vehicles, allowing for a more powerful performance from these Pyle speakers.
Sound Quality
These Pyle speakers are comprised of a woofer, tweeter, and midrange driver- covering the full frequency spectrum in a full-bodied, linear fashion. The midrange driver is based on a one-inch neodymium film dome, enhancing mid-frequency clarity and smoothness at all volume levels.
The voice coils used are resistant to high temperatures and prove to maintain their strength over a long period of time and will not distort too easily at high volumes. An impressive frequency response starting at 95Hz will no doubt provide a powerful low-end response for those with bass-heavy music tastes, however, a lack of bone-shaking subsonic frequencies can be expected here; the rest of the frequency spectrum however is accurately represented by the Pyle 3-Way Coaxial Speakers.
The Best Component Speaker Systems
1. JBL GTO609C Premium 6.5" Component Speaker System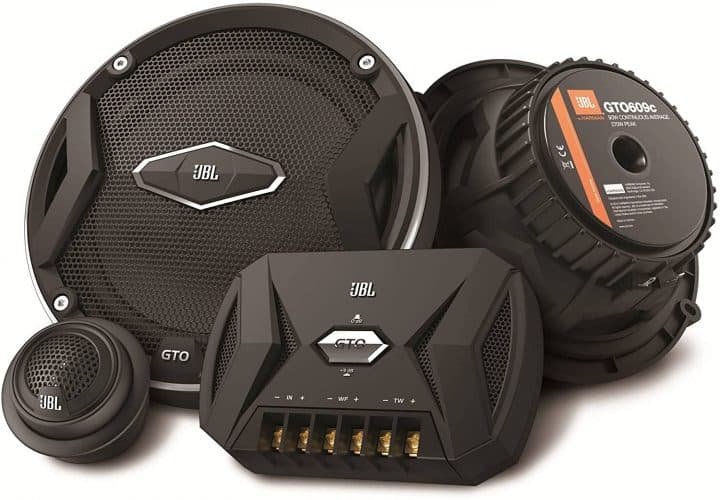 A powerful component speaker system from audio manufacturing legends, JBL.
Design and Features
JBL's GTO609C component speaker setup is designed using high-grade materials and patented technologies to provide a powerful and clear listening experience. This car speaker system can perform well with any head unit or power amplifier, making it incredibly versatile and easy to install. Making use of JBL's Plus One Carbon-Injected cone technology, the GTO609C component speakers are capable of faithfully reproducing lower frequencies due to the expanded speaker-cone area. The impedance of 3 Ohms helps compensate for undersized cables found in most modern cars, therefore maximizing power and efficiency.
Dual-level tweeter volume controls are available here to counteract improper speaker placement and adjust the sonic qualities of your car stereo system to suit your music taste or listening preferences. JBL's patented I-Mount system allows for supreme flexibility regardless of the mounting method used to install these speakers.
Sound Quality
Capable of reproducing frequencies from 53Hz and upwards, this component speaker set from JBL covers a more than sufficient frequency range. Carbon-injected cone technology used in these GTO609C provides improved low-end response from a smaller-diameter driver. This component speaker system can handle high volumes without distorting, and its durable construction allows for a longer lifespan. A punchy, crystal-clear signal can be expected here for all music genres and preferences.
2. Polk DB6501 6.5" 2-Way Component Speaker System
An affordable yet highly adaptable and powerful component speaker set by Polk.
Design and Features
Built to withstand harsh environments, these speakers have a guaranteed longer lifespan than others, and can also be used in all types of boats. Installation/fitting couldn't be easier here, Pyle's DB6501 component speaker system featured adaptor rings allowing for easy installation in any 6.5-inch and 6¾-inch cavities.
A 2-way Butterworth crossover unit is included in the package, with air-vented casing to prevent overheating, as well as a tweeter protection circuit. The woofer component features a polymer/mica composite cone with a butyl rubber lining. The tweeters are based on a liquid-cooled silk/polymer composite dome, used in conjunction with a neodymium magnet, delivering greatly-detailed high-frequency replication.
Sound Quality
The construction of the Polk Audio DB6501 Component Speaker System sets it apart from others on the market. Various speaker-protection features in place that not only extend the life of the drivers but also enhance sound definition. These component speakers are capable of reproducing an impressively large frequency range, from subsonic lows starting at 35Hz to piercing highs above the highest threshold of human hearing.
The tweeters are angle-adjustable to account for speaker placement issues and improve clarity in your vehicle. The woofer's low-mass, twin-layer, and high-quality voice coil provide extra strength and reliability, and its rigid speaker cone allows for high volumes with little to no audible distortion.
3. Boss CH6CK 6.5" Component Speaker System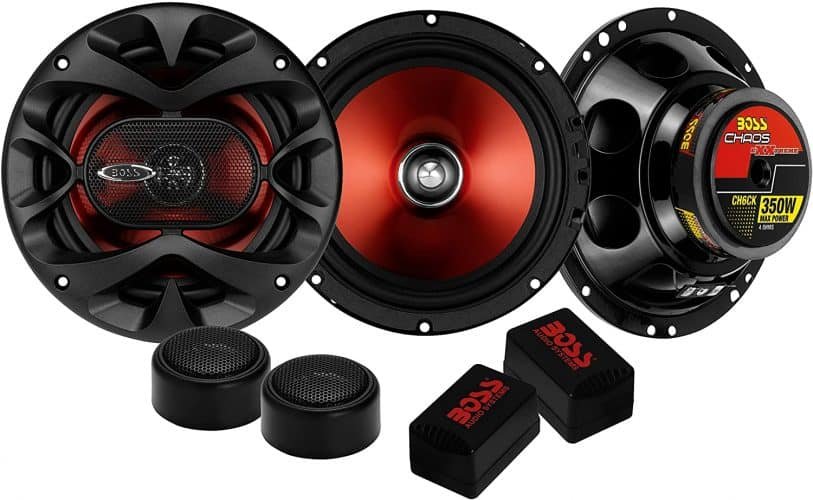 Boss's CH6CK provides high power, great sound quality and a long lifespan.
Design and Features
Made to last, the Boss CH6CK 6.5" Component Speaker System is designed using high-grade materials to ensure high performance over a long product lifespan. Speaker cones are made from polyurethane, providing durable qualities and great sound definition.
The CH6CK's voice coils are resistant to high temperatures and can maintain their strength, lower mass voice coils also provide longer play-time. A rubber frame is placed around the speakers to further protect them from wear-and-tear, and when purchased through Amazon, a 3-year warranty is available.
Sound Quality
An impressive feature of this system by Boss Audio is the mylar dome tweeter, which tames the very directional nature of high frequencies, allowing them to disperse in a more omnidirectional pattern, for improved sound clarity. The piezoelectric tweeter is also resistant to overloads that generally punish high-frequency drivers and shorten their life.
In addition to this, the polyurethane cones used in the CH6CK component system can function at a high-performance level at any volume. Low-frequency reproduction starts at 60Hz, delivering enough bass for most music tastes, and these speakers operate well into the high-frequency domain, providing clarity and crisp definition.
4. Pyle 2-Way 6.5" Component Speaker System
A set of powerful, high-performance mid bass speakers in eye-catching yellow by Pyle Audio.
Design and Features
Pyle's 2-Way Custom 6.5" Component Speaker System is designed for a superior low-end response, and a high-quality build guarantees long play-time. Available in standard sizes, this speaker system can be wired up and ready to go fairly easily, with 3 mounting options offered: flush, surface, or angle.
Sound Quality
The ASV voice coil featured in this car speaker set delivers rich, full-bodied sound at an incredibly high maximum output volume while minimizing distortion. This Pyle Audio component system can be used in conjunction with the supplied crossover system to enable user-tweakable bass response and overall a more accurate frequency representation.
While capable of handling window-rattling bass, this feature is at the expense of high-end clarity; with a high-frequency threshold of just 5KHz, one can expect full, warm sound characteristics here but none of the crisp high-end and clarity some music tastes may call for.
I've bought my new car speakers… now what?
After purchasing new car speakers for your vehicle, be it a coaxial or component setup, you'll need to know how to install and calibrate the system. Here we'll be taking you through a basic installation guide, and answering some frequently asked questions, including troubleshooting methods for common issues, and also recommending some of our favorite additional equipment you may need depending on what's included in your new car audio package.
How to Install Car Speakers
Installing car speakers is fairly straightforward when the necessary steps are followed correctly. Here's a basic step-by-step guide to installing your new car speakers yourself.
01
Step 1
Remove existing panels and speaker grills- this varies from car to car, some may require the removal of entire door panels, or crawling into the trunk, while others can simply be unscrewed.
02
Step 2
Remove the factory speaker- take care during this stage, as most car speakers are attached to a wiring harness within the doorframe.
03
Step 3
Attach the new car speakers to your car's electrical system- if a wiring harness is used in your vehicle, simply plug the cables in the correct sockets. However, if a wiring harness is not present, you will need to attach your new speakers using crimped or soldered connections. Be sure to match polarities here (positive or negative)
04
Step 4
Test the speaker- power up your car stereo system and test the signal coming through your new car speaker. Be sure to check for vibrations that you'll notice at higher volumes, to ensure healthy speaker movement. If the speaker is not working, double-check the electrical setup in previous steps.
05
Step 5
Secure your new speaker- Once you're happy with the performance of your new speaker, secure it using its mounting bracket/frame and re-attach any loose screws/components removed during the installation process.
Be sure to keep extra screws, grills, and any other parts that may be left-over from the factory car speakers – you may want to re-install sometime!
Need Additional Equipment? Here Are Our Recommendations
Need Car Speaker Wire?
InstallGear 14 Gauge AWG 100ft Speaker Cable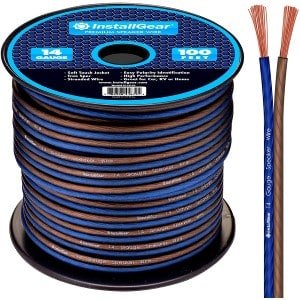 This premium 100ft speaker cable makes installations fast and simple. The PVC soft-touch jacket allows for maximum flexibility and ease of routing through car panels, and the jacket can be stripped easily, making the installation process quicker and less finicky.
The jacket is color-coded for easy polarity identification, and the cable itself is available in a variety of colors. A great price for high-quality cabling.
A Bluetooth Transmitter?
Nulaxy Bluetooth Car FM Transmitter Kit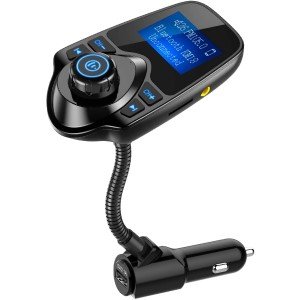 A high-performance Bluetooth transmitter/receiver set by Nulaxy. This device has a wide range of uses including wireless music streaming from your cellphone/iPod to your car stereo, handsfree calling, fast-charge technology of one USB-powered device while in use.
This Bluetooth transmitter/receiver has several safety measures in place to protect the transmitter itself, all connected devices, your car's stereo system, and you can keep an eye on your car battery's current voltage.
Playback modes available are 'Repeat All' and 'Random' and a large screen displays song title and timebase information, FM frequency in use, incoming calls, and current pairings. A highly reliable device for all wireless needs in your car at an incredibly cheap price.
Amplifiers? We've Got You Covered!
Rockford Fosgate R500X1D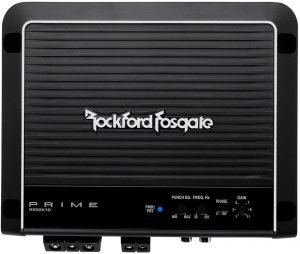 Rockford Fosgate's R500X1D Power Amp can drive up to 500W of power to your car speakers. This power amplifier features an onboard 'punch' on 'in' EQ which boosts bass at a fixed frequency of 45Hz by a mighty 18dB. A wired remote is also available to control this EQ function.
The built-in crossover system operates on a 12dB/Octave roll-off and can be activated as a Low Pass, High Pass, or All-Pass filter. Onboard safety protocol includes short circuit and over current protection, and muted power-up saves your speakers (and ears) from any possible unintended high sound pressure exposure.
This power amplifier will provide you with more than enough juice for your speakers, and a low signal to noise ratio means crisp, strong signal at all volumes.
Boss Audio R1100M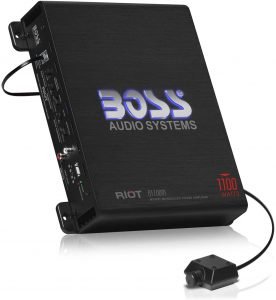 An extremely powerful amplifier with various features in place to customize your in-vehicle sound to your personal preference. A Low Pass filter is available, operating between 35Hz to 160Hz, and an incredibly impressive frequency response here means this system can reproduce frequencies as low as 9Hz.
An 18dB bass boost switch is included for additional low-end where required, which can be used in combination with the independent subwoofer level control.
The Boss Audio R1100M power amplifier can also protect itself from overheating from extended use and high temperatures and short circuits caused by speaker failures.
Frequently Asked Questions
How can I tell if my car speakers are blown?
Car speakers generally fail due to mechanical or thermal complications, although using your car stereo at a high volume for prolonged periods of time will also shorten the lifespan of your drivers. Some things to look out for in blown speakers:
Distortion/hissing/fuzziness: Set your music at a low to mid-level volume and listen for these unwanted artefacts. From here, use your balance controls to isolate the speaker causing this, and investigate further.
Lack of specific frequency content: Usually a good indication that the driver responsible for handling this frequency range has blown. Adjust the volume and equalization controls to identify the problem speaker.
No vibration from speakers: The easiest way to tell is by turning the volume to a mid to high volume level and placing the palm of your hand against the grill. If you can't feel any vibrations- your speakers have blown.
My speakers make a buzzing/humming sound when not in use?
This is generally caused by one of two common things, and can be easily troubleshooted:
Check for rips or tears along the speaker cone or driver. Any visible signs of damage mean the speaker will need professional repair, or the issue could worsen if left unresolved.
Use another radio/head unit to determine if the noise is generated within your current electrical components. Make sure the second head unit used for testing operates on the same impedance and power rating. Be sure to check all cables involved as well including RCA or Aux connections. Work your way through the signal chain starting from the source, at some point you'll encounter the problematic component.
What causes my car speakers to blow?
The most common cause of blown speakers is overloading of high-volume for extended time periods, although there are several technical issues that can instigate these issues. Another common cause of speaker blowout is something known as clipping- a literal 'clip' or 'crackle' sound produced by overdriving the power amplifier to the point where it cannot process the audio signal's input volume any longer.
Physical damage can also cause speaker signal loss, as a result of careless handling and installation, or the lack of a protective grill, making the delicate speaker cone more vulnerable to knocks and dents, or possibly tearing.
It is also important to remember that car speakers do have a finite lifespan, especially factory-installed speakers made from cheaper materials.
My car lights dim when I crank the volume?
Dimming lights at high volumes are an indication that either the amplifier has not been properly installed, or it is struggling to draw the required power from your car's electrical system. The first and most important aspect to inspect is the gauge of your cable: the ground needs to be at least the same size of the power wire, and connected tightly to your vehicle's body (also be sure to remove all paint from that area)
If the issue continues, consider upgrading the cabling between your car's battery and frame (factory ground) and the connection between the alternator and battery.
What speakers fit my car?
To measure the size of your current speakers, or an empty car speaker cavity, you'll need to use a tape measure to determine the diameter of this cavity. Be sure to account for the bevel or lip of the cavity to ensure your new car speakers will fit tightly into the hole. It is also necessary to measure the depth of the cavity to confirm your new speaker's driver will not exceed the front of the hole.
The Basics of Car Audio
From the first basic AM radio receiver installed for commercial use in automobiles almost a century ago, to the high-performing car speakers that are considered essential in any vehicle today- the world of car audio has experienced significant series of evolution and developments over time.
Today's car audio systems are capable of reproducing signal from a wide range of sources, including AM/FM radio, Bluetooth, CD disk, USB flash drives, and various wired connections.
The first, and most important concept to learn before looking into searching for the best car speakers, is the relationship between the 3 components of any car audio setup: The radio (or head) unit, the power amplifier, and the speakers.
At the start of the signal chain, the radio (or 'head') unit receives an input signal from your chosen source and acts as a control surface for the rest of the system.
A wireless or digital source signal is converted here into analog form so it can be received by the components that follow in the signal chain. The head unit will include all the inputs and outputs that form a connection between your source signal and the speakers in your car. These connections can include a CD player, AM/FM radio receiver, 3.5mm jack/aux input, USB bus, and Bluetooth receiver, to name a few.
Additionally, the radio/head unit usually includes basic equalization controls to shape the tone of your music, either for your specific preference or to compensate for unwanted boosts/cuts in certain frequency bands caused by certain speaker specifications and placement. Most modern head units also allow you to navigate through folders and files on a USB drive or control the playlist on your iPod or cellphone from the head unit itself.
After the radio/head unit, our audio signal is fed through cables (which we'll discuss later in this article) to the power amplifier for further processing.
After signal processing has taken place at the head unit, the output signal needs to be amplified to an acceptable level (known as line-level) in order to drive the speakers to their full potential and obtain maximum clarity and power. While most head units include a small amplifier capable of powering small car speakers, if you're looking for high-power, quality sound, an outboard power amplifier is essential.
This external power amp further increases the audio signal level, as well as assigning frequencies to the speakers in your system that will reproduce them best. Subsonic and bass frequencies are handled by the subwoofer, while the upper portion of the frequency spectrum is represented by the midrange drivers and tweeters. This frequency-divider is known as a crossover system, and it functions in one of two states: active or passive.
An active crossover separates the signal before amplification; a passive crossover divides the signal after the power amp stage. Some power amplifiers allow the user to adjust the crossover point to taste, while others are factory-set. If you're looking for maximum power from your car stereo system, an active system will without a doubt perform at high-power and enhance the character of your music.
Some power amplifiers include a set of vacuum tubes (or 'valves') which provide additional coloration and clarity to the signal, however, these are rarely used in cars today as the glass vacuum tubes are highly sensitive to vibrations and their lifespan is finite.
Once the power amplifier has boosted the signal to a suitable level, things are handed over to the speakers for the final conversion stage that sees this electrical signal turn into mechanical energy, producing waves we can interpret as sound.
As for the speakers, their duty is to reproduce the input signal as accurately as possible. Most basic car audio systems use two-way speakers, which combine different sized and specialty speakers in a single cabinet, attempting to achieve a full-range response.
In short, a speaker is responsible for converting an electrical signal, to mechanical energy which produces sound waves we can interpret using our eardrums. A speaker itself is also made of several components that work together to produce these sound waves.
It is important to remember that a single speaker (especially a car speaker) will never reproduce the full frequency spectrum at consistent level and character. This is why we use a set of speakers, each specializing in specific frequency bands, to attain an overall well-balanced listening experience.
Commonly used speakers include a subwoofer (large diameter, replicating subsonic and bass frequencies), mid-bass drivers (handling the range between bass and lower midrange), midrange driver (reproducing mid frequencies), and tweeters (producing high frequencies)
An important rule to remember when looking at speakers, is the amount of power required to drive different speaker types: Larger speakers require more power to set their cone in motion, while smaller speakers run on a lower power-level.
Arguably the most important quality for any speaker, is a specification known as frequency response.
Frequency response is represented as either a graph or a figure, and will give us an understanding of a speaker's ability to reproduce frequencies across a specific range, and how accurately it does so. A frequency response description will show us where a speaker fails to reproduce certain frequencies (known as attenuation) or where certain frequencies are exaggerated (known as boosting)
This information is vital when choosing a set of specialized speakers (to make sure your system accurately covers the full frequency spectrum), as well as when looking at a pair of two-way speakers (to properly evaluate the speaker set's ability to reproduce sound accurately)
While a flatter response is generally more desirable, certain music tastes may determine your ideal frequency range. For example, if you're exclusively listening to bass-heavy music (such as electronic, hip-hop and rap) a speaker set with a low-end focus will enhance your listening experience.
It is important to remember that a head unit which includes a good equalization section can always be used to alter the tonal qualities of your music if your speakers are lacking in certain areas, however, signal processing cannot solve everything.
Delivering superior audio quality, excellent low-end response, and a road-worthy design capable of withstanding high volumes and unforgiving roads.
Thanks for your feedback!