The globally-renowned audio equipment manufacturer Bose often comes as an obvious purchase choice in the outdoor speakers domain. Their top selling outdoor speaker model is the Bose 251 Environmental speaker. The company's well-established reputation and high-quality products essentially guarantee customer satisfaction, but as always, there is a vast array of distinctive features and nuances you definitely ought to consider prior to making the specific purchase.
Our Picks from the Range of Bose Speakers:
Now let's get down to specific models. The company's official website offers four distinctive models – the 151, 251, FreeSpace 51 in-ground series and 131 marine Bose outdoor speakers. The 151 and 251 models are the most common and somewhat basic when it comes to design, while the latter two series are more specialized for specific customer requirements. More details in the individual reviews.
The 251 series usually represents Bose's highest-rated outdoor speaker, and arguably the best. With 100 watts of nominal power and a $350-$400 price tag, the speakers offer high-quality sound and even break the common belief of Bose products being too expensive. Fact is, a 100-watt outdoor speakers are difficult to find under $500, so the given amount is more than fair. The 251 series sports a water-resistant case that enables it to withstand extreme heat and cold conditions while delivering crisp clear sounds through the articulated array design.
Similarly to the 151 series, the 251 features a slick design and sturdy built. When it comes to size, the device comes with 8 x 5.75 x 13.5-inch dimensions and an eight-pound weight. If powerful Bose outdoor speakers are what you're looking for, 251 series is the right product for you. Read our Review.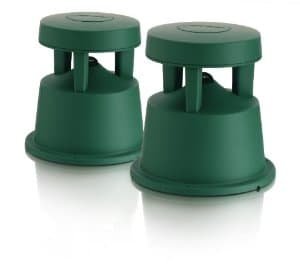 The FreeSpace 51 series possesses a unique feature of being able to deliver 360-degree sonic waves, hence allowing them to be mostly buried underground. It also means that the sound quality won't vary depending on where the listener is standing.
The speakers deliver 50 watts of power and come with 12.6 x 12.6 x14.2 inches size. Weighing eight pounds, they're slightly more robust, but also highly durable and able to withstand the roughest weather and even physical damage. Overall, FreeSpace 51 comes with various unique features and pros, making the $450 price quite reasonable. Read our Review.

The Bose 131 flush-mounted marine speaker series is specifically designed for even the worse weather conditions and a full-on sea storm environment. They're water resistant and able to withstand salt spray. Proprietary ported enclosure is another feature the manufacturer takes pride in, as it allows greater stability and quality audio delivery. The speakers feature individual full-range drivers for fidelity sound that sound crisp and clear even when you're out in the open on the ocean. The speakers have been sized to fit standard pre-cut speaker openings as provided by most manufacturers of modern boats.
Fixed, wired Bose outdoor speakers work great for your patio and barbecue area, but what if there's a spot in your garden the sound doesn't quite reach? Or what if you want to take your music with you on the road or on a camping trip? Bose has something for that too called the SoundLink Mini Bluetooth Speaker. It's not only one of Bose's most popular products, but also one of Amazon's best selling Bluetooth speakers.  Weighing in at only 1.5 pounds the speaker has more than 7 hours of playtime per charge, 30 feet of range and can be paired with any compatible Bluetooth device. It is a potent little speaker that is as comfortable indoors as outdoors and punches above it's weight when it comes to sound quality.

As the name suggests, the Bose Soundlink Revolve is engineered to deliver deep, clear, loud yet crisp sounds in every direction. While not as lightweight as the Soundlink Mini the Revolve is portable and can be carried from room to room if need be. It is water resistent (lpx4) which actually make sit a quite capable outdoor speaker as well and setting it up on the patio somewhere near or around the pool should be no problem at all. The Revolve competes in the same class as the Sonos Play:1 and while it may not yet be ready to oust the current market leader it does feature some cool differentiators like a12 hour playtime rechargeable battery – making it more agile and portable than the Sonos. The speaker accepts voice prompts via Siri or Google now for a cool hands-off experience and connects easily with the Bose Connect app.
The Bose 161 Speaker is not an outdoor speaker but we are adding it here to complete the line-up and offer you a good option for your indoor needs as well, especially with your TV. These elegant little speakers can be mounted on a wall, bookshelf or on individual stands and is magnetically shielded so they can be positioned in close proximity to a television without any interference to the sound. The Bose 161 is a well-rounded speaker that delivers a balanced stereo sound. At 10 to 100 watts per channel the speakers do not require a lot o amplifier power and they are designed to operate in conjunction with the Bose VCS-10 center-channel speaker and any Direct/Reflecting Bose speaker system. These speakers deliver a sound quality and clarity normally reserved for much larger speakers, but that is what we've come to expect from Bose speakers
As a final note, Bose outdoor speakers come with a 5-year warranty, proving that the company by all means stands behinds its devices and delivers top-quality customer service.