Bookshelf speakers are probably one of the most sought-after pieces of audio equipment – who doesn't want to have a powerful sound system surrounding their TV? That's why it has been rather tricky to find the best possible option. After a long tedious process, we ended up with the best models leading their respective categories.
Truly amazing bookshelf speakers that will make even the pickiest audiophiles happy.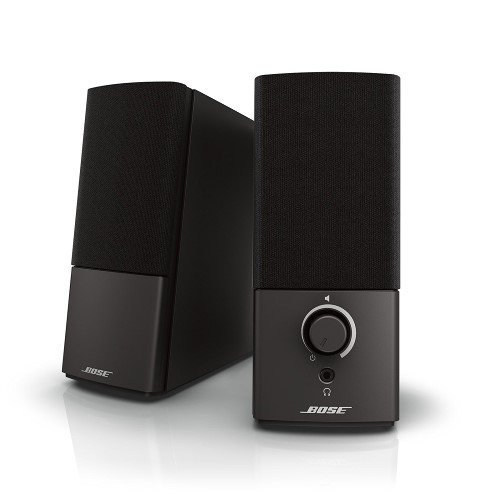 Choosing the correct speakers can be rather challenging. Have a look at our guide below to help you make the best-informed decision. There are several things you need to decide on before purchasing your next set of cans for your home:
Size & Space – Although most of the items on the list fit the "one size fits all" model with small deviations, you need to consider not only because you want the speakers to fit the spot you have planned for them, but because you also want to get the most out of the drivers in terms of quality of sound reproduction. Smaller rooms may find a tiny one-channel speaker enough while big two-channel robust speakers may find it difficult to disperse the sound the right way in spacious halls like apartments and big houses.
Quality of built – You're not getting huge value for your money every time you decide to go with the cheapest option. You'll probably replace this product after a year or so while a high-quality item may last decades. That's why it's important to understand how you're investing for the long run and you'll maybe need to expand your budget a little bit, so you get a magnificent set of bookshelf speakers.
Wireless vs. Wired – We've included five of each on our list of best bookshelf speakers and we will be honest with you, there's a small difference in price between similar wired and wireless options. That's why if you're planning to use your speakers with a single device exclusively and you don't have an issue with connecting your phone to a cable every time you want to play something, it's probably better to get a wired-only version. The price difference isn't huge, so if you have the extra buck or two, go with the wireless option. Place quality of built on the top spot of your criteria list though.
You should consider the aesthetic design and the way the speakers will look with every other piece of furniture in your room. If one rug can really tie the room together, so can a pair of speakers and you don't want to look at something you don't even like all day and all night long.
Here's our selection of the best bookshelf speakers starting off with our wired section and continuing with the wireless options
The 5 Best Wired Bookshelf Speakers:
1. Bose Companion 2 Series III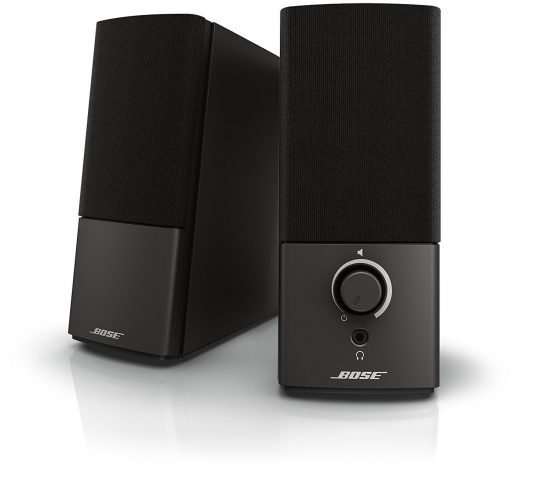 Bose has really tried to create a reliable series of bookshelf speakers that can also be used as a part of your home entertainment system or just as a great addition to your PC unit with their Companion model and they've managed to make it hard for us to find the best sounding item in this series.
The third release of the Companion 2 is probably the one that got audiophiles hyped up the most because it was hailed as the multifunctional speaker you always needed in your living room that could also find its place in a more professional environment.
The simple all-black design featuring a single knob and a headphone jack on the front of the right speaker didn't make a huge impression on the audio community, but we would advise you to go past this below average first impression and try the C2S2 on your own. Don't listen to people telling you that you are bored with your grandpa styled bookshelf speakers while they enjoy the benefit of having an ultra modern stylish pair of red satellites with glowing LED lights that follow the beat.
It's not all about the looks, there's also something known as a good sound quality that you need to consider first and foremost when looking for the best bookshelf speakers that will fit right in with the interior design of your room.
Sound quality is where bose excels compared to similar products falling in the same price category.
There's no dedicated subwoofer included in the package, but you'll notice from the very first sound the speakers make how they're focused on catching extremely low frequencies and providing a solid bass experience that doesn't mess around with your treble. Being tilted a little bit upwards makes the pair a great fit for lower heights as you'll need to customize the direction of the speakers manually when placed on a higher shelf.
You won't have a problem with moving the speakers around because the drivers are extremely lightweight so you can move them around the room without a problem or can you?
The one thing stopping you from doing this is the length of the cables that connect the drivers to the source of both power and sound. The auxiliary cable is comically short and you'll have to call your engineer buddies just to figure out how to connect your speakers with your PC and still have enough cable length to put them onto your shelf or desk.
The easy way to solve this is to get a completely new AUX and move on from the short insufficient version Bose provided.
The great thing about this pair of speakers is that produce amazing sound and can be considered as a decent bargain, as you won't find many speakers in this price range that can produce such a powerful bass without the help of a woofer.
The one thing that you'll probably dislike when first using the third series of the Companion 2 speakers is that they don't provide enough breathing room and you'll be forced to compromise on design and functionality. All of this can be solved by purchasing a couple of other audio elements, but if you're really picky when it comes to the quality of the product you get and you don't want to think about how and where to place the new audio toy you have bought, it's probably a good idea to go through the rest of the article and find a solution that actually works for you.
For those of you that solely want to add a new piece of audio equipment to their arsenal and be able to enjoy the deep sound imaging this item is capable of producing, then this is just the right product for you.
Don't have that much more to say about the speakers except that they offer an old school 80's look, which makes them suitable as both bookshelf speakers and PC speakers. The one thing that sticks out the most is that the Companion 2 Series ||| are capable of creating a low pitched clean voice, so you won't have any issues and be fearful of problems like distortion and longevity of the product.
2. Klipsch R-15M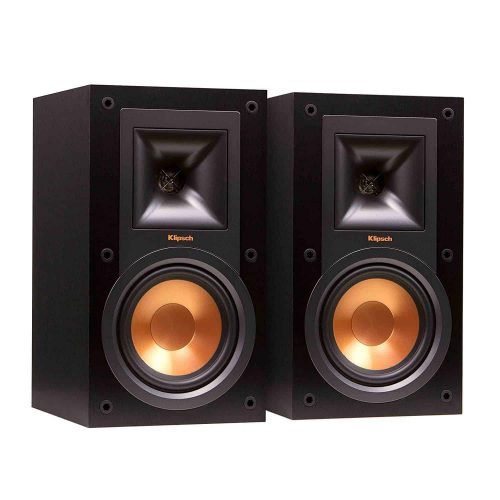 We live in a retail dominated time where we often purchase items we do not need. The core of this type of decision making is that we always want to purchase something that offers us value for our money. We like feeling like we have got more than we have spent. There's no exception to this unwritten rule even when we look for the best bookshelf speakers. People tend to go with satellite speakers featuring a massive subwoofer or a top of the line soundbar, but the reality of the situation is that in most cases you don't need to go that far to find a solution that will fit your needs.
Sometimes a powerful set of satellite bookshelf speakers is enough and there's no better way to prove this than reviewing the mighty Klipsch R-15M.
You'll be impressed from the first time you lay your eyes on the R-15M model and you'll immediately start daydreaming of how this set of classy black speakers with a copper-colored driver will look next to your TV set. I can't blame you, the entire design of the two monitors is outstanding.
The R-15M is an updated model to the R-14M. It offers the same high-frequency driver as its predecessor but has an improved low-frequency driver. The R-15M also features improved frequency response, sensitivity, low-frequency extension, and crossover frequency. Measuring 12.5" x 7" x 7.11" – The R-15M is also larger than the R-14M.
The thing you'll like the most is the classic 5.25" "Spun Copper Cerametallic Cone Woofer", which is sort of a trademark for the manufacturer, but it's not only about the looks. The driver of the woofer and the quality of the built of the entire model allow you to reproduce some extremely deep bass levels without having to compromise on volume and treble clarity.
The R-15M are still passive speakers though, so you will need an external amp to drive them. Thankfully, Klipsch does have the option of purchasing them with an amp.
We should also give some credit to the well designed one-inch Tractrix tweeter that features a horn-loaded style and an enclosure characteristic with some of the older Klipsch models. This little piece of audio equipment is probably the main reason why you'll be able to enjoy a perfect sound quality and a deep heavy bass at the same time.
The outside of the speakers is wrapped using a pure vinyl material, which makes maintenance easier, but it also requires you to be extra careful when moving the set around as this is a more fragile outlay compared to the wood veneer option present with some other option in the same price range.
What makes the R-15M value for the money is the impeccable quality of built before anything else, but you should also consider all the features and possibilities this set of bookshelf speakers has to offer.
The quality and clearness level of the sound the R-15M model produces is just out of this world. You won't get a dynamic punch overemphasizing the low-fi range like with many other speakers, which is great considering how annoying an overpowering bass combined with a weak treble can sound.
If you're looking for a high-end solution that creates a clear sound signature and will last for a very long time on your bookshelf, this is one pair of speakers you must consider. The price they're currently going for is a true bargain compared to other options on the market.
3. Polk Audio Signature S20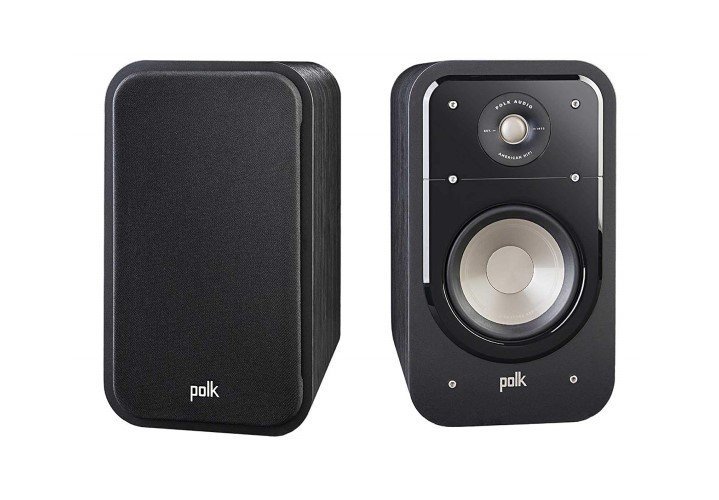 Polk is one of those rare old-school companies that's been making loudspeakers since the beginning of the 1970's and has still managed to keep up with new trends within the Audio Industry. Their products are affordable and of great quality.
With their Audio Signature line, they've proved once again how they can manufacture a solid set of speakers that will turn your home into a reliable entertainment unit without the need to spend thousands of dollars.
The S20 model is one of the tiniest items on the list of Polk Signature products, but don't be fooled by their size as dynamite comes in small packages. This set of speakers can produce a clear sound that will work together with the lower end of the frequency range and create a sound image you've always dreamed about. Taking into consideration that we're talking about the best bookshelf speakers, this Polk model makes the cut not only because of its size but because of its quality of built as well.
Almost every product on this list and on the market, in general, is manufactured overseas, but what makes Polk differentiate from its competition is the fact that they test and tweak their line of product locally in the company's hometown of Baltimore, USA. This is proof that the company is focused on creating the perfect musical experience for its customers.
One of the areas that Polk failed to address in the past is design, but it seems that the development team has really put some serious thought into creating the Signature series and the S20 model isn't an exception. With an almost all black exterior featuring a silver finish on the driver domes and some of the other details on the speaker set, you'll get the feeling that you own a high end set of speakers worth well over the price tag you'll be covering with this model.
The left speaker features an all black grid while the right one has a more open look at the main driver and the tweeter being on full display. This really provides a more distinguished look to the entire set and I'm sure a little bit of variety will look great on your bookshelf.
The driver is 6.5" in diameter and is made out of polypropylene material based on a mineral filling. This gives the speaker enough room to breathe and absorb deep and mid ranged sounds without causing any noticeable distortion. The one-inch dome-shaped tweeter, on the other hand, is made from terylene, a more fiber-like compound based on polyester that allows you to manage the sound direction and customize the imaging in accordance with the size of the room you'll be placing the speakers.
All of this resulted with a Hi-Res Audio certificate, the first one for the company since its inception, which is kind of a big deal keeping in mind that they have been in the market for almost 40 years now.
One of the most important factors that influenced this is the trademark Power Port solution the speakers provide whose goal is to emphasize the low-fi sounds you try to reproduce while keeping the mids and highs clearly separated. This allows the S20 to go as low as 39 Hz and push the frequency range up to 40 kHz while being capable of clearing out any possible distortion.
Most users equip this pair of bookshelf speakers with a dedicated amplifier or a subwoofer, but if you're just someone that wants to have a solid pair of speakers above their TV then you don't really need to do anything.
The design and the technology used by the speakers will allow you to listen to almost any music genre and watch all your favorite movies in an environment that supports a powerful and crisp sound quality.
Polk is a company with a rich heritage in the audio industry and it seems like they've finally managed to create one of the best bookshelf speakers while keeping their "affordable" pricing strategy alive. This is the most well thought out product lines Polk has released in a while, so if you like the design and have the money in your pocket, don't hesitate to get this high-quality set of speakers.
4. Pioneer SP-BS22-LR Loudspeaker
Pioneer is one of the leading manufacturers in the audio equipment game together with Yamaha, but we don't always include their products on our lists as some of them are just too expensive and you don't get decent value for your money. Besides design and audio reproduction quality, we also try to select products that make you feel like you have scored a nice bargain and still get the same or similar level of quality.
That's why we were pleasantly surprised when we stumbled across the BS22 Loudspeaker by Pioneer that goes for around $120 on Amazon. The price tag isn't ludicrous and we all know how good the company is in making high-end audio equipment, so let's see if that's true for this model.
SP-BS22's predecessor, the 21 version, has a smaller driver packed in a minimalistic box, so if you're operating with a limited area it's maybe a good idea to check out these bookshelf speakers as well. They're not quite powerful but still offer that unique bass reflex technology characteristic for almost every Pioneer item.
This feature allows the 4-inch driver to capture a clean bass line that doesn't feel like it's overpowering the mid and high pitched tones. All of this wouldn't be possible if the company decided to go with a low-quality material when creating the dome for both the driver and the tweeter.
The driver is made from textured polypropylene, which makes the dome strong enough and capable of standing still even when you put it against music with sounds that go extremely close to the low-frequency range. The soft dome type tweeter works well with the woofer and is great at managing the sound direction and customizing the sound image and signature to the needs of the environment you set the speakers in.
You'll notice how the quality of the build is way above the industry standard for products in this price range when you start checking out all the additional elements that the driver itself possesses. With the help of a very rigid dust cap whose role is to emphasize the effect of the voice coil thus improving the clarity of the produced sound, the SP-BS22-LR stands out among its peers. That's why we were not surprised when we noticed the hidden vent pole on the back of the speaker, it controls the amount of air accumulated in the box, which is extremely helpful during heavy usage.
That is not all, it seems Pioneer has really tried to outdo themselves by playing around with the tweeter as well. They've not only used a quite unique proprietary material to produce a tweeter capable of focusing even the highest pitched sounds but have also added a custom made waveguide and increased the size of the magnet working in the background.
With this type of setup, you can are assured that the BS22 will provide a well-balanced response to hi-fi sounds and create a sound image that has an off-axis response in focus, which allows the system to be extremely efficient and play around really well with your lows and highs.
Combined with the classic all black wooden finish look, the Pioneer SP-BS22-LR Loudspeaker easily falls in the category of one of the best bookshelf speakers and it's hard to argue whether some of the other products on this list can create such a clear distinction between different levels of high pitched sounds.
Great for people that want to dig deep into the world of audio equipment without spending hundreds of bucks on high-end speakers that provide clear sound imaging and direction.
5. Polk Audio RTI A1 Bookshelf Speakers
Another item from Polk audio made the cut on our list of best bookshelf speakers, but what can we do when they create high value for money speakers that don't disappoint. When it was first released the pair would have cost you anywhere between $300 and $350, so the current price tag of below $200 can be considered a true bargain of sorts. Yeah, audio technology has evolved since then, but this doesn't change the fact that the RT/A1 model was one of the most sought-after Polk releases more than a decade ago.
You have got the opportunity to choose from two different looks including a brown and a black wooden finish version. They're both the same in terms of quality of built and elements included, so it comes down to what look you prefer. Try checking both patterns against your wall and next to your TV or on top of your bookshelf before making a final decision as you'll want to make sure how the color pattern fits well with the rest of your room.
Once you have got that settled it's time to get familiar with the structure of the RT/A1 model and what a better way to start off than checking out the two main elements that will shape the sound image you get, the driver and the tweeter.
The first is created using a compound that mixes polymers and minerals and its size is merely 5.25" in diameter. This provides enough stability for you to blast low fidelity tones without causing a distortion or even worse, a problem with your neighbors. The addition of a 1" tweeter made from silk and polymer materials only makes sure that the higher pitched sounds don't mix with your lows.
Both components are tied together with the help of the Dynamic Balance system created by Polk whose role is to make resonance a thing of the past and it does a pretty good job of this by keeping the driver units and the tweeter in check at all times. This is a really good feature because it has a lot to do with the end quality of the produced sound and gives you much more freedom in terms of music genres and types of audio sources you'll be able to connect.
The team at Polk surely felt that this is not enough because they also included the Power Port option responsible for reducing noise levels when you play your speakers with the volume turned up to the max. The technology operates with the help of a dispersing cone you can find on the back of each speaker. This tiny piece of underrated audio equipment creates an environment where the driver thinks it's sending a soundwave using a much longer surface than the one available with the speaker box.
Distortion was attacked from every possible angle when the development team at Polk sat down to make the design of the RT/A1, but this isn't where it all ends because this US-based company also added a Resonance Control that's highly dependent from the second port you'll find on the front of both speakers. This is the beginning of a channel that exits on the backside of the speaker and connects with the dispersing cone we mentioned earlier.
What will surprise you the most is that the box walls are made from real wood. Yes, Polk is one of the rare companies operating in the US market that is doing this and still managing to run the same price strategy they always had. Their motto is "affordable speakers that blast" or at least it should be.
This makes the entire structure of the RT/A1 bulletproof and ready to take on some serious volume levels without making a squeak. From the driver to the quality of built to the tweeter, it all screams high-quality clear sound that won't just disperse through the air.
If you want to be an audiophile on the beginning of your equipment gathering journey, this set of speakers will surely make a good impression on you and give you the opportunity to upgrade your collection starting from a really cool piece created by one of the best low-price companies in the US.
The 5 Best Bluetooth / Wireless Bookshelf Speakers:
1. Edifier r1700bt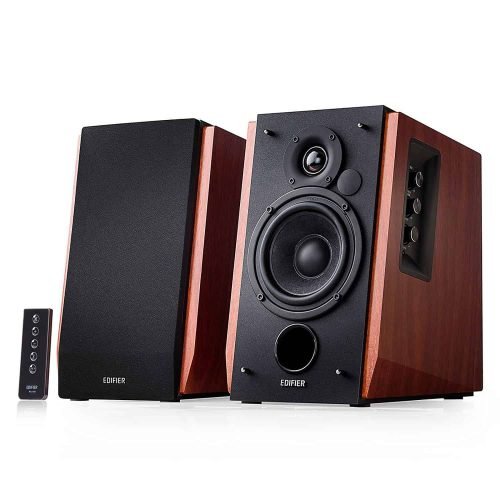 We'll start off the wireless bookshelf speakers section with a classy wooden pattern model that can reproduce some extremely clear soundwaves and look great with almost anything you put in its surroundings.
The Edifier r1700bt is a set of compact speakers that offer Bluetooth 4.0 connectivity and provide a unique listening experience that's hard to match at a cost of only $150. Those of you looking for the best bookshelf speakers to fit your needs have probably found it hard to get an item of this quality for below $250, so the price tag and its overall quality of build make the r1700bt a true bargain for your money.
There's only one finish option you can get and you should be aware how it's not wood, but a walnut vinyl pattern that in our eyes looks distinguished and puts a whole new light on the room. Besides this, the creative team at Edifier have also made sure that everything else regarding the design is well thought of and plays a certain role in the entire system.
The stance of each speaker is positioned at a ten-degree angle, so you won't have issues with sound direction as the waves will go straight towards you. This also has a lot to do with distortion control, but more on that later.
The aesthetics section receives a big plus from our side because the three bulky knobs that allow you to control the volume treble and bass are conveniently placed on the outer side of the right speaker. This way you get a clean design without any oddly shaped circles on the front of the box and instead you get the chance to control and balance the volume levels from a cutout square that looks like an old-school radio station.
You can also choose whether you like the grills on the front or you want to go with a clean look that showcases the driver on the front. If you want to remove the grills,, you just need to apply a little bit of pressure and they'll pop off easily.
You'll get a slim remote with the package and you'll be able to control not only the volume levels but the audio source and the bass/treble levels as well. Sit down on your sofa and enjoy the beat without moving an inch. This is a great feature worth looking for when buying bookshelf speakers.
Most of you will probably prefer the Bluetooth option before anything else, but you can also connect the r1700bt with your TV, PC or any other audio source you have in your house with the help of two RCA inputs you can find on the backside of the speakers.
When it comes down to music reproduction this set of wireless bookshelf speakers is great at managing the mid-range game till the level where you won't notice any sharpness coming out from the powerful driver. The tweeter helps out a lot here with its proven capability to tame the higher pitched sounds and help the entire system create a well balanced sound image.
Thanks to the more than decent size the set is successfully coping with deeper sounds and you'll quickly notice how there's a certain degree of depth coming from the driver when you play a piano solo or an acoustic guitar rich song.
The bass can get out of control at times and overpower the mid and high fidelity sounds, but you shouldn't be worried too much about this because you'll be satisfied with the bass quality when listening to music in normal volume levels.
Before anything else, the Edifier r1700bt is an affordable model that looks really good and is capable of producing great sound quality while keeping (most of the time) all sound levels in check. If you're trying to find a good bargain and not spend hundreds of bucks on a similar set of speakers, don't hesitate and get this amazing set of affordable wireless bookshelf speakers.
2. Plugable 4" Subwoofer Bookshelf Speakers
No, that's not some generic product we found on AliExpress, it's actually a really cool pair of subwoofers that will provide the ultimate audio experience. Plugable is a company that has become known in the industry for its dual display universal docking station that transferred every possible set of speakers or audio devices into a powerful sound machine.
After their initial success with the port, the company decided to start their own line of bookshelf Bluetooth speakers, they differentiate from the rest of the market oddly enough with their big size. It's true how you can't reduce the size of a speaker unit without sacrificing on the quality of sound and its depth, so Plugable tried to attack this particular situation by creating a pair of bulky speakers that will add that much-needed depth in the sound you're trying to produce.
You can connect the two boxes using Bluetooth with almost any device, but this doesn't limit you to solely using devices that have the technology implemented as a part of their system. You'll get all the necessary cables to employ all that the RCA and optical/TOSLINK inputs have to offer. This means that you'll be able to connect anything from your grandmother's LP to the iPod you just bought.
There is no need to control things from the audio source or the well-designed control box as the speakers come with a remote. The left speaker features four buttons that allow you to play around with the volume levels and the connectivity of the device. The little remote will put you in a position where you can just lay back on your sofa and use the remote to switch from one folder to the other and balance the treble and bass levels.
What makes this bulky subwoofer stand out from its competition is the usage of a Qualcomm aptX codec when you reproduce music using a Bluetooth based source. What this means is that you'll receive CD type quality when listening to music that you have gathered from all over the place, which is really important when we talk about sound consistency.
The frequency range is set between the 55 Hz and 20 kHz mark and the system has all the right tools to be able to successfully reproduce all low and high fidelity sounds. The four-inch driver isn't the only piece of audio equipment mounted on the inside of the Plugable subwoofer. Besides the glass fiber based cone woofer, you're also getting a one-inch silk dome tweeter that works well together with the Class D two channeled amplifier when delivering clear sounds while you push the volume to the maximum of 55W.
The quality of build is impeccable, so you won't have any issues with distortion even if you place the speakers close to the walls of your room, but they aren't tilted a little bit upwards like other models on this list, so you may have to customize their posture before installing them in the spot you had in mind.
This all black set of subwoofers with a gold colored touch on the outside of the driver really amazed us with its capability of picking up low-fi sounds in such a manner that doesn't mix your treble with the more high pitched sounds. The quality of built and the sound it reproduces puts this Plugable model somewhere on the top of our best bookshelf speakers list and it's certainly worth trying it out if you have the chance and enough room around your TV.
With a price tag of only $135 it's really hard to find a better solution in that range. The company has proven its worth with some of their previous non-speaker audio equipment products, so we believe you have enough reasons to give this slick model a chance.
3. 1byone Classic Bluetooth Bookshelf Speakers
While we search for the best bookshelf speakers that will satisfy the needs of even the biggest audiophiles among you we constantly stumble across some really interesting brands with a line of high-quality products that have some items no one has ever heard of.
This was the case with 1byone, a company known for their waterproof Bluetooth speaker that made a boom in this extremely specific niche. After their success with this portable boombox perfect for summer trips to the beach, the company has decided it's the right time to offer a classy solution for indoor usage.
The system consists of two decently powered speakers equipped with four-inch drivers and a handy one-inch tweeter featuring a design that blends the best of both worlds. Modernistic gray metal finishes combined with an all-black grid on the front of the bookshelf speakers and a classy wooden pattern on both sides that will look good in almost any environment.
The control box is positioned on the outer side of the right speaker in a square shaped cut out so you'll avoid the presence of bulky rounded knobs on the front side of the speaker. The angle of the entire system is tilted slightly upwards, so you'll notice a huge difference in terms of sound direction when you turn on the set for the first time. With the addition of a volume, treble and bass control just above the headphone jack; the entire constitution of the item is extremely accessible and has the user's need in mind at all times.
With a frequency response that goes from 20 Hz to 20 kHz and the overall quality of build, you can be rest assured this piece of audio equipment will pick up even the lowest sound signals. This creates some space for reproduction of high-quality deep bass and gives you the opportunity to pump up the volume to the max without fearing that you'll wake up your neighbors with distortion traveling through your walls. The clear sound imaging has a lot to do with the wide cone placed just below the driver on the front whose role is to get rid of any air accumulated on the inside of the box during heavy usage.
The four-inch woofer produces a clear sound signature where your lows and highs won't interfere and you'll get a well balanced audio output. Made out of woven carbon fiber the driver will stand still even when you expose it to some bass rich music.
The direction of the sound is determined by the slight upwards angle (around ten degrees), but it also has a lot to do with the one inch silk dome tweeter that does a great job at handling with high pitched sounds, so you won't hear any squeaking noises even when you turn the volume up to its maximum level.
With a voltage rated at 120V, this has all the right characteristics to be one of the loudest speakers on this list, but the output power is somewhere around 21W per speaker, which makes it a tough sell for audiophiles living in the woods and blasting their music to dangerous levels.
The set is pretty lightweight and minimalistic compared to some other wireless bookshelf speakers standing at 6.14" x 8.39" x 11.02" and weighing in at around 11 lbs, so you'll find it extremely easy to find just the right place for this one-two punch combo.
Besides Bluetooth connectivity where you can't control everything using a controller because there is none included in the package, you get the opportunity to connect almost any other device using the Aux RCA or even the 3.5 mm plugins found on the back of the speaker.
We are really impressed by the sound clarity this 1byone product offers and it will certainly provide good value for money, so if you're a little bit skeptic to try a new brand, rest assured because there's a 30-day full refund policy you can use at any given time and a one year guarantee period.
This makes the product even more attractive to people looking for bookshelf Bluetooth speakers that will look good in their living room and still get a decent sound quality. You simply can't make a mistake when ordering this item. If you don't like it just return it and receive a full refund. Simple as that.
4. Swans Speakers M200MKII
We saved the best for last. Swans Speakers became extremely popular during the mid 90's when the golden age of hip-hop heads preferred to blast their Dr. Dre and 2Pac CDs using one of the models made available by this audiophile orientated brand.
Even in an era where dedicated subwoofers combined with two not so powerful speakers are overflooding the market, the M200MKII manages to find its niche market not only because of its classy oak wood pattern finish but also due to the sound clarity and power it can produce. The two-channel sound system this model incorporates is a rarity among wireless bookshelf speakers today.
The item represents an enhanced redesign of a previous version released back in 2001 and besides the obvious Bluetooth feature, there are some other improvements related to both quality of sound and overall functionality.
An interesting fact about Swans Speakers, as a company, is the fact that they started out as a small-time operation led by their founder Frank Hale who had a strong background in graphic design but was also a vivid carpenter and audiophile. Since he managed to take the premier M200MK release to the market he caught the eye of HiVi, one of the largest audio equipment manufacturers in China. With the budget HiVi has and the ideas of Mr. Hale it would have been a big surprise if we didn't receive a top of the line product in the likes of the M20MKII model.
One of the main reasons why you'll want to get this piece besides the obvious classy design is the quality of built and the power each of the 5.25" driver speakers provides to the end user. You won't find that many wireless bookshelf speakers with such huge cans inside of them and we all know how the size of the driver is what determines the maximum volume you'll be able to achieve.
The Apogee Duetta Signature & Paradigm Servo 15 subwoofer type of drivers are used with this product and we feel obligated to inform you how these are one of the best performing items capable of producing really powerful bass levels that don't take control of your treble. The entire system provides a well balanced sound image, but if you want to mess around with the balances you can use the set of useful knobs located on the front of the left speaker.
The one-inch silk dome tweeter is a state of the art piece of an audio tool because it's made out of natural fiber that gives these bookshelf speakers the ability to take control of the high pitched sounds and make them work together with your low and mid-volume tones. All of this combined creates a sound signature that's pretty close to the perfectly V-shaped curve.
Producing clear and stable sound isn't the only thing this audio set is good at because it also offers great functionality with its various connectivity options ranging from Bluetooth and AUX cable plugs to a pure Wi-Fi connection you can mount with any possible internet router or just make use of AirPlay or DLNA. This isn't something you see every day with wireless bookshelf speakers as most of them are focused solely on Bluetooth and AUX type of connections.
The speakers come with a handy remote and a set of cables are included in the package that arrives at your doorstep, so even if you can't use a wireless connection you'll be able to control almost every other thing you need from volume control to shifting through folders from your device.
What these speakers have to offer is a high-quality clear sound ranging from 56 Hz to 20 kHz in frequency that's controlled by an impedance level of 5Ω, but it's not all about the numbers guys. I know you like to compare specifications and try to compare products solely on frequency range and power. This isn't always a trustworthy measure.
For example, the M200MKII offers a robust sound that never disperses unevenly throughout the room while it has "only" 60 Watts of maximum power handling like many other models on this list.
When you unpack these two gigantic bookshelf Bluetooth speakers you'll notice a huge difference compared to other bookshelf speakers you have owned in the past. Starting from the real wood finish to the extreme functionality and connectivity this product has to offer to the world, we can only claim how this is one of the best bookshelf speakers, if not speakers in general, we had the pleasure of reviewing.
We know there's a huge offer out there, but if you have the budget and you like the style, don't hesitate to give the M200MKII a shot.
Conclusion
That was quite the ride and we truly believe we helped you shape your own opinion regarding what makes a quality bookshelf speaker, both wireless and wired. It's not easy choosing the "right" product when you have a limited budget and so many needs you need to satisfy, but you must start somewhere, and hopefully, this list was the right place to do so.
Each situation is specific, I don't know, maybe your wife nags you to get a tiny speaker, or maybe you're looking for a gigantic set that will make your apartment explode, whatever the case always be smart when getting your next piece of audio equipment.
With good care, these products could last a lifetime and that's why it's crucial to know how to choose the correct set and how to take good care of your speakers. Browse the site for more information on audio technology in general and remember to leave your comment in the section at the end of this article.
We always want to know what our audience thinks about our work and how we can improve our editorial calendar. Also, if you have any questions or you're still unsure about what product to go with, just send us a message and we'll get right back to you.
Till the next time, keep blasting those speakers to the max!
Truly amazing bookshelf speakers that will make even the pickiest audiophiles happy.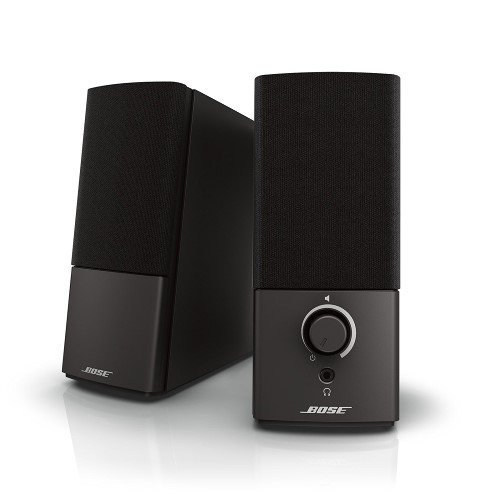 Thanks for your feedback!