Bluetooth speakers today come in various shapes, sizes, colors, and themes. In the world of party-focused Bluetooth speakers, they'll often come fitted with lights to enhance the experience and add some extra excitement and atmosphere to the party.
Bluetooth speakers with lights generally come in two forms: larger Bluetooth speakers with lights made for parties and often come with party games and different light modes to suit your music taste and environment. The other would be smaller, portable Bluetooth speakers with lights that simply add a little extra fun to your listening experience, be it alone or with a small group.
The JBL Pulse 4 stands out from a crowd, even a crowd of Bluetooth speakers with lights. Not only does this speaker look great, but it carries the same JBL quality we expect.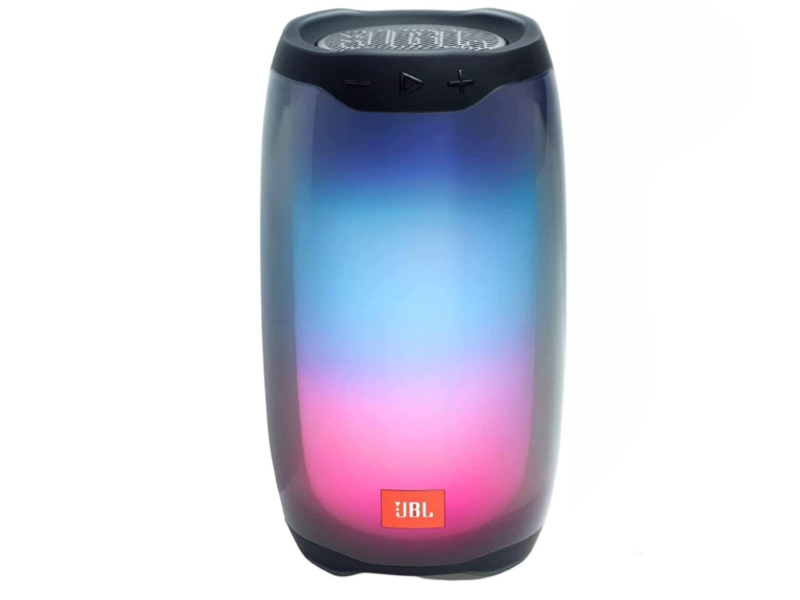 Our Top Picks
Overall Top Pick
We recommend the JBL Pulse 4 as the best Bluetooth speaker with lights. The Pulse 4 focuses primarily on creating an awesome light show while still being able to provide high-quality sound. It is also rated IPX7, meaning you can use this speaker around water without worrying about damage.
Budget Choice
At around $35, the Doss Soundbox Pro is a great budget option. Sound quality is impressive for the price range, and its relatively small form factor makes it easily portable too.
Best Waterproof Option
The JBL Pulse 4 wins this category; with IPX7 waterproofing, this speaker is protected from water submergence for around 30 minutes. It offers the versatility not often found in Bluetooth speakers with a focus on lighting effects.
Best for Bass
Sony's SRS XP700 offers the best bass for a speaker focusing on lighting. This is designed as a party speaker, so in addition to the heavy bass response, you will also get a lot of volume and great lighting effects. It's one of our favorite party speakers.
Most Portable
We recommend the Tronsmart T7 as the best portable Bluetooth speaker with lights. It weighs less than 2 lbs, meaning you can even throw this speaker into your backpack. While the lighting effects on smaller speakers aren't quite as exciting as the larger ones, this speaker can still bring some flare to your listening experience.
1. JBL Pulse 4 Waterproof Bluetooth Speaker with Lights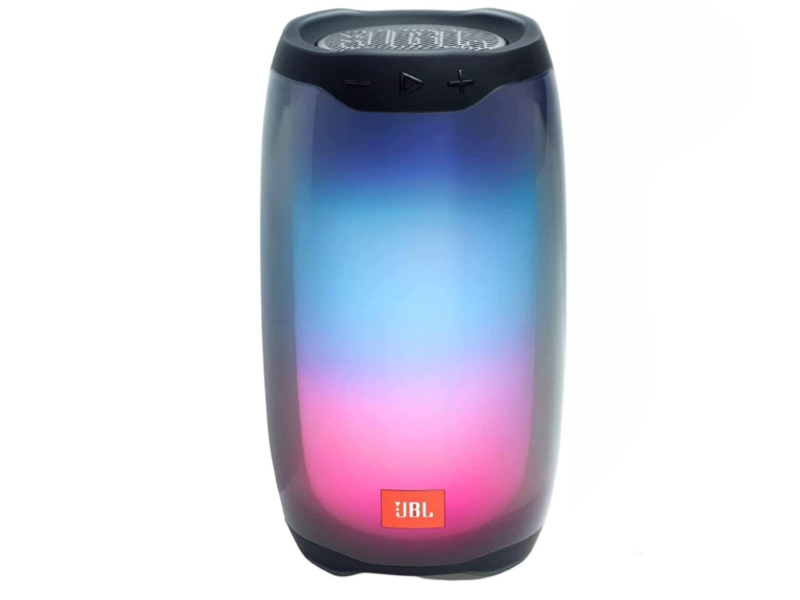 The Pulse 4 Bluetooth speaker resembles the classic Charge range and is somewhat similar in shape and size. However, rather than the woven-style enclosure, the entire speaker lights up in various colors while pulsing to the beat of your music.
While many Bluetooth speakers with lights include the lighting as a trim effect or a ring placed behind the grill, the Pulse 4 uses a clear, glass-like finish across the speaker with the LED sitting within that housing. The result is a unique appearance that looks great in most environments.
Historically, within the Pulse range, we found that because so much of the real estate of the speaker was made up of lighting components, it didn't have as much focus placed on the drivers and, in turn, didn't perform as well as some of the JBL flagship products in terms of sound quality. This is something that has improved markedly with the JBL Pulse 4. Not only does the Pulse 4 offer a better overall sound quality experience over the previous model, but it also stands out for its impressive performance even when compared to JBL's flagship Flip 6.
The bass is impressively punchy for such a small design, and all ends of the frequency response are rather clean. The Pulse 4 features a 360-degree audio experience as well.
With speakers that have a focus on lighting effects, we expected to see lower battery life expectations but were surprised by the fact that the Pulse 4 is easily able to get more than 12 hours of battery life at around 50% listening volume.
An IPX7 waterproof rating means that the Pulse 4 doesn't only look and sound great, but it's also versatile enough to use in heavy rain and can even handle short submergence under water, though, as always, we recommend against throwing speakers into the water in general, unless specifically designed for that purpose.
Notable Features:
12-hour battery life
360-degree light show
IPX7 water-resistant
Our Thoughts
If you're a fan of the classic portable JBL-style design but want something Bluetooth with lights, the Pulse 4 is an excellent choice since it's practically a Charge speaker with the added 360-degree light show. As expected, the sound quality is fantastic, and the IPX7 water-resistance rating means it is entirely party-friendly and reasonably durable. The battery is long enough to last a night of partying, and the speaker itself is incredibly easy to use. 
Durable build
Immersive light show 
Great sound quality
A little pricy
No aux input
2. Tribit StormBox Blast Portable Bluetooth Speaker with Lights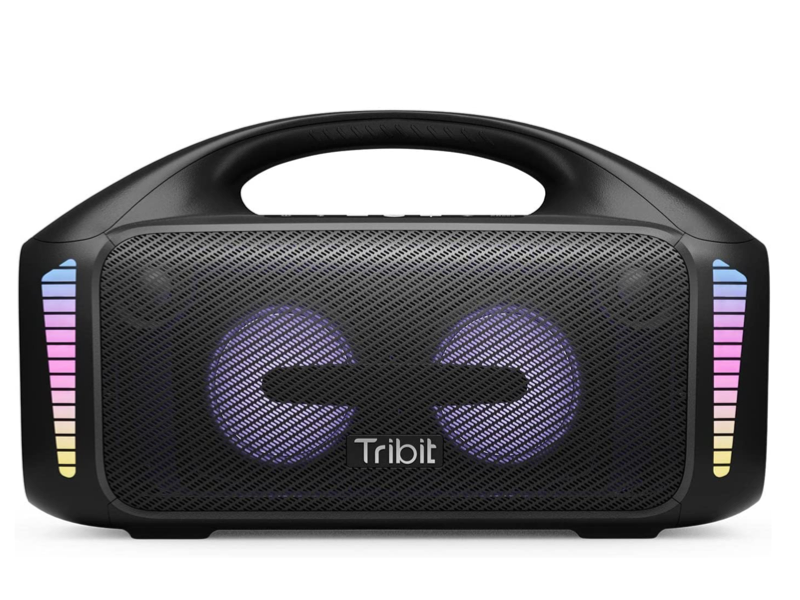 The StormBox Blast portable Bluetooth speaker is a boombox-style speaker with an integrated carry handle and light rings around the two main left & right drivers, as well as light strips along the edges.
The way that Tribit has done the light effects is quite different from most of the other speakers on this list; instead of focusing heavily on creating an ambient environment like the Pulse 4, the StormBox Blast offers a little more of a moderate light show.
Even though we still consider this a light-focused speaker, the decision to have a little less intense lighting does have a positive impact on the battery life, which can typically provide around 20 hours of regular listening or up to 30 hours at a lower volume.
We love that the StormBox blast incorporates the latest Bluetooth with Bluetooth 5.3 codecs, supporting high-quality playback and long-range wireless pairings.
Last but certainly not least – is the topic of sound quality. The bass response from the Tribit StormBox Blast is impressive, with a rather clean sound that remains fairly separated from the midrange. The midrange is also quite crisp, though the high end can benefit from some EQ. Thankfully, the mobile app offers excellent EQ control.
Notable Features:
30-hour battery life
IPX7 water-resistant
32 LED beat-synced lights
Our Thoughts
For a speaker just below $200.00, the Tribit StormBox Blast is an astonishingly impressive Bluetooth speaker with lights. It's fresh on the market, which allows for its brand-new Bluetooth technology, powerful battery, and immersive sound all in one heavy-duty yet portable enclosure.
Great battery strength 
Good value for money
Quite heavy at almost 16.5 pounds
No USB charging
3. JBL PartyBox 110 Party Bluetooth Speaker with Lights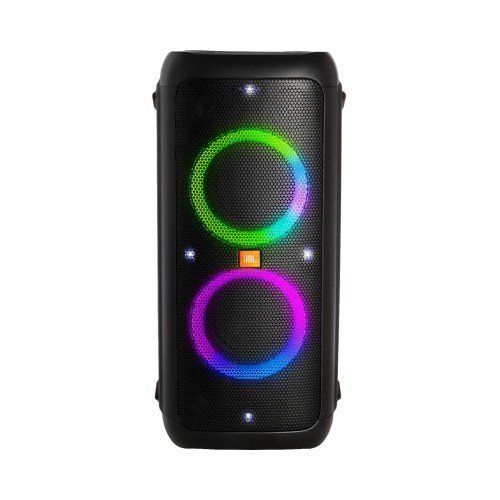 The JBL PartyBox 110 is one of the best party Bluetooth speakers with lights, hands down. Offering JBL's classic, reliable sound signature at serious volumes driven by 160W of power, the PartyBox 110 promises to impress your guests no matter your music taste. The whole JBL PartyBox line is renowned for its loud volume and quality sounds, which tend to offer impressively deep bass and crisp and clear mids and highs. The PartyBox 110 follows the same principles, and sound quality is almost sure to impress any listener.
The light show is in the form of LED rings around all four drivers, which can be customized in terms of color, patterns/speeds, and shapes. The diversity of the lights is better than we see with many other speakers, with a more dynamic display that can add life to your party. The lights also sync to the beat of the music and do so with impressive accuracy.
The design of the PartyBox 110 is something that may not be for everyone, but for a speaker with lights, even with its striking orange accents, it offers a rather clean design style that will look good outside, in your garage, or on a dining table. The speaker is fairly large and is intended as a party speaker, able to fill a room with sound. At 24lbs, it's not the lightest speaker around, but it can still usually be carried by a single person and even with a single hand in some circumstances, thanks to the easy-to-carry design.
We love the range of features on the PartyBox 110, especially with regard to connectivity. Aside from app control support from the PartyBox App, the physical connections provided brings extra versatility to this speaker. With dual 6.25mm input for a microphone and guitar, you're going to get a lot of entertainment out of the PartyBox 110. In addition, it offers an aux in, aux out, and a USB out.
Notable Features:
Bluetooth, USB, Aux, Mic/Instrument inputs
IPX4 water-resistant
12-hour battery life
Our Thoughts
The JBL PartyBox 110 is no stranger to us. Appearing many times on best lists in various categories, it's easily one of our favorite party Bluetooth speakers with lights. While it's not the cheapest on the market, the quality is guaranteed, and this speaker can serve many purposes. It's a pity it's only IPX4 water-resistant. However, it's not easily portable, so I suppose the danger of falling into the water isn't too likely.
Excellent sound quality
Versatile connectivity
Good battery strength
Not very portable
Only IPX4 water-resistant 
4. Sony SRS-XP700 X-Series Bluetooth Speaker with Lights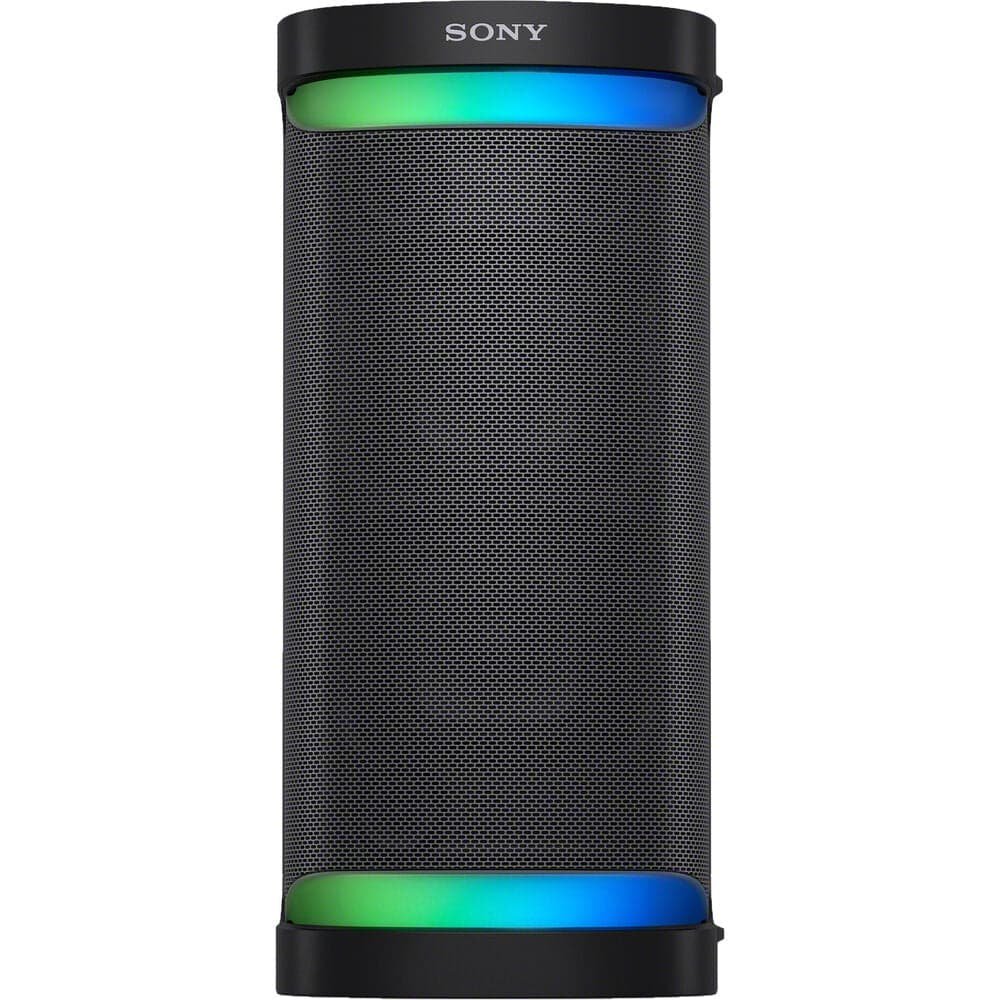 The Sony SRS-XP700 X-Series Bluetooth Speaker with lights is another larger, party-focused speaker capable of reaching intense output levels. In fact, we featured this speaker on our list of the loudest Bluetooth speakers on the market. It reaches close to 100dB in volume, with more than 200W of output.
What makes this speaker great, though, isn't just the raw volume but rather the sound signature that the XP700 carries. The volume matches with crisp and clear mids and highs that are well-balanced in the mix and a bass response that is rich and deep.
The Sony XP700 lights up on the top and bottom for the atmosphere. It's not quite the same intense light show that the Pulse 4 offers, but it is a large and powerful speaker with enough lighting effects to cater well to a party environment.
An integrated carry handle helps you carry the speaker, but it's still a little awkward to carry in one hand due to the overall weight of the speaker, which comes in at a rather hefty 37lbs. The good thing about a weighty speaker is that the weight is often due to a durable build or the inclusion of larger drivers, meaning bigger sound – and that's what we get with the XP700.
The Sony SRS-XP700 has an impressive low-end and powerful battery capable of running up to 25 hours. It's IPX4 splash-resistant, and the enclosure feels pretty durable.
If your focus when buying a Bluetooth speaker with lights is on portability, there are lighter options out there – but if you're looking for a well-balanced speaker that prioritizes volume and sound quality, the Sony SRS-XP700 is a great choice.
Notable Features:
X-Balanced design for enhanced bass
25-hour battery life
IPX4 splash-resistant
Bluetooth or USB playback
Our Thoughts
The Sony SRS-XP700 Bluetooth speaker with lights is one of our favorite party speakers for its loud output and incredible sound quality, powerful battery, immersive lights, and slick design. My only issue with this speaker is that it's incredibly heavy (nearly 40 pounds), and the carry handle doesn't do much in terms of helping you carry it. 
Great sound quality
Strong battery
Gorgeous design
Very heavy, awkward to carry
5. Doss SoundBox Pro Portable Bluetooth Speaker with Lights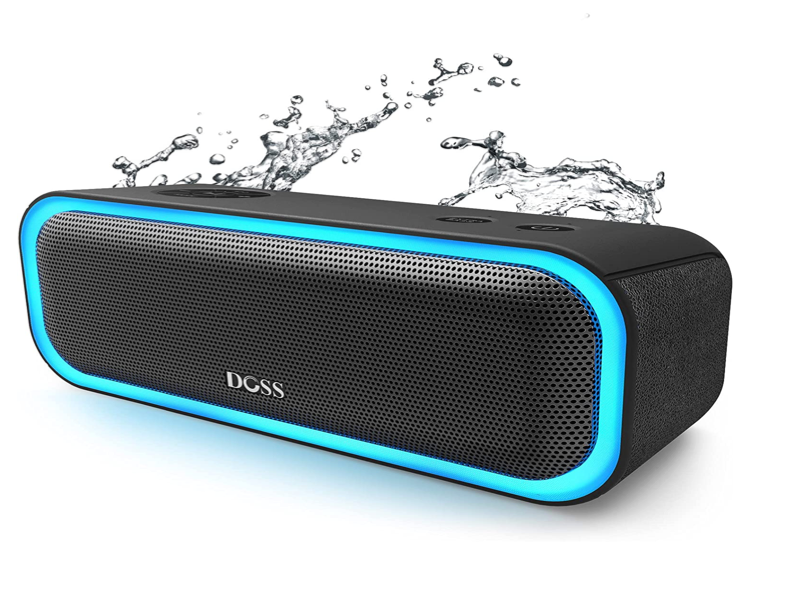 The Doss SoundBox Pro is a handy and impressive portable speaker that is aimed more toward the budget side of the market, typically retailing for around $50. Being a smaller speaker, it's not exactly made for parties. However, it can go loud enough for a small gathering or private listening, and there's a bass boost mode for fans of low-end heavy music styles.
You will be able to pair the Soundbox Pro with another speaker of the same type using the TWS feature. This feature is set to allow for the connection of one additional speaker, which makes sense given that this isn't a party speaker, and we don't see many cases where one may want to pair a larger number together.
The IPX5 water resistance isn't quite as intense as some of the competitors on this list, but even an IPX5 rating allows for this speaker to get wet in most realistic, unintentional situations, such as light rain or splashes.
In terms of battery life, the manufacturer specs are actually quite close to reality, with around 10 hours when utilizing the lights and bass boost, or more if you're listening at lower volumes or not using the lights.
When it comes to sound quality, the Doss Soundbox Pro is impressive, with a warm mid-tone that brings vocals upfront without sounding metallic. There is also more bass than we tend to see in a speaker of this price range in relation to its size.
The speaker's edges light up in one of six colors and three illumination patterns. It's not quite the same light show that we see from something like the Pulse, but this speaker is much cheaper, and if simply having some lighting effects for you and your friends is the goal, this speaker may be what you're looking for.
Notable Features:
20-hour battery life
IPX5 water resistant
Bass boost mode
TWS stereo capable
Our Thoughts
This is a seriously impressive portable Bluetooth speaker, and being around $50.00, it offers incredible value for money. Doss sound quality is known to be quite smooth and well-defined, while the bass boost can add that extra kick. Its long battery life makes it a great outdoor companion speaker. 
Great sound quality
Powerful battery
Good value for money
6. Tronsmart T7 Bluetooth Speaker with Lights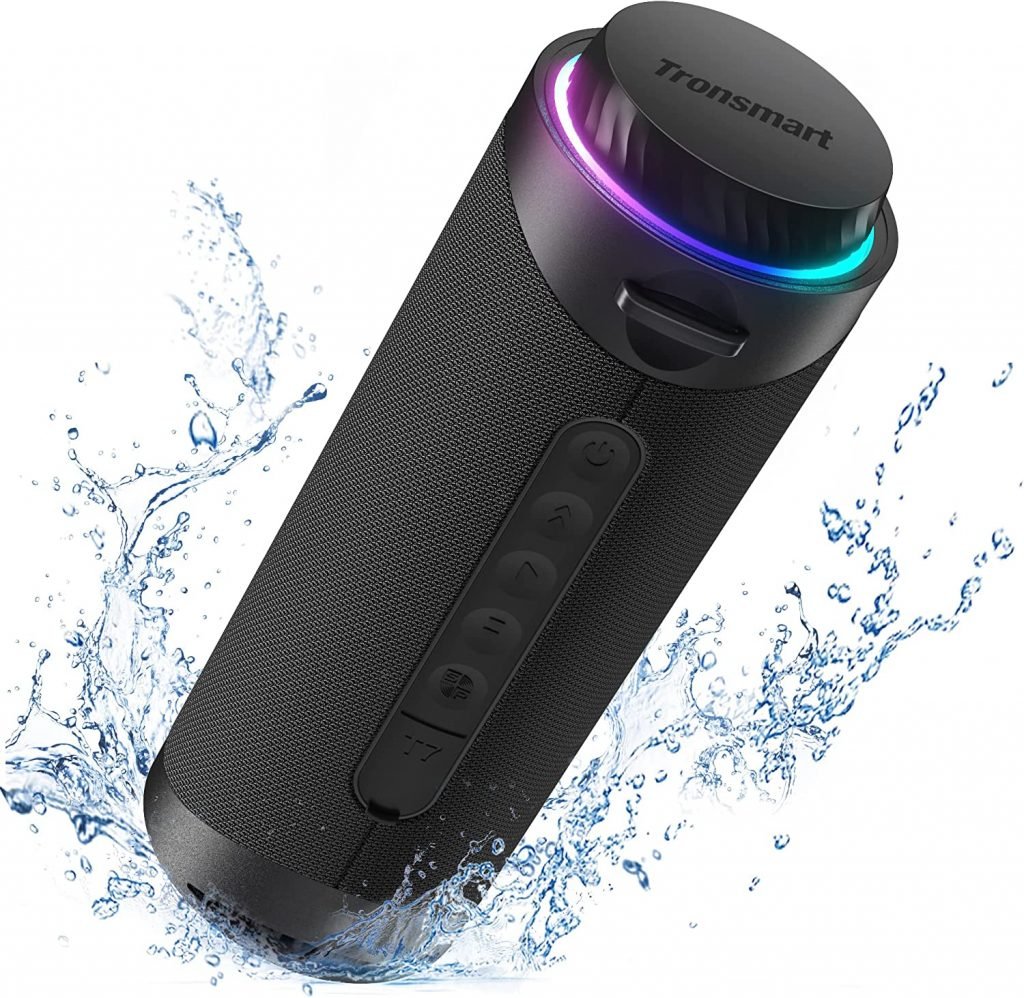 The Tronsmart T7 is another portable and handy speaker ideal for outdoor use. It's particularly well suited for the outdoors thanks to its lightweight, smaller design, and its IPX7 waterproof rating. An IPX7 rating protects you from splashes, sprays, and even short-lived submergence.
This speaker can be connected to the companion app for EQ enhancements and is capable of TWS stereo pairing. This will help add some more soundstage to your listening experience.
Tronsmart is a company that many don't experience due to the influx of brands that aren't quite as popular as household electronic brands but actually bring a lot of value and quality to the party. I've reviewed their T6 speaker in the past and was very impressed with the overall sound quality and features offered by such an affordable speaker. The T7 is quite similar to the T6, but with LED lighting effects.
What I really enjoy about the Tronsmart products is that the sound signature, while not excessively heavy in bass, does a really good job across the whole response range, with particularly bright and warm mids.
The Tronsmart T7 Bluetooth speaker costs around $60.00, making it a great value-for-money product.
Notable Features:
IPX7 water resistant
12-hour battery life
App combability
TWS stereo pairing
Our Thoughts
I really enjoyed this speaker. It may not be suitable for house parties, but for personal listening or small groups, the sound quality and volume offered here are quite impressive, and the customizable EQ on the app makes it a lot more interactive. Bluetooth 5.3 means it supports long-range and strong connections, and it's an incredibly well-built speaker.
Great build quality
Good value for money
Bluetooth 5.3
Sound quality deteriorates at higher volumes
7. Ortizan Bluetooth Speaker with Lights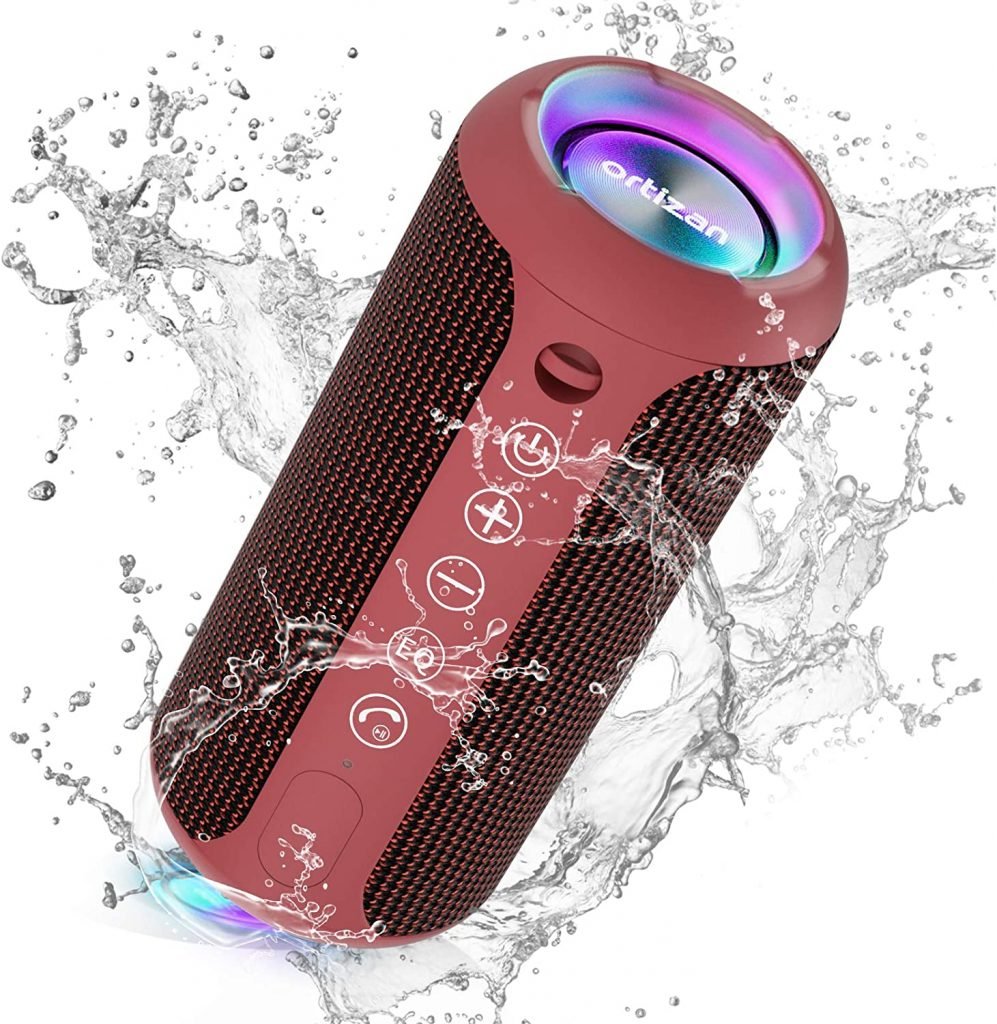 This Ortizan portable Bluetooth speaker with lights is an excellent entry-level option for gifts or as a speaker you don't mind taking out and about without fear of getting damaged. At around $35.00, the Ortizan portable Bluetooth speaker offers great value for money.
There are sacrifices that have to be made to provide a speaker with lights at this price, and one of the areas where we see the most difference between the higher-quality speakers on this list is the overall sound quality. The volume isn't as impressive as the more expensive options, and the quality itself lacks the same depth.
That said, you'd be hard-pressed to find a speaker at this price that can provide both high-quality audio and lighting effects. If you have the extra $15 to $20, we would recommend going for the Doss, but do note that for many casual listeners, the sound quality will still probably not be much of a concern; it's certainly not bad sounding.
What this speaker does well is that it brings modern Bluetooth technology (version 5.0) to an affordable, portable Bluetooth speaker with lights. The waterproofing is also impressive, with an IPX7 rating, meaning you won't need to worry about spills, splashes, or sprays. The speaker should even survive a fall into the bath
The advertised 30 hours of battery life seems reliable when listening at low volumes without lights, but you can expect around half of that when listening at higher volumes with lights on.
Notable Features:
Handsfree calling
30-hour battery life
IPX7 water resistant
Built-in EQ
Our Thoughts
We don't expect much from a speaker under $40.00, but the Ortizan portable Bluetooth speaker is one of the most impressive budget speakers we've seen. Very clearly inspired by the JBL Flip 6 design, the Ortizan puts its own spin on things with a customizable EQ and hands-free calling while lights pulse from the bass radiators on either side of the speaker. 
Excellent budget-friendly option
Incredible battery strength
Durable build
Not the best sound quality
Only available in a pink/beige color, which can attract dirt quite easily
8. Treblab HD77 Portable Bluetooth Speaker with Lights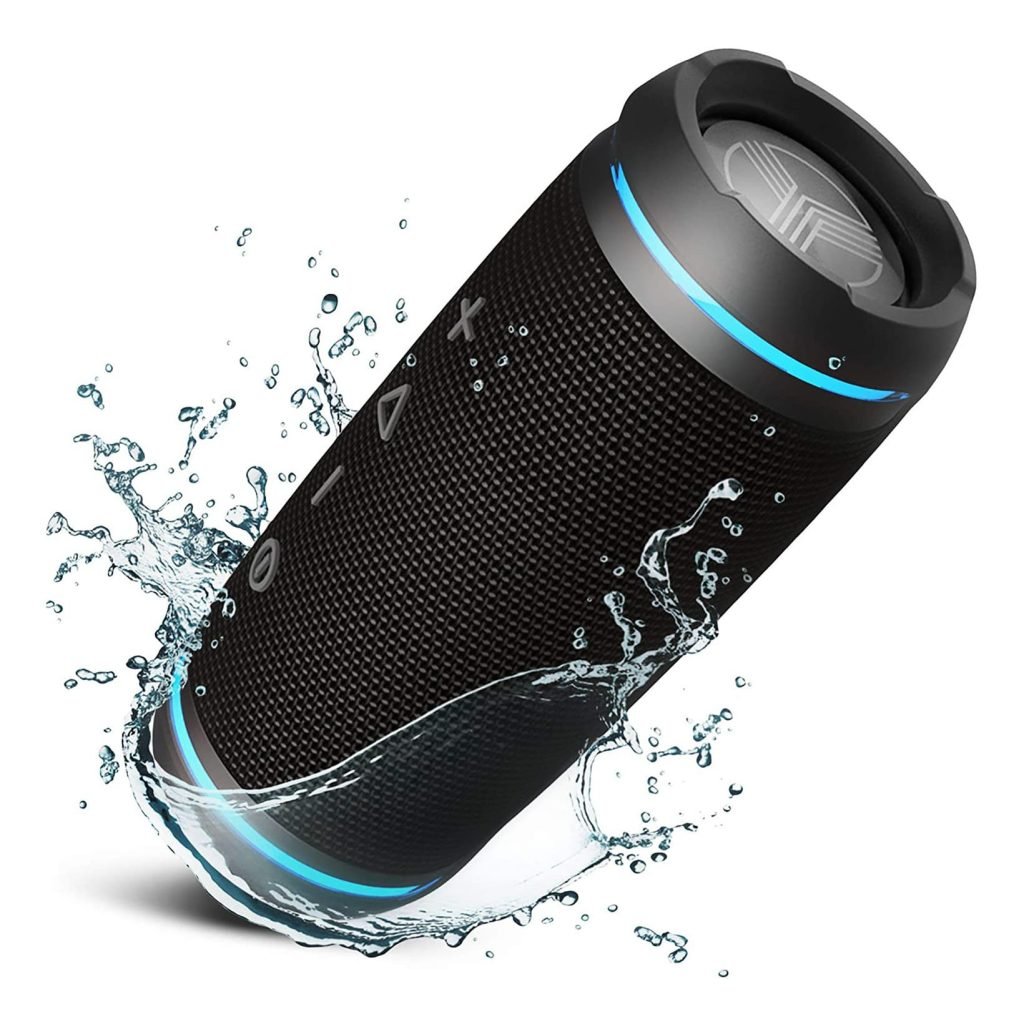 The Treblab HD77 is one of my favorite tiny Bluetooth speakers that offer lighting effects. Around the size of a soda can, it's incredibly portable, and its IPX6 water-resistance rating and durable design make it an excellent outdoor speaker. While we always like seeing IPX7 for that extra protection, an IPX6 rating will honestly suit the vast majority of users.
The light rings around the ends of the speaker, making it eye-catching. But it should be noted that it does remain quite subtle and not as in-your-face as some of the other speakers on this list. This is the best choice for a traditional Bluetooth speaker that offers mild lighting effects to accent your setup.
Treblab is another company that brings great sound quality to very affordable speakers. The HD77 is comparable to the JBL Flip series in both design and, even to a degree, sound quality, especially when compared to the Flip 4.
The battery life is impressive for its size, and the sound quality is incredible for a speaker under $70.00. The Treblab HD77 can take phone calls, and the Bluetooth connection is stable over long distances.
Notable Features:
IPX6 water resistant
20-hour battery life
Handsfree calling
TWS stereo capable
Our Thoughts
One of our favorite portable Bluetooth speakers with lights, the Treblab HD77 is a seriously impressive and handy speaker that works for all music styles and sounds incredible at all volume levels, while it gets surprisingly loud for its size. This portable Bluetooth speaker with lights is well-made and will prove to last in all conditions. 

We discussed this speaker not too long ago, along with the rest of the Treblab HD range here.
Great build and design
Excellent sound quality 
Good value for money
Light can't change color or pattern
How We Selected Our Products
While the speakers on this list all fit the description of being Bluetooth speakers with lights, we need to remember that they are primarily for the purpose of music playback and therefore need to tick all our usual boxes that tell a good speaker from a bad one…
How Does it Sound?
With fancy features such as lights, one can be distracted from what makes a speaker good: sound quality. What you look for in sound quality can vary significantly based on your music taste and how you want your speaker to sound, but some general rules can be applied:
For a Bluetooth speaker to make any of our best lists, regardless of the focus feature or niche, it must sound amazing. This ranges from speakers with flatter frequency responses to speakers with a characteristically enhanced frequency band, such as a bass-heavy speaker for dance music. Aside from its representation of a source signal, we also look at the speaker's output volume capabilities (especially if we're focusing on its loudness), signal-to-noise ratio, the ability to customize its sound signature (if available), dynamic range, and stereo spread, to name a few important aspects.
How's the Battery Life?
Since most Bluetooth speakers with lights will be used for party applications, a powerful battery is important to ensure it doesn't die when you most need it, especially since using onboard lights often uses significant battery power on a Bluetooth speaker with lights. Whether it's a small, portable speaker or a larger party system, battery life is critical.
Is it Durable?
Again, with party scenarios comes possible water contact, or perhaps you want to take the speaker to the lake or beach or use it in the pool. For this list, an IPX7 water-resistance grading is considered the bare minimum, allowing for a shallow submersion underwater. Speakers holding this rating are generally shock or drop-proof.
Lastly, What About the Lights?
Since this list is all about Bluetooth speakers with lights, we've paid special attention to what kind of lights are aboard these speakers and how they operate. Again, this is affected by your intended uses and wants- some may want flashy, colorful effects that strobe to the beat of the music, while others may want a speaker with a subtle glow. We've included both of the above and everything in between.
Thanks for your feedback!