Tower speakers can take your sound system to the next level. They can produce some of the best audio imaginable with better dynamics when compared to other speaker types. Tower speakers make your movie and music experience better. You'll be able to enjoy deep cinema lows and incredible realistic mids and highs that bring accuracy that rivals a live performance. In the following guide, we have compiled the best tower speakers on the market right now. Keep reading below to find out more!
Using state-of-the-art technology, the folks over at Klipsch have put together a tower that will have you falling in love with music and movies all over again.
Best Overall Tower Speaker
The Klipsch RP-280F is our choice for the best overall speaker. With a modern, sleek design, phenomenal sound, and dual binding posts for various input options, the RP-280F has everything you're looking for in a floor-standing speaker. Prepare to fall in love with movies and music all over again.
Best Budget Tower Speaker
The Polk Audio T50 is our choice for the best budget-friendly tower speaker. For around a hundred dollars, you can enjoy the benefits of a tower speaker that has incredible bass and a rich sound experience for a fraction of the cost. Alternatively, you can check out the Polk Audio Monitor 60 Series II, which follows close behind it.
Best Three-Way Tower Speaker
The KLH Kendall is our choice for the best three-way tower speaker. With over 60 years of experience, KLH has managed to produce a speaker that has a natural detailed sound that is accompanied by deep bass you can hear and feel. The quality of the real wood veneer cabinet is matched only by the high-quality drivers that produce a warm and smooth sound signature.
Best Two-Way Tower Speaker
The KEF Q550 is our choice for the best two-way tower speaker. Technically it can be branded as a 2.5-way tower speaker; the Q550 is the smallest tower in the Q-series. The tower is especially great for musicians who love listening to lead instruments. The sound is texturized and accurate, allowing for an ultra-wide dispersion not often found in two-way speakers.
Best High-End Tower Speaker
The KEF R7 is our choice for the best high-end tower speaker. A lot of engineering and precision has gone into the build of this speaker, including the innovative Uni-Q technology. The gloss black cabinet effectively scatters unwanted vibrations, while the mid-range is brought forward by drivers that emit a cohesive and powerful sound.
What Are Tower Speakers?
Tower speakers, also known as floor-standing speakers, are a favorite amongst music enthusiasts due to their adaptability and capacity for high and low frequencies. They are usually a two-way or three-way design comprising of small midbass drivers. Like their name, floor-standing speakers are large enough to be placed on the floor without any propping up or stand assistance. The ability to house multiple drivers allows tower speakers to output a higher and lower range of frequencies. For this reason, they're a great option for those who favor vocal genres and mid-to-high range instruments.
What Is A Two-Way And Three-Way Speaker?
When looking at the description of your potential tower speaker, you may come across the terms "two-way" or "three-way" speaker. Although these terms may seem complicated at first, they are simple to understand. A two-way speaker will separate the frequencies they produce into highs and lows; this is done by using two types of drivers, namely, tweeters for the highs and woofers for the lows. On the other hand, three-way speakers separate the frequencies they produce into lows, mids, and highs. Three-way speakers, therefore, need midrange drivers in addition to the woofers and tweeters found in a two-way driver.
By looking at the number of drivers on the front casing, you cannot tell whether a tower speaker is a two-way or three-way variant. You could theoretically have a tower with five drivers, but in reality, it is a three-way crossover speaker. Therefore, always look at the product specifications as manufacturers should highlight this. In most cases, three-way speakers are known to have better sound but are generally more expensive. Two-way speakers are commonly budget orientated but lack the bass found in a three-way speaker. To counter this, you could add an additional subwoofer and enhance any frequency shortfalls.
Where Should You Place Your Tower Speakers?
Previously we mentioned that tower speakers are unique in that they don't need to be placed on any table or stand. However, with that being said, speaker placement is paramount to get the most out of your new towers.
Traditionally, you should never place speakers next to each other or right against the wall; this can create interference and destroy bass energy.

Every room is different, so there is no set way on how to set up your tower speakers. However, there are some general rules you can follow to create the best possible sound.
The golden rectangle rule states that you should try to place your speakers far away from the rear and sidewalls; this ensures that there is no boundary loading which dampens bass quality. The tower speaker should be at least 3 feet away from the front wall, and the speaker's distance from the nearest side wall should be 1.6 times the distance from the front wall. This rule should be reversed if your room is wider than it is longer. Once the speakers are at an appropriate distance, you can orient them at a 30-degree angle so that the speakers face the listening spot.
The one-third to one-fifth rule works in conjunction with the golden rule and should be applied beforehand. Here you can place the speakers at a distance to be one-third or one-fifth of the room. Like the golden rule, this positioning guide will help eliminate any standing waves and reflections. If your speakers do not include screw-on feet, try placing a mat underneath to remove vibrations and rattling. You should also remember to never place anything in front of the speakers, including cute trinkets that could obstruct the sound quality. Since tower speakers are not nailed down, you can keep experimenting with positions until you find the ideal placement position.
Top Ten Best Tower Speaker
1. Klipsch RP-280F
The Klipsch RP-280F is one of the best tower speakers for under a thousand dollars. If you want a speaker that can muster high volume without deteriorating into sharp sounds that usually plague many 'party speakers', then the RP-280F is the way to go. Using state-of-the-art technology, the folks over at Klipsch have put together a tower that will have you falling in love with music and movies all over again.
Design and Build
Klipsch speakers all have a modern, sleek design, and the RP-280F is no different. It bears many similarities to the R-28F and RF-82 models, with a few upgrades of its own. At the bottom, you'll notice that the tower has been placed at a distance above ground with a 2-degree tilt to maximize the ideal angle adjustment. The dual 8-inch Cerametallic woofers have a lightweight construction for minimal breakup and distortion.
A Linear Travel Suspension tweeter has also been used with a 90 x 90 Tactrix horn. The Tactrix horn is the bass flex port that mitigates the disruption of bass you'll often find in loud tower speakers. A nice little feature they've also added is dual binding posts near the rear port, improving cable management. Klipsch has also added a strong but flexible black grille that can be magnetically attached as an added layer of protection to the drivers. The cabinet is made from MDF with a brushed polymer veneer baffle finish, which effortlessly blends into any décor.
Sound and Performance
The RP-280F has some phenomenal sound, including a volume control sensitivity of 98dB. This thing can get really loud but has the ability to control all of its power. The new addition to the Klipsch Reference Premiere line has better tone renditioning, flatter frequency response for accuracy, and an overall improved dynamic. There's great separation and imaging with a deep soundstage. Even at low volumes, you can expect very rich and fulfilling audio.
When taking a closer look at the different frequencies, the bass is quite powerful. It's not as intense as the Definite Technology BP9040 but instead opts for a more medium to neutral experience. Most music genres will sound gorgeous on these speakers, but if you need that extra oomph, you can consider buying a Klipsch subwoofer and make a 2.1 system. With more space for mids and highs, vocals are clear while highs sparkle without fatigue. The Tractrix horn comes into play here, allowing music and movies to sound how they were originally intended
Why You Should Buy the Klipsch RP-280F
2. Polk Audio T50

Great tower speakers can often come with a hefty sale price; however, Polk believes that everyone should have a chance to experience amazing sound; this is where the Polk T50 Home Theatre speaker steps in. You can have access to booming bass and immense sound that can replicate a small cinema experience for around a hundred dollars. The Polk T50 is an excellent option for those looking to enjoy high-quality audio for the first time.
Design and Build
The Polk T50 isn't overly large, measuring 36.5 inches tall and weighing 20 pounds. It has a very basic but clean look with a matte-black veneer and plastic coating. The good news is that it will likely match with any setup, so you don't have to worry about the T50 standing out. In terms of build quality, the craftsmanship is pretty reasonable for the price. The cabinet is made with an MDF board and is complemented by surprisingly solid woofers and tweeters. The T50 build quality falls short with its grille though, it may be prone to cracks if swapped in and out frequently, so we suggest not doing so unless required.
Grille aside, that is probably the only issue that you can find in the build quality. The tweeter has a very nice one-inch silk-dome design, and below, you'll find a 6.25-inch extended-throw polymer composite driver in addition to two passive radiators. In other words, the top driver is a woofer, while the other two extend the low-frequency range. This design concept makes the T50 look more high-end than it would have looked if Polk had gone ahead and used rear ports instead of passive radiators. If your friends have no experience with tower speakers, they're probably going to be impressed.
Sound and Performance
The sound quality is where the Polk T50 impresses and raises an eyebrow when considering its price again. When set up, the T50 produces a sound that is rich yet balanced and steady. The sound signature is neutral, with its step response being clean, resulting in a punchy bass response. The impulse response is also good without any form of ringing, so you can expect crisp separation.
Those who are film enthusiasts will be delighted to hear that the sounds are vibrant and distinct from the rest of the movie soundtrack. Instruments are lively and precise without any distortion or screeching when venturing into the mids and highs. It's a marvel that the T50 can produce so much bass and have such meticulous treble at its price range.
Why you Should Buy the Polk Audio T50
3. KLH Kendall

KLH was founded in 1957 with a passion for high-fidelity sound. The Kendall is a 3-way moderately high-end tower that seeks to provide optimal sound quality to match a gorgeous slim profile design. With superior materials from the cabinet to the drivers, the Kendall promises a detailed natural sound accompanied by deep realistic bass that you can hear and feel.
Design and Build
Straight away, you'll notice that the KLH Kendall is something different in terms of design. The tower has been made with real wood veneers in Black Oak and American Walnut. At the front of the speaker, you'll also find a custom honeycomb magnetic grill that complements the sleek edges. Another great feature is that KLH has also included the option of chrome-plated floor spikes and rubber feet so you can add stability while still preserving your wooden floors.
KLH wasn't joking when they said they would use superior materials on the Kendall. The tower comes with an incredible 10-year warranty. The tower is a 3-way bass-reflex system with two 6.5-inch woven Kevlar bass drivers, one 5.25-inch woven Kevlar mid/bass driver, and a 1-inch high-performance anodized aluminum tweeter. These drivers have also been surrounded with butyl rubber to reduce vibration and improve accuracy. Additionally, the speakers support bi-wiring and normal wiring.
Sound and Performance
All these high-end parts should result in superior audio quality, right? Correct, the KLH Kendall is one of the best tower speakers on this list in overall performance. The mid-bass driver and aluminum tweeter produce a warm/smooth sound signature in the mids and highs. The lows do not disappoint with bass that is powerful and visceral. The bass also never overextends and naturally mimics a live concert experience.
Digging deeper into the speaker's raw power, the Kendall goes up to an impressive 96dB and 250 watts. The butyl rubber and high-quality drivers probably come into play here because the lows and highs do not distort even under maximum load. Vocals are crisp, instruments are rich, and films are immersive. The KLH Kendall is worth every penny if you're looking for a first-class tower speaker that outputs a dynamically balanced sound. Whatever you decide to listen to, the detail is otherworldly.
Why You Should Buy the KLH Kendall
4. KEF Q550
Kent Engineering and Foundry (KEF) is a market-leading speaker manufacturer that was established in 1961. They are known for creating unique speakers with exceptional sound quality at a mid-range price that most people can afford. The KEF Q550 is the smallest tower speaker in the newly revamped Q-series with a more contemporary and sleeker look. Set on being an all-rounder tower speaker experience, the magic of the Uni-Q driver creates a sound that is detailed and accurate.
Design and Build
First impressions are important, and the KEF Q550 immediately draws you in with its sleek, slim, and elegant stature. The speaker is available in black, walnut, and white, so you should be able to match any interior color scheme. KEF has also paid special attention to the details, such as the recessed tweeters and veiled screws, resulting in a classic modern look. At the bottom, you'll find spiked feet that allow you to adjust the height, including the ability to balance on uneven floors.
Inside the KEF Q550, you will find the innovative Uni-Q driver that handles the highs and mids. Bass is controlled by a 5.25-inch aluminum woofer and two 5.25-inch Auxiliary Bass Radiators. KEF has also placed the aluminum tweeter in the midrange cone so that you'll be able to optimize the time alignment between the two drivers and reduce any phase issues found in the regular tweeter and midrange configurations. The cabinet dampening is even more impressive, allowing the drivers to operate with slight pressure while maintaining crisp sound with minimal distortion.
Sound and Performance
Earlier, we mentioned that KEF has exceptional sounding speakers, and the Q550 does not disappoint. Music enthusiasts are in for a treat here, with lead instruments such as the violin, electric guitar, and flute being truly texturized and accurate. The bass is also loud but not thunderous to the point where it feels overpowering. Whether you're into classical music or rock, the Q550 has you covered.
One of the main selling points of the Q550 is the inclusion of the Uni-Q driver. The omnidirectional response is outstanding in that the sound stage and frequency response remains the same even when you move away from the 'sweet spot'. A fuller listening experience is also created by ultra-wide sound dispersion. With every audio detail being more realistic and pronounced, the Q550 can give you the full 3D experience.
Why You Should Buy the KEF Q550
5. KEF R7
The KEF R7 is one of the most high-end tower speakers on our list. As previously stated, the brand is well-known for making some of the best floor-standing speakers in the industry. The R7 is a midsized tower and a new member of the R7. It focuses on bringing flexibility to both music and film. We can see why it's sold at a somewhat considerable price with the innovative features, excellent build quality, and impressive audio performance.
Design and Build
The R7 has been planned and built with no shortcuts. Quite quickly, you'll realize that a lot of engineering went into this tower design. The drivers are all designed in-house, including – a pair of hybrid aluminum bass drivers and a Uni-Q combining a midrange driver and an aluminum dome tweeter. The basis behind this design is that the acoustic centers of the two units are aligned front to back to remove acoustic phase error between them. Positioning a tweeter at the center also means there's no vertical gap between the two units, which is generally found in three-way speakers.
The cabinet comes in three colors – gloss black, gloss white, and real wood veneer walnut. All-inclusive, the tower weighs a whopping 69.2lbs, so it's not going to be easy to move around. Some of the weight probably comes from the R Series Constrained layer dampening, whereby internal braces are joined by a lossy interface and are highly effective at scattering unwanted vibrations. Like other speaker towers on this list, the R7 has also been fitted with a magnetic front grille that you can easily remove. Overall, the design, build, and finish of the KEF R7 is as premium as it gets.
Sound and Performance
When listening to low frequencies, the R7 is powerful but not overblown. The bass output is well balanced without it being roaring in bad taste. The tower is marketed as a mid-sized speaker, and if you have a relatively spacious room, the R7 shines in its vocal projection. The upper mids are ever so emphasized, making artists' voices sound rich and smooth.
Consequently, the mid-range is brought forward without any searing treble thanks to the aluminum drive unit array. We wouldn't describe the soundstage as bright or warm, but rather defined and clear. If you're looking for a tower that is cohesive, svelte, and powerful, then the KEF R7 should be on your list of high-end floor-standing speakers.
Why You Should Buy the KEF R7
6. Sony SSCS3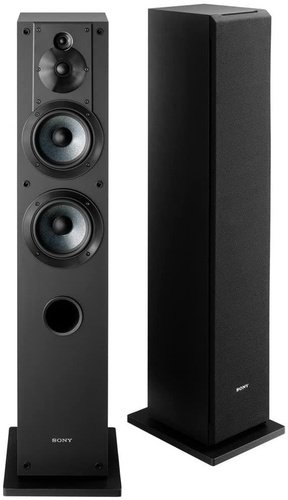 Sony has been around for a long time and is well known for being one of the most reputable electronics manufacturers in the world. Although the company hasn't made its name from producing tower speakers, the Sony SSCS3 has a lot to offer. At under two hundred dollars, this 3-way tower speaker is an affordable option for those looking for top-notch audio from a trusted brand.
Design and Build
From an aesthetic perspective, the Sony SSCS3 comes with a modern black vinyl finish and has been made from a high-density MDF to ensure longevity. The bass mount is found at the front of the speaker, so you'll also be able to place it closer to the wall. Remember, a rear bass mount should be placed a few inches from the wall to avoid muddy audio. At the base of the SSCS3, you'll find rubber feet that provide grip but also isolate the tower from the floor to limit vibration.
The Sony SSCS3 comes with four drivers, including two 5-inch woofers, a 1-inch tweeter, and a 0.75-inch super tweeter. The speaker peaks at 145W with the super tweeter using a wide-dispersion design for high-frequencies reaching 50kHz. The woofers have been made with mic-reinforced cones to allow improved bass responses as low as 45Hz. One thing to take note of is the Sony SSCS3 has exposed cones, so they can be easily damaged; however, there is a two-year warranty included.
Sound and Performance
If we had to sum up the Sony SSCS3 sound experience, we would label it as a tower speaker with crisp and clear room-filling sound with well-adjusted bass. The super tweeters feel like they really control high frequencies, while the woofers do a satisfactory job with the lows. Having said that, the SSCS3 is probably more of a home theatre system. While watching movies, the audio remains clean and precise even when the volume is increased to its maximum.
The Sony SSCS3 can still deliver a decent music experience with the wide-dispersion mega tweeter, which reproduces details in tracks and adds a natural tone to vocals. Of great interest is the high-frequency response that can go up to 50 kHz; most budget tower speaker options struggle to meet half that range. Therefore, if you're a fan of instrument-heavy music, there's still a lot you can take away from the SSCS3.
Why You Should Buy the Sony SSCS3
7. Dali Oberon 5
The Dali Oberon 5 is a compact yet powerful tower speaker priced at just over a thousand dollars. It's more on the high-end scale of tower speakers, so it should be a mandate that it can provide some exceptional sound. With a tiny footprint, tactile grain finish, and sophisticated drivers, the Dali Oberon 5 might be worth entering the 4-digit playground.
Design and Build
The DALI Oberon 5 comes in an assortment of colors from light oak, black ash, dark walnut, or white. The design is unique, but it may not match everyone's décor. The Oberon 5 comes in at just 32.6 x 6.3 x 11.1 inches and is supported by a pair of sturdy metal feet. It's definitely one of the smallest tower speakers on this list and a great space saver.
The Oberon 5 cabinet itself feels rigid. Like all good tower speakers, it has been made with a high-density MDF board and wrapped in vinyl. Inside, you'll find two 5.25-inch wood fiber SMC-based woofers and a 29mm lightweight, soft dome tweeter, all of which is protected by a front grill covering two-thirds of the speaker. Turn the speaker around, and you'll find a bass-reflex port and the single wire, banana-plug friendly connection inputs.
Sound and Performance
If you thought downsizing your tower speaker might weaken the bass response or lessen the sound, well, you're definitely in for a surprise. The Dali Oberon 5 is nothing short of impressive delivery crisp audio while maintaining an admirable full sound. Are you a fan of music and movies but don't want to sacrifice sound quality for either? Good, because the Oberon 5 has you covered in every genre.
Musical instruments are close to the real thing with warm lows and mids and lively highs. Transition to electronic dance music or hip-hop, and the speakers can reproduce tight bass and spotless lyrics. You won't have any overbearing bass that thumps out the artist and distorts the vocals. Change it up and use it as a home theatre, and you have a fantastic dynamic range. Whispers are pronounced, and explosions are deafening, creating an immersive experience for film enthusiasts. The only problem you'll have is waking up the neighbors.
Why You Should Buy the Dali Oberon 5
8. Polk Monitor 60 Series ll

Polk makes another feature on our top 10 tower speakers, and this time we are looking at the Monitor 60 Series II. It is another budget-friendly entry that is similarly priced to the T50 that we have previously spoken about. What's the difference between the two? The monitor 60 series II handles around 50 more watts and is constructed with a set of higher quality woofers. Still floating under the 200-dollar mark, the Polk Monitor 60 Series II is a great little upgrade.
Design and Build
The Monitor series is well-known for its sturdy design and easy setup. The series is also now being marketed as 'high-performance' loudspeakers, and considering the build quality, Polk does not disappoint. The Polk Monitor 60 has a 3-way design that dedicates a lower woofer with its own crossover – this is a feature usually found in higher-end towers and promotes good standalone bass.
Polk is also trying to create the most detailed high-frequency response for the most accurate bass reproduction by using a 1-inch fabric-polymer dome tweeter. The Monitor 60 also includes five 0.25-inch lightweight bi-laminate dynamic balanced drivers, which intend to decrease distortion and improve bass quality. Mylar bypass capacitors have also been used for more detail in high frequencies, while the drivers have been optimized for the midrange and overall wider sound dispersion.
Sound and Performance
The Polk Monitor 60 Series II tower speakers are quite wonderful from an audio perspective. Although the bass is somewhat lacking when compared to expensive tower speakers, the midrange shines and performs way better than expected. As promised, the sound is clear and accurate with minimal to no distortion at higher levels. You can use it on its own or part of a surround stereo speaker, but we would suggest the latter. Add a center speaker and a subwoofer, and you've got a detailed room-filling audio experience. It's also important to note that the Monitor 60 has the same bright mid/high sound signature found in the Polk Audio T50. Whatever your choice may be, they're both excellent options.
Why You Should Buy the Polk Monitor 60 Series II
9. MartinLogan Motion 40
MartinLogan is an American speaker manufacturer that was founded in 1983. The Motion Series, in particular, has been created by a dedicated in-house engineering team that utilizes the most advanced and compact technologies to rival traditional loudspeakers of similar size and price. The Motion 40 is a powerful tower speaker with a special 'Folded Motion' tweeter and black aluminum woofers with a rear-firing bass port.
Design and Build
The Motion 40 is a real head-turner with three gloss finishes of your choice. The speaker is available in white, dark cherrywood, and black. If you have a piano nearby, the Motion 40 will look great next to it. The only downside to this finish is that the tower will be prone to fingerprints and smudges. The cabinet itself has an angled top, soft corner, and a MartinLogan signature perforated grille. If you're going for style, the Motion 40 has that elegant, timeless look.
The Motion 40 also features bi-wirable binding posts. You can decide between bi-wire / bi-amp or set up a single wire connection using jumper clips. Inside the speaker, you will find a 3-way setup with the advanced Folded Motion Tweeter, a 5.5-inch aluminum cone midrange driver, and two 6.5-inch aluminum cone bass woofers. At the bottom of the Motion 40, you will also find interchangeable feet. The loudspeaker comes preinstalled with rubber feet for hardwood floors and tiles but can also be replaced with spiked feet for carpeting.
Sound and Performance
The MartinLogan Motion 40 includes their innovative Folded Motion tweeter. How this differs from competitors is that the diaphragm replicates an accordion by squeezing air to create sound. With up to 90% less excursion than most 1-inch dome tweeters, response time is decreased along with distortion. This unique tweeter also provides a broader, yet controlled sound dispersion that generates a highly realistic soundstage.
The midrange is powered by a 5.5-inch woofer that has a warm but neutral output. Vocals are clear and accurate in combination with the Folded Motion tweeters. Artists sound like they are standing in the room with you. Looking to the lows, the Motion 40 has two 6.5-inch oversized woofers that can handle plenty of bass. The bass is so good that you probably won't need an additional subwoofer. We would probably reason this to the rear-firing bass port that helps improve bass response without adding distortion to the Motion 40's crisp, clean presentation.
Why You Should Buy the MartinLogan Motion 40
10. Definite Technology BP9040

The Definite Technology BP9040 is a tower speaker built for immersive room-filling sound and a home theatre experience. With features such as – Forward Focused Bipolar Array, aluminum dome tweeters, high-performance drivers, an integrated subwoofer, and Intelligent Bass Control, the BP9040 lets you hear and appreciate every note and frequency as intended.
Design and Build
The BP9040 is impressive, to say the least. The tower comes in black and is built from high-quality aluminum, making it durable but lighter than expected. The design is minimalistic and modern, with wrap-around fabric grilles, a removable brushed aluminum top plate, and a compact aluminum base. The aluminum base provides excellent support but can also be swapped out with spikes or floor glides. The top plate is held together using magnets, and when lifted, you'll find a dedicated attachment for connecting the A90 upward-firing module.
At the bottom of the tower, you will find two pairs of 5-way gold-plated binding posts. The first pair is set for the floor-standing speaker, while the other is for the height channel being delivered by the attached A90. Along with the binding posts, you will also see a control for the bass level of the integrated subwoofer and an LFC input. Another cool little feature is an illuminated LED logo at the front, which tells you when the subs are engaged and receiving signals. It can turn off automatically after 20 minutes of no signal, or you can turn it off permanently should you choose.
Sound and Performance
The BP9040's construction has been made with performance in mind. It seems everything has been strategically engineered to maximize audio quality. The aluminum cabinet is resonance-free, and the wrap-around fabric grills ensure an uncolored sound. Def Tech's patented Forward-Focused Bipolar Array has also been used whereby the 1-inch aluminum tweeter and two 4.5-inch midrange drivers fire forwards, while the 1-inch tweeter and 4.5-inch midrange driver fire backward. The BP9040 uses Def Tech's Balanced Double Surround System to increase the output and make the midrange driver appear larger.
Surprisingly, the BP9040 includes an active 8-inch subwoofer that is built into the side of the cabinet. If that wasn't enough, it also has two 8-inch bass radiators on each side of the cabinet. The integrated subwoofer matched with the bass radiators produces lows that are ground-shakingly accurate. It's one thing for bass to be deep but next-level when produced realistically. Highs are crystal clear thanks to the Aluminium dome tweeters, while mids are warm and balanced. TheBP9040 may be a bit bass-heavy for some, but this can be easily adjusted using Def Tech's Intelligent Bass Control.
Why You Should Buy the Definite Technology BP9040
What Are Bi-Amping And Bi-Wiring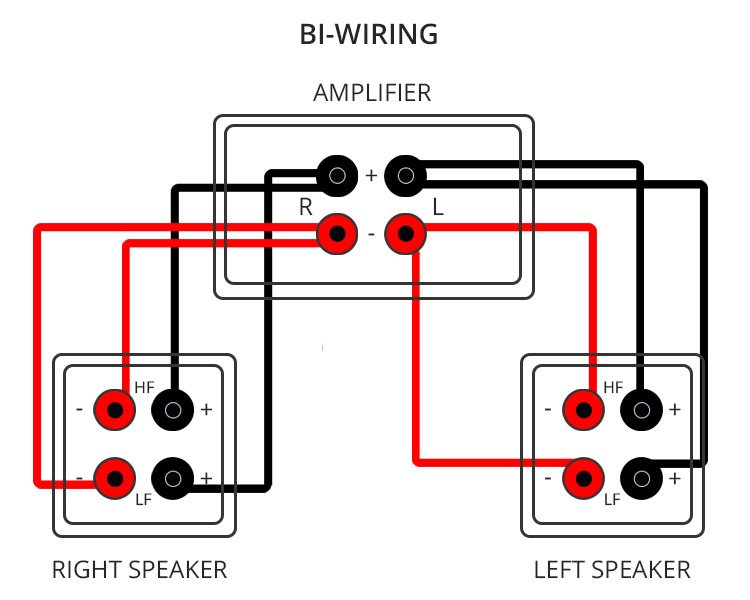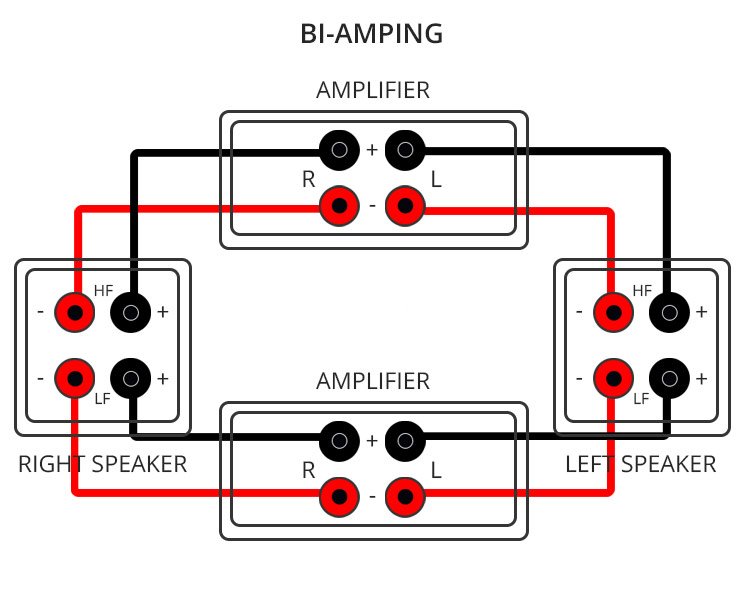 If money wasn't an issue, how would you take your tower speakers' sound quality even further? When you're about to buy a new speaker, look if there are two pairs of binding posts at the back. Two pairs of binding posts can boost your speakers in ways you had not thought possible. This is done through two options: bi-amping and bi-wiring.
The first option is bi-amping which allows you to use two amplifiers to power the speaker. One amplifier will be used for the highs, and the other for mids and lows. Alternatively, the second option is bi-wiring, which uses one amp. You will need to connect two sets of cables from the amp to each speaker; therefore, one will carry high frequencies, while the other will carry lows and mids.
In practice, bi-amping will have a noticeable improvement in the sound, but it has the disadvantage of requiring two amplifiers. Bi-wiring is a somewhat more affordable option, but the results are debatable. There might be an improvement in mids, but this may not be enough to counter the additional charge of a speaker with two sets of binding posts. Therefore, if you're willing to spend a bit more, bi-amping might be best in terms of more performance.
Bluetooth vs. Wired Floorstanding Speakers
In previous years it was commonly accepted that wired speakers offered better sound quality when compared to Bluetooth (wireless) speakers. The reason for this was that it was easier to transmit large amounts of data down a physical wire than it was to send through a Bluetooth signal. In other words, more data results in higher fidelity, and Bluetooth speakers just couldn't keep up. But that was a long time ago, and the gap between quality has become so minimalistic you may struggle to find a difference in performance these days.
How did wireless speakers improve? Well, it's probably due to the leap in Bluetooth technology, specifically version 5.2, which has twice the bandwidth of Bluetooth 4.2, and four times the range. The 'Slot Availability Masking' (SAM) feature can detect and stop interference on neighboring bands for a more proficient broadcasting channel. Additionally, speaker technology has also evolved with enhanced drivers, software updates, and improved power management.
Therefore, which is better, Bluetooth or Wireless? There is no fixed answer. It will all depend on your preferences and expectations of your floor-standing speaker. Each connectivity type will have its pros and cons. Wired floor-standing speakers might offer you more control over your sound if you want to interchange components in the future. However, you will need to deal with cable management.
Wireless floor-standing speakers have the chief advantage of no wires and may sometimes be bundled with voice-activated software. The main disadvantage with wireless speakers is the inability to control amplification and conversion. Once you commit to a wireless speaker, it can be extremely difficult to connect external equipment to it.
Therefore, sound quality shouldn't factor in your decision to buy a wireless/wired floor-standing speaker. They're probably going to sound very similar to the average listener. Look at your surrounding area and decide whether you want a Bluetooth speaker to fit into your current setup without any hassle or additional equipment. Alternatively, whether you'd have no problem fitting wired speakers into the corners of your room, in some cases, Bluetooth floor-standing speakers can be a bit pricier, so the cost can factor into your decision.
Tower vs. Bookshelf Speakers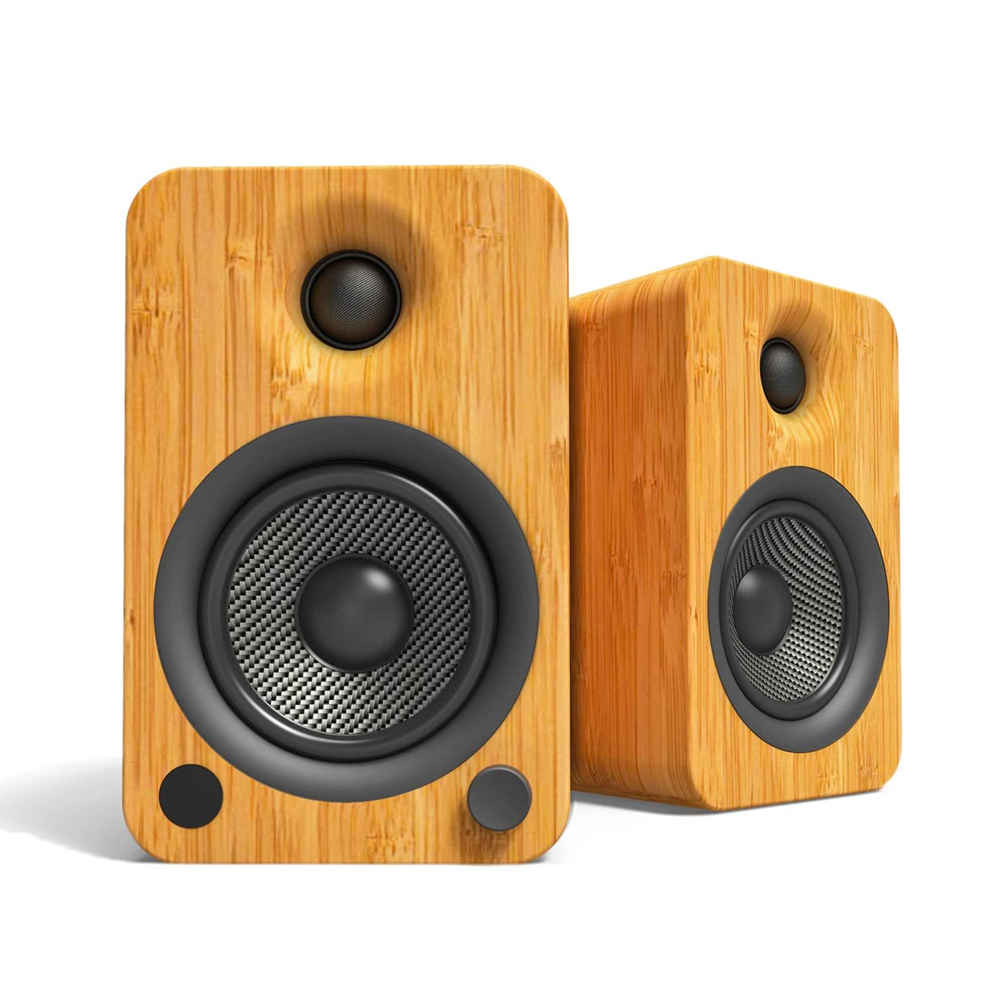 Loudspeakers usually come in two physical exterior types: tower (floor-standing) and bookshelf. Although they are both loudspeakers, what mainly differentiates them from one another is their size and shape. Bookshelf speakers are small in design and are often used to complete a sound system. This could mean adding a subwoofer or going all out and creating a 7.1 surround sound system. Tower speakers are large and provide the entire stereo sound experience with only two speakers. They are more suited to music-enthusiasts and audiophiles.
There are some similarities between these two types of speakers as they both usually come in pairs. One speaker will control the left channel of sound, while the other handles the right. Therefore, you could say that they're both built for stereo sound, but it's not as simple as that. Things get a bit interesting when we dive into their range. Bookshelf speakers are generally made to be an add-on to a larger sound system, focusing primarily on bi-directional and mid-range sound. Therefore, bookshelf speakers are amazing for stereo sound but aren't great at providing a complete audio experience.
This is where tower speakers gain the upper hand; they are built for the complete stereo experience comprising of lows, mids, and highs. If your main goal is to have a well-rounded sound system from a single set of speakers, then tower speakers will be what you're looking for. That's not to say that tower speakers cannot be used as part of a surround sound speaker setup. They can also serve as the front left and right main speakers, in addition to a few bookshelf speakers for the center and surround channels.
Another aspect you should consider when deciding between a tower or bookshelf speaker is space. Tower speakers are quite large and usually start at three feet tall. For this reason, they are freestanding and should not be placed on a stand or fragile furniture of any sort. Bookshelf speakers offer a more compact design when compared to their floor-standing competitors. They will easily fit on media centers, stands, and in some cases, are even wall-mountable. Large bookshelf speakers compete with tower speakers in terms of quality and size, but these also bear the downfall of not fitting on a bookshelf or desk.
To summarize the battle between the tower and bookshelf speakers, you can ask yourself the following questions. Do you want a speaker that can be integrated into your current system? Then a bookshelf speaker will likely be what you're looking for. Do you want to enjoy full-range stereo sound at the highest of audio quality? Then a tower speaker will probably be a better fit, as long as you have enough space to support it.
Features to Look for When Buying the Best Tower Speaker
Below we have included a brief buyer's guide on what to look out for when choosing the best tower speaker. We have also outlined the most common technical terms you'll find on a tower speakers specifications page and additional tips you can follow to make the best decision when buying. Whether you're an audiophile or a music industry newbie, keep these points in mind to make sure you know exactly what's on offer.
Four Types of Drivers for Tower Speakers
Tower speakers are often the largest type of standard speakers found in a home. Therefore, they typically contain several drivers. However, how many and what type can vary depending on the model and manufacturer. When looking at tower speakers, there are four types of drivers that can produce low, mid, and high frequencies.
It is always important to note that the human ear can only perceive sounds ranging from 20 to 20,000 Hz, so beware of marketing schemes. A higher frequency range does not always mean better sound.
Tweeters: Tweeters are small drivers which output high pitch sounds. They are usually found at the top of the speaker and emit a frequency of 2000 to 30,000 Hz. Tweeters usually cover instruments such as the violin, and the type of tweeter can further indicate whether a tower speaker is of quality or not. Cheap tweeters will use 'cone tweeters', which won't distribute sound as well as others. Therefore, when looking at tweeter descriptions, lean towards better models such as dome, horn, and planar-magnetic tweeters.
Midrange drivers: Midrange drivers cover a range frequency range of 500 to 2000 Hz. This can include both vocals and instruments, which means having a good-quality midrange driver is of utmost importance. Like tweeters, midrange drivers can be made out of different materials, influencing their sound. You should therefore focus on fabric or metal drivers and avoid paper.
Woofers: Woofers are the drivers that are used to create bass frequencies. They range anywhere between 40 to 1000 Hz in terms of frequency and are one of the main reasons audiophiles choose towers speakers over smaller bookshelf speakers. The woofers found in a tower speaker are likely oversized and draw the most amount of power. Some would say they are all you need to produce high-quality low-rumbling bass, but you could go even further with subwoofers.
Subwoofers: Although subwoofers aren't a necessity and you'll probably have an enjoyable music experience without them, they can add an overall richness to sound you had not thought possible. Subwoofers amplify bass sounds and lower frequencies between 20 to 200 Hz. They go perfectly with a home theatre system or are sometimes used as an alternative to tower speakers when combined with a smaller bookshelf speaker.
Audio quality
Tower speakers are large and heavy, so you can expect amplified drivers that are loud and powerful. When deciding if you want to invest in a tower speaker, it is important to know what kind of sound you're looking for. Do you want to music to sound exactly how the artist intended? Then you'll need to ensure your speaker is known for its clarity and neutrality across its frequencies. Are you a bass-head who wants room-shaking vibrations when you listen to your favorite dubstep tracks? In that case, your speaker needs to emphasize lower frequencies and maybe include an integrated subwoofer. Lucky for you, tower speakers these days are getting better at balancing all types of frequencies.
Cost
Bigger is sometimes better, and that occasionally comes with the trade-off of having to pay a bit extra for good audio quality. Tower speakers can start in the low hundreds and venture up to six figures. There are budget options available, and if it comes from a reputable brand, you may indeed get value for your money. A good warranty is also an indication of whether you're getting quality or not.
However, proceed with caution if a tower speaker is marketed under 100 dollars. Components, build quality, and assembly isn't cheap, so where are they cutting the costs? Tower speakers will be on display in whichever room you're going to set them up in. Therefore be prepared to invest in them, so you have years of enjoyable sound to look forward to.
Size
Throughout the article, we speak about tower speakers being larger and bigger than average speakers, and this is an important aspect to consider when you're thinking about buying one. Many people don't consider their room space, and when they suddenly have a 10-foot tall tower speaker in their 200 square room, they realize they might not need all that power. In that case, they may just need a small-to-medium-sized speaker for a good audio experience. Keep in mind that tower speakers are also not meant to be portable. For example, manufacturers don't often adhere to the size and weight limitations that you'll find with an outdoor/camping speaker.
However, one thing is certain, if you do opt for a tower speaker, high volume and quality are almost guaranteed. If you have a spacious room, you're in for a treat, and if you're still excited to have a floor-standing speaker in your 200 square room, that can still be a good future home audio investment.
Cabinets and Vibration
Tower speakers are loud, and if the cabinet – the outer shell of the speaker – is poorly made, then high levels of volume will lead to rattling. How do we choose a good speaker cabinet? Well, you can check the speaker specifications and see if it has been made with materials and features like: reinforced MDF, acoustic tuning, extra bracing, resonance chambers, and internal baffles. Some great cabinet-making companies to keep an eye on include: Polk, KLH, SVS, ELAC, Klipsch, KEF, and Sony.
Another aspect to pay attention to is the feet of your tower speaker. Usually, it's never a good idea to let your speaker sit directly on the floor because it can negatively influence the sound. Most speakers should come with some form of screw-on feet, with the best being spiked or outriggers. Also, remember that spiked feet aren't recommended for hardwood floors!
Sensitivity and Volume
Sensitivity (also known as efficiency) measures how many decibels (dB) a speaker can output at a certain power level.
Therefore, the higher the number, the louder the tower speaker will be. If you have a small to medium-sized room, anything below 85dB will be more than enough power. Larger open spaces might need a higher sensitivity rating in the 90dB and above region. Of course, a higher sensitivity will also mean a higher price, so consider your neighbors and your wallet, because in reality, how loud can you go?
Home Theatre vs. Hi-Fi
We have stated throughout the article that tower speakers are incredibly versatile with their multipurpose sound design. You can use them in both a home theatre or a hi-fi system, whether that means playing music on their own, or contributing to a surround sound setup. But just because they can do something well does not mean they're the only thing that can handle the job. Smaller speakers are sometimes a better choice for a home theatre because you won't need all the additional bass found in the drivers of larger tower speakers. The subwoofers will already accommodate the low bass frequencies in your home theatre.
Passive vs. Powered Tower Speakers
A passive tower speaker doesn't have a built-in amplifier and will need to be connected to a separate amp or receiver. Powered (active) tower speakers, on the other hand, contain their own amplifier. It's important to know this because it can emit a thunderous bang if you plug a powered speaker into an amplifier without using a line-level cable. This situation is unlikely, but it's always good to know whether your speaker is passive or powered for bi-wiring purposes.
Frequently Asked Questions
Are Tower Speakers Good for Surround Sound?
Yes, tower speakers are great for surround sound due to their height, frequency range, pairing ability, and various drivers. A pair of tower speakers accompanied by smaller strategically placed speakers will result in the perfect setup for surround sound. They are frequently used in the front but can be positioned at the rear.
Can Tower Speakers be Placed Horizontally?
Yes, tower speakers are great for surround sound due to their height, frequency range, pairing ability, and various drivers. A pair of tower speakers accompanied by smaller strategically placed speakers will result in the perfect setup for surround sound. They are frequently used in the front but can be positioned at the rear.
Are Bigger Speakers Louder?
Bigger speakers will generally be able to handle louder audio without distortion. This, in particular, will be beneficial for bass and lower frequencies. This is because a large speaker will move more air, which results in a bigger sound wave.
How Many Watts is a Good Speaker?
A good wattage for home speakers can range anywhere between 5-30 watts depending on the room's scale. If you need a tower for larger gatherings, a wattage of 100 should be plenty.
Do Floor-Standing Speakers Need a Subwoofer?
No, floor-standing speakers do not need a subwoofer, but they can improve the bass performance. Some floor-standing speakers might not have the deep / earth-shaking lows you're expecting, so you may need to buy an additional subwoofer. Alternatively, newer speakers are now being built with integrated subwoofers.
Using state-of-the-art technology, the folks over at Klipsch have put together a tower that will have you falling in love with music and movies all over again.
Thanks for your feedback!