Just because you like the ocean breeze in your face and the smell of salt air doesn't mean you shouldn't be able to enjoy some good music as well. Luckily there are some very good boat marine speakers and wakeboard tower speakers that are designed specifically for your watery escapades.
Ordinary speakers are rarely up to the task of going along on a boat trip. This is because the acoustics on the boat is very different from any other environment and your speakers will need to be able to deal with constant exposure to moisture; sometimes even direct water contact. Boat speakers must not only be durable enough to withstand the elements, but also loud enough so they are not drowned out by the sound of the boat or other noises.
An affordable marine speaker that offers quality audio along with the build quality we expect from a Sony product.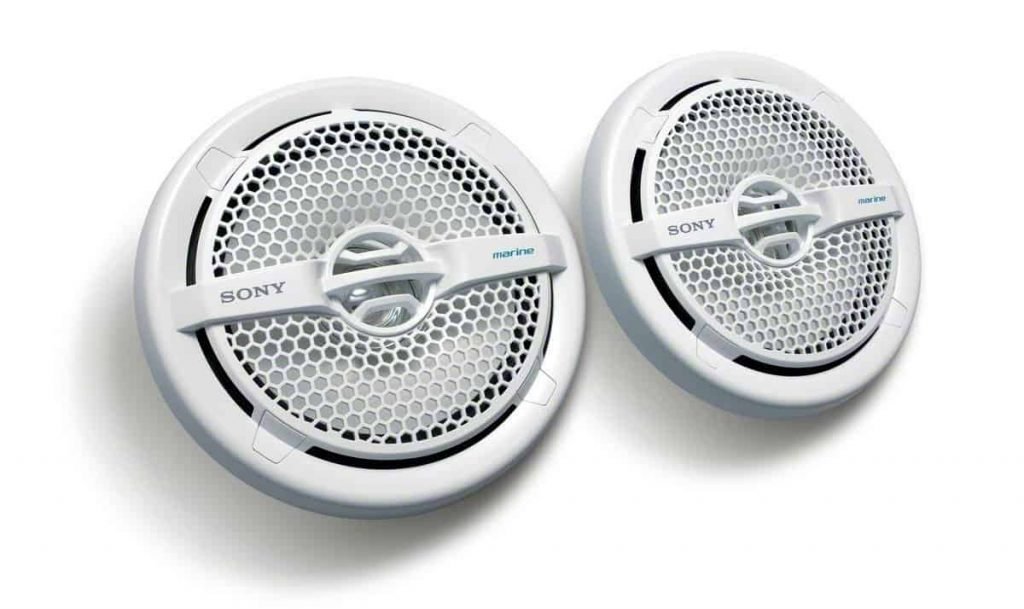 With marine speakers, bigger is not always better as some people simply want background music and don't plan on holding any parties. This means that there are actually a few very affordable marine speakers that offer plenty of value for money. However, there are essentially 2 types of boat speaker installations that you'll have to choose from.
Flush Mount Marine Speakers – for these you'll need to be comfortable cutting some rather large holes into your boat if it didn't come with factory-fit speakers. However, they are stylish, unobtrusive and can blend well with the rest of finishing in your boat.
Tower Speakers – sometimes also referred to as "canon speakers" or "wakeboard tower speakers" are highly directional speakers that can be mounted on your boat tower, facing either towards the front or the back of the boat.
As always, there's a Boat and Marine Speaker Buyers Guide at the end of this article. Straight to our list though. The first 7 speakers in this article are flush mount marine speakers and we include 3 boat tower speakers at the end to round off of the list. You can jump to either section from here.
The 8 Best Marine Speakers to Flush Mount
Below we look at the best flush mount marine boat speakers currently available for sale online. This list is updated regularly. Let us know in the comments if you have any suggestions or questions.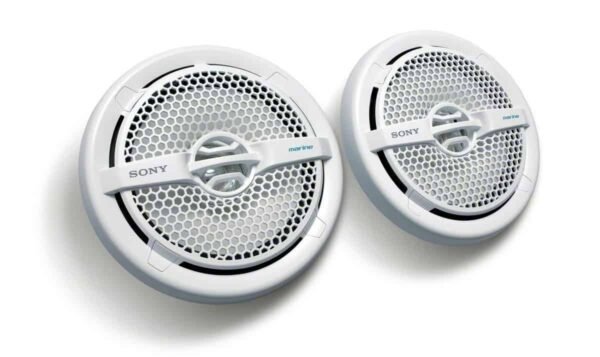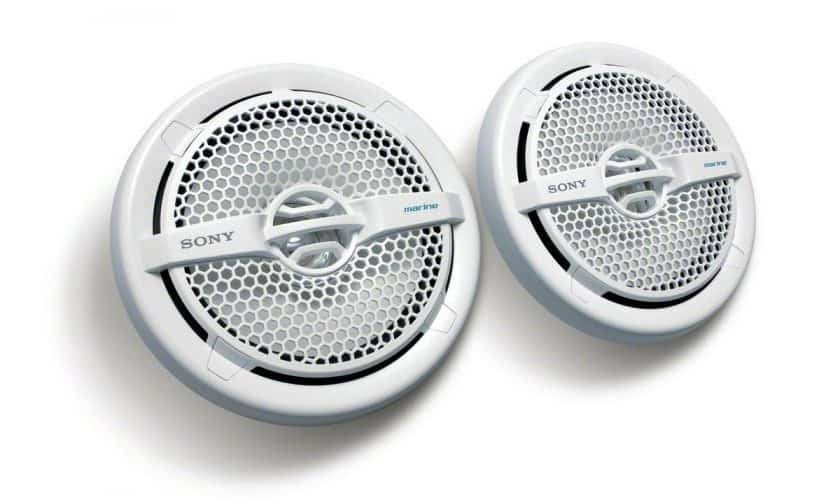 Sony is a highly respected brand in the audio world with some audiophile-grade speakers on the market that qualify as a worthy competitor to some of the biggest sound brands out there including KEF and Bowers and Wilkins. As with previous products, they did not fail to live up to their name when they released the Sony XSMP1611 marine speakers.
Although when it comes to wattage, these marine speakers are far weaker than our first choice with only 65 Watts output per speaker. However, you would never guess that it has any shortcomings when you hear the power and volume produced by the Sony XSMP1611's. But, if you are specifically looking for a pair of powerful marine speakers then the Polk Audio DB521 should be your first choice – just as it is ours.
Now that we have established that the interior of this marine speaker is impressive, we can evaluate the exterior. I was very impressed with both the look and feel of the Sony XSMP1611 speakers. They are available in both black and white and, to be honest, they both look so great, it would be hard to choose one – but I suppose it depends on your boat. These speakers are sleek, beautiful and just plain impressive.
They are also water-resistant with an IPx5 certified design, as well as UV resistant and salt-water resistant – so no need to worry about installing these speakers in your ocean boat, as they will withstand the conditions just as well as on a freshwater lake. They are designed to look and sound as good after years of service as they do when you first purchase them.
Even the cloth speaker surround has been designed for both its look and longevity. It is created out of a treated cloth to ensure it remains protected from all the elements. The voice coil is designed to operate at high temperatures; allowing the speaker to deal with a large range of notes.
The frequency range covered by these speakers is impressive, quality sounds will be played across the 45Hz – 20,000Hz range; ensuring you can hear every rumble of bass and tweet as though the creator of the music was right next to you. What these speakers lack in outright power they gain in the quality and range of sound they produce.
The subwoofer cone is designed to be rigid; this helps to ensure that every bass sound reflects clearly round your boat; you might find this surprising for a speaker which weighs just 1360grams! The fact that the bass cone weighs half of this, at 650g; it may help to explain the quality of sound produced.
The woofer magnet is created from Ferrite while the diaphragm is made from Polypropylene: ensuring it has the flexibility to deal with any frequency of sound.
The speakers are 2.2" deep and should slot straight into most factory gaps without the need for modification.
These speakers sit comfortably in the middle of the $50 – $75 price range and are worth every cent.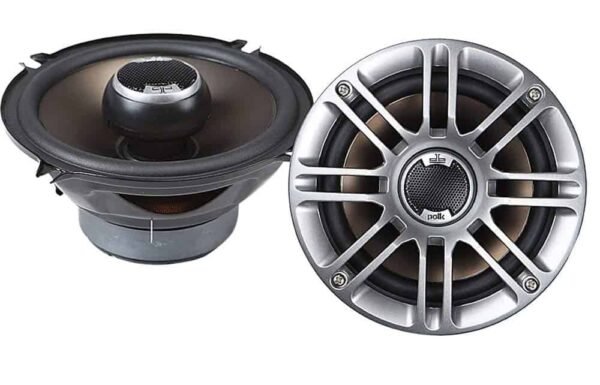 These powerful 5.25-inches, 2-way marine certified speakers are our first choice for marine speakers for quite a few reasons. First of all, they offer a powerful wattage of 275 watts per pair which gives them a rather high volume range that will guarantee that you can hear the music over the sound of your boat speeding through the water. Thanks to the 0.75-inch liquid-cooled Silk-Polymer Dome tweeter and the high-quality Mica Cone woofer, you will also get crisp and clear sounds with deep bass.
In order to ensure that the speakers will survive the more extreme elements that your boat is bound to be exposed to, the Polk Audio marine speakers contain durable butyl rubber surrounds; these are waterproof. This will not only extend the lifetime of your sound system, but it will also add to your bass response.
Another thing that we really like about these marine speakers is the style. While many marine speakers look boring and cheap, the Polk Audio DB521 has all the features of a truly high-quality speaker that will look appealing on any boat.
These speakers are more than just suitable for your boat, they are IP55 rated and have been tested to ensure they are resistant to water, dirt, UV, salt and even humidity.
In addition, the grills on these speakers are plastic and will not corrode; even when soaked; as you speed through the waves. This attention to detail has also been applied to the speaker cones. The UV protection will ensure that they remain looking like new even after being used for a long period of time.
The speakers are designed to be rugged and tough, even in some of the harshest environments available. But the real beauty of this product is in the balance of sounds. Polk has designed the DB range as Dynamic Balance speaker which will automatically offer the correct level of bass, mid and treble according to the music you are playing.
The speakers are 4.76" in diameter and you will need a mounting depth of at least 2.01". It is possible to mount these at an angle as the higher mount only requires a depth of 1.74". Of course, the enclosure they are put into must also be marine certified; this will help to ensure your speakers last for a long time.
The peak power of these attractive speakers is 300W and they will happily handle 100W on a continuous basis. You will enjoy a good range of sound as the frequency range is 55Hz – 22 kHz.
If you are replacing a 4.76" speaker then these are a perfect choice. They are specifically designed to slot straight into your existing slot and you can even reuse the factory speaker grille; if you wish. The reasoning behind this is that it should be about the sound quality; you don't need to display these excellent speakers to enjoy the quality and it will certainly help to avoid attracting unwanted attention.
These powerful 5.25-inches, 2-way marine certified speakers are our first choice for marine speakers for quite a few reasons. First of all, they offer a powerful wattage of 275 watts per pair which gives them a rather high volume range that will guarantee that you can hear the music over the sound of your boat speeding through the water. Thanks to the 0.75-inch liquid-cooled Silk-Polymer Dome tweeter and the high-quality Mica Cone woofer, you will also get crisp and clear sounds with deep bass.
The Boss Audio MR50W is another speaker that has found a lot of fans amongst the marine crowd. This speaker features a polypropylene woofer cone that has treated cloth surround, which means it is durable and sounds great.
You will also note that the entire speaker is coated to protect it from UV rays, rain, fog and even corrosion. This is important if you take your boat out to sea.
Connecting the cone to the basket is a rubber surround while the tweeter is made of Mylar. In addition, the voice coil of the speaker is made from aluminum; this allows it to stretch a little and handle the stress of high tension. But, at the same time, it is solid enough to provide good note quality. All the major components are treated to offer protection from corrosion. Bear in mind that this boat speaker is water-resistant, not waterproof, so do not drop it overboard!
Mounting the MR50W is as easy as can be thanks to the included template and replacing older speakers with these can be done in a matter of minutes. What impressed me the most about these speakers is the fact that they are able to hold their own against more expensive products, such as the Infinity Reference 612m. These speakers are able to deliver clear and crisp sounds, even at higher volumes, while the bass is also quite good.
The speaker is rated at 150 watts with the maximum RMS being set at 75 watts for a pair of speakers. This may not be as powerful as some of the best on the market but you will certainly be surprised by the sound quality.
A pair of these speakers should cost you less than $35; for this kind of money, they are one of the best options available for the budget conscious boat owner.
If you are looking to listen to some music or radio while out fishing or cruising on your boat then the Boss Audio MR50W is hard to beat in its price class. If you plan on throwing any parties or really want to crank the volume you might be better off with more expensive boat speakers though.
Of course, you should also consider the fact that these speakers come with a 1-year warranty which can be extended to 3; at the time of purchase. This shows the commitment and belief that Boss Audio has in its own products.
You may be interested to note that the speaker is 5.25" in diameter and the tweeter just 1". You will need a depth of 2.2" to mount the speakers effectively and the hole needs to be 4.75".
These speakers are nearly as sensitive as the Sony's; offering a frequency range of 80Hz to 20,000Hz with a sensitivity of 89dB.
It is worth noting that this is a two-way speaker and not a three-way one. While it will deliver good quality bass it will not equate to the quality of the bass on a three-way speaker or a dedicated subwoofer.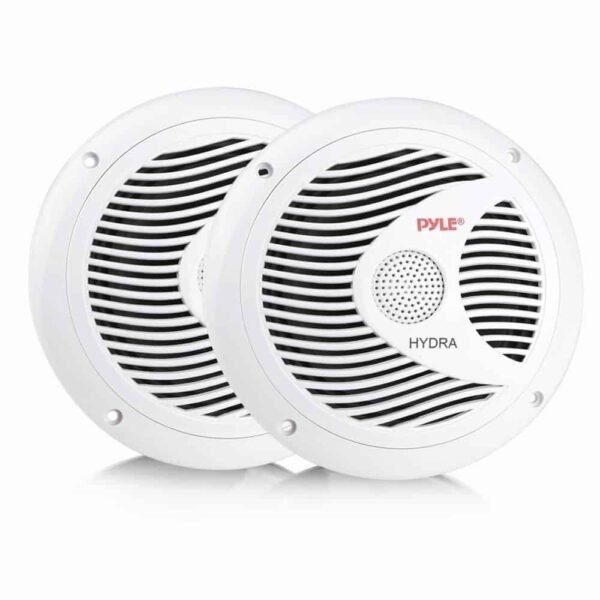 If you are looking for great and affordable speakers then the Pyle Dual 6.5" Waterproof Marine Speakers is perfect for you. With a 150 watt, these speakers are more than powerful enough to play your music at a decent volume, and thanks to the molded ABS plastic basket; you can do so with little to no distortion.
Both speakers are marine-grade waterproof so you won't have to worry about them getting wet when you take your boat out for a spin. You will have dual cone full range marine stereo sound reproduction so you can get the most out of your music.
With their rust-proof mesh covers, you also won't have to worry about any rust that might form due to the water and outdoor exposure. This is joined by the speakers' weather-proof characteristic which will allow you to leave them outside without having to concern yourself with environmental elements.
The speakers weigh 1.78kg, their width is 185/93 and height are 187.96; making them almost circular in shape. The kit which comes with the speakers includes mounting hardware and speaker wire; ensuring you can easily replace your existing ones or add some additional speakers to your system.
You will need a depth of 2.48 in order to mount these speakers correctly and the hole should be 5.31" wide.
Rubber and polypropylene have been used to create the cones and surrounds. This ensures as little distortion as possible and that the speakers will last for years. The voice coil is 1" and made from aluminum which makes it strong enough and flexible enough to produce the best possible sound quality.
They are designed to operate with a frequency of 45Hz – 16,000Hz; the 20 oz magnet helps to maintain the quality of the sound. They arrive with a standard 1-year warranty and should fit straight into an existing slot.
There are some people who have complained about the sound quality so perhaps it is best left up to your own interpretation. Much of this comes down to the fact that these speakers are advertised as two-way. However, the majority of the sounds filtered through will be from the midrange; there is a noticeable bass but it is soft and will never rise to dominate the music. While this may seem like a good thing there are times when you need the bass to come through clearly.
However, having said that, these are some of the most affordable boat speakers on the market which are actually waterproof. The price is generally under $25; it is difficult to argue with the quality offered at this price.
An interesting feature which many marine speakers do not have is the built-in grill. This helps to protect the speaker from the elements but also adds a stylish look to your boat; especially if you mount them in white on a white surround.
However, the vast majority of people who have made use of this speaker are more than satisfied – so let us leave it up to you.
For an affordable pair of marine speakers that can withstand the rigors of boating the Kenwood, KFC-1652MRW system is hard to beat. Kenwood is a well-known and established brand, of course, and since these are marine speakers you can be sure that they are optimized to work great on a boat.
It features a waterproof polypropylene cone as well as a UV resistant grille and frame, which means bad weather has very little impact on it. Each of the two speakers in this set has a 1" balanced dome tweeter that is built right into the grill
Installing these speakers are a breeze and included in the box are a cut-out template for where to drill holes if these don't match the holes left behind by your previous speakers. The speed-clips and self-tapping screws needed for the installation are also all in the box.
You'll hear a world of difference when upgrading from an older, stock pair of boat speakers to these ones as the sound quality is excellent. All the highs on these speakers are crisp while the bass is quite impressive too. The Kenwood KFC-1652MRW speaker system is a great example of why buying the best speakers for your boat doesn't necessarily mean you have to pay the highest prices. These can be easily picked up for between $50 and $75.
These speakers look good, sound great and are durable enough for even the most demanding marine conditions.
These speakers are only available in white and come with a fixed grill. This actually makes them look very stylish and serves to protect them from all the elements while on your boat; whether rain or salt water spray.
The cone is 6.5" and is made with polypropylene alongside a rubber surround. This ensures the speakers are flexible but able to stand the rigors of UV rays, salt water and even the dirt and salt which is frequently part of the marine environment.
Each speaker is rated at 150 watts and you will receive 2 in your order. They weigh approximately 2 pounds each, while the exact dimensions are 5.5" by 5.5" by 8.5". The outer grill is 6.5". Frequency range is impressive, from 20Hz to 20,000Hz.
Each speaker comes with a 1-year warranty; against parts and labor; obviously, you need to have fitted them and be using them in accordance with the original instructions. It is worth noting that you generally need Kenwood specific lug connectors to install these speakers. It is advisable to purchase these before you start the job of installation.
While it is possible to fit them without the connectors it is not advisable.
A pleasant surprise with these two-way speakers is that there is a high-quality bass sound. This is surprising as mot two-way speakers provide a little, soft bass and focus on mid and high range frequencies. The Kenwood speakers utilize the technology that has been devised over the years by Kenwood to provide an excellent range of sound; even when traveling fast across the water.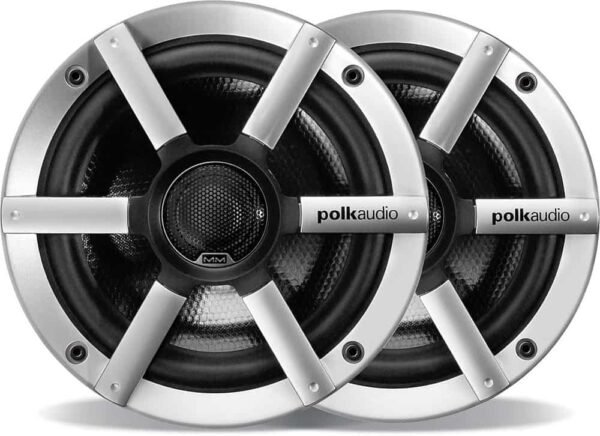 If money is not an issue then, the MM651UM from Polk Audio is the marine stereo speaker to get. This is simply one of the loudest marine speakers that are currently available, so anyone that wants to get a party started on their boat needs one of these.
This speaker features a completely sealed front design, which means no water is getting inside. It has a rugged, built-on grille with a tweeter mount, so there is no need for a traditional tweeter post. The sealed crossover assembly is also built into the back of the magnet and it comes with heavy-duty steel input terminals.
The components of this speaker are all non-corrosive and waterproof, having passed all the tests for ASTM certification. Salt spray, UV rays, and fog pose no obstacle to these speakers and even water isn't an issue. With the woven glass composite construction of the tweeter and the carbon composite basket and grille, this speaker is tough, but lightweight.
One of the most impressive features of this speaker is that all of its components feature Klippel optimization. The result is an unmatched audio performance that leaves most other boat speakers trailing in its wake. Even if you are an audiophile, there is nothing about the audio quality to complain about. Throughout the entire frequency range, you'll find balanced, detailed, and full audio.
Statistics can't' really convey how great this speaker is, but suffice to say its sensitivity rating is 92 decibels and its continuous power handling is 100 RMS watts. Simply put, this speaker is loud and you'll have no trouble hearing it from anywhere on your boat.
The speaker is easy to install as its cut-out diameter is 5.06", making it ideal to replace most stock speakers. It also has a shallow mounting depth, which increases its versatility. Of course, all wiring and mounting screws are stainless steel, eliminating the risk of corrosion. The MM651UM is the most expensive marine speaker on this list, but in this case, you really get what you pay for.
The speaker is only available in black but this will still offer an attractive finish to the majority of boat owners. Of course, as the unit, it sealed it is not possible to hide it behind another cover; unless you have a deep mounting space.
However, once you have heard the quality of this speaker you will not be eager to change it! Many of the materials involved in its production are the very latest technologies; allowing the speaker to be lightweight and incredibly high quality.
The magnet is made of a rare metal called neodymium which is exceptionally light. This allows the magnet to be much smaller than in standard speakers and ensures the speaker can fit into small spaces.
Even the basket is made from a carbon composite which will not flex. Alongside this, the engineers have worked hard to ensure the sound quality is perfect through a Klippel distortion analyzer. This ensured the speaker had the right balance between vice coil, suspension, and woofer structure; providing the fantastic sound you hear; should you indulge yourself.
A set of 2 speakers weighs just 4.4 pounds with each speaker being 6.7" by 5.9" by 3.1 inches. They really are a work of art and the speaker to choose if money is no object or you simply have to have the best; providing you can wait for them to come back into stock.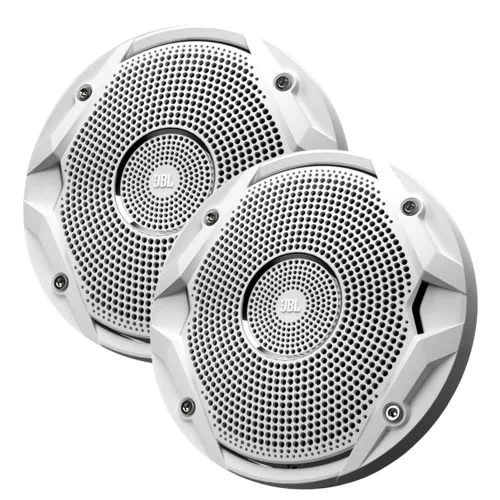 For some of us, the best marine speakers are the ones that get the job done for an affordable price and no headaches, if that sounds like you, check out the JBL MS6510 boat speakers. Optimized for marine environments, these speakers will be an improvement from no-name stock speakers, but they won't break the bank.
These JBL MS6510's feature waterproof motor structures, sealed magnet enclosures, one-piece cast-polymer chassis, and rubber surroundings to prevent water and other environmental hazards from damaging the speakers. Each speaker is rated at 150 watts and weighs two pounds each. Unfortunately, an IPX waterproof rating is not available in the manuals for this speaker.
JBL's MS6510 marine speakers have 'plus One' polypropylene speaker cones that create better low-end frequency response and crisp, clear high-frequency sound that will cut through the sounds of the sea. For this price range, you aren't going to have top quality sound, but the sound experience you will get will certainly be a cut above stock speakers or a portable speaker solution.
If you are familiar with JBL's sound signature you will still hear it with these speakers even though they are marine speakers. This is thanks to JBL's intensive cross-examining of their speaker products.
Even though these are durable speakers, you may still find your MS6510's damaged by the rough environments you might encounter while on the water. Fortunately, these speakers come with a 1-year warranty that you can register for on JBL's website.
Installing these speakers will be a breeze and all of the installation hardware, including a bracket and screws, comes included in the box so you can get out on the water in no time at all.
The sound signature of these speakers is reminiscent of JBL's many other cone speakers on the market and offers warm basses and crisp high frequencies. You may notice that the treble is more noticeable on these speakers but be aware that these speakers were designed with seafaring in mind, meaning that frequencies that may be muddied by the sound of the ocean surf will be boosted to compensate.
Overall, these JBL MS6510 marine speakers are not the best marine speakers on the market, but they are highly competitive among their price range at #21 on amazon in the marine speaker category. If you are looking for an affordable and hassle-free approach to marine audio you will be happy with a pair (or more) of JBL MS6510s!
The 3 Best Wake Tower Speakers
Below we look at the best tower speakers currently available for sale online. Obviously, if you have a tower on your boat then you are going to be undertaking water sports on a regular basis. Boat speakers mounted in these positions will need to be particularly rugged to deal with the constant exposure to the water and other elements. The following are some of the best available at present. This list is updated regularly. Let us know in the comments if you have any suggestions or questions.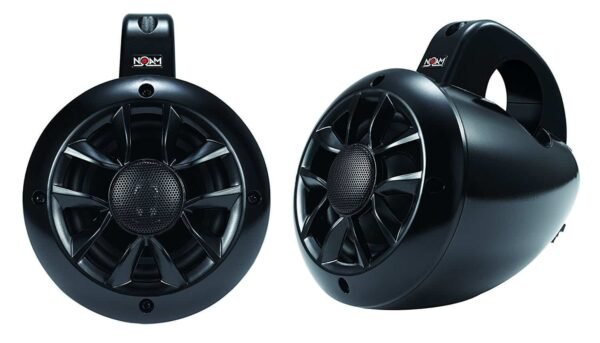 The NOAM NUTV4 is one of the highest quality wake tower speakers on the market and it is not hard to see why. Starting with the sleek black exterior that looks great on just about any boat, you simply can't go wrong with this design.
In fact, you could easily think that several of these mounted to your wakeboard tower will allow you to boost the power output of your boat!
This speaker is comprised of high-quality materials and offers great water resistance feature that will withstand any and all elements that you might be exposed to on your water adventures.
The cone is created out of high-quality poly injection with a butyl rubber surround and a 1" neodymium dome tweeter to cover the highest notes. The speakers are rated at 100 watts each which work perfectly with the 4 channel amplifier; each channel can be amplified by 100 watts!
The exterior of this impressive boat tower speaker is merely the beginning. The pair of 4-inch, 2-way marine speakers are quite powerful, they have more than enough power and volume to ensure that you hear the music over the sound of your boat speeding through the water. However, as with pretty much any marine speakers, do not expect to get a ton of bass from these guys.
A pretty cool thing about the NOAM NUTV4 is that the pair of speakers comes with a smart Bluetooth remote that allows you to stream your music straight from your phone to your wakeboard tower speakers with Bluetooth 3.0 technology. The remote features backlit buttons and give you control over your music.
On top of that, the system includes a 4-channel marine power amplifier that will give you the most from your speakers. The amplifier can be turned on or off as you desire; depending upon the occasion and the volume required. This is a surprisingly useful feature.
In addition to the speakers, both the remote and amp is also water resistant. Even the remote has a backlit light to assist you when using in low light levels; or at night. The amplifier also has an AUX socket which will allow you to connect other audio devices directly to it; you can enjoy your favorite tunes while blasting cross the water!
This system might be a bit pricey as it generally exceeds the $200 mark; which is somewhat of a downside. But it is well worth it when you consider all the benefits and features that come with it.
The entire package weighs in at 8.9 pounds and is designed specifically for your boat and its 12volt system. You will be glad to realize that the speakers are exceptionally easy to fit onto your wake tower; the clamps are designed to fit bars with diameters between 1.25" and 2". This is one set of speakers which will make a valuable and useful addition to any boat.
When you order and install this do not forget to allow enough time; your amplifier will need to be hard-wired to your battery to allow continued use, or to the power after ignition for use only when the boat engine is running.
These wakeboard tower speakers are a close second to the NOAM NUTV4. While they might not be as stylish or come with as many accessories, these 8-inch, 130W black marine speakers make up for it in power and sound quality. Two of these will give you 260W and even at top speed, out in the water, you should be able to hear your music loud and clear. They do not come with an amp but it is not really necessary, however, if you want to get more out of these marine speakers then hooking them up to an amp will definitely do the trick.
These wakeboard tower speakers are a close second to the NOAM NUTV4. While they might not be as stylish or come with as many accessories, these 8-inch, 130W black marine speakers make up for it in power and sound quality. Two of these will give you 260W and even at top speed, out in the water, you should be able to hear your music loud and clear. They do not come with an amp but it is not really necessary, however, if you want to get more out of these marine speakers then hooking them up to an amp will definitely do the trick.
Once again, marine tower speakers are generally pretty weak when it comes to bass, so do not depend on them to make your boat shake. They offer powerful and clear sound at mid to high ranges. You will definitely be able to enjoy your music with these MCM wake tower speakers.
As for the price, these guys are higher quality than many other wakeboard speakers so you will pay slightly more but as I said, you will get a lot more quality and they are generally still in the two-figure range, below $100; so they are still definitely affordable.
The 8" cone is made from polypropylene and is designed to be both durable and flexible; allowing the maximum amount of music and frequency without distorting the sound. They also have a 1" titanium dome tweeter to ensure all the high frequencies are portrayed perfectly.
The frequency response of these 260 watt RMS speakers is an impressive 30Hz to 20,000 Hz and the sensitivity is as good as the best; at 91dB. S with most marine speakers they are designed to operate at 4 ohms.
You will need to have a mounting hole between the size of 1.1" and 1.5" with the overall diameter of these speakers being 8" by 10". Of course, these can be clamped to your wakeboard tower; providing the pipe is between 1.25" and 2".
This provides you with the freedom of enclosing these speakers inside your wakeboard tower enclosure or on the bar.
The MCM 60-10031 are waterproof and coated to protect them from UV rays and salt water. This makes them perfect for enjoying those long summer days blasting across the water with someone on the board behind.
The only issue that has been generally reported so far s that the speakers are not always put together properly. The screws which hold the speakers in place inside the pod are not always fastened correctly. This can lead to distortion at volume as the speaker vibrates; it can even cause the speaker to blow. It is, therefore, advisable to verify that the internal speaker is screwed into place properly before you start to use these.
The speakers are only made in black and arrive in pairs; it is possible to amplify them through the use of an amplifier but this will not improve the bass quality. If you are after better bass you will need an amplifier and a dedicated subwoofer; which is marine certified.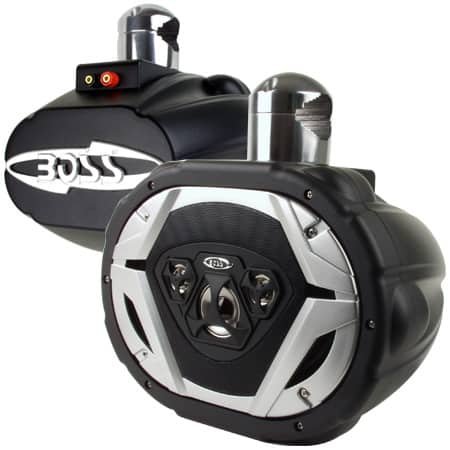 These speakers look so cool they just had to be on this list. They have everything you want from a wakeboard speaker. The Wakeboard Tower Speakers have power, volume, a totally awesome look, and they even have a bit of bass.
The main things you want from wakeboard tower speakers are power and durability. It should be loud enough for everybody to hear (including the person who is wakeboarding) and it should be able to withstand the elements that it will inevitably be exposed to. With the BOSS Audio MRWT69RGB, you get just that – and a bit more.
First of all, with 600 watts of power, these guys can make a lot of noise. Luckily, out on the water, you probably won't have any neighbors to worry about so you can just crank up the volume and enjoy your wakeboarding with some serious sound.
As for the sound quality, the BOSS Audio MRWT69RGB is not the best, but it is more than decent. After all, when you are buying wakeboard tower speakers, then you probably need more volume than you need crystal clear sound – so, audiophiles, you were warned, and the rest of you – well you probably wouldn't even be able to tell the difference.
Another awesome feature of this boat tower speaker is its multicolor illumination which you will see inside the speaker, you can change the colors, brightness, modes, and even the speed with the use of a remote that you will get with your speaker. There is a range of color possibilities including red, green and blue; depending on your mood and the occasion.
The remote actually allows you to control all the functions of the speaker without needing to leave the wheel; this is an excellent feature if there are not many o you n the boat, or you are simply reluctant to give up control.
Each speaker is designed to handle 600 watts; this is 300 watts RMS and louder than most amplifiers will go. Of course, to reach these volume levels you will need a high-quality amplifier and a head unit which is capable of producing the amplification needed. No matter how good the speaker is it will be limited by the power going into the speaker.
The speakers are two-way, as mentioned, this means you are not going to get a heart-pounding bass line. For that, you need a dedicated subwoofer. However, properly amplified up you will have excellent quality mid and treble sounds.
The speaker runs at between 65Hz and 20,000Hz with a sensitivity of 89dB. It is madeofh a polypropylene cone and rubber surround. This maximizes flexibility and ensures it is well protected from the elements; especially when on your boat.
You can purchase the speakers individually but you will probably desire two of them to provide a good balance of sound on your boat.
The speaker is weatherproof although not designed to be immersed in water. It is 6" by 9" and can be mounted in your wakeboard tower enclosure or to the bars themselves. The speaker weighs 8 pounds and can even swivel once fixed to help you get the most from your sounds. Of course, two speakers will provide a much better balance and allow you to really enjoy your music.
All in all, this is a super cool loudspeaker that is sure to make your wakeboarding even more awesome than it already is.
Marine and Boat Speakers Buyers Guide
Knowing which are the best speakers on the market is not enough; you need to decide which speaker is going to best suit your needs and budget.
You can, of course, simply opt for the one you like the most and attempt to fit it into your boat. However, this is not the most sensible route to take. You may end up with a headache when fitting the speakers, be unable to fit them or simply damage them before you have installed them. In addition, they may eventually look cool; but not actually serve the purpose you want them for.
This is why it is essential to consider the following points and read this guide before you commit to any specific set of speakers.
How Do You Use Your Boat?
The most obvious and often overlooked first point is what you wish to use the speakers for. Of course, you are purchasing marine speakers to fit into a boat. But, do you spend most of your time on the boat fishing, moving as fast as you can or towing wakeboarders and water-skiers?
The type of activity you undertake will influence the volume level you need for your new speakers.
Undertaking water sports regularly will require loud music; your speakers may need to project their sound to the person skiing behind you. The louder they will need to be the higher the wattage you will need to get.
This does not mean the budget needs to increase but you must consider the quality of the speakers you decided upon when they have a high volume of music going through them.
What's Your Budget?
You must decide on your budget. Of course, it is tempting to go into the shop or online and order the most expensive boat speakers you can find. However, these may not be the right ones for your needs.
Selecting a budget is important when you buy anything; this prevents you from overspending; Even if money is no object you should consider the comparative worth of your speakers.
This can generally be defined by how much you use your boat and what your disposable income is. Once you have set a budget you will be able to look at which speakers fall within your price range and fit with the activity you undertake on your boat.
Where Will They Be Located?
The next decision is where you will be locating your new speakers. You may simply wish to replace factory speakers which are not performing as they used to or as you would like them too.
Alternatively, it is possible that you have noticed a dead spot in your music setup or a frequency range that's not being served and need more sound at the front or back of your boat.
If this is the case then you will need to look at two additional factors:
Where – In short, you need to consider where you will be able to locate new speakers in your boat. Every speaker will have its own template regarding the depth it needs and how big the hole needs to be. You must be aware of this before you can start looking at different speakers.
Which – The second point to consider is which type of speakers are you after? Big 6×9's which emphasize a little more bass or some additional tweeters?
Knowing the space you have and what you wish to fit is essential to successfully choose and fitting your new speakers.
Directionality of Your Marine Stereo Speakers
The majority of speakers are directional. This means that they are only capable of sending music waves in the direction that they are pointing. While there are some speakers which can be adjusted after fitting; the majority of them will not.
You, therefore, need to consider where you need the extra music to be heard; your new speakers should be faced towards this area to ensure it is covered properly.
It is also important to consider the right balance. You can rightfully set up your own marine stereo and really enjoy the music from all sides. At the very least it must come from your left and right. This is why speakers are installed on each side of the boat; to balance the sound.
You must ensure you can achieve this too when you choose the location of your speakers.
Magnetic Shielding
It is important to consider the magnetic devices on your boat. Your compass will be affected if a magnet is placed too near it; this will distort all your readings and cause a real issue if you are navigating via your compass.
Speakers generally have large magnets on them and can affect your compass. This is not usually an issue as marine speakers are located away from your compass mounting point.
However, particularly if you are looking at locating the speakers in your center console, you may wish to check with the manufacturer whether the speakers have magnetic shielding or not.
If they do not then you should not locate them too close to your compass.
Openings For Factory Speakers
The easiest way to replace your speakers is to purchase ones which will replace your factory fitted ones. However, this is not always as simple as it sounds!
Different speakers may have the same diameter but different depths or even screw mountings. While these issues are surmountable it is easier to remove your old speaker first and measure it.
This will provide you with the dimensions of your speaker and the number of fastenings. You can then narrow your search to speakers which have the same dimensions; allowing you to simply drop them into the available slots, connect and screw them in.
You will not need to worry about the directionality of your sounds in this instance; simply appreciate the better quality music.
Inspect Old Wiring & Cage
If you choose to remove your factory fitted speakers, before you fit your new ones it is advisable to check the wiring. There should be no sign of corrosion. If there is then the wires will need to be cleaned and possibly replaced.
If you choose not to do this then the operation of your new speakers will be impeded. You are likely to shorten the life of your new speakers.
It is also important to examine the hole and mounting gear for your old speaker. This will tell you if there is water ingress and where it is coming from. Although your marine speaker is water resistant it will function better and for longer if you keep it away from the water; especially where the electrics connect.
Consider An Amplifier
Depending upon the volume level you feel you need from your speakers you may need to consider purchasing an amplifier to accompany your new speakers.
Just because a speaker is rated at 180 watts does not mean you will get this level of sound from them. It will be restricted to the output of your boat stereo. If this is not sufficient then a marine rated amplifier can provide you with the extra boost you need.
Using an amplifier will also help to keep the sound clear as the sound is amplified and not just turned up; you may be surprised at just how good your music can be.
Consider Your Volume
Having talked about volume and ways to improve it while maintaining the quality; it is also important to consider when you will be using your marine stereo speakers. If you are at sea or on an isolated mooring this should not be an issue.
However, if you are in a marina you must consider your neighbors. There may be people in the boats next to you who do not share your enthusiasm for the latest pop tunes!
It is important to consider them when selecting your marine stereo system. A good quality speaker will provide excellent sound at low levels as well as high; allowing you to enjoy your music no matter where you are.
You should also remember that sounds over 85 decibels can cause permanent damage to your hearing, while anything over 100dB can cause a serious issue with just 15 minutes of listening.
Water Resistance
Finally, you should be looking at the water-resistance or IPX rating on your marine speakers. Water-resistant is not the same as waterproof. This means they are able to handle some rain or sea spray.
Waterproof suggests they are better able to handle been dumped into a bucket of water. However, even waterproof speakers are not designed to stay in the water.
It is best to get waterproof if you think they will often be getting wet, but do your best to keep them dry!
Water-resistant and waterproof speakers can be washed to keep them looking good, but never use a pressure washer on them!
Conclusion
Choosing the right marine speakers for your needs does not need to be an arduous task. You simply need to follow this guide to ensure you have considered all the important elements before you even look at the best speakers for your needs.
This will help to ensure that you purchase a boat speaker that will do what you want it to; within the price range, you have specified. If not, you may simply buy one because it looks good and it may not perform how you hope.
The speakers listed in this guide all offer quality sound, depending upon the funds you are prepared to spend; choose wisely and you can enjoy your music for years to come.
An affordable marine speaker that offers quality audio along with the build quality we expect from a Sony product.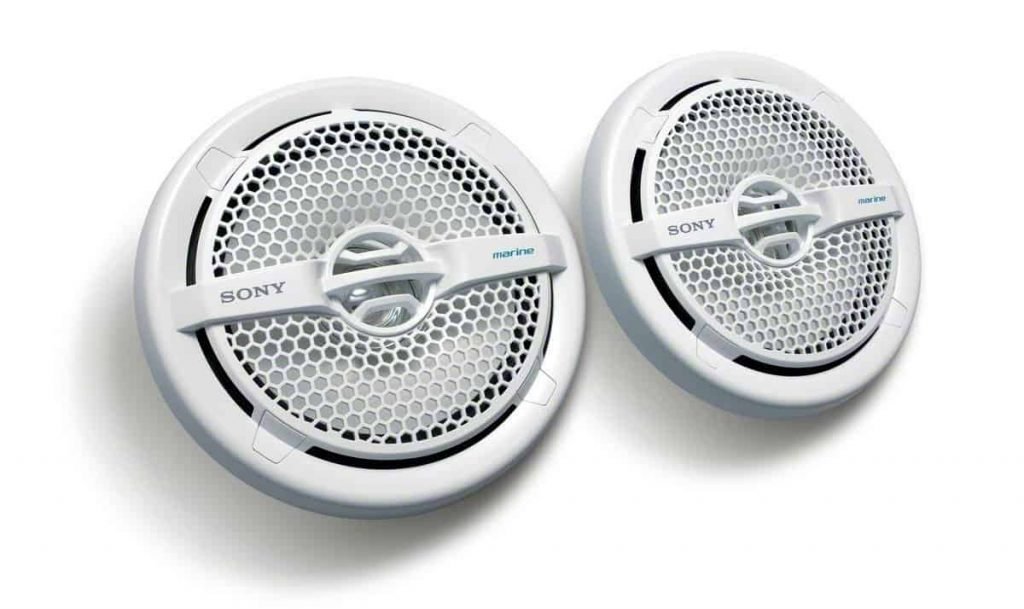 Update History
05/07/2020 – Added the JBL MS6510 to our selection of flush-mount speakers
04/14/2020 – Removed the Infinity Reference 612 – Discontinued
04/14/2020 – Removed the JBL MS6200 – Discontinued
Thanks for your feedback!