In-ear monitors, some would say, are the professional equivalent of what general consumers would call 'earbuds' or 'earphones'. In essence, they're the same thing, you're going to use them for music. However, the best in-ear monitors differ in their build designs, quality, and overall sound performance. These audio devices offer multiple ear tips, 1/4" adapters, and a range of accessories to enhance your music experience.
In the following guide, we have compiled a list of the best in-ear monitors that are currently available. We've included a more detailed overview of in-ear monitors and what to consider before buying a pair for your convenience as well.
These choices are for musicians ready to hit the stage, or consumers who want a more high-end sound to their favorite genres. Towards the end of the list, we shall also include some in-ear monitor systems specifically for musicians and tell you about the best in-ear monitors for singers. Whatever your reasons may be for looking into in-ear monitors, we're sure that you'll find one that strikes your interest.
A great all-rounder in terms of build, performance, and price. The C12 will keep audio enthusiasts more than satisfied and provides an excellent IEM choice for those looking to take them on stage.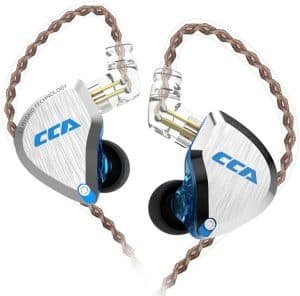 Best In-Ear Monitor for Singers
Our best in-ear monitor for singers pick goes to the Sennheiser IE 40 Pro. Sound leakage is minimal, and the result is an in-ear monitor with balanced sound, detail, and most likely a winner among those looking for a bright signature with less bass. There's no piercing present in highs, and the cymbal sounds clean without distortion.
Best In-Ear Monitor for Drummers
Our pick of in-ear monitors for drummers goes to the Simgot MT3. If you're a fan of dubstep, drum, and bass, or any form of electronic music, the MT3 may be worth checking out. The V-shaped signature, bass-focused presence, and various color build options seem to market it at those looking for an upgrade from their regular earphones, or an audio enthusiast who is treble-sensitive.
Best Budget In-Ear Monitors
The KZ ZSN in-ear monitors are the latest dual-driver offering from KZ, with a very appealing design. They offer good build quality, great cables, and rather an impressive sound. Although KZ launches earphones regularly, at just over $20 these are sure to be a pair you don't want to miss out on if you're on a budget.
Best High-End In-Ear Monitors
If you're in the market for a high-end pair of in-ear monitors, then we'd suggest you look at the 1MORE Quad Driver monitors. The quad drivers will certainly give you your money's worth in terms of build quality, sound performance, and longevity. In essence, you're paying a high-end price for a high-end product, there's no gamble on whether they're going to perform well. They're simply excellent earphones.
Best In-Ear Monitors for Musicians
As with singers, we suggest that the best in-ear monitor for musicians, in general, is the Sennheiser IE 40 Pro. Whether you area solo guitarist or play the keyboards in a larger band, the Sennheiser Pro will deliver the instrument separation that you need to hear yourself without distortion.
Wireless Microphone Systems Consumer Alert
Most users do not need a license to operate these wireless microphone systems. Nevertheless, operating these microphone systems without a license is subject to certain restrictions: the system may not cause harmful interference; it must operate at a low power level (not in excess of 50 milliwatts), and it has no protection from interference received from any other device.
Purchasers should also be aware that the FCC is currently evaluating the use of wireless microphone systems, and these rules are subject to change. For more information, call the FCC at 1-888- CALL-FCC (TTY: 1-888-TELL-FCC) or visit the FCC's wireless microphone operation guide at fcc.gov/consumers/guides/operation-wireless-microphones
Our Pick of the Best In-Ear Monitors
1. CCA C12 in-Ear Monitor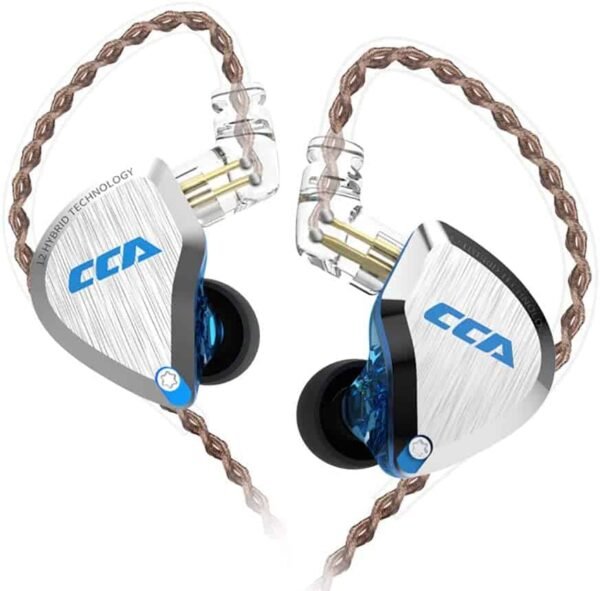 Technical specifications
| | |
| --- | --- |
| Brand | CCA |
| Driver | 1DD + 5BA |
| Connectivity | 3.5mm wired |
| Cable length | 1.2m±5cm |
| Pin type | 0.75 mm 2PIN |
| Impedance | 24 ohms |
| Sensitivity | 112 dB |
| Frequency Response | 7 Hz to 40 000 Hz |
| Colors | Dream Blue and Amber Gold |
| Microphone | Optional |
What's in the box?
1 x CCA C12 Earphones
3 x Pairs of Earbud tips (small, medium, and large)
1 x 2pin detachable cable
1 x User manual and warranty card
The CCA C12 is a very clean modern looking IEM that we've selected as 'our choice for the best in-ear monitor'. We've added these in-ear monitors in particular because they're a great all-rounder in terms of build, performance, and price. The C12 is the latest flagship hybrid design from Clear Concept Audio offering a generous 6-driver setup.
With all those drivers one can expect some great sounding earphones among all frequencies. We're certain the C12 will keep audio enthusiasts more than satisfied and will provide an excellent IEM choice for those looking to take them on stage.
Design and Build
The CCA C12 consists of a three-part shell, which includes an outer faceplate, an inner plastic shell and a nozzle. The branded cover is made of a solid zinc alloy metal, which is oxidized, polished and wiredrawn. The earphones are available in 'dream blue' and 'amber gold', both of which are vibrant and give the C12 a high-end aesthetic look.
The nozzle is also metal and has no rake, therefore you can expect a fairly deep insertion when adjusting the earphones. A deep insertion is really good for those who expect to be active when wearing the earphones. They'll provide excellent stability, and there's less chance the earphones will fall out should you decide to go crowd surfing.
Upon unboxing the C12 you'll also find that Clear Concept Audio has provided 3 pairs of starline tips, and an additional pair already attached to the IEM. Some users have reported that these earphones are a little on the larger side when compared to traditional IEMs, but they're still pleasant and comfortable for long periods of time.
The multiple ear tip sizes have aided in this as you'll have four options to choose from to find the perfect fit.
The C12 looks very nice, but it raises the question of whether these are durable should they sustain a fall or two. Thankfully, the metal faceplate and light plastic shell have been put together really well. There are no manufacturer imperfections at surface level, so you're getting a solid pair of IEMs. They're simply a premium looking pair of earphones at a fraction of the cost.
Cables
It is interesting to note that the CCA C12 has retained the brown KZ cables used in previous models. Some users have found difficulty in the splitter as it is oddly placed which is then compounded by the absence of a proper chin slider. However, the hooded-bi-pin style connector is easily replaceable with many options available.
Additionally, the earphones do come with a microphone, but a non-mic version is available if you're looking to save a few dollars. If you're interested in the microphone version CCA have stated that you will be able to communicate without handheld wires, which shall support standard high-definition mobile calls,
Sound and Performance
Although the CCA C12 looks very appealing, how do they fare in terms of sound quality? We're pleased to say they certainly deliver in terms of price-to-performance value again. The sound is balanced with good layering, separation and minimal to no distortion. Bass is hard and punchy, and you can expect deep weighted sounds when listening to EDM or Hip-Hop tracks.
The midrange is clear, vocals are really clean and instruments are brought forward. Both male and female voices are presented well, with the latter performing better because the bleed of the midbass leaves more space for female vocals and instruments.
Highs are not harsh or overly bright, they are well balanced, detailed and extended. When looking at treble it stays level from 2 kHz all the way through to 6 kHz before dropping back. The consequence of this is a presence region with a bit of energy that doesn't become too fatiguing. Taking a look at the soundstage it is above average with respectable instrument separation and imaging.
The ear tips also provide a fair amount of sound isolation, so you'll be able to block out a lot of background noise should your environment be raucous. The C12 is a pair of IEMs suited for almost anyone, they're affordable to the general consumer, and they're ready to deliver sound quality necessary for professionals.
If you're a musician tired of stage monitors, or you're an audiophile looking to pick up their first pair of IEMs, the CCA C12 should definitely be on your shopping list.
2. SIMGOT MT3 Hi-Res In-Ear Monitor Headphones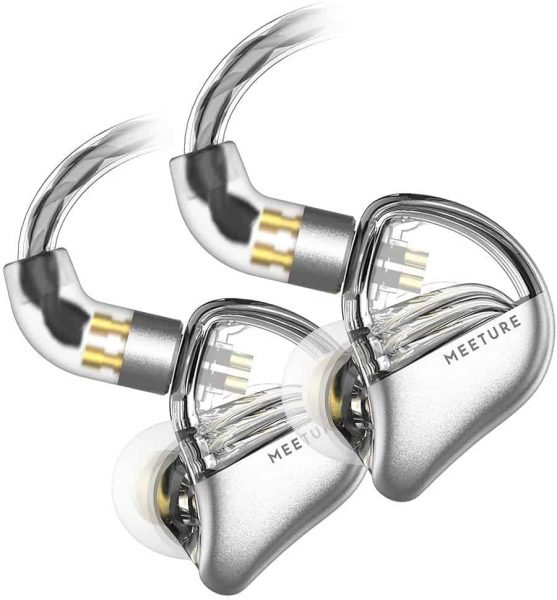 Technical specifications
| | |
| --- | --- |
| Brand | Simgot |
| Driver | 10 mm high magnetic circuit coil dynamic driver |
| Impedance | 18 ohms |
| Sensitivity | 101 dB |
| Frequency response | 15 Hz to 40 000 Hz |
| Power rating | 10mW |
| Cable type | 3.5 mm straight plug, copper, braided |
What's in the box?
1 x Simgot MT3 in-ear monitors
3 x balanced ear tips
3 x penetrating ear tips
1 x soft pouch carrying case
1 x braided detachable cable
Simgot is one of the most professional-looking in-ear monitor brands coming from China. The MT3 model states it will "outperform conventional dynamic drivers using revolutionary high-magnetic circuit coil driver technology." Advertising as a Hi-Res in-ear monitor the MT3 also promises high-resolution detail and excellent clarity through a range of frequencies.
With that being said, the MT3 is a noted bass-heavy pair of in-ear monitors and for that reason, we've awarded it as our 'best in-ear monitors for drummers'. With solid predecessors such as the EN700, let's take a look and see if the MT3 can live up to the hype with its colorful variants and an engaging sound signature.
Design and build
Up until now, we haven't given any special attention to the packaging of the products listed, but the MT3 is worth mentioning. A good first impression is always nice and you can see Simgot and Meeture spent some extra time when assembling these earphones.
The MT3 is packaged in a classy white box with a carrying pouch, braided cable, instructions, and a pleasant selection of ear tips. Simgot has actually included a little instruction manual that states that each ear tip changes the way in which you hear music.
Maybe it's the start of better customization or ear tip tuning, we're not entirely sure if this applies to other brands. However, Simgot is stating that the wide-bore ones carry a balanced and brighter sound, whereas small-bore ones are for bass enhancements.
Moving onto the MT3 build itself, it is mainly made from high-quality transparent plastic. The rest of the earphones, including the nozzles and faceplate, have a matte metal finish.
The MT3 comes in four colors: clear, green, pink and black, but all are a slight tint and the earphones' inner-construction is always visible. When looking at fit and comfort the MT3 exceeds with a good fit and a tight seal. Minimal fiddling is required, and although the housings are a bit on the larger side, they lock into the ear canal well outperforming some smaller housing competitors.
The customizable ear tips will guarantee your earphones stay inside your ears, so you don't have to worry about them falling out when you're moving your head around.
Consequently, the formable wire also ensures a firm placement over the ears making these a good choice for running, jogging, or the gym. In terms of build quality then, the MT3 should hold up for casual listeners on-the-go or musicians ready to take them on-stage.
Cables
The MT3 comes with good cabling, the actual wiring is 'OFC X4', which is found on the plastic Y-splitter. Upon further inspection, you'll notice the copper has been split into four cores, which has been coated in a smooth plastic and braided.
The build quality is good, but the part of the cable above the Y-splitter could be tighter. The Y-splitter and 3.5 mm jack housing are also made from a semi-matte and frosted-white plastic.
As for the 2-pin connectors, they have been capped-off with a silver metal ring. It's important to note here that the 2-pin connectors are raised above the shell, which might make them incompatible with some third-party cables. In terms of compatibility users should find no issues, the MT3 can work with androids, mp3 players, tablets or any device with a 3.5mm jack.
Sound and performance
The MT3 is a true V-shaped IEM so you can expect it to be very bass-heavy. It may fade around the 50 Hz region, but that does not stop it from producing a good amount of rumble. The earphones are great around the mid-bass region though, with a respectable extension into the sub-bass. The midrange also handles a wide variety of genres with ease.
The MT3 performs exceptionally well when listening to pop, rock and electronic dance music. Textures and complex tones are more than present, but there is some recession in the midrange affecting fine detail and resonation. The treble expression is rather interesting in the fact that it is highly reliant on the mastering of the track.
What we mean by this is traditional consumer mastering recedes the treble behind the mid-bass slightly, yet more neutral tuning leaves them around the same in relative emphasis. This effect is quite noticeable in all in-ear monitors, but it seems more pronounced with the MT3. The MT3 also does a fine job as far as treble extension goes.
While it doesn't quite hit the upper-trebles farthest reaches, it does handle well considering the V-shaped sound signature. Additionally, the earphones do not weaken when playing poorly mastered and significantly sibilant songs. One could say that the MT3 is immune to sibilant tuning.
In conclusion, the MT3 feels like a pair of in-ear monitors built to impress the average consumer. The V-shaped signature, bass-focused presence, and various color build options seem to market it at those looking for an upgrade from their regular earphones, or an audio enthusiast who is treble-sensitive.
The Simgot is our pick for the best in-ear monitors for drummers. If you're a fan of dubstep, drum, and bass or any form of electronic music, the MT3 may be worth checking out.
3. 1MORE Quad Driver in-Ear Earphones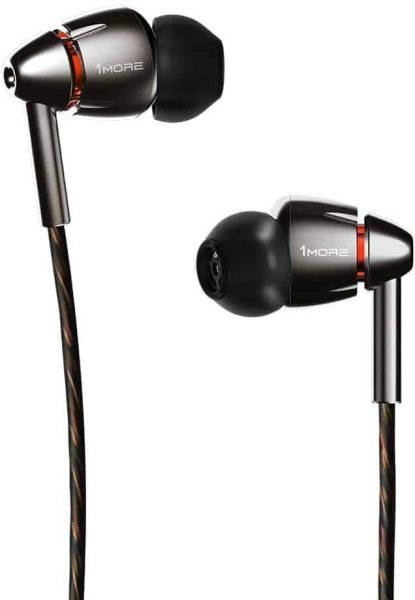 Technical specifications
| | |
| --- | --- |
| Brand | 1MORE |
| Driver | 1DD + 3BA |
| Impedance | 32 ohms |
| Sensitivity | 99 dB |
| Frequency response | 20 Hz to 40 000 Hz |
| Weight | 18.5 g |
| Cable | 3.5 mm gold plated, oxygen-free copper wire |
| Cable length | 1.25 m |
What's in the box?
1 x 1MORE Quad Driver In-Ear Earphones
6 x silicone ear tips
3 x foam ear tips
1 x shirt clip
1 x leather travel case
1 x airplane adapter
1 x 1/4" adapter
The 1MORE triple driver earphones pushed up expectations on what consumers could buy for under 100 dollars. They offered great sound, a stylish build, multiple accessories, and features that put them in the 'high-end' spectrum of IEMs. 1MORE has now gone even further and released a new pair of quad driver earphones set to shake up the market as its predecessor did.
The question remains, can the new quad driver addition surpass the triple driver's value for money? Let's find out below.
Design and build
Generally, the packaging isn't everything, but you're off to a good start if you can see the company took extra time in making the appearance luxurious. Once opened the left side of the box displays hand-drawn design notes and diagrams which give you an idea of what you're in for. The right side houses the quad driver earphones and the multiple accessories included.
1MORE has included a very nice leather traveling case with red stitching and the company name pressed to the front. Additionally, the earphones also come with 9 sets of ear tips. It's very common for most manufacturers to throw in two to three generic pairs of silicone ear tips and in some cases the occasional pair of foam tips.
1MORE really provides a custom ear tip experience with 3 wide bore foam tips that are rubberized, and 6 high-quality silicone tips with venting built directly into the borehole.
This design is quite innovative and it raises the question of how these would affect the sound considering they're an important aspect of how these earphones work. But more on that later, we're not done with the design and build quality of the earphones.
When looking at the 1MORE quad driver in-ear monitors you'll see some similarity to that of a jet engine. The earphones have an anodized metallic finish to them and are incredibly lightweight despite the solid design. The 1MORE logo has been printed on the side of the earphones and red highlights have been applied to the aluminum to give it a premium look.
In terms of comfort, the earphones have been angled at 45 degrees which should ensure a secure fit, while removing any strain from your ears. The snug fit also gives good stability so you can move around without any issues.
Cables
1MORE has made their cables translucent showcasing the natural coloring of the oxygen-free copper wires. Connecting to devices are really simple, these quad drivers use a 3.5 mm connector. At roughly chin level you'll find a remote control and a microphone compartment running along the right ear side of the cable.
The remote comprises of three buttons: a single multifunction button and two volume buttons. These buttons are compatible with both iOS and Android, however, on Android, you will not be able to return to the previous track.
On that note, Android users will still be able to access all the other functions: volume control, pause / play music, skip to the next track, and access voice assistants like Google or Siri. Finally, the microphone quality is pretty standard. There is no static or interference, but users have reported your voice may sound a bit 'distant' to the receiver of the call.
Sound and performance
The 1MORE quad driver earphones have some great specs so you'll likely expect some great results. Before making your decision on whether these earphones sound good, it should be noted the importance of an amplifier. Although these have been designed to work with smartphones, some users report a very big improvement in some genres with the DAC and amplifier combination.
The amplifier isn't compulsory by any means, music still sounds great out the box, but this factor should just be taken into consideration if something feels 'missing' in some tracks.
Beginning with the lows, the 1MORE quad driver earphones deliver phenomenal sound with the dedicated 'diamond-like carbon driver' which produces rich bass. Lovers of rock and electronic dance music can expect fulness in all the right places when the mix demands it.
The mid frequencies are even more spectacular, as a result of which vocals and instruments are clear and vibrant. Many headphones tend to lean too much towards the bass and top end, neglecting the mid-range. 1MORE has gotten it just right here with a good balance of all three.
Speaking of the top end, the high frequencies are also excellent. When earphones correctly top out their frequency range at 40 000 Hz you'll be able to hear smaller details you've never noticed before. Having used one dynamic driver on the lows and mids, and three balanced armatures for the rest, 1MORE has surely produced some Hi-Fi sound as advertised.
In terms of sound isolation, we had some queries on whether the venting design of the ear tips would alter the experience. The good news is that many users have reported the earphones still do a good job of blocking out external noises. So, whether you're planning on using these at home, in the studio, or while commuting, the 1MORE quad drivers have you covered.
Would we say these earphones match up in terms of price and value to their triple driver predecessors? Well, probably not because those took an almost budget price and escalated it to a premium high-end product, making it one of the best in-ear monitors at the time. However, the quad drivers will certainly give you your money's worth in terms of build quality, sound performance, and longevity.
In essence, you're paying a high-end price for a high-end product, there's no gamble on whether they're going to perform well. They're simply excellent earphones.
4. Etymotic Research ER-4PT
Technical specifications
| | |
| --- | --- |
| Brand | Etymotic |
| Driver | single balanced armature drivers |
| Impedance | 27 ohms |
| Sensitivity | 108 dB |
| Frequency response | 20 Hz to 16 000 Hz |
| Weight | 28 g |
| Cable | 3.5 mm |
| Cable length | 5 ft |
What's in the box?
1 x ER-4PT Earphones
3 x custom ear tips
1 x filter removal tool and replacement filters
1 x Carrying case
1 x shirt clip
1 x Channel-Matching Compliance Graph
1 x 1/4" adapter
Etymotic Research has been a longstanding name in the audio industry. The company was founded in 1983 by Edwin DeVilbiss and Mead Killion who originally manufactured and produced hearing aids and other related equipment. In later years they would go on to make some of the most famous earphones in history, maintaining a reputation of durable design builds and high-end sound quality.
The ER-4 earphones are Etymotic's flagship premium offerings with three variants of the best in-ear monitors to the series: ER-4PT, ER-4S, and ER-4B. According to Etymotic Research, the ER-4 series is also the "world's first high-fidelity, noise isolating in-ear earphones."
With a long history and a name derived from Greek translating to "true to the ear", let us see if the ER-4PT meets such great expectations.
Design and build
Starting with the packaging the ER-4PT comes inside a sturdy plastic case with the company name 'ETYMOTIC' on the front. Once you have opened the case you will be greeted by the ER-4PT earphones and a range of accessories, including a Channel-Matching Compliance Graph for each ER-4PT earphone.
Fit and comfort are always important factors, so IEM's which are on a premium level should offer ear tips out the ordinary. Etymotic have included proprietary glider tips, black foam tips, and a classic triple-flange tip. Depending on ear size the gliders seem to work well with smaller ears, whereas the triple flange tips offer an excellent fit once you've been through their tutorial.
In essence, they will require a twisting motion to ensure the best possible seal and fit. Speaking about seal we should mention how well these earphones can isolate sound.
The ER-4PT may offer the best seal you have yet to experience, once your preferred ear tip has been secured, you won't be able to hear anything. They provide a comfortable fit while sustaining breathability and stability wherever you are.
Moving on to the actual ER-4PT earphones they are a low-profile build in a cylindrical plastic housing. Inside are high performance balanced armature drivers, which are protected by replaceable filters to prevent ear wax and other debris build-up.
Being plastic the ER-4PT is extremely lightweight and you can expect them to survive a fall or two should you accidentally drop them. One final accessory we should mention is the ER-4PT to ER-4S converter cable.
The ER-4PT features a 13 dB larger output at low frequencies, and a 10 dB larger output at higher frequencies, as opposed to the ER-4S. In order to be powered effectively, the ER-4S will generally need an amp. It should be noted that the ER-4PT and ER-4S are generally sold for the same price, so buyers' discretion is advised.
Cables
Etymotic has insured the ER-4PT design quality has been made prevalent throughout their earphones including the cable. It has been well-built with the top half being braided, and the bottom half is made from a reinforced plastic material.
The ER-4PT features a 3.5 mm connector which is 5 ft in length. Additionally, Etymotic has also included a shirt clip along the cable which can be used to reduce any microphonic effect.
Sound and performance
The ER-4PT is a great pair of earphones in terms of sound clarity and accuracy of the reproduction. You should expect to hear sounds you have never heard before in tracks, including imperfections in the source material. The bass is present and has good impact, but like many single balanced armature drivers in a plastic housing, it lacks a certain fullness at times.
Moving onto the mids they are generally neutral in sound, spacious in the upper regions, and offer warm vocals for both males and females When looking at treble the ER-4PT really separates itself from a lot of brands. Etymotic isn't afraid to establish the treble presence here and does so without adding any discomfort to the highs.
If you're an audiophile or a musician you're in for a treat when it comes to instrument separation. The ER-4PT may possibly have the best to date, whereby different instruments are always rendered correctly no matter how congested the track may be.
Some users have even reported the listening experience may be 'slightly intense' because the emphasis on high-frequency notes, moderate soundstage, and great isolation can be an overwhelming feeling at first. This can be ratified with the included 1/4" adapter though, it adds some much-needed air into the earphones for some individuals.
Although the detail and clarity will be preserved, purists may find this option more appealing. In summary, the ER-4PT is a reliable and time-tested pair of earphones with a remarkable sound signature. If you're after great in-ear monitors that offer clear, bright and analytical sound, and also completely closes off your surroundings, you should definitely keep your eye on the ER-4P series.
5. Sennheiser IE 40 Pro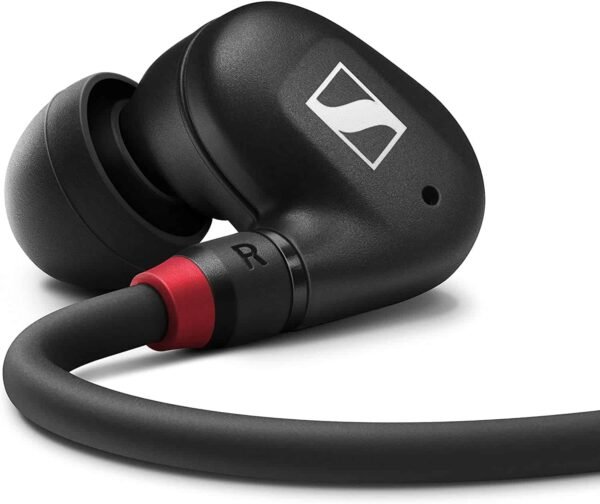 Technical specifications
| | |
| --- | --- |
| Brand | Sennheiser |
| Driver | 10mm dynamic driver |
| Impedance | 20 ohms |
| Sensitivity | 115 dB |
| Frequency response | 20 Hz to 18 000 Hz |
| Noise attenuation | < 26 dB |
| Cable length | 1.31 m |
What's in the box?
1 x Sennheiser IE 40 Pro in-ear monitors
1 x foam tips
3 x silicone tip sizes
1 x soft pouch
1 x cleaning tool
1 x manual
Sennheiser is a brand known for making high-quality audio equipment since the company formed over 70 years ago. Most of their products have been aimed at the consumer market, even their high-end offerings such as the HD 800 S headphones.
Things change with the IE 40 Pros though, they're a good choice for people looking to enjoy music with less bass, as well as musicians ready to hit the stage or studio. In fact, the Sennheiser IE 40 Pro gets our nod as the best in-ear monitors for musicians.
Design and build
Upon first inspection of the IE 40 Pro you'll notice they are low-profile yet fairly stylish. They're not your typical in-ear style and have an ear-hook design to them. They are made in two colors: black and clear, but both maintain the professional look Sennheiser is going for. Sennheiser can always be associated with good build quality and the IE 40 Pros do not fall short.
They're not on the same level of build quality as the Shure SE215, but they do feel durable and well made. In terms of stability, the earphones are supported by the ear-hook design. Although they won't come falling down while you're running, the frequent head movement does result in the buds moving around in your ears a bit.
Breathability is always an important factor when looking at these 'Pro' earphones, if they're going to be with you on stage (or running around while jogging) they shouldn't be trapping heat inside your ears.
The IE 40 Pros do stay cool, and therefore make a good pair of earphones for those who are going to be active in their listening sessions. Good build quality and features aside, earphones need to be comfortable inside your ears for long periods of time. When fitting the IE 40 Pro they'll enter your ear canal fairly deeply.
Sennheiser has provided 3 tip sizes and one foam tip option as well, therefore you'll have a good chance of finding the perfect fit. The IE 40 Pro is rather lightweight, and when properly adjusted can feel like they're barely present leaving you to focus on your music.
Cables
Those looking to purchase the IE 40 Pro should be aware of the cables included with this IEM. Although the cable is detachable, Sennheiser has chosen a proprietary connector for the IEM like the ones included with the IE80s.
The reason for this choice is to make it ready for stage use, therefore it has been designed with an innovative internal cable duct. The cable can be upgraded, but parts aren't as easily available as expected.
Sound and performance
Sennheiser has always made their soundstage their secret weapon, and with the IE 40 Pros there's certainly no disappointment. At this price range, we would reckon these are the widest soundstage you'll get. The Y-axis is sufficiently deep and the X-axis is extensive. The IE 40 Pros sit between a bright and neutral sound, but more leaning towards a bright signature.
Although these aren't too bass-focused as other in-ear monitors, there is still sufficient depth in low frequencies. The bass is well controlled and decays quickly without bleeding into the other frequencies. This design is what most 'professional' musicians might be after, quality bass that is present when needed, but dissolves when it isn't the right time.
The mids in the IE 40 Pro are neither forward nor recessed, Sennheiser has hit the sweet spot. Vocals are full of energy, clear and crisp. Upper mids are also spacious and breathy, additionally, the layering is almost always flawless providing a silky-smooth neutral experience.
We described the IE 40 Pro as a 'bright' IEM and this really shines in the highs. They are definitely more prominent, spacious, and without congestion.
There's no piercing present in highs, and the cymbal sounds clean without distortion which also makes it one of the best in-ear monitors for singers. The IE 40 Pro is perfect for indoor use, but the sound does seem to creep in when your surroundings are loud and the volume isn't high enough.
On the other hand, sound leakage is minimal, and you shouldn't have any problems listening to music next to a loved one. The verdict is an in-ear monitor with balanced sound, detail and most likely a winner among those looking for a bright signature with less bass.
6. KZ ZSN HiFi Noise-Isolating in Ear Monitor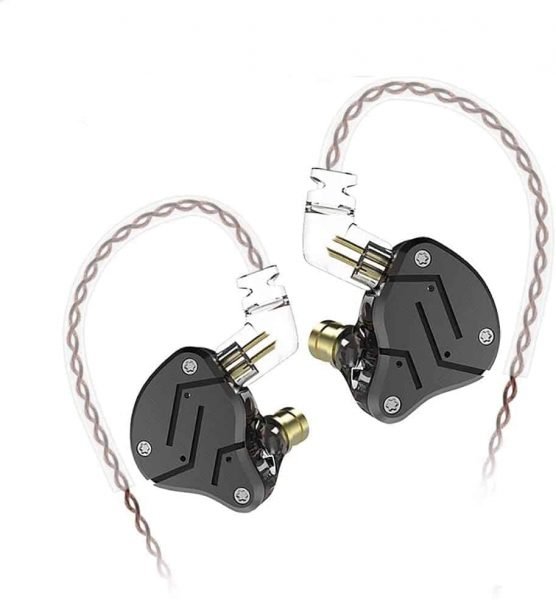 Technical specifications
| | |
| --- | --- |
| Brand | KZ |
| Driver | one dynamic driver and one balanced armature |
| Impedance | 25 ohms |
| Sensitivity | 104 dB |
| Frequency response | 20 Hz to 40 000 Hz |
| Pin type | 0.75 mm |
| Connectivity | wired |
| Cable length | 3.9 ft |
What's in the box?
1 x KZ ZSN In-ear Monitors
4 x pairs of silicone Starline tips
1 x detachable 0.75 mm 2-pin cable
1 x user guide and warranty
The ZSN in-ear monitors are the latest dual-driver offering from KZ, with a very appealing design. We've selected these earphones as our 'best budget option' as they offer good build quality, great cables, and rather an impressive sound.
Although KZ launches earphones regularly, these are sure to be a pair you don't want to miss out on! With detailed sound and bass to rock your world, these earphones are a great start for anyone getting into the IEM market.
Design and build
The KZ ZSN is a really stylish pair of earphones that would make you think they are valued far beyond what they actually retail for. The IEM is available in silver purple, cyan and black, so it caters to those looking to go a bit adventurous in their choice, or those wanting to keep it clean and simple.
KZ does produce a fair number of products, so if you're familiar with the KZ AS10 and the KZ ZS10 you'll notice similarities with the transparent casing that lets you see the insides of the earphones.
When looking at the faceplate it is made of aluminium alloy with a zigzag like a pattern. The cable has also been braided, which adds to the premium high-quality feel. The ZSN buds do suffer from a slight bulkiness than most in-ear monitors, but they're made in a way that still gives you a nice angled fit. In terms of comfortability, these earphones can be worn for long hours without any discomfort.
The ergonomic shape and long nozzles allow the earphones to fit naturally as if they were molded specifically to your ear. KZ has included various different tip options so you'll be able to find the best possible fit for an air-tight seal. Breathability is also accounted for, although the buds are bulky in comparison to other models, you shouldn't feel a big difference in temperature while wearing these.
Finally, thanks to the ear-hook design you shouldn't have any trouble while on stage or running around. They don't move around in your ears at all, so you can be active and not worry about stability. With that being said the buds are really dense, therefore the ZSN should hold up in the long run in terms of durability.
Cables
The included cable closely resembles the same one which was included with the KZ S10 and KZ BA10, but this time it feels more flexible, and KZ has removed the memory wire. At the top of the design are the translucent 2-pin connectors, followed by the ear guides. Unfortunately, the plastic Y-split is placed too far down, which could result in some tangling.
However, KZ has made the cable detachable and replaceable, so if you have the means you can find something more suitable, or buy a Bluetooth adapter and make these earphones wireless. Tangling isn't the end of the world though, and the braided finish is still very premium. These alternative options for cabling are just mere suggestions, the stock cables are perfectly fine.
Sound and performance
Sound quality is the most important part you're going to be looking for when searching for the best in-ear monitors on a budget. Sure, build quality is important, but many will lean towards superior sound over simple aesthetics and trinkets. KZ has done really well in their performance department creating a pair of earphones with rich bass, warm mids, and bright highs.
The KZ ZSN stands testament to most KZ earphones providing a very full-bodied audio experience. The mid-bass is just right without being too boomy leaving the sub-bass pleasantly deep.
Out of the box, they're ready to fulfill the desires of intense-bass listeners, however, you can apply an EQ for even more punch to be revealed. Mids are also full-sounding with male vocals not being too laid back, and female vocals coming out crisp and clear.
There may be some mid-bass bleed, but no excessive congestion is present. When comparing the ZSN midrange to another KZ product we would say that it's almost identical to the KZ ES4.
In both cases, with the help of an EQ, the midrange can be fine-tuned to produce a cleaner lower midrange and a smoother high mid response without any harshness. The highs are indeed bright and offer a good amount of detail. Some piercing highs do occur at times, but this should be expected from this style of turning. On that note, however, the earphones are still not fatiguing by any means.
Although KZ has included additional pairs of ear tips for the perfect fit, there is some sound leakage to nearby people should you push the volume high enough.
However, this shouldn't be a worry if you're on stage, the sound isolation is also way above average and you'll be able to block out your surroundings with a volume increase. The sound leakage and isolation, therefore, do clash in some way, but you'll be able to adjust it according to your circumstance. All in all, you're getting superior audio quality at a very reasonable cost.
7. MEE Audio M6 PRO Musicians' In-Ear Monitors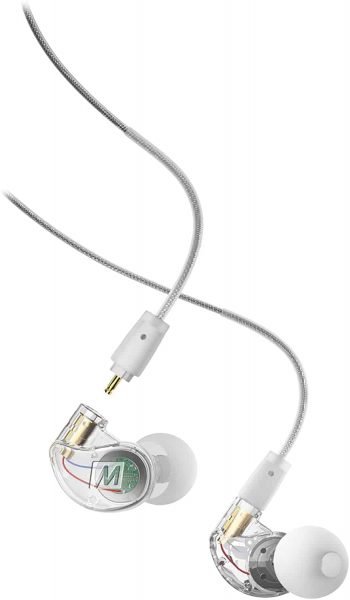 Technical specifications
| | |
| --- | --- |
| Brand | MEE Audio |
| Driver | 10 mm single dynamic driver |
| Impedance | 16 ohms |
| Sensitivity | 100 dB |
| Frequency response | 20 Hz to 20 000 Hz |
| Max input power | 30 mW |
| Connector | 3.5 mm (comes with a 1/4 " adapter) |
| Cable length | 51" |
What's in the box?
1 x M6 Pro generation 2 in-ear monitors
1 x Stereo audio cable
1 x Stereo headset cable
1 x Carrying case
1 x Memory foam ear tips
6 x silicone ear tips
2 x shirt clips
1/4 "adapter
MEE Audio is no stranger to high-quality in-ear monitors. The M6 Pro Generation 2 now labeled as 'professional monitor earphones', seeks to target musicians or those looking for earphones that are more high-end. With a smoother and more refined presentation than the original, the second generation promises a sound that is not only clearer but less fatiguing at the same time.
With its new design and extra accessories, the MEE Audio M6 Pro Generation 2 steps up in seriousness and is willing to trade blows with companies such as KZ who can produce multi-driver IEMs at a fraction of the cost. Although the M6 pro may not be 'musician' worthy for some, it's sure to give you a lot more performance than expected.
Design and build
The original M6 Pro's were a hit on Amazon being a top-selling IEM that was affordable yet still high quality in terms of build. How has the second generation been altered you may ask? As expected, only for the better, a few tweaks to the original design have made the second generation more solid than the original.
The second generation now includes customization with their innovative engraved metal faceplates, which is quite exciting because they may be the first universal in-ear monitor to offer this feature.
Those who worry about finding spare parts will be glad to know that upon unboxing MEE Audio has included a range of replacements should you need them. Additionally, a nice carry case has been included to protect your IEMs in transit.
When damage tested, the M6 Pros could be dropped, thrown into a bag, and pressed-on without experiencing any impairment. We're not saying have a drop test yourself, but if you're on stage the earphones have a good chance of taking a few falls.
Back to the aesthetic, the earphones are available in various colors: blue, black, red and clear. The transparent color is an interesting choice given the earphones only offer a single dynamic driver. With no circuitry to boast, the few exposed wires may not look as impressive as MEE were expecting.
What's also great about the build is that they're sweat protective, so if you're planning on working out, exercising or accustomed to receiving water splashes on stage you'll be ok.
In the beginning, we also spoke about accessories and to our surprise, the M6 Pro came with six pairs of silicone ear tips and one pair of complying memory foam tips. This creates the perfect seal for those looking to lock in as much sound as possible. In terms of fit and comfortability, the M6 Pro Generation 2 does the job far better than the original. These are definitely a pair of earphones you can fall asleep with.
Cables
The cables included with the M6 Pro generation 2 are detachable, so if you want to switch to a single-ear monitoring mode, you can simply remove the stock stereo cable and attach it with a stereo-to-mono one. A really nice gesture made by MEE is an included ¼ adapter, which is rarely included with IEMs.
You'll sometimes find them with more expensive models, so maybe MEE has included them to stick with the 'professional in-ear monitor' approach they're going for.
Sound and performance
MEE did a really good job improving upon the original M6 Pro. They have refined and improved the sound while keeping it at the same price as its predecessor. The original M6 Pro had a few shortfalls including vocals which would come through a bit harsh, and distortion which would arrive as the frequency adjusted. The second generation now offers a sound that is clearer, and less fatigue in overall quality.
It should be noted however, the M6 Pro Gen 2 does lack, multiple drivers, so the sound isn't going to be as pronounced as it would on higher-end in-ear monitors.
Moving onto the lows, the bass is deep and packs some real punch when listening to pop, jazz or blues.
The mids are crisp and there is no tangled mess, which is often present in earphones around this price range. In some way, you could say that their new 'Pro' labeling marketing strategy is justified then. MEE has also phrased the M6 Pro's as 'noise-isolation' earphones so it would be important that their ear tips actually drown out surrounding sound.
We've mentioned that MEE has included six pairs of ear tips, and we should rather phrase them as earplugs because they really perform well. There's definite 'noise-isolation' when taking them into the gym as you'll barely notice the treadmill when walking past.
If you're a musician, users have reported that if fairs rather well on stage and blocks out a majority of the unnecessary sound coming your way. Overall, the drivers are a lot more advanced than your standard earbud. The ultra-thin diaphragm and aluminum coil really help with movement precision.
What this means is that the audio is delivered better and more balanced among the 20 to 20 000 Hz frequency range. The bottom line? They may no be high-end and ready to perform for professional musicians, but they're still a good pair of in-ear monitors.
In-Ear Monitor Systems
In-ear monitor systems are devices that allow musicians and singers to listen to their music while they're up on stage. In the past, performing artists would have to rely on stage monitors to hear what they are playing during a concert. These types of speakers would face the band so the audience wouldn't be able to hear them over the loudspeakers but also created some issues.
From damaging your ears at high volumes to cluttering the stage, stage monitors created all sorts of issues. Luckily, with the introduction of in-ear monitors systems, artists no longer have to worry about these problems and in-ear monitors (IEM) are rapidly becoming the norm in live music.
If you're a beginner to the in-ear monitor industry, don't be surprised you've likely seen them numerous times without noticing. Those special looking earbuds in artists' ears, and what looks like a walkie-talkie attached to their belt, you guessed it, it's an IEM system in action. We've added a convenient in-ear monitor system FAQ for you to the end of this article if you want to know more.
In-ear monitor systems usually consist of three components: the earphones, transmitter, and receiver. The transmitter is used to send the audio of the performance to the receiver (this audio is called the monitor mix); the receiver is placed on the belt, plugged into the earpiece, and can also be used to adjust the volume; and finally, the earphones use noise cancellation to block out unwanted sounds.
Therefore, the end result is a monitor mix that can be heard in crystal clear quality through the earphones.
Again, without further delay, lets take a look at three in-ear monitor system choices.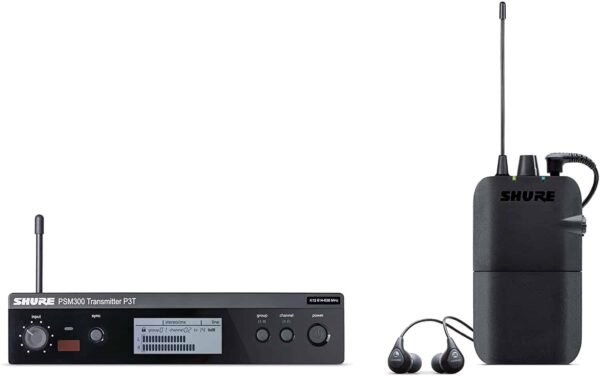 Shure is one of the most trusted audio brands in the world. They have brought together an in-ear monitor system with everything you'll need to get started on stage. The package includes:
P3R: A wireless bodypack receiver that is stereo enabled. Volume can easily be adjusted and a mixing control is also present. Two AA batteries have been included and the receiver lasts approximately 6 hours throughout continuous operation. It has a 3.5 mm output and can be easily clipped onto your belt with its lightweight design.
P3T: A single channel, half-rack transmitter with an included rack mount. The transmitter will send a stereo or mono mix wirelessly to artists on stage. The one-touch IR sync instantly links the transmitter to the receiver over 300 feet or 90 meters in range. The P3T also has a detachable antenna, external power supply, ¼ TRS balanced inputs, and an LCD menu with detailed L/R audio output meters.
SE12: Shure has also included a pair of headphones with deep bass and impressive sound isolation. The earphones claim to block out noises up to 37 dB and provide a comfortable, secure fit.
Additionally, Shure has given us an outline in four easy steps to achieve a custom mix:
1. Route audio signals from the stage to a mixer or PA system.
2. Create an instrument mix and vocal mix, then route each to an input channel on the P3T transmitter.
3. Monitor one or both mixers through the earphones connected to a P3R or P3RA bodypack receiver.
4. Adjust the volume and MixMode knobs to create a personal mix.
The Sennheiser 100 series is a versatile wireless system for artists who want to speak, sing or play instruments with up to 42 Mhz tuning bandwidth in a steady UHF range. It is one of the best in-ear monitors for singers. The package includes:
A receiver: which is rugged, durable and has a full-metal chassis. Its auto-scan searches a 42 MHz UHF tuning range with 1680 available frequencies available. The result of which is an interference-free channel for your audio transmission.
A System transmitter: with a Ci 1 cable to connect all your instruments. The system comes with two AA batteries and provides up to 8 hours of power, with a fixed 30mW RF power output and a transmission range of up to 300 feet. Sennheiser states that the device can operate up to 12 wireless channels simultaneity, with the receivers all linked together to deliver a fast-multi-channel frequency setup.
The wireless system is specifically suited for all types of live events, including houses of worship, music performances, public speaking, and presentations.
Additionally, the EW 100-Ci1 has been made backward-compatible so you'll be able to mix it with any G4; G3; G2; or G1 receivers and transmitters.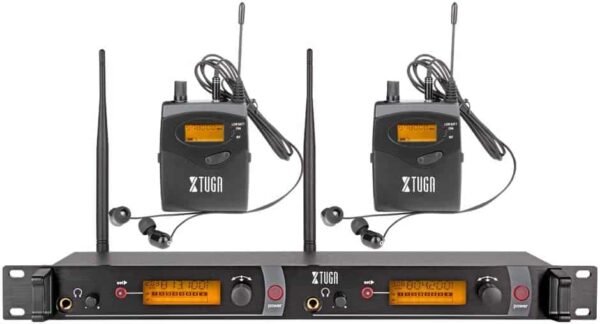 XTUGA is a brand that designs and manufactures all kinds of high-quality and professional audio products. Their multifarious product series, in particular, includes in-ear monitor systems for artists, singing equipment suits, and mixing consoles. Their RW2080 whole metal wireless in-ear monitor system is available in the 2-8 bodypack option and includes a transmitter. Let's take a look at the items included:
RW2080 Wireless In-Ear Monitor System: XTUGA has made the wireless system to be used for stage performances, and the replacement of traditional sound monitoring equipment. Using the latest high-frequency transmission and dynamic audio technology, the device will improve the signal-to-noise ratio of the dynamic range to eliminate interference.
Additionally, among the band of 32 MHz, you will also have the option to pre-set 40 frequencies. The result is an in-ear monitor system that not only has a tough metal build, but also perfect original sound quality.
RW2080 Bodypack Receiver: The receiver has a frequency range of 572 to 599 MHz. You'll be able to pre-set 40 channels separately and set 4 groups. The receiver can be connected to a pair of earphones using a 1/4" connector and includes two AA batteries. Its elegant display panel will let you know when the battery is flat and it will be operational from up to 300 feet.
Additionally, XTUGA has included a 3-year warranty on the product.
In-Ear Monitoring System FAQ
How do In Ear Monitor Systems work?
In-ear monitors systems are very much like connecting a smartphone to a Bluetooth speaker. The transmitter, which would be your smartphone, sends audio wirelessly to the receiver (ie the Bluetooth speaker). The only difference between the two is that with an in-ear monitor, the audio will pass through a mixer before getting to the earphones.
A common setup would be sending all your instruments and mics to the mixer, whereupon you will be able to align an output to each one so that the parts can be listened to individually. The output will then emerge from the mixer, where it will be connected to your transmitter. Finally, the transmitter will send the audio to your headphones and you will be able to hear the desired music.
Why Would You Need an In Ear Monitor System?
Mobility
Previously we mentioned stage monitors and their drawbacks. One of the issues raised was that they could clutter the stage. You wouldn't want to be one of those artists who trip on cabling and lands on YouTube for all the wrong reasons, would you? Another problem relating to freedom of movement is also walking out the earshot of your stage monitor. This could be disastrous as you risk losing your place in the song or hitting bum notes.
Stage monitors don't have to be the end of the world though, as a musician you're used to changing styles, so why shouldn't your equipment be any different. With in-ear monitor systems, you'll finally have the freedom to go wherever you want on stage. IEM systems are also compact and can fit into your suitcase, this also means less equipment to carry around should you be on tour. Yay, more space on the bus for those extra special fans!
Better Sound Quality
With any type of audio equipment, sound quality is chief. In theory, stage monitors are only meant to be heard by artists on stage, but as some musicians will know, this isn't always the case. Stage monitors may interfere with the rest of your speakers and introduce feedback, this, in turn, will leave your music sounding weak and poorly produced.
IEM systems again counter this problem by eliminating the feedback and keeping the music in your ears and away from the crowd. This guarantees better quality sound and no risks to altering the music you've worked so hard to produce.
Protecting your Ears
One of the most important things to protect as a musician is your ears. A damaged eardrum could be an artist's worst nightmare while on stage. With that being said, high volumes of music on stage comes with the territory of being an artist. Therefore, to improve your hearing longevity, in-ear monitors offer the safest route.
If you're pedantic about this, you can get some of the best custom in-ear monitors fitted specifically for your ear-channel. The noise-canceling and isolation features don't just make it easier to hear your own music, but also protect you from loudspeakers nearby. Take precaution, don't rapture those eardrums, and avoid an ear ringing experience!
Wired or Wireless In-Ear Monitor System?
Choosing a wired or wireless in-ear monitor system will depend on your movement on stage. Of course, the wireless option will be pricier, but the best in-ear monitors for singers will provide freedom to performers who like to walk around without any restrictions. Other members of the band, such as stationary drummers may find the wired option perfect.
Wired in-ear monitor systems eliminate the need for a belt pack as the earphones will be directly connected to the mixer. Additionally, there's no risk of compromising audio or interference that can sometimes be found in wireless systems. 
An In-Ear Monitor Overview
Straight or Over-Ear?
There are two different kinds of configurations to in-ear monitors. Straight in-ear monitors are plugged right into your ears and the cables hang down in front of you. These are the most common, and some would reason the most comfortable too. There's no additional pressure to your ears, but the shortfall is they're more likely to fall out if you're active while wearing them.
Over-ear monitors, on the other hand, wrap around your ears and provide a secure fit. They can be uncomfortable for some, but high-end models should provide some padding. In the end, it's a matter of preference and what you intend to do while wearing the device. Are you a musician who wants to 'headbang' to your bandmate's awesome guitar solo? Well, those over-ear earphones might be a good option.
In-Ear Monitor Single Drivers
There's a new trend around the sale of earphones where companies market multiple drivers at outrageous prices. But how many drivers are enough to ensure a good performance for your brand-new IEMs? High-end drivers can contain as many as eight micro drivers into a single earpiece. Surely more drivers would mean an overall better performance? In theory, a single-driver has the burden of recreating the entire frequency spectrum entirely on its own.
The result would, therefore, be a limited frequency range, which would be quite noticeable around the low ends. This does not mean that single drive in-ear monitors will produce bad sound quality, that's not the case at all. There are really good high-quality single driver options available, but you should always take into consideration they may be somewhat 'limited' in frequency range representation.
Multiple In-Ear Monitor Drivers
If you're looking for amazing lows, mids, and highs that are represented accurately a good starting point is the three-driver range. These multiple dedicated speakers are what most musicians will be after as they will offer excellent clarity and deeper bass across the frequency spectrum. Additionally, you may opt for a dual driver setup, however, these closely resemble studio monitors which are separated by a passive crossover. What this means is that one driver will be dedicated to low frequencies, while the other is reserved for higher frequencies.
How does this differ from our three-driver suggestion? Without getting too technical, always remember that individual driver efficiency makes all the difference, in other words, although you may have a driver dedicated to a single frequency range, adding an additional one will distribute the workload more broadly. What happens next are drivers that function way more optimally and, in most cases, provide superior sound quality overall.
Deciding How Many Drivers Will be Suitable for You
Using the formula of 'more drivers may be better' as a starting point, consider the following: Different brands tend to use various qualities or types of drivers. A dual driver in-ear monitor may yet outperform a quad driver in-ear monitor should it be optimized well enough. The responsibility, therefore, falls on you to make sure the product you're buying is backed by multiple positive reviews from fellow musicians or the general consumer.
Some companies may advertise their earphones to be 'Hi-Fi, isolated or even studio quality', yet the actual performance is somewhat disappointing. Don't look at earphones or in-ear monitor systems with fancy features you may never use, instead go for exactly what you're looking for at the best build-quality-to-price ratio.
Generic vs Custom Molded Ear Tips
Ear tips provide all the comfort and sound isolation when using your earphones, furthermore, they can alter the music experience entirely. There are two different kinds of ear tips: generic fit (which our best list includes) and custom molded. If you have the means you could visit an audiologist who will take a mold of your ear canals and present you with an exact replica so you can configure the best custom in-ear monitors specifically for your ears.
This choice is rather expensive and can take a few weeks for the whole process to be completed. In this best list, however, we are focusing on generic ear tip earphones.
The word 'generic' isn't all that great to describe what some manufactures are doing to increase the comfort of the ear tips. The in-ear monitor market has grown and as a result, competition has increased. Consumers will now be greeted by multiple ear tips made from silicone or foam in various sizes and shapes.
You're now getting a generic-custom range of ear tips that may closely resemble a custom-mold should you find the correct fit. There's no need to visit an audiologist just yet, with the best custom in-ear monitors, you're bound to receive the comfort and isolation you're looking for.
Build Quality and Cables
Throughout this guide, we will heavily focus on in-ear monitor build quality and cables. It's an accumulation of the fit, breathability, stability, and durability of the earphones. If you're going to be upgrading from a standard pair to a now more custom sound, you should get something that's going to last sometime.
Cables are sometimes overlooked, but they're just as important. Different in-ear monitors also offer different connectivity options and additional choices for removable cables. This, in turn, will result in the longevity of your monitors if you can replace the cables yourself. On the other hand, you'll need a pair of earphones which are compatible with the system on which you plan to use them.
A great all-rounder in terms of build, performance, and price. The C12 will keep audio enthusiasts more than satisfied and provides an excellent IEM choice for those looking to take them on stage.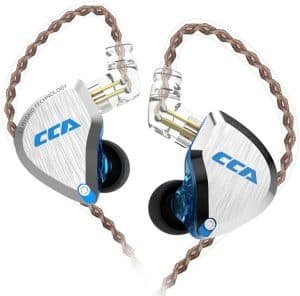 Thanks for your feedback!