We describe a Bluetooth radio as a combination of two common household devices: a Bluetooth Speaker and a Radio System. The radio as we know it has unfortunately become an obsolete appliance in our homes as other technologies have taken over; however, it is still commonly used in our vehicles. It is known for its primary purpose: connecting to AM or FM frequencies to wirelessly stream content in real-time by interpreting a radio station's satellite dish through the receiver antenna on your radio, to the speakers, and finally to your ears.
As the years went by, radio systems became more complex. They began to offer additional features such as a built-in CD player, cassette tape deck, auxiliary input(s), onboard equalization controls, and much more. A Bluetooth radio is essentially a radio as described above – with either one or more of the aforementioned additional functions – is capable of wirelessly connecting to a device via Bluetooth. Or, you can think of it as a Bluetooth speaker that can access AM or FM radio waves.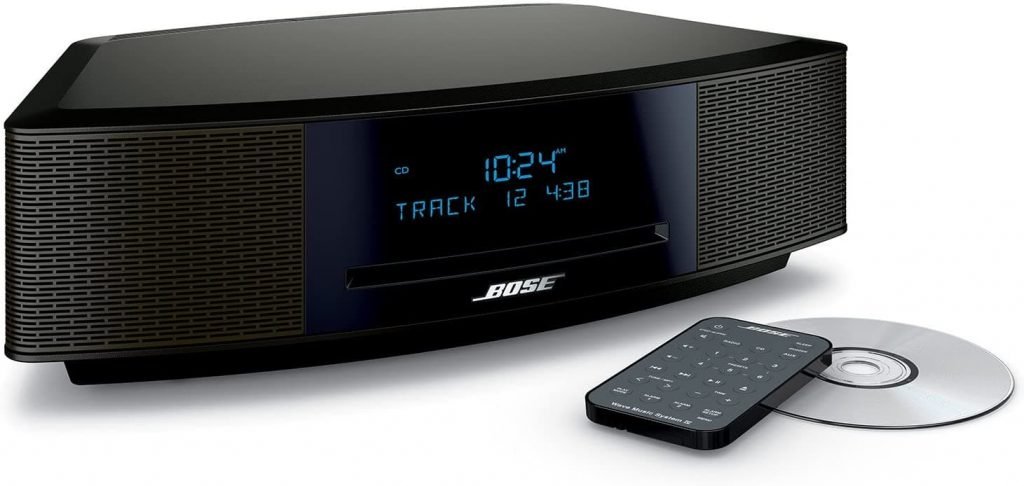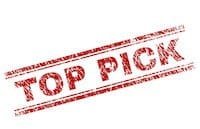 The lightweight, compact, versatile, and user-friendly Wave Music System IV, packs serious sound and features into a small, sleek-looking housing.
Audio geniuses, Bose, have seriously impressed us with their lightweight, compact, versatile, and user-friendly Wave Music System IV, which packs serious sound and features into a small, sleek-looking housing. While it may not be the cheapest on our list, it most certainly is worth every cent and will prove to provide endless hours of entertainment no matter your preferred choice of listenable media or the genre of music you enjoy.
Available at a highly affordable price and capable of basic functions, the Victrola Retro Wood Bluetooth AM/FM Radio is a great choice for those on a limited budget and those looking for a simple device without too many extra features. Victrola's Bluetooth Radio can connect to a Bluetooth-capable device and access local AM or FM radio frequencies. The radio is compact, and its vintage aesthetic suits any environment you put it in.
While its price point may be out of some users' budget, the Revo SuperCD Bluetooth Radio provides the user with everything you could need plus more. Capable of playing CDs at outstanding quality or connecting to your other devices via Bluetooth or Spotify direct, as well as local AM/FM radio and online radio access, means you have the world of listenable media at your fingertips. Great sounding and powerful speakers provide immersive sound and are a versatile playback system.
A beautiful vintage-looking Bluetooth radio with a set of additional features such as AM/FM connectivity, USB or 3.5mm Auxiliary Input Cable. This unit's sound quality is incredibly powerful and full-bodied for such a small device and can guarantee countless enjoyable listening hours. This unit is suitable for use in one's bedroom, office, kitchen, or living space, and its modern features crossed with a vintage professional feel make it a fashionable choice. The Fuse Vintage Retro Bluetooth AM/FM Radio radio is available at a great price for its features and will prove to be a versatile unit.
Power tool manufacturers Porter-Cable have successfully produced a highly versatile, durable, and powerful Bluetooth radio with various connection options available. The Porter-Cable PCC71B Bluetooth AM/FM Radio is suited to perform on job sites and effectively operates on long-lasting battery life. It is available at a competitive price, and a reassuring warranty is included with the purchase.
AM/FM or DAB Radio
The difference between these two radio types are as follows: A DAB radio is a modern-style, Bluetooth radio device, while an AM/FM radio is a classic-style radio system that operates only on AM or FM frequency channels. The choice is entirely up to you regarding which you prefer or would suit your needs better; however, I am always in favor of versatility and additional options – so having a radio that can play Bluetooth audio as well as connect to AM and FM signals would be ideal.
This specification is another choice and preference-based factor, as it ultimately depends on what you plan on listening to. My general rule of thumb is: If you can have all the options or as many as possible for a reasonable price, then go for it. Rather have the choice to switch over to AM/FM station feeds if you need to connect to a commercial station if you can. However, one can often connect to radio station frequencies from your cell phone, laptop or computer, or television in today's world. You can then connect to your Bluetooth radio to stream the media wirelessly.
Is it Important to Have Both AM and FM?
This ultimately comes down to personal preference: If you know exactly which station(s) you plan on engaging with while using your Bluetooth radio system, then you can choose a device capable of reaching said station frequencies. If you are unsure or perhaps seek a bit of variety and choice, I would recommend getting an AM/FM radio to provide full access to all local radio station frequencies.
Our Top 10 Best Bluetooth Radios
Modern Radios
1. Bose Wave Music System IV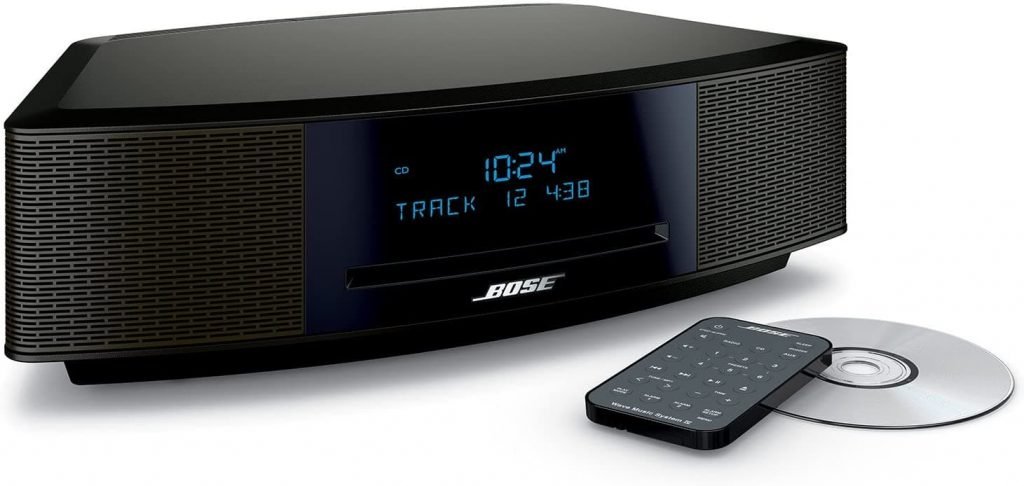 ---
Bose has created a name for itself by producing premium-quality consumer-grade audio solutions for use in one's home. They have released a series of professional audio products, and their home-use speaker systems are available in various styles and sizes. In this article, we're looking at the Wave Music System IV: a compact and highly versatile Bluetooth speaker system.
Design and Features
The Bose Wave Music System IV can play media from various sources, including CD, AM/FM Radio, Home Wi-Fi Connection, Bluetooth, or 3.5mm Auxiliary Input. Besides being a versatile home music system, this Bluetooth radio also features a clock with dual-alarm capabilities. A slim credit card-style remote is included and can control the basic features of the unit.
Sound Performance
The audio quality on this speaker system yet again blew me away, especially considering the small size of the system itself. Bose proprietary waveguide speaker technology succeeds in marrying advanced digital electronic speaker components to provide the listener with a surprisingly room-filling, immersive, and well-defined audio quality, considering the speaker's compact size.
I can comfortably recommend this speaker to listeners of any genre of music, and this system is more than capable of filling a room with full-bodied, warm, and vibrant sound. This outstanding piece of equipment is available in two different colors – Espresso Black or Platinum Silver. While it may not be the cheapest, it is worth every buck.
What's in the Box?
Bose Wave Music System IV
Slim Remote Control
AC Power Cable
A demonstrational CD Disk
2. KeiiD CD Player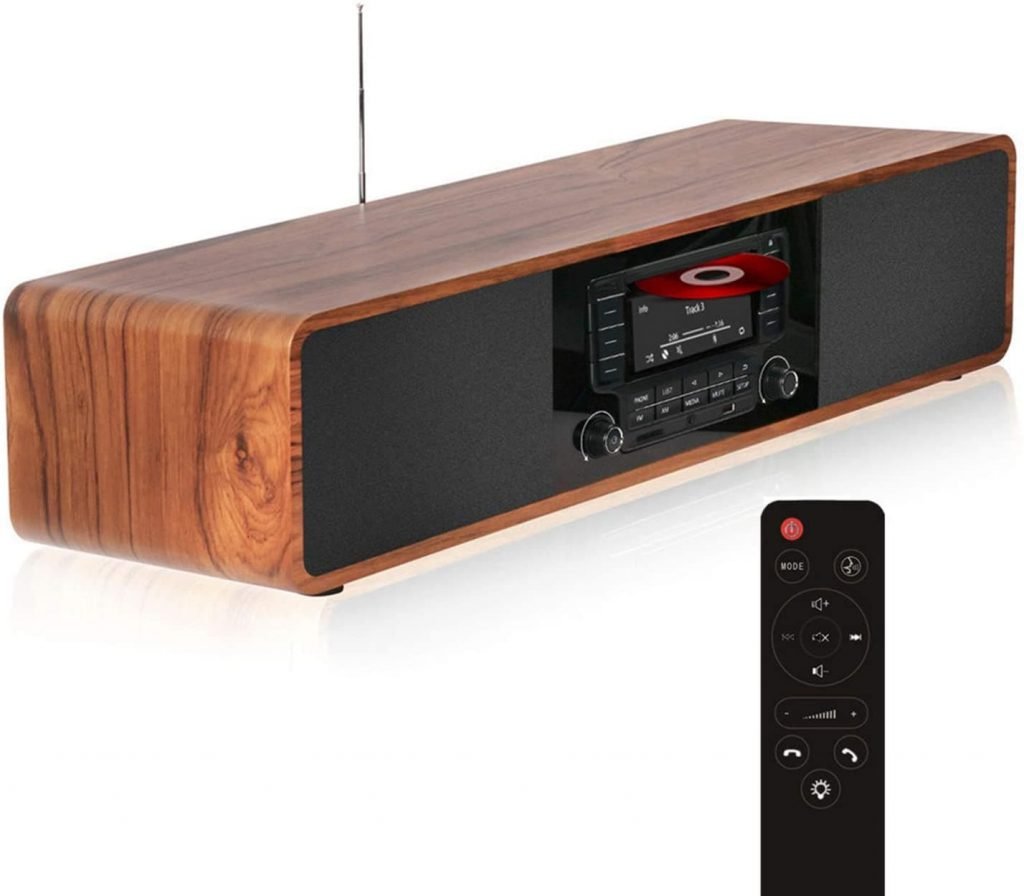 ---
A promising offer from KeiiD with various connectivity options available onboard plus a handful of additional handy features. These home audio systems are in limited supply as they produced the speaker from repurposed VW vehicle CD Radio heads- a highly durable and reliable unit.
Design and Features
This KeiiD Bluetooth radio comes with useful qualities, providing a highly versatile home audio system. The KeiiD System can connect to FM radio frequency channels in your local network and via Bluetooth to any smart device, a USB loaded with music content, 3.5mm Auxiliary input, and SD card. The KeiiD CD Player also accepts CDs and performs at standard CD quality. You can use the KeiiD System as a bedside radio system, a home theater soundbar-style unit, or kitchen countertop entertainment. All features of a VW motors CD head are included, including hands-free calling and Siri connectivity availability.
Sound Performance
Fitted with a high-quality silk dome tweeter and 4-inch bass speaker on both sides of the unit, a full-range, full-bodied, and you can expect precise sounding sound quality. An onboard equalizer allows for attenuation or boosting of bass, midrange, or treble frequency bands by up to 10dB of deviation. Up to 5 equalization bands can be activated simultaneously, enabling a fully-customizable frequency response, meaning you can enjoy any and all music genres on this system. For use in a home theater environment, the KeiiD CD Player performs exceptionally well and delivers rich, crystal clear, and warm sound to fill any room.
What's in the Box?
KeiiD CD Player with Bluetooth and FM Radio
Power Supply Unit
3. trenbader Wooden Bluetooth Speaker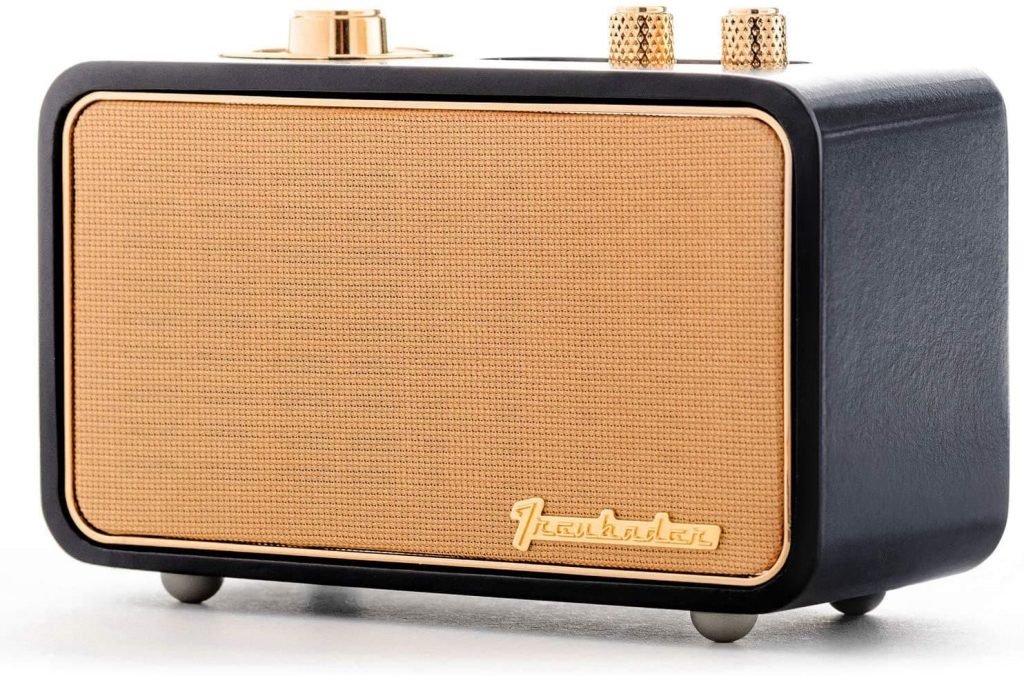 ---
Next up, we have Trenbader's Vintage-style Bluetooth radio, which again combines vintage aesthetic with modern features in a portable and highly affordable radio unit.
Design and Features
This classic-looking speaker is available in a range of vintage colors that seamlessly match any home décor style or outfit if you plan on taking it out with you. This pocket-sized Trenbader Radio can execute multiple playing modes, all controlled with a single dial to switch between Bluetooth, AM/FM radio, and Auxiliary signal feeds. A built-in microphone is hardwired into the unit to provide hands-free calling capabilities- perfect for the office space so you can listen to your music between online conferencing or meetings. Additionally, the main faceplate grille can be removed and painted by yourself for a completely- customizable look and feel.
Sound Performance
The Trenbader Retro-Style Bluetooth Speaker can produce serious volume levels for a small handheld speaker system. Bass frequency response is incredible for the small 2-inch full-range drivers, and the natural wood design succeeds in adding detailed color and tonal characteristics to your media, resonating beautifully with the air around it.
The full-range transducer works with a high-quality passive subwoofer to deliver full-bodied, warm bass sounds. The full-response drivers effectively submit clear and dynamic audio that compliments all music styles. This radio from Trenbader can play for up to 12 continuous hours and notify you when battery life is reaching a low 15%. Due to the affordable price point of this Bluetooth radio, I would consider this a highly recommendable product for music lovers, office workers, or fashionistas alike.
What's in the Box?
Trenbader Bluetooth Radio
Trenbader Artlink
Quick Start Guide and User Manual
Additional Faceplate for Painting/Customization
USB Charging Cable
Faceplate Replacement Tool
4. Sony Portable Bluetooth Digital Turner AM/FM CD Player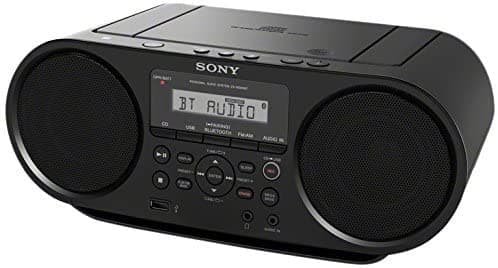 ---
It would be impossible to write the best list of audio products without including tech legends Sony. Sony is known for producing a wide variety of electrical appliances and gadgets, and their audio-related products perform well on the market, ranging from entry-level to professional.
Today we're taking a look at their Portable Bluetooth Digital Turner AM/FM CD Player. Packed full of features, this CD player is compact and suitable for use at home, office, job site, or even when relaxing on the beach or camping with friends. The Portable AM/FM CD Player can connect to various forms of audible media, such as Bluetooth, CDs, USB, or AM/FM Frequency Radio Channels.
Design and Features
Sony has stuck with a classic radio aesthetic on this model, and while it may look simple and outdated, this is certainly not the case as this Bluetooth radio is capable of many things.
Firstly, AM/FM channel connectivity allows users to connect to their favorite local radio station from their home, job site, office, or recreational location.
This radio is battery-powered and compact, and its battery can last up to 26 hours, allowing for easy transportability and use in most situations. Sony's Portable Bluetooth Digital Turner radio can playback a CD of any kind, and the USB port allows the user to either record the contents of the CD to the drive, or play media directly from the flash or hard drive connected.
Additionally, one can connect to the radio via Bluetooth from any other Bluetooth-capable Device.
Sound Performance
Sony stays true to its history of great-sounding products and takes it a step further here with a 'Mega Bass' sound enhancement feature. This feature can be activated at the touch of a button and accentuates low-frequency response throughout the system if your listening line requires a bass-heavy speaker.
You can play CDs with exceptionally lossless quality. Additionally, up to 30 radio stations can be saved as presets on the device to easily switch between your favorite stations. The Sony Bluetooth radio operates on 2 x 2W Stereo Speakers, producing a full-range response. The speakers' small size and power handling capabilities mean a lower output volume is expected. Therefore, I would not recommend this radio if you intend on blasting your music at a loud volume, but rather for low-volume or background sound usage.
Another similar product from Sony is the Stereo CD and Cassette Boombox Home Audio Radio . Equipped to playback CDs, cassette tapes, or audio via an auxiliary input (3.5mm), it may not have all the additional features of the Portable Bluetooth Digital Turner Radio; however, this is more than enough for some users. One sacrifices Bluetooth capabilities, AM/FM connectivity, and USB CD bouncing or playback for a more affordable price. However, the sound quality remains the same here. Overall, this portable, battery-powered system sounds great and contains all the necessary features for a versatile performance to satisfy all music tastes.
What's in the Box?
The Bluetooth radio system and NFC (Black)
Monoprice 10ft Designed for Mobile Devices 3.5mm Stereo Male to 3.5mm Stereo Male Gold-Plated Audio Cable
Vintage Radios
1. Revo SuperCD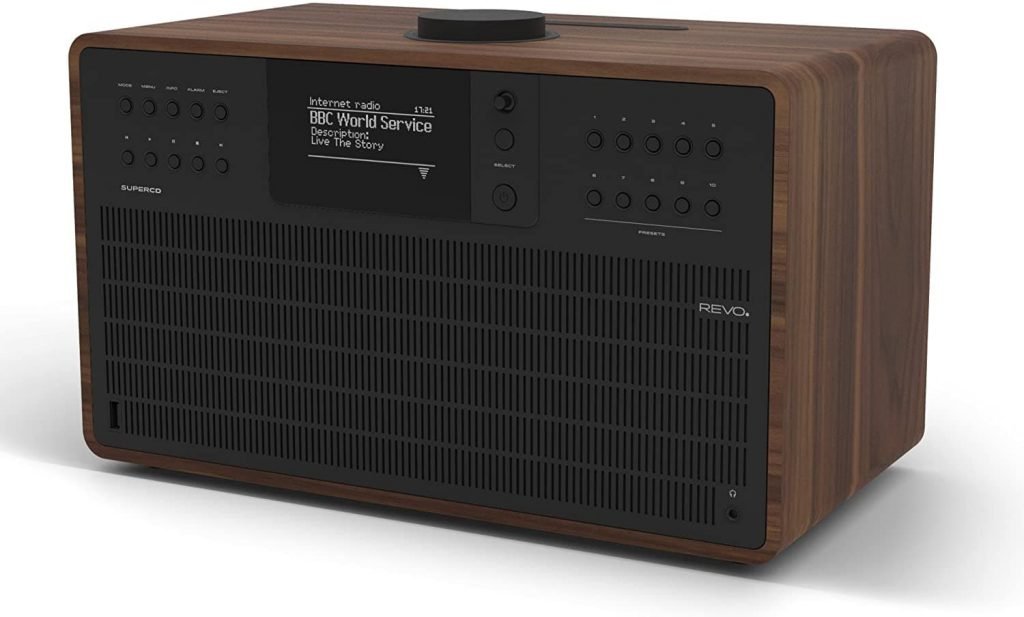 ---
A highly versatile unit equipped to execute a large array of functions and guarantees to satisfy any musical needs. They housed the Revo SuperCD within an elegant cabinet, available in either a black or walnut finish, built from the finest woods and materials.
Design and Features
The Revo SuperCD is, as the name suggests, first and foremost a CD player with extreme capabilities and additional features. One can load either a standard-issue CD compact disk, a CD-R, or a CD-RW disk into the unit's vertical slot-loading mechanism. The Revo SuperCD
Bluetooth radio can connect to radio waves across DAB and FM frequencies and can also connect to internet radio services to access over 30,000 additional radio stations broadcast from all around the globe.
The SuperCD is WLAN capable and can pair to a Bluetooth-equipped device, offering Qualcomm Bluetooth 4.1 aptX codec connectivity strength and quality. Enabling you to stream any media from your cell phone, computer, or laptop, even selected televisions, to the Revo SuperCD's powerful speaker system. Spotify connectivity is also possible on this device, enabling endless streaming capabilities and ease of operation.
The Revo SuperCD also has a built-in alarm system featuring dual memory mode, sleep functionS, and touch-panel snooze control. Also available from Revo is the SuperSystem Multi-Format Premium Audio System: this Bluetooth radio shares many similar features and is priced around the same ballpark as the SuperCD. While it can't play a CD, it can allow various other connectivity options.
Sound Performance
As with Revo's Bluetooth radio systems, the SuperCD model utilizes Revo's own custom Balanced Mode Radiator speaker drivers. This innovative technology allows for a rich, dynamic, and full-bodied sound from the smallest of speakers. In the case of the SuperCD, the speakers are not as small as other Revo products, so the sound quality is astonishingly clear, warm, and all-around very impressive.
While many modern CD players are radios alike and are designed to emphasize certain tonal characteristics, such as enhanced bass response, the SuperCD satisfied my audiophile-like ears with a relatively 'flat' response and handled all types of music amazingly. The onboard equalizer can further assist you in finding your 'sweet spot' on the system if you're looking for accentuated lows or more invasive highs. Overall a great sounding system. I would listen to anything on.
The previously mentioned SuperSystem Multi-Format Premium Audio Unit from Revo also performs well as far as audio quality is concerned. The larger speakers powered by an 80W power amplifier provide greater headroom, meaning louder potential listening volumes, and the additional active subwoofer delivers a deeper low-end response.
What's in the Box:
The Bluetooth radio system itself
Infrared Remote Control
Owner's Guide/Manual with installation tips and a troubleshooting guide
Multi-Country Power Supply Unit/Plug
Cleaning Cloth
2. Victrola Retro Wood Bluetooth FM/AM Bluetooth Radio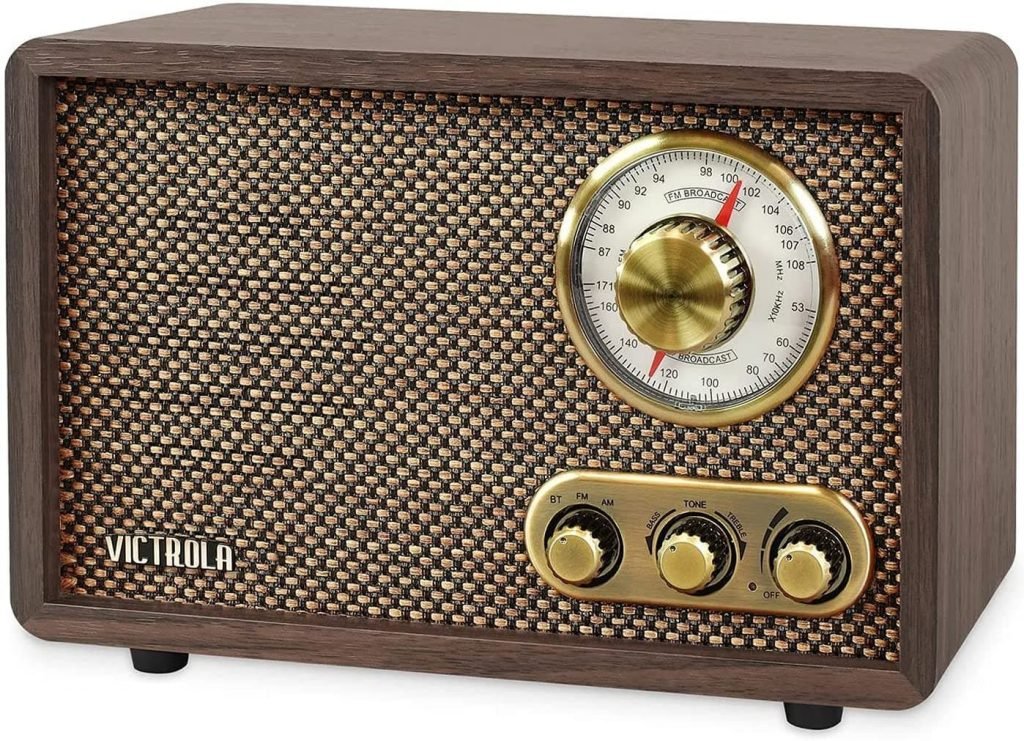 ---
Next, we have Victrola's Retro Wood Bluetooth AM/FM Bluetooth Radio, providing not only an affordable and versatile option for sound quality and features, but a stylish retro aesthetic to add some color and dimension to your living space.
Design and Features
The eye-catching design of the Victorla Retro Wood Bluetooth Radio is the first thing that caught my attention here. If you're looking for something vintage-looking yet capable of performing modern-day features, this is without a doubt the radio for you. They completed the vintage look is with the traditional AM/FM dial that you can connect to your smartphone or computer via Bluetooth.
This retro radio is user-friendly, and you can easily control it by using a rotary knob to toggle between AM, FM, or Bluetooth 4.1 modes. You can then rotate the tuning dial to reach your desired station frequency, and volume is adjusted on the unit itself. A bass and treble knob is also included to further shape the tonal qualities of the output signal. The Victrola Retro Wood Bluetooth AM/FM Radio is available in either a Walnut or Espresso finish.
Sound Performance
As for audio quality, the Victrola Retro Bluetooth Radio is fairly versatile, partly due to the built-in tone knob to adjust bass and treble response. However, the speaker is relatively small and would struggle to reproduce bass-heavy media without intervention from tone control. As for output volume, this speaker is not for hosting parties but rather for private listening due to the small speaker size and low power output.
Additionally, the small speaker pair will only provide mono audio. I would not recommend this for those fussy about audiophile-grade sound quality or expect an immersive listening experience. Still, it is a fantastic option for background music in your home or office space for the great price at which it is valued.
What's in the Box:
The AM/FM Bluetooth Radio itself
User Manual/Guide
90 Day Limited Warranty
3. Muzen OTR Metal Portable Bluetooth Speaker with FM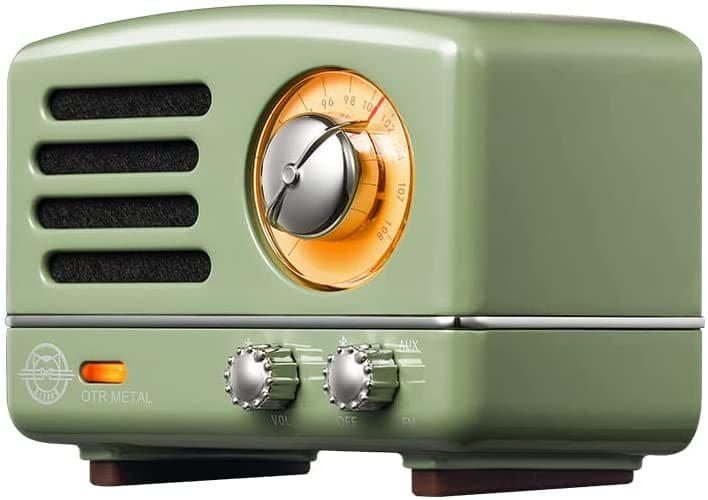 ---
We take a look at another vintage-style Bluetooth radio system, designed with portability in
mind yet makes no compromises at the expense of handy features and usability. The speaker is constructed from a classic metal casing, and this 1950's-looking unit will undoubtedly bring a retro feel to your living space. The Muzen OTR is available in various colors, including green, black, blue, royal blue, pink, and red.
Design and Features
Highly portable and fashionable, this Bluetooth Radio makes for a trendy addition to your home or outfit. The simple design with only three knobs makes for a very user-friendly unit, and the rotary dial for seeking radio station frequencies adds to the vintage look and feel of the radio. Not only can the Muzen OTR Radio connect to FM radio frequencies, but it also includes Bluetooth connection capabilities and a 3.5mm auxiliary input, allowing you to stream your audible media across various devices or platforms.
Sound Performance
This unit can produce sound at an unexpectedly loud volume for such a small radio system, easily filling a room or creating a pleasant atmosphere at the barbeque, camping trip, beach, or on a hike. Improved bass response means the small speakers are givenadditional 'thump', turning your pocket-sized radio setup into a bass-heavy machine.
The radio also comes with a detachable antenna for improved audio quality when dialing in to FM station frequencies in your local area and a 10-hour rechargeable battery life allows for long playtime on Bluetooth or Aux functions, and 20-hour playtime when listening to FM stations.
What's In the Box?
Muzen OTR Bluetooth FM Radio
Muzen Lunchbox-Style Carry Case
3.5mm Auxiliary Cable
Radio Antenna (Detachable)
USB Charging Cable
User Manual
Brand Catalog
Muzen Sticker
4. Fuse Vintage Retro Bluetooth AM/FM Radio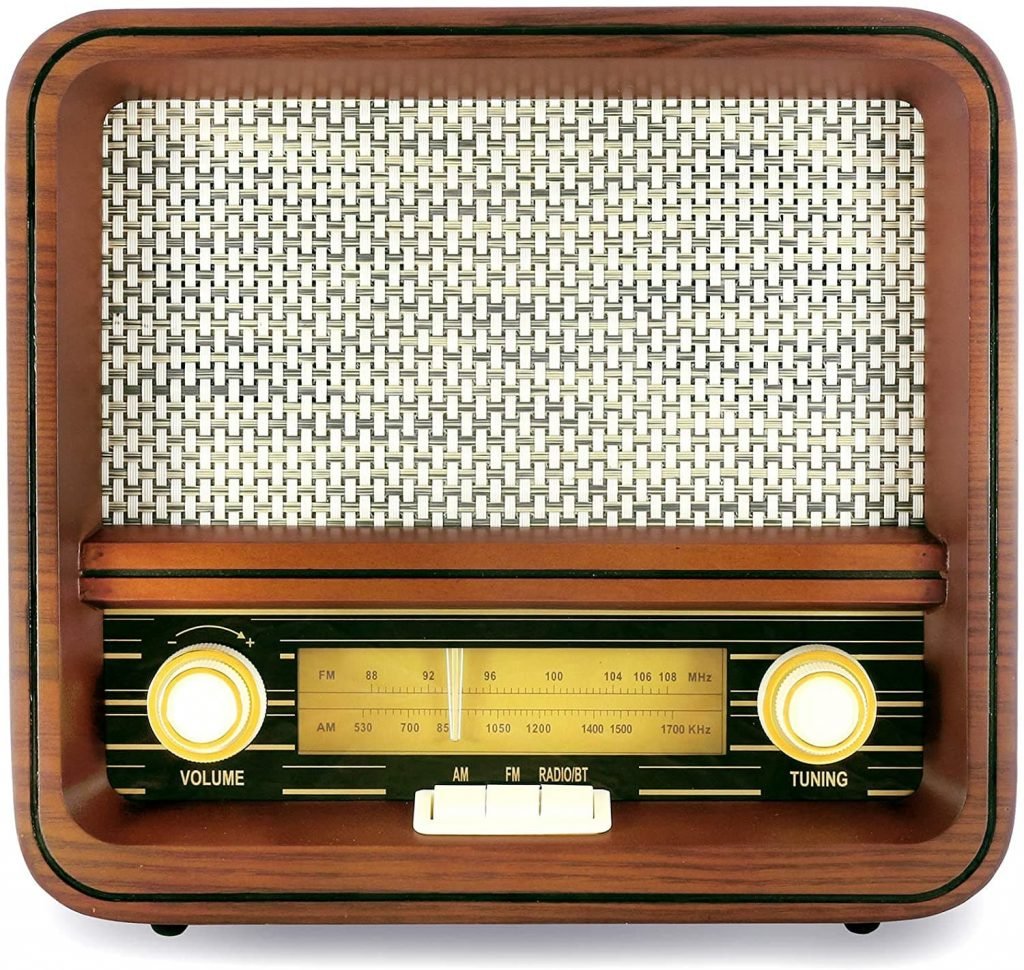 ---
This retro-style radio hosts several features, and you can purchase it without breaking the bank. This unit's vintage look and feel mean a professional and distinguished appearance, and interactive knobs mean a more humanized feel.
Design and Features
The Fuse vintage Bluetooth radio can connect to various source devices, including AM or FM radio, through the use of the extendable antenna, allowing you to place the unit anywhere in your home or office building without fear of losing the signal. This retro Bluetooth radio can connect to smart devices using Bluetooth technology and accept a USB drive's musical content or signal from a 3.5mm auxiliary cable from any other device. Unfortunately, this unit is not battery-powered, but its natural appearance means it is best suited for placement in the kitchen, living room, bedroom, or office desk.
Sound Performance
They built the Fuse vintage radio from a real Ashtree wood veneer. It is compact yet powerful and holds many favorable acoustic properties. Aside from connecting to AM or FM stations, an antenna is included to prevent signal loss or quality deterioration. While they constructed the speaker cone from paper, the natural acoustic characteristics of the enclosure add a positive tonal quality to the music sent through the system, and 3.5-inch 5W speakers mean volume won't be an issue for you in most scenarios.
What's in the Box?
Fuse Retro Vintage Radio
User Manual/Guide
5. Greadio Vintage Radio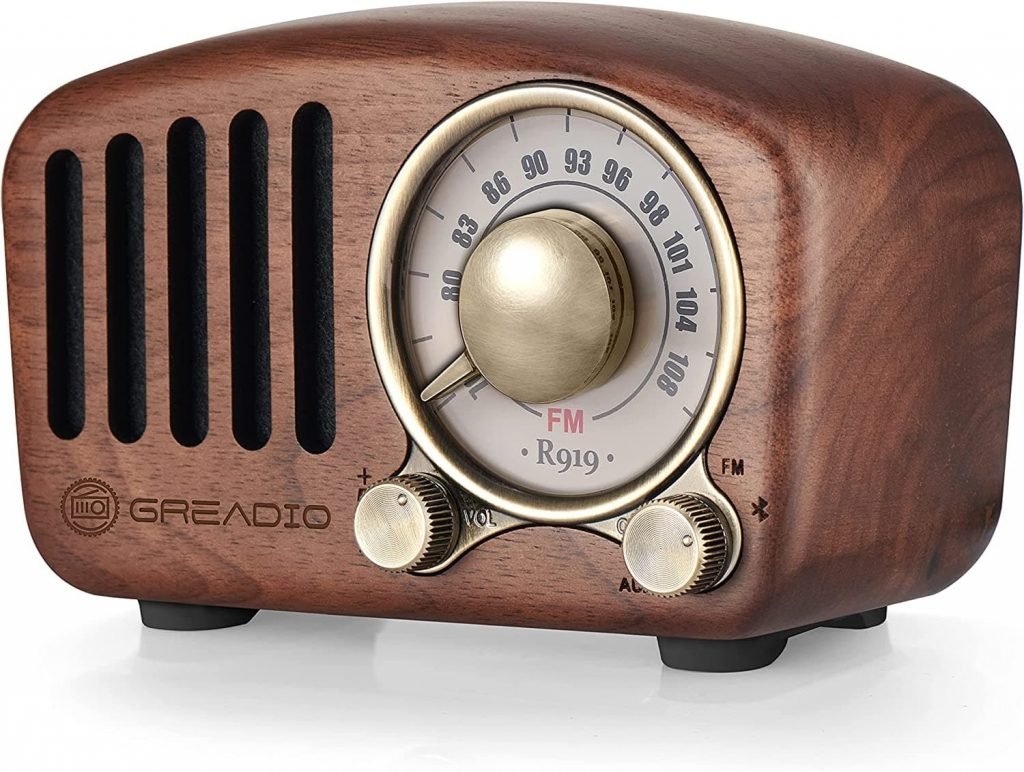 ---
A lightweight, compact and retro-looking FM radio constructed from beautiful Walnut or Cherry wood finishing adds a 50's look and feel to any environment. This small unit is packed with modern features guaranteed to provide countless hours of enjoyable listening.
Design and Features
This bite-sized radio system from Greadio combines a vintage look and feel with modern features to provide a functional yet fashionable solution for those looking for modern features enclosed in a retro aesthetic. The Greadio Vintage Radio comes with a rechargeable battery that can perform for up to 9 hours- and its compact stature means it is easily transportable to outdoor activities. This Bluetooth radio is available at a highly affordable price considering its features and includes a 1-year money-back guarantee warranty, along with lifetime customer service.
Sound Performance
As for sound quality, I am blown away by the volume this tiny speaker can produce. The compact 5W speakers manage to produce rich, colorful, and clear audio with absolutely no distortion even when its volume limits are pushed. The low-frequency response is also awe-inspiring for such a small unit. The Greadio Vintage Radio offers a variety of connectivity options. One can connect to local FM radio frequencies without a hassle.
However, there is no antenna, so if you're using this in regions with poorer signal quality, you may experience some loss of audio quality or dropouts. Bluetooth compatibility is also supported on this unit, and a 3.5mm Auxiliary input and TF Card slot to stream music from virtually any source to the Greadio Vintage radio speakers. If you fancy the features of the Greadio Vintage Radio but seek a little more volume and bass response, the Greadio Retro Radio Vintage Bluetooth Speaker may be the unit for you.
While still maintaining the vintage appeal, this radio is packed with modern features and connectivity options. This compact radio system will certainly not disappoint. Overall, a highly recommendable product at a great price.
What's in the Box?
Greadio Vintage Bluetooth Radio System
User Manual
Micro USB Cable
Auxiliary Cable
Jobsite Radios
1. Porter-Cable PCC771B Bluetooth Radio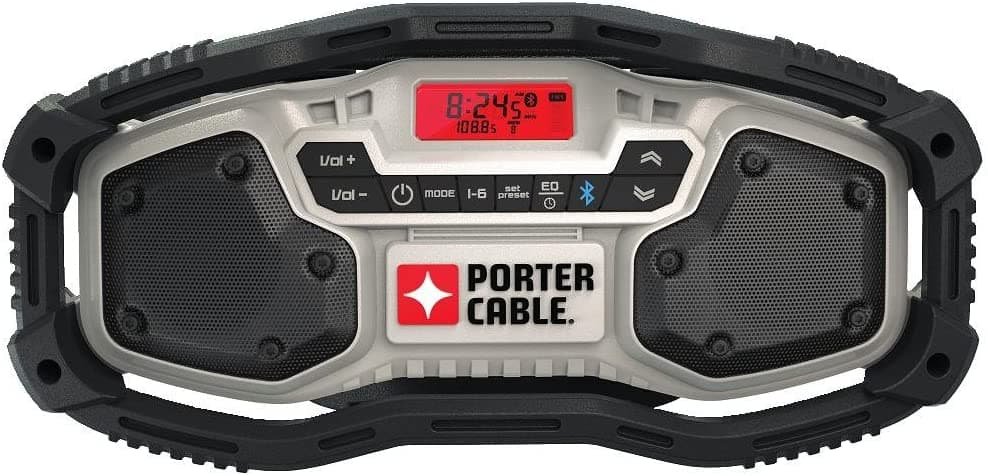 ---
This radio is a surprising piece of technology from tool and hardware manufacturer, Porter-Cable. We are already raising eyebrows at this model when it comes to portable speakers explicitly designed for use at job sites.
Design and Features
The Porter-Cable PCC771B Bluetooth Radio is a compact and easily transportable radiosystem for construction workers, plumbers, tilers, painters, and other similar persons. The radio is durable and designed to withstand weather conditions and environmental aspects such as dirt, dust, moisture, and sun exposure.
The PCC71B is Bluetooth compatible, allowing users to connect using their smart devices. The AM/FM receiver can save up to 12 preset stations for easy switching between radio station feeds. Additionally, users can connect to the speaker using a 3.5mm auxiliary cable if your device does not support Bluetooth connectivity options.
Sound Performance
The Porter-Cable PCC771B features two high-performance speakers that provide immersive stereo sound reproduction and succeed in producing crystal-clear quality and full-bodied audio perfect for noisy environments where one may struggle to hear a smaller and less-powerful speaker system.
The onboard equalization controls assist in providing a more versatile listening experience as you can customize the frequency response of the Bluetooth radio, such as boosting bass or reducing sharp high-end. While they designed this radio for use at job sites, I feel it can be suitable for use at home or in other outdoor locations due to its portable nature, ability to run on AC and a battery, versatile features, and rugged construction.
What's in the Box?
Porter-Cable PCC71B Bluetooth Radio
AC Adapter
3 Year Limited Warranty
Buyers Guide
Style
Like pretty much any piece of technology, Bluetooth radios are available in a wide array of styles. This aspect is very important to consider. Ideally, you would want a product that suits your audio-relative needs and aligns practically with your intended use, and compliments the living space it will be situated within.
Bluetooth radios come in various colors, shapes, and sizes, and many models are available in several color schemes and sometimes even different size options. If you plan on taking your Bluetooth radio to the beach, for example, you'd want a more portable and battery-powered, or rechargeable system. If you plan on using it in your bedroom, a power-fixed and durable option may be better suited for you. You can then decide whether you'd prefer a more vintage-looking option or something more on the modern and slick side of the spectrum.
Casing Material and Design
The enclosure material and design are other important factors to consider, as different materials provide varying levels of protection from the elements and general wear and tear. This ultimately depends on how and where you plan on using your Bluetooth radio setup.
Additional Features
Many Bluetooth radios come fitted with various additional features, which can come in handy if needed and used correctly. Such features include time-sleep control, remote control capability, battery life (if applicable), and a built-in alarm clock, for example.
Audio Quality
It goes without saying that when purchasing an audio device of any kind, the most critical aspect of all is, of course, the audio quality itself. Be sure to assess the technical specifications and, if possible, go and demo the system you're interested in to see if the sound quality is up to your standard and compliments the style of music you primarily listen to.
Bear in mind, however, that testing out a model in a store may not be entirely accurate due to the acoustic properties of the store, the surface the speaker is resting on, the volume at which it is played, and other factors. The speaker may sound better or worse in store, so it wouldn't hurt to read up on some acoustics fundamentals to understand this. It will also help you tremendously when finding the perfect position to house your newly acquired Bluetooth radio system.
Bass Output
The low-end power is yet another significant feature to consider. Even if the music you listen to doesn't require a bass-heavy response, a poor low-frequency representation can very easily allow all music or media to appear 'thin' and 'weak' sounding. Again, this can be influenced by acoustic factors, so be sure to study this when setting up and purchasing your Bluetooth radio. You can also acquire a basic idea of how the bass response is on a speaker by assessing the materials and size of the speaker driver's construction.
A dedicated woofer or subwoofer will succeed in producing more than enough low-end. Additionally, a full-range full-response driver that produces the entire frequency spectrum can also do either a great job or a poor one. Harder materials used for speaker cone construction, such as ceramic, will produce a tighter, fuller, warmer, and all-round better bass response. Lastly, the larger the driver, the better it reproduces low-frequency content.
Power Output
This specification refers to the device's power rating and is relatively simple to understand: the greater the power, the louder the system performs. This does not apply to all audio equipment, but it is common in the case of radios.
Frequency Response
We describe the frequency response of an audio device as its ability to effectively and accurately represent the frequencies sent through the system. In other words, a comparison between the input signal's characteristics vs. the output signal's final result. We need to understand this: humans can interpret sounds between 20Hz and 20kHz.
A frequency response covering this entire spectrum or more is considered good. Next, we want as few deviations in the forms of dips or curves in the frequency range, such as poor treble clarity, too much bass, etc. We call an ideal frequency response a flat frequency response, which means the signal that comes out of the device should sound according to the input signal.
Signal to Noise Ratio
The signal-to-noise ratio of an audio system refers to the amount of noise the system itself produces. This noise is considered unwanted and can be in the form of a hum, buzz, or sizzle-like sound. As you turn up the system's volume, you will notice this noise increases in volume. It is more audible when there is no audio running through the device, so the signal-to-noise ratio is a figure that represents how loud this signal is while your media is currently playing.
Impedance
Impedance refers to the resistance introduced into an audio system's circuit. In the case of a speaker, this relates to how difficult it is to power. Impedance is represented in Ohms, and it is essential to remember that the lower the impedance, the easier it is to control. When using wireless streaming technology, impedance should not be a concern. Suppose you use external devices such as power amplifiers or specific signal processors. In that case, you need to be sure to match impedances accordingly to achieve the most out of your speaker system.
Dimensions
For more practical purposes, we need to evaluate the actual dimensions of the speaker itself, especially when purchasing online without seeing the item first-hand before buying. Nobody wants to find out the hard way that their new Bluetooth radio won't fit as comfortably on your TV cabinet as you'd hoped for.
Connectivity Options
Another critical technical specification to take a look at before purchasing your new Bluetooth radio. While this essentially depends on how you intend to use your Bluetooth radio and connect to it. It couldn't hurt to have one or more extra options if you purchase other devices (such as televisions or computers) that are no longer cable-compatible with your Bluetooth radio. These connections can include Universal Serial Bus (USB), RCA (Red and White audio cable), Aux (1/8 inch Minijack), or other common audio connection types.
Playtime
As we all know, there's nothing more disappointing than running out of battery life on one of your trusted devices. Make a point of checking the battery life or playtime specification on the device to ensure a low risk of disappointment when your favorite track suddenly cuts off in the middle of your beach chill session with your buddies. It is also important to remember that we can take additional care of the batteries on our devices, such as a healthy ratio of flat charging/ full charging and partial charging.
Bluetooth Range
When looking at any wireless device, the range in which it can operate is critical to consider. Most Bluetooth devices can function on a reasonable range for most applications. Just be sure to take note of your Bluetooth radio's wireless range and take care not to exceed the zone, or you may experience signal drops and other unwanted effects.
Bit Depth
This specification, in short, describes the dynamic range processing power of an audio device. A larger bit depth means a greater dynamic range. Dynamic range refers to the volume range of an audio device, i.e., the difference between the quiet and loud parts. A small dynamic range will make a song appear the same volume throughout, while a large dynamic range will effectively represent the music as intended, such as with quiet and loud sections.
Sample Rate
The sample rate of an audio device refers to the device's sampling resolution. This specification can take a while to understand fully. All that matters for now is to note that a higher sample rate means a greater definition of the media. Typically, music is processed at a sample rate of 44.1kHz.
Brand
Some manufacturers are known and praised for their work in specific fields, like Bluetooth radio in this case, while others are crossing into unfamiliar territory when releasing such a device. Purchasing your Bluetooth radio from a reputable and trustworthy brand will guarantee satisfaction. However, there is no harm in researching lesser-known manufacturers and seeing what others think of their releases – you might just stumble across a very well-priced and satisfactory product in the process!
Warranty
Since we are dealing with electronic equipment, we can expect some inconveniences, even if the radio is taken care of beautifully. A fair warranty plan is always a good option to go for as it can save you plenty of time, stress, and money should anything go wrong with your new Bluetooth radio system.
Frequently Asked Questions
We've scanned the internet for some commonly asked questions that we feel may be relevant to this article, as well as some things that popped into our minds while researching the abovementioned Bluetooth radio products.
Are Bluetooth Radios Suitable for Job Sites?
To determine whether a Bluetooth radio is suitable for use at a job site location, we need to assess the technical and design specifications. Depending on the nature of the job site, the material used for the radio may be damaged when exposed to severe heat, moisture, humidity, or sand and dust. 
The power handling capabilities of the speaker is also an important aspect to bear in mind, especially if you're working with loud machinery or tools and still plan on hearing your auditory media while working. Lastly, the battery life of the Bluetooth radio is a crucial factor to keep in mind, and conversely, the amount of time the speaker system takes to charge.
Do you Need Wi-Fi to Operate a Bluetooth Radio?
A Bluetooth radio system does not need Wi-Fi to function. Some Bluetooth radios feature Wi-Fi connectivity options, which you can connect to Wi-Fi streaming capabilities for your music or other listenable media.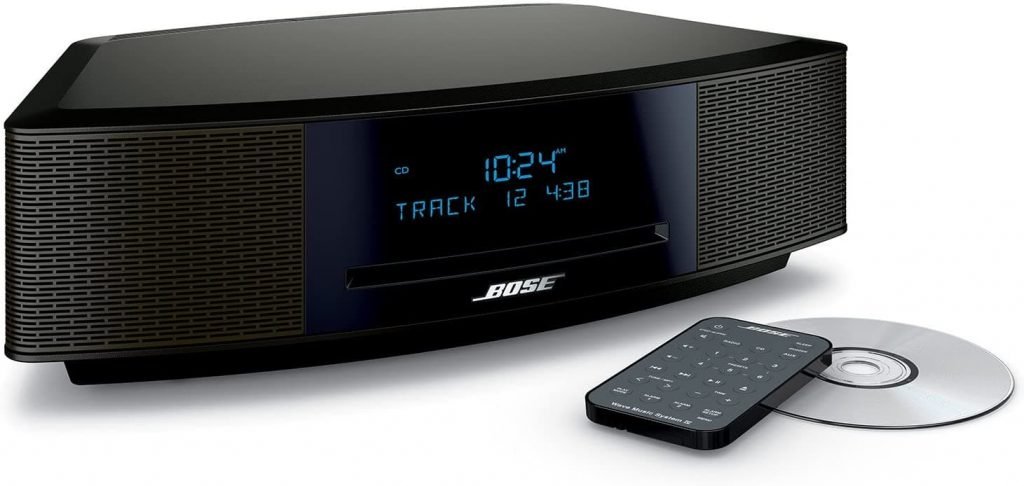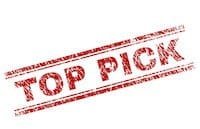 The lightweight, compact, versatile, and user-friendly Wave Music System IV, packs serious sound and features into a small, sleek-looking housing.
Thanks for your feedback!