You probably won't get a perfect V signature on the sound produced by the 5252W Silver Ticket dual 5.25-inch center channel speaker, but for this price, it would be just asking too much. The sound is fairly clear, and you'll feel the bass, so adding the slick design to the mix makes this one of the best budget-friendly audio solutions for in-wall speakers.
Click Here to See Our List of the Best In-Wall Speakers.
In-wall speakers can cost a fair bit, especially if one is doing a large room or full house installation. The 5252W from Silver Ticket brings good sound quality and is an easy-to-install option at a more reasonable price point, where you can achieve in-wall home audio on a budget.
When we think about affordable home entertainment system speakers, this is the model that immediately comes to our mind. It offers high-quality sound production, and the design is pretty modern.
Create Your Own Silver Ticket Surround System
Sometimes a quality in-wall speaker can be used as a in-ceiling one, but this is not the case when we talk about the Silver Ticket line of mountable speakers. There are five different models with the same exterior design that are extremely similar to the 5252W version but are used for placement in different positions in the room.
By combining them all together into a single system, you'll end up with an astonishing home entertainment system capable of producing some high volume levels.
Here are the five Silver Ticket speakers ready to become a part of your homemade surround system:
Dual 5.25 Inch in-wall Center Channel
Dual 5.25 Inch in-ceiling Center Channel
8 & 6.5 Inch in-wall speakers
8-inch angled and regular in-ceiling speaker
To put that into perspective, for less than $450 you'd be able to get 10 speakers ready to be set up inside your home. If you're running a production studio, you'd want to opt for higher-quality speakers with a more balanced sound signature, of course. But for regular home use, these speakers do well on a budget.
That's why the everyday user looking for a high-quality audio option he can install in his home should seriously consider the Silver Ticket 5252W 2-way in-wall speaker – though that's not to say there aren't others in this price range also offering good products.
Uninterrupted Sound
You need to have quality sound. That's like the basic need your in-wall speaker must satisfy. It can look like a hidden Easter egg on your wall, but it must be able to reproduce a decent sound signature line.
It doesn't need to be perfect, but it should be clear. Your bass needs to stay down, and your mids and highs shouldn't interrupt each other.
To achieve this, Silver Ticket uses a 16.6 oz magnet placed under the woofer, isolated with a thick rubber edge. This setup provides enough stability for the driver to handle the 40 Watts of pure power, which is the nominal power handling capacity of the 5252W speaker.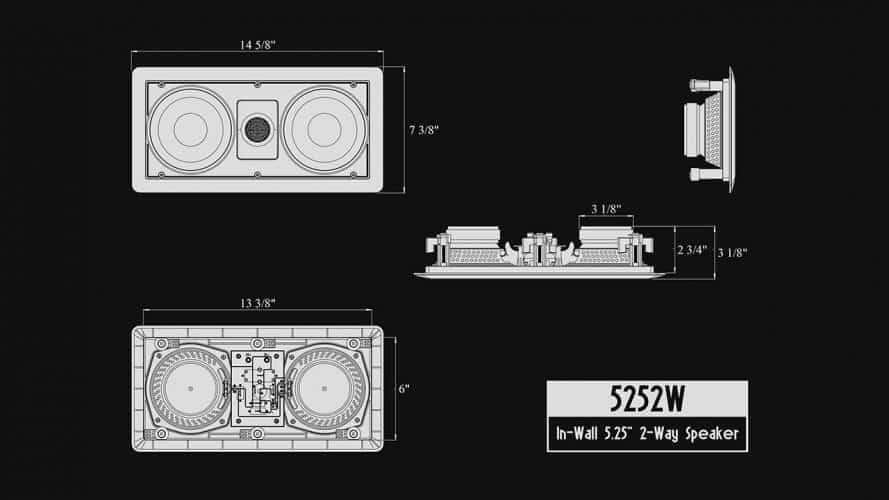 You'll be able to push the speakers to a maximum of 80 Watts without damaging any of the elements inside. The 12dB crossover per octave produced is enough to keep each sound in check even if you decide to push the boundaries and blast the speaker to the max. This is what affects your music-listening experience the most. You don't want any weird sounds interrupting your favorite CD from the 90s or the latest movie you rented on Netflix.
Even the rubber edge used to isolate the woofer and make sure it sticks in its place during heavy exposure to some deep vibrations acts as an important element when we consider the quality of sound the 5252W model is capable of reproducing.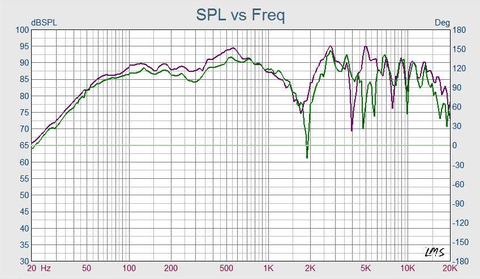 When it comes to frequency response, the low end of these speakers could be improved with many other models offering between 20Hz and 40Hz low end, as opposed to the 60Hz response from these speakers.
Slick Design
When we think about affordable built-in speakers, we immediately assume that the design is the work of a mad genius and that we won't be able to place these speakers anywhere in our homes.
This is not the case with the 5252W model, as it has a modern design hidden behind a subtle white net you can place in front of your speaker. Most people like the original black and blue design of the speaker and stay with it, removing the entire front part.
The blue circle on the woofer is made of polypropylene-based material, which directly affects the ability of this speaker to produce a deep bass line.
The entire build of this unique dual center channel is designed in a manner that allows for the low bass notes to spread throughout the entire surface of the woofer and leave enough room for the efficient tweeter to operate and turn those high-pitched sounds into a pleasant melody to your ears.
Conclusion
All of this leads us to the undisputed conclusion that this is one of the most budget-friendly in-wall speakers on the market that will give you real value for your money. Instead of spending hundreds of dollars for a single speaker, you can build an entire home entertainment system with these extremely affordable Silver Ticket built-in type of speakers.
We suggest you start with the 5252W In-Wall central channel and see where that gets you. If you're satisfied with the sound quality and the speaker's appearance when mounted on the inside of your wall, you can start upgrading with one of the other five options.
Note that this speaker is best suited for casual listeners and those looking for a high end audio solution will need to invest a fair bit more to achieve that high fidelity listening that some people crave.
Thanks for your feedback!