Listening to audio when out and about used to be quite cumbersome because of the size of the equipment involved. Either that or it was a solitary experience if you opted for the more manageable headphones option. When MP3s freed music from the confines of cassette tapes and CDs it suddenly meant that it was possible to take way more audio with you wherever you went. Unfortunately, the devices to play these files such as phones and tablets are hardly known for the quality of their audio output. Recently there has been a surge in portable speakers that connect to your audio devices via Bluetooth and actually offer decent quality playback. These speakers allow you to listen to your music, along with friends without getting tangled up in wires or lugging around heavy equipment with you.
There are quite a few options to choose from when it comes to portable Bluetooth speakers, but some factors have to be taken into consideration before making your purchase. The intended use of the speaker will obviously play a big role, for example, do you lead an active lifestyle and want to take the speaker with you on extreme sporting events or do you like chilling in the park with friends and just want something funky to provide some background tunes. You will also want to ensure that the speaker you buy has the right design, battery life, range, audio quality and durability that you desire if you want to avoid disappointment. Let's take a look at these factors to aid you in your purchasing decisions.
Our Selection of the 10 Best Portable Bluetooth Speakers:
Taking the above-mentioned factors into consideration, we have comprised a list of the best portable speakers available on the market in 2017. We looked at all the most popular brands and some up-and-comers and selected one of the best of each. At times the competition was tough but we believe that our list of the best portable speakers is as accurate as it can be.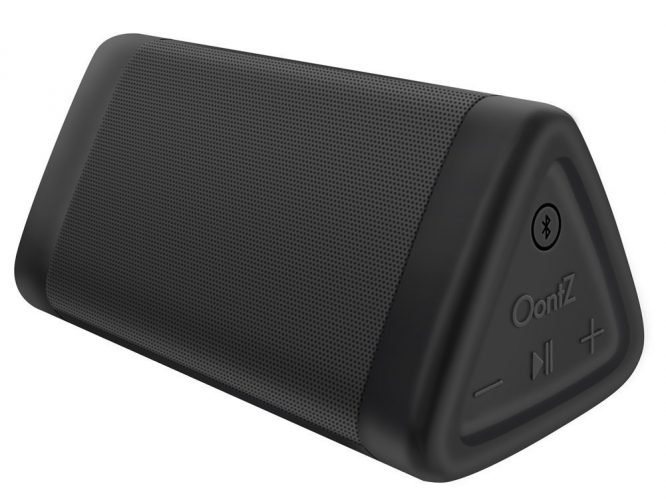 This triangular speaker has been the best portable speaker for quite some time now and it is not hard to see why. The OontZ Angle 3 provides you with pretty much everything you could possibly need. The first thing you will notice is that the speaker is pretty small and very light. It is about 5 inches long and no taller than 3 inches, with a weight of no more than 10 ounces, making its built perfect for portability. This allows you to easily carry it around or simply put it your backpack or handbag.
Don't let the small size fool you though, the sound that is produced by the OontZ Angle 3 is absolutely remarkable for such a small speaker. The high-quality sound is more than loud enough to fill a room without any distortion and the accompanying bass is unbelievable. Cambridge SoundWorks claims that the OontZ Angle 3 forms part of the next generation of portable speakers and we have to agree because none of their competitors come close to what they have achieved with this portable speaker.
As for some of the other aspects of the speaker; it is water resistant with an IPX5 rating which basically means that it is splashproof, rainproof, dustproof, and sandproof. You can also connect to the speaker via Bluetooth from pretty much any suitable device, or you can use and AUX cable. Thanks to the built-in mic, you also get the convenient handsfree feature which will allow you to access your iPhone or Smartphone through voice commands.
It is hard to find anything bad to say about this particular portable speaker since it truly does look great, feel great and sound great – and best of all, it is totally affordable.
Available at: Amazon
Elegant. Sleek. Superior. Those are the three words that come to mind you see the DOSS Touch. It distinguishes itself from its competitors through its elegant and sleek design, complete with sensitive touch buttons that provide you with full control over your music. There is also a touch ring located at the top of the speaker that allows you to control the volume of the music.
While on the subject of volume, this portable speaker is quite impressive regarding this aspect, however, it is still a portable speaker. If you are looking to entertain a crowd then best look at our list of the best party speakers.
The connectivity options of the DOSS Touch is another convenient feature as you have three different connectivity options, including Bluetooth, Micro SD, and Aux-in.
The portable speaker consists of high-quality materials that add to the overall quality and elegance. The main attracting feature of the DOSS Touch is undeniably its sleek and elegant appearance that is sure to impress anybody who lays their eyes upon it. However, this does not mean that the sound is not impressive, as it is superior in its own right.
Available at: Amazon
The JBL Flip 3 is the perfect purchase for anybody that is looking for a hip portable speaker that has some impressive features. First off, the small cylinder-shaped speaker with its tough rubber exterior can be shoved into any backpack and easily survive some of your outdoorsy adventures – all the while looking absolutely fantastic. The JBL Flip 3 is available in 7 great colors that range from your basic black and white to some more funky colors, including pink and blue.
Its splashproof feature allows you to have it out in the rain or set it by the pool. Just be careful not to submerge it in the water. If that is what you are looking for then you should rather take a look at some of our pool speakers.
You can connect to the Flip 3 using Bluetooth and for extra fun, you can connect up to 3 devices to it. So, feel free to use it as your default speaker for your Smartphone, tablet, and laptop without having to disconnect and connect a new device every time.
Thanks to the built-in mic, you can take calls using this portable speaker and enjoy the crisp and clear sound as you chat away – just as you would when listening to music.
The sound is definitely something that JBL can brag about since the Flip 3 is impressing buyers all over the world with its crystal-clear sound, deep bass, and high-volume capability.
Available at: Amazon
Bose lived up to their reputation when they launched the SoundLink Mini II. It produces deep bass and has high volume capabilities. The bass is actually quite surprising as it is much deeper and more powerful than you would expect from such a small portable speaker.
As for the style of the SoundLink Mini II, it is stylish and modern, with the look of a small center speaker that you can expect to see in the living room of an audiophile. It is available in Carbon and Pearl colors – which are basically just black and white. However, we have to say that this speaker looks absolutely amazing wherever you choose to use it. Its sleek design makes it an attractive accessory for your home or office.
The SoundLink Mini II has a Lithium battery which gives you up to 10 hours of play-time. This is where we see another cool feature of this speaker which is the charging options. You can use a USB cable to charge it when you are on the road, using your laptop or car as a power source, or you can make use of the charging cradle at home which is like a wireless charger for your speaker.
Overall, the sound and build quality of the Bose SoundLink Mini II is just supreme and perfect for those who want a powerful speaker that can function as a portable speaker as well as a home or office speaker.
Available at: Amazon
The Anker Classic is a high-quality speaker that has managed to make itself a worthy competitor by giving users a feature that some of the other portable speakers lack, namely long battery life. The Anker Classic gives us almost twice as much battery life as some of the other portable speakers with up to 20 hours of playtime.
The quality of the speaker is also something to brag about as its metal built and sound quality makes it a high-quality device that seems grossly underpriced. We have to say that we also like the cube shape – it is so contemporary.
As for the sound, the speaker comprises a 4 Watt, 2-inch driver that emits powerful bass results with full sound. The clarity and volume are equally impressive even at its max Bluetooth connection range of 33ft.
For a small, high-quality contemporary speaker, with a long battery life, the Anker Classic is a perfect choice.
Available at: Amazon
The Amazon  Tap is quite outstanding – to look at as well as to listen to. Now, if you are somewhat pessimistic about the idea of an Amazon speaker then I totally get it – I was too. But think about it this way, Amazon is one of the largest companies in the world and with a reputation and resources like that, you can easily create a speaker that qualifies as a competitor for the most well-known brands – and that is exactly wat they did.
The Amazon Tap is stylish but practical and it is available in 7 fun colors. This Alexa-enabled portable Bluetooth speaker can play music, read the news, provide weather reports, and even order a pizza whenever it is connected to wifi or a mobile hotspot – now you have to admit that that is pretty cool. This is however just the tip of the iceberg. With the tap feature, you can also ask for music from Amazon Music, Pandora, Spotify, iHeartRadio, and TuneIn. If you want to use these features from a distance, you can simply enable the hands-free function.
If you do not want to stream music from one of the online music services, then you can simply connect your Bluetooth device to it and stream music from there.
As for the sound, the portable speaker is powered by Dolby which already makes it quite impressive. With dual stereo speakers, you have access to high-quality 360º omnidirectional sound. You can use your Amazon Tap for up to 9 hours, at which point you will have to plug it in. In total, the device takes a little over 2 hours to recharge.
The design of the Amazon Tap is just plain awesome as it is a futuristic little cylinder with some cool LED's and some functional touch buttons at the top of the speaker to control your music with.
We have to add, that the Amazon Tap is quite pricey so if you are looking for a cheaper portable speaker then one of the others on this list might be more suitable. However, the Tap is definitely the money worth so if you can afford it then go for it.
Available at: Amazon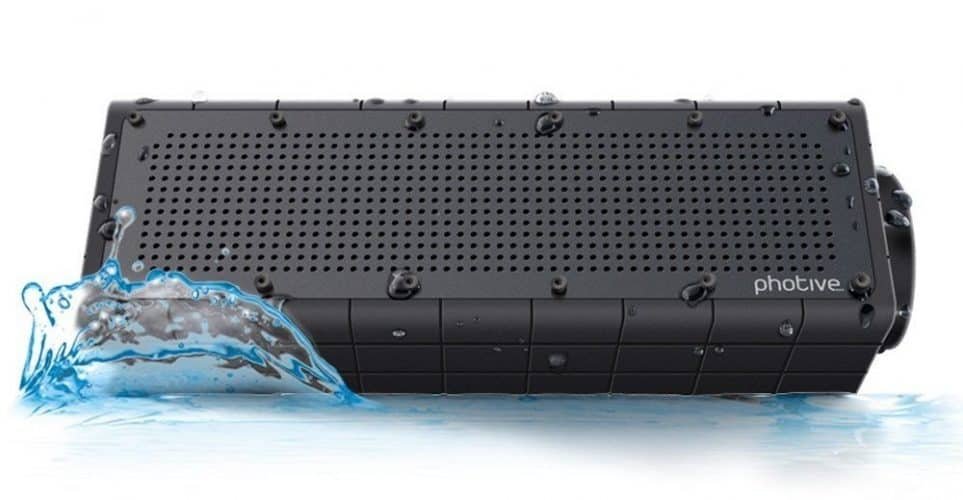 The Photive Hydra is one of the best portable waterproof speakers so it is not much of a surprise that it made this list as well. With its industrial look, high-quality built, and impressive features the Hydra is one remarkable portable speaker.
First off let us start with the big one – its waterproof feature. The Hydra is equipt with IP 66 ingress protection which means that it is dustproof and waterproof. This makes it the perfect portable speaker for those of you who want something they can take anywhere – including the pool and even the beach. While on the subject of water, we should add that this speaker can float so if you feel like dropping it in the pool then do so, it will simply float around next to you and continue playing.
As for the sound of this speaker, it is simply jaw-dropping. Equipped with a passive subwoofer and two 40mm drivers this portable speaker will give you everything you need in terms of sound – clarity, volume, and deep bass.
Available at: Amazon
I like to think of the UE Boom as the hippest and most fun speaker on our list. While there are some other portable speakers that are available in some funky colors – none comes close to this.  The UE Boom is available in 11 epic colors and themes wich can be as basic as black and white or as outrageous as crystal, superhero, and Skrillex. Now while I am not a Skrillex fan myself – I do love these options because let's be honest, they look so very cool.
To make it even cooler, this is a 360-degree speaker that produces rich, full sound with surprisingly deep bass. And thanks to the 360-degree sound, you will feel the music all around the room.
The speaker is also water and stain resistant and with the rechargeable battery, you get up to 15 hours of playtime – which is quite a bit more than most other portable speakers on the market.
Overall this is a pretty great portable speaker and the only reason it is not higher on our list is that like the Amazon Tap, it is more expensive than some of the first speakers – but also as with the Amazon Tap, if you can afford it then it will be worth it.
Available at: Amazon
The first thing I thought when I saw the RoverBeats T3 is that it is one of those silly speakers that look like a camera lens for some crazy reason. It is however not. While it does resemble a lens, it would be demeaning to compare to those $5 speakers.
The RoverBeats T3 is first of all very small – about 3 by 3 inches, which makes it perfect if you are looking for something very small and ultra-portable. However, somehow despite the size, Etekcity has managed to create quite a powerful speaker that plays loud and clear music with deep, strong bass.
As for the built, it is comprised of high-quality materials and when you hold it in your hand, you can easily feel the sheer quality and it is amazing. Honestly, I could not believe that so much power and quality can be held in such a tiny little body, not to mention the great connectivity, hands-free calling, and long lasting battery.
This little speaker is just amazing and definitely gives some of the other speakers on this list a run for their money.
Available at: Amazon
Last but not least is the AYL Portable Outdoor and Shower speaker. We tried to add some variety to this list while still making sure to mention the best of the best – because what is the use of listing 10 speakers that are all pretty much the same. So here goes. This little speaker is almost twice as powerful as other similar portable Bluetooth speakers and it is perfect for outdoor adventures. You can go biking, fishing, climbing, hiking, or swimming with this portable speaker and it will work perfectly. We would not recommend swimming with the speaker attached to you but it can withstand splashes, heavy rain or perhaps even a quick drop in the water as long as you recover it quickly.
Surprisingly enough the sound is pretty great. With a 33ft Bluetooth range, the music produced by the speaker is clear, loud and satisfying at both lows and highs.
As for the size, this portable speaker is pretty much the same size as the RoverBeats T3 at around 3 by 3 inches – but of course, this speaker is much thinner at only two inches.
For anybody looking for a quality portable speaker that they can carry along on outdoor adventures – this is a perfect choice.
Available at: Amazon
What to look for in a Portable Bluetooth Speaker
Design
The design of you portable speaker says a lot about you and what you like. In 2017 we are seeing a lot of more contemporary speakers on the market – most looking like a miniature version of an actual regular sized speaker. Many brands are also choosing to go with cylinder shapes for their portableBluetoothh speakers since they often produce 360-degree sound and it makes them easier to hold in your hands. For the hipsters out there, there are some popular brands that have released some funkier designs, but they mostly still maintain the minimalist shape. For instance, look at the hip UE Boom, in comparison to the contemporary Harman Kardon Esquire Mini.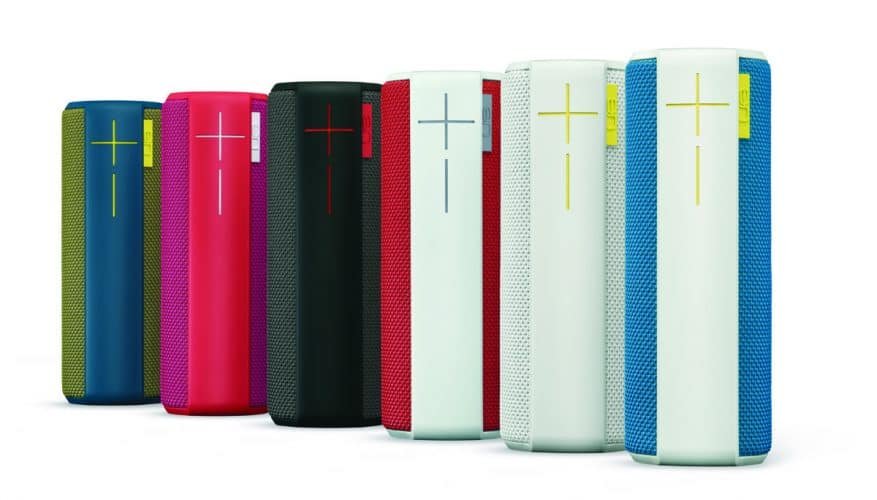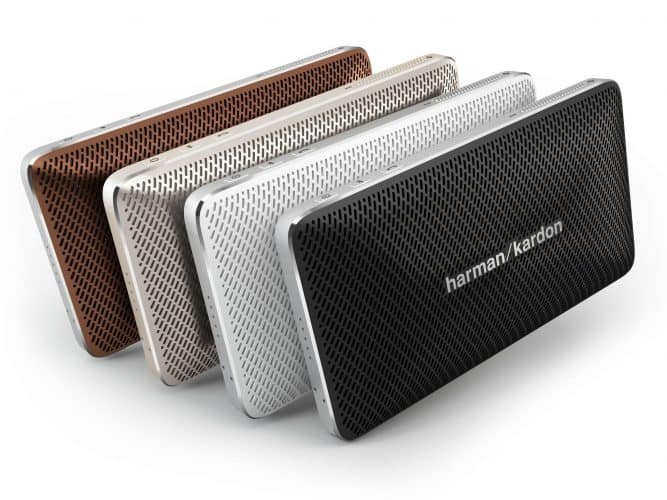 With competition mounting, many brands seek to distinguish themselves through the designs of their speakers which is why design plays such a large roll. If you are young at heart or love to draw attention then some of the more funky designs should suit your needs. Anyone that is professional or a little bit more conservative or who would feel simply uncomfortable when using something that looks like a toy in public can opt for some of the more modern and sleek designs. It all comes down to a matter of personal taste and with so many options to choose from this is one category where you probably won't have to compromise.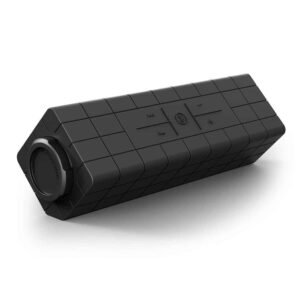 Durability
No matter how careful you are when using your portable Bluetooth speaker outdoors accidents will inevitably happen. Durability should be an important consideration for all portable speakers, but the more active your lifestyle the biggest the influence this factor will be for you.
For the occasional hike or hanging out with friends at the beach you might still be able to get away with a speaker that is only water and maybe dust resistant, but for the more adventurous souls, it's a different matter. Advantages such as being weather proof and shock resistant become essential if you spend a lot of time outdoors in bad weather or wet conditions. Sometimes the extra durability comes with an inflated price tag, but you also get products like the Photive Hydra that can take a few knocks without your wallet having to get involved in the beating as well.
Size & Weight
Even in the portable Bluetooth speaker market, you will find that there are marketable size differences between different brands. Obviously, you want something that is small enough to carry around and ideally fit in your pocket, but not at the cost of inferior audio quality.
If you absolutely cannot live without thumping bass then you had better be prepared to lug around a bit more weight with you as the smaller speakers tend to be a bit lacking when it comes to the low-end of the audio spectrum. Lightweight speakers can offer good sound quality as the Pocket Sized Anker Wireless Bluetooth Speaker have demonstrated, but compare it to something like the Amazon Tap and you will hear the difference. If you don't mind sacrificing a bit of audio quality for the convenience of carrying a lighter load you'll find plenty of speakers, like those from Anker to choose from.
Battery Life
About the only thing worse than carrying around a heavy portable speaker that doesn't sound that great is carrying around a heavy portable speaker with a flat battery. If all you ever do is go for a walk in the park or lounge around in the backyard by the pool you can still get away with a portable speaker that has a shorter battery life. Anything that takes you further from home, and more importantly the battery charger is going to require a portable speaker that can keep going for a while.
The companies that try and sell you these speakers often have very optimistic estimates in their product descriptions and these don't always match what you will get in real-life. Be prepared to get a much shorter battery life than the product description if you are prone to using your portable speaker at the top volume all of the time. If extended camping trips in the wilderness are your thing something like the Eton Rugged Rukus All-Terrain Portable Solar Wireless Sound System which can be recharged with solar power might be the only solution for you. Just bear in mind portable speakers are not of much use if your actual audio playback device, be it a smartphone, tablet or laptop runs out of juice so make sure you have something that can keep up with your speaker.
Sound Quality
Depending on how much of an audiophile you are, sound quality should be at the top of your list when it comes to portable Bluetooth speakers. Let's face it; you are going to find speakers that sound like an AM radio station playing in mono. This is why it is so important to test the speakers yourself or listen to the good advice from reputable websites. Product reviews from other consumers should also give you a good pretty good indication about the audio quality, but bear in mind that tastes differ and something that sounds horrible to one person might sound like a heavenly symphony to someone else. Many portable speakers inevitable sacrifice some audio quality in order to pack all those components into a portable casing, but this doesn't mean you have to settle for something that sounds like a payphone during playback. For the best sound quality, especially when it comes to bass you might have to dig a little deeper into your wallet and prepare yourself for some extra weight, but in the end, it is worth it.
Extras
If all you want is a piece of plastic that plays music and don't really care for much else you can probably overlook the extras. More discerning buyers, on the other hand, will want to get as much value for money when it comes to their portable Bluetooth speakers. If you are the outdoors type that prefers to move around by means other than your own two legs you might want a speaker that can be clipped to the handlebars of your bike or backpack. Some speakers offer this feature as standard while others require a separate purchase for accessories. For example, the Pyle PWPBT60 Sound Box Splash has an integrated metal loop to hang it off anything, while if customization is your thing, you might like the Bose SoundLink Mini Bluetooth Speaker II with their soft covers or something from Jawbone that can be upgraded with new features or apps. The types of ports and jacks included on the speaker are also quite important unless you plan on sticking exclusively to Bluetooth usage. Some portable speakers include microphones so you can answer your phone via the speaker while others forego this option. Don't pay through your nose for extras that you will never use, but don't compromise on a speaker that can't offer you everything you want either.
Range
The final thing to consider when it comes to portable Bluetooth speakers is the range. Obviously, you are not going to leave your expensive speaker in the middle of nowhere and go wandering around, but neither do you want something that has to be tethered to your phone in order to work correctly. The ideal portable speaker will give you some breathing room to move about without losing the connection. The further the range of the speaker the better, but there's no need to go overboard and pay extra for a speaker that can continue playing even when you are too far away to hear it.
Conclusion
Consumers really are spoiled for choice when it comes to portable Bluetooth speakers so you can afford to be picky when it comes to picking yours. Remember it is something that you will be using in public so the more comfortable you are with what you by the better. It is easy to be swayed by some of the funky designs that are available, but remember that there is more to a good speaker than just a pretty box so take the time to examine all the factors that I mentioned in this guide and then make your decision. Making a list of features and factors that are important to you when it comes to portable audio will allow you to narrow down your list and make an informed purchasing decision.