A party or BBQ is hardly an event without some tunes blasting out to annoy the neighbors, or at least make them want to drop by. All jokes aside, though, having a half-decent, let alone a quality sound system in your backyard, around the garden or the patio can add a special something to the atmosphere, not to mention property value. If nothing else, it makes for a decent conversation starter and background noise.
Outer Audio's top picks:
Of course, if you're going for an outdoor sound system, you need something that's able to withstand the elements, and with minimal maintenance, if at all possible. This is where rock speakers roll in, so to speak. Not only are their enclosures weatherproof and, more often than not, shock-resistant, but they are also designed and styled so as to blend in thematically with your garden. They're speakers shaped as rocks, for crying out loud! Here's a short list of top rock outdoor speakers we prepared for you: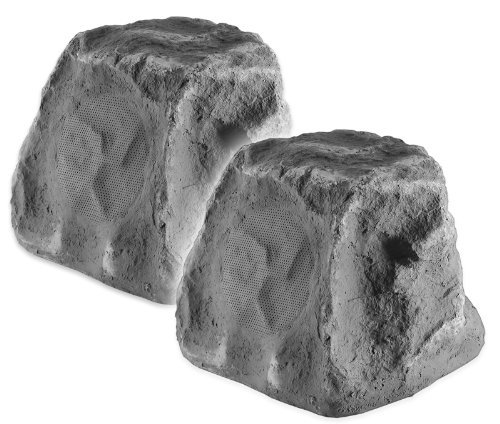 The OSD Audio RX550 is pretty much what it promises on the tin – a rock shaped two-way loudspeaker intended for outdoor use. The enclosure is made to resemble a roughly hewn rock block, and is available in three colors – brown, gray, and white, if you want to match it with the overall tone of the garden (no pun intended). Of course, it should go without saying that the enclosure is fully weatherproof, able to withstand rain, searing heat, the wind, salt fog, you name it. Acoustically speaking, this is an inert enclosure, which allows for realistic sound reproduction. This makes these speakers ideal for watching Superbowl with a bit of a crowd.
As far as power handling goes, the speakers are rated at 100W, with 8 Ohm impedance, so keep that in mind when doing the wiring, unless you want to blow your amps. Since we're on the topic of sound, we should stress again that this is a two-way speaker, rocking a 5.25″polypropylene woofer and a .75″stamped aluminum tweeter. The first, of course, take care of the lows, the latter of the highs and mids (but highs in particular).
Available at: Amazon.
Whether you're trying to rejuvenate your pool area, or just adding some finishing touches to the garden, getting a decent outdoor sound system sounds like a good idea, and the Klipsch AWR-650-SMcertainly fits the bill. Moreover, as the name might suggest, this is also a decent indoor speaker, although it really comes into its own when you place it outside.It's available in a granite or sandstone finish, whichever floats your boat.
The cabinet is made of a durable UV-resistant plastic, fully able to survive the worst that the elements can throw at it, and with minimal maintenance, to boot.It might be a little bit over what you might feel comfortable spending for a speaker, but rest assured you'll hear where each and every cent went.This is what the experts call "true two-way design"; translated into plain English, this means the speaker actually contains separate drivers for highs and lows. For the former, there are two polymer dome tweeters, while the latter is taken care of by a lonesome voice coil polymer woofer.The max output power on these is 200 Watts.
One minor note – you may be confused as to why most speakers come in pairs, whereas the Klipsch Rock comes as single. It's because most outdoor speakers can't handle stereo – Klipsch can.
Available at: Amazon.
Do you remember that rock David picked up to kill Goliath? Well, the POP RoK is not that one, but the important thing is that the idea is in your heads – this is a fairly small speaker that produces a big bang. Speaking of which, it's also a great bang for the buck.What you get are two rock-shaped speakers that measure 13.5″x 12.50″ x 13″, which is a fairly negligible footprint compared to most other outdoor speakers, at least those shaped like rocks.
The cabinet is made of a highly durable layered material, able to withstand heat and cold without complaining. The same goes for rain, though you can never be too careful. Still, you can fully expect these speakers to operate for years to come, and with minimal maintenance costs, at that. Better yet, they come with a 2-year manufacturer warranty, so you can enjoy peace of mind for at least that long.
Sound-wise, the speaker delivers clear and crispy highs thanks to its 2.0″ soft dome tweeter, while the lows come from the r 8.0″ woofer with KAPTON voice coil. This provides extreme stability and power handling, in addition to delivering a tight bass for your partying needs.
Available at: Amazon.
The Theater Solutions 2R6G Rock Speakers are the ideal thing for folks who are on a somewhat restricted budget but are unwilling to give up the quality of the tunes.For the price, the rich sound and tight bass these speakers deliver can safely be said to exceed all expectations. Seriously, if the phrase "bang for the buck" has ever made sense, it's when talking about these.
It should probably go without saying by now that the speakers are completely weatherproof, and should last you a good long while, all year round, even without additional protection. Still, why push your luck? Cover it with some tarp and fasten with a length of the cord during the winter, and rest easy. It's interesting to note that they have a "pigtail" connection, as opposed to the more common standard connector, which allows for a waterproof connection.
AS far as the sound goes, the Theater Solutions Rock can shred with the big dogs, no questions asked. They deliver good, clean highs, with lots of clarity, and a surprisingly good bass, given that most other outdoor speakers, particularly in this price range, are notoriously lacking in this department. This is possible thanks to the 6.5″Butyl rubber surround woofers with poly-mica cones, at least where the bass is concerned; the highs come off great courtesy of the 1.0″Ferro-fluid cooled soft dome tweeters.
Available at: Amazon.
The Niles RS6 Rock Speaker is one of those rare products that deliver on the promises, and then some. Not only is the enclosure completely weatherproof, but the design is also unique, in that it actually features some bumps and irregularities, as opposed to most other rock speakers who look like hewn blocks. Still, the hyper-realistic design is far from its main selling point. The speaker is designed for extreme environmental conditions, with weather protection beyond military-grade regulations. It's both UV- and Water-resistant, so you might as well plug it in and forget about it.
There are double seals on the tweeter and woofer, as well as the enclosure cover, and the overall design allows it to drain water away from it. Moreover, the grills are painted using rust-resistant aluminum, and the drivers are made from weather-resistant materials themselves. The speaker is virtually indestructible.
Sound-wise, the RS6 also exceeds baseline standards. Thanks to the proprietary 4-layer fiberglass construction, courtesy of Niles, the speaker is not only completely weatherproof but also acoustically inert. This allows it to deliver lifelike sound reproduction, above and beyond what your regular garden variety outdoor speakers can do (yes, pun intended – it's just too easy).The sound is overall well balanced, with nice, creamy mids, crispy highs and thick lows.
Available at: Amazon.
Rock Speakers Buyers Guide
The number one reason why many people purchase outdoor rock speakers is so they can listen to music even when they are outdoors. This can be especially great when having a party at your home. The speaker can create a dynamic environment that is perfect for any party. Whether you choose to play soft music that adds to the ambiance of the party or plays dance music to bring excitement to the party, it will truly help to make your party special.
Installing outdoor speaker also gives you the opportunity to relax your backyard or patio even when your home alone or with the family. Another common reason why people install rock speakers is because they want to create an outdoor home theater. These outdoor theaters are becoming very popular, as families are deciding to stay home and spend the evening together under the stars watching their favorite movie.
Benefits of Rock Speakers
The greatest benefit of outdoor rock speakers is that they can easily blend in with the natural landscape of your outdoor space. Whether you place them on your patio or deck or install them in your yard or flower bed, they will have a natural look and go unnoticed by most guests. Many people like this option versus installing speakers on the walls of their home, garage, or deck.
In addition, since many of the rock speakers are wireless, there is no need to worry about connecting cables or wires. If battery-operated, this enables you to place the speakers anywhere you want to, without worry about the need to run an electrical wire to power the speakers. These speakers are easy to install and are portable enough to move around to different areas if needed. Amusement parks, shopping centers, and other businesses use rock speakers to provide background sound to their visitors.
Different Types of Speakers
There are dozens of different styles and types of wireless outdoor rock speakers on the market today. They come in an array of different colors, shapes, and sizes. This allows you to find the one that matches the exterior décor of your home. One thing to keep in mind is that the size of the rock is not related to the sound quality or power of the speakers. There are many smaller rock speakers that provide a more powerful and crisps sound than some of the larger ones.
Quality Is Important
When looking to purchase outdoor rock speakers for your home, the look and quality are the most important features to consider. While you want to make sure you purchase rock speakers that will look great in your space, you also want to buy ones that will sound great too. There are several factors you should look at when searching for the best speakers, including the sound quality, durability, and what others think of the product.
Sound
Certainly, the main thing you want is a speaker system that sounds great. Think about the fact that you will be using the speakers outdoors, so you need to purchase one that has good sound quality. This will ensure that you can still hear the speakers over other outdoor distractions like dogs barking, kids playing and airplanes flying overhead. It should have good volume control because there will be times when you want it to play loud and other times that you want a soft sound.
Durability
You are likely to want to keep your outdoor rock speakers outside throughout the entire year, or at least during the warmer months. This means that you want to find all-weather rock speakers. The majority of rock speakers are built to withstand all weather elements because the structure of the rock works to protect the electrical components of the speakers. However, just to be safe, you should check to make sure that any rock speakers you purchase are designed for consistent outdoor use. This will reduce the risk of damage to your speakers.
What Are Others Saying
Do not just believe whatever the salesman in the store tells you about the quality of the speakers. Shop around and search online to see what other people are saying. This may help you detect any problems that other people have had with a specific model of rock speakers. You can also check out the ratings of dozens of different outdoor rock speakers. Shopping online also gives you the flexibility to buy any set of rock speakers you want rather than choosing from only the styles in stock at the store.
If you are looking for a way to take the sound of music outside or set up your own outdoor movie theater, then outdoor rock speakers are the perfect product for you. They carry a powerful sound to any area of your backyard or patio. Best of all, they are easy to install and can remain outdoor even through the toughest weather. In addition, these speakers look so great, they will fit right in with any outdoor décor and chances are that your guests will not even know they are there until the music starts playing.