A party ain't a party if there's no great music playing loud and for that, you need proper party speakers. Here's your guide to shaking up the neighborhood. Every decade has its own definitive party sound. In the forties and fifties, people danced to the sound of live musicians as the music playback devices were not a common thing back then. Well, at least they had radio that actually played MUSIC.
The sixties and seventies, people gladly danced to the sound of rock'n'roll and disco blasting from the LP players. Ah, what a time it was! In the eighties, cassette players came along – there you had your boombox (aka "ghetto blaster") playing old school hip hop or "I Wanna Rock" by Twisted Sister. In the 2000s, people got so preoccupied with gadgets that, at some period, it seemed like no one wanted to socialize anymore with all these MP3 players, iPods, and smartphones. However, even in the era of digital music streaming, people still want to get together and have at the parties while listening to great music.
Modern technology makes it even easier with wireless party speakers, which are light, portable, and powerful enough to make the walls shake. By simply enabling a Bluetooth connection between your smartphone and the party speaker, you can create a playlist of the song you like from your personal music library or music streaming service account.
Outer Audio's top picks:
This article will help you choose the best party speakers for your celebration. None of the items on the list is universally good – each its own strong and weak points, so make sure you know your criteria before buying a party speaker. The first 2 speakers are great for your average home or neighborhood parties. The next two are for the wild and crazy ones who want to bring the house down, refuse to compromise or actual sound experts. The final speaker is a little different and is selected as an ultra-portable speaker option for those who like to have a party ready in their pocket at any time.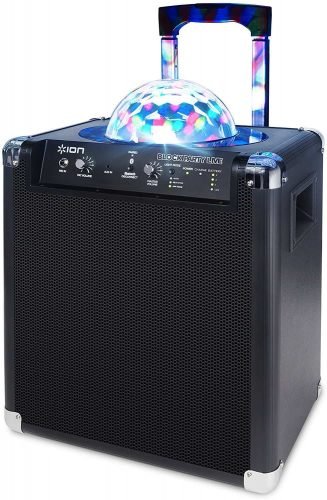 The ION Audio Block Party Live is a party on the go. With its sturdy telescopic handle and rotary wheels, you can take it just about anywhere. This is nothing compared to the built-in multi-mode LED Light Dome that can be found on top of the speaker. The dome features a series of red, blue and green LED lights that can sync to your music, providing you and your party guests with a spectacular light show. With a decent 50 Watt speaker system and your very own synced light show, the ION Audio Block Party Live is a surefire way of livening up even the dullest of parties.
This, of course, is not all. What is a modern party speaker if you can't stream music from every possible device straight to the sound system? According to ION – not much. That is why have made sure that as long as it has music and it has Bluetooth, you can connect it to the Audio Block – so make sure that your smartphone playlist is well stocked with some dance tunes.
If we were forced to look at the downside of this party speaker then I suppose we would have to point out that it does only have one mic port so if you want to rile up a crowd or show off your beatboxing skills then this should be no problem. If however, you want to karaoke with your mates then you will need to buy a dual mic adapter – but those things are like ten bucks so yeah.
Available at: Amazon
Also see the smaller, more affordable, ION Audio Tailgate iPA77.
That's one big fella. Modern look and high-tech aesthetics surely add a lot to the style but the main advantages of this party speaker are beneath its cover. First of all, it's the 360-degree sound that makes it extremely versatile for any location whether it's your room, swimming pool area, or a lawn in the field. Second, the ergonomic design – it's compact, easy to carry and move around. It was ultimately designed to be a portable party speaker. The Big Blue is rather lightweight – only 15 pounds, which relatively low compared to other popular models, including some on this list. Finally, the Bluetooth range – it's up to 33 feet away which is more than enough for most of us party goers.
Now, for the downsides – the sound is one of them. Sure, for a speaker of its size it packs enough volume and power but the sound quality is OK at best. A lot of bass with barely distinct highs and mids is what you're going to get. Not a problem if you're into drum 'n' bass but other styles of music won't sound too clear on Big Blue. Another downside is the low battery life – only 4.5 hours if fully charged. Sure, there's a cord as well but aren't we buying these things to run them wirelessly for extended periods of time?
Available at: Amazon
With the Sony GTKXB7BC High Power Home Audio System, the night comes to life when you activate the full power with its EXTRA BASS technology and club-like LED lights.  This fantastic party speaker offers a range of features that will allow you to experience an advanced high-tech party with great sound and exciting lighting features.
The GTKXB7BC party speaker is pretty big at around 26 by 13 inches and it weighs roughly 26 pounds. This is not too big of a deal though since the speaker comes with easy grasp handles that make carrying it around almost effortless.
The speaker also comes with a 2-way design which means that you can leave it standing up or you can lay it down on its side for a classic boombox feel.
If you want great sounding party speakers that looks great and gives you clear, deep bass that will make your dance music sound absolutely awesome, then the Sony GTKXB7BC High Power Home Audio System is for you.
Available at: Amazon
Warn your mother! This is the real deal. This guy packs so much power it might be good enough for a disco club. One thousand watts is more than most of us will ever need to hear. Yet, sometimes you just can't resist the temptation to make it a bit louder.
One major flaw, though – it's wired. Not a big deal if you have an SD card with the songs ready (it reads memory cards) but, still, not the top-of-the-cream technology the late 2010s can offer. While we're in the downside department, we should also mention the bulkiness and the weight. Being a 51-pound speaker doesn't make it easily portable but that's pretty much about it.
Everything else is a bliss. The overwhelmingly powerful sound with all the bands equally present in the mix (you can tweak them using the EQ), the DJ lights that go on just nicely. For a big outdoor party 50+ people, this is a must-have party speaker.
Available at: Amazon
With Rockville RPG122K, we're talking professional sound equipment. Two 12-inch speakers with a total of 1,000 watts of power are a thing to be reckoned with.
While this party speaker system may not be as portable as others on this list (with all these stands, wires, and cables), it definitely offers the top-quality sound. Clear highs, distinctive mids, and powerful lows are guaranteed to satisfy even the audiophiles. Another great thing is the price, which quite reasonable for a piece of such near-pro sound equipment. If you're lucky enough to run into a sale, you can buy Rockville RPG122K for a little more than $200, which is a steal for the amount of sound pleasure you're about to get.
While it's definitely not for family picnics, Rockville RPG122K will complement any large party, both indoor and outdoor.
Available at: Amazon
Check out this revolutionary party speaker – The UE BOOM 2
Do not underestimate this small portable speaker as it might just be the party speaker you have been looking for your entire life.
For the ultimate party, you can pair up over 50 of these speakers and experience the coolest thing ever as 50 great sounding speakers play the same songs in perfect sync with one another. For those with the latest firmware and software updates, up to 150 of these speakers can be connected with each other.
We just had to add this party speaker to the list as an alternative. While it might not be the big party speaker that you came here for, the potential it has is just incredible.
With loud, crystal clear sound and a deep booming bass, all emitted through 360-degree speakers, the UE Boom 2 will have you losing your mind with excitement. To top this, the speaker has a long 15-hour battery life so you can party until dawn and there will still be some juice left.
The UE Boom 2 party speaker is also shockproof and waterproof with an IPX7 rating. So your wild partying and drunk clumsiness won't stop this little guy – he was designed for nightlife.
So take the party wherever you want – your backyard, the beach, mountains, rooftops or perhaps a wild party in some hidden cave where you can make as much noise as you want with up to 150 0f your closest friends.
I don't know about you, but I am so texting each of my friends to get one of these so that we can party like millennials do – in high-tech style.
Available at: Amazon
What to consider when buying party speakers
If you're planning to throw down some money and invest in speakers specifically suited for entertaining your friends or Friday-night shenanigans then be sure to think through the decision before the first guests arrive at the door and not when they start to leave. Here are a few pointers that you may want to keep in mind:
Your budget – yes the almighty dollar rules. In the end, we all want a toilet covered in gold but keep your budget in mind before you buy and be sure to leave enough in your wallet for a couple of kegs.
The size of your party – if your party is going to be indoors, in your garage or some contained residential space you probably don't need the largest and loudest party speaker out there. unless of course, you need the largest and loudest speaker out there in which case you should get it!
The location – If you roll like we do and there's a chance that your speaker may end up in the pool (or get beer spilled on it!) then you may want to consider one of these portable waterproof pool speakers instead.
The location again – If you need to haul your speaker around in the trunk of your car, let's say to the beach for example where the beer is, then buy something that will actually fit in the trunk of your car. At very least buy a speaker with wheels that you can tow behind your car.
The music source – Most modern party speakers are wireless speakers and pair seamlessly with a Bluetooth device like your phone where you can pump your favorite playlists from. Some of the larger models are still wired though…
In short as with most novelty products, but the best speaker you can afford with the budget you have available. And finally, remember to crank it up!
Summary
To recap on The 5 Best Indoor and Outdoor Party Speakers of 2017, and to help you choose one of these awesome party speakers; here is a quick table summary that includes the connectivity options of each speaker, the quality of the sound and the price level.
Conclusion
Planning a party can be a huge hassle if you put too much thought into it. Like many people these days, we believe in keeping things simple so let us break it down for you.
You need to buy one of our featured party speakers  – they really are the best. Once you have done this, you will need some booze, about a hundred or so of your closest friends and an open space that is void of any breakables.
These four things are all you need to plan an epic party – unless it is really formal – then you might need to wear a tie.