Just because you like the ocean breeze in your face and the smell of salt air doesn't mean you shouldn't be able to enjoy some good music as well. Sure, you could use your phone or other audio devices, but a speaker is always going to be better, especially if you have a couple of people onboard with you. However, ordinary speakers are rarely up to the task of going along on a boat trip. Luckily there are some very good marine speakers and wakeboard tower speakers that are designed specifically for your watery escapades. These speakers must not only be durable enough to withstand the elements, but also loud enough so they are not drowned out by the sound of the boat or other noises.
With marine speakers, bigger is not always better as some people simply want some background music and don't plan on holding any parties. This means that there are actually a few very affordable marine speakers that offer plenty of value for money.
In this article, we will look at the best marine speakers, wakeboard tower speakers and also a complete sound system for your boat.
Our pick – The perfect marine speakers for anybody who wants durability, power, and quality.
These powerful 5.25-inch, 2-way  marine certified speakers are our first choice for marine speakers for quite a few reasons. First of all, they offer a powerful wattage of 275 watts per pair which gives them a rather high volume range that will guarantee that you can hear the music over the sound of your boat speeding through the water. Thanks to the 0.75-inch liquid-cooled Silk-Polymer Dome tweeter and the high-quality Mica Cone woofer, you will also get crisp and clear sounds with deep bass.
In order to ensure that the speakers will survive the more extreme elements that your boat is bound to be exposed to, the marine speakers contain durable butyl rubber surrounds. This will not only extend the lifetime of your sound system, but it will also add to your bass response.
Another thing that we really like about this marine speakers is the style. While many marine speakers look boring and cheap, the Polk Audio DB521 has all the features of a truly high-quality speaker that will look appealing on any boat.
Available at: Amazon.com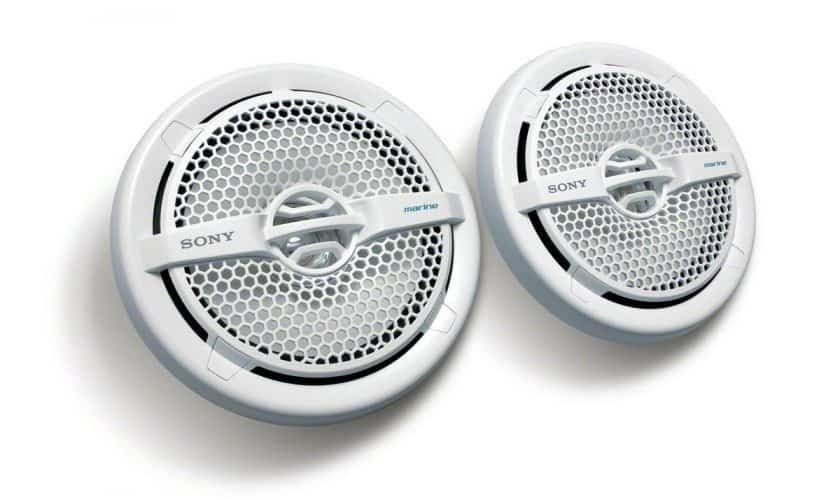 For quality and style, try the Sony XSMP1611 marine speakers
Sony is a highly respected brand in the audio world with some audiophile grade speakers on the market that qualify as a worthy competitor to some of the biggest sound brands out there including KEF and Bowers and Wilkins. As with previous products, they did not fail to live up to their name when they released the Sony XSMP1611 marine speakers.
Starting off with the technical details, we have to say that when it comes to wattage, these marine speakers are far weaker than our first choice with only 65 Watts. However, you would never guess that it has any shortcomings when you hear the power and volume produced by the Sony XSMP1611's. But, if you are specifically looking for a pair of powerful marine speakers then the Polk Audio DB521 should be your first choice – just as it is ours.
Now that we have established that the interior of this marine speaker is impressive, we can evaluate the exterior. I was very impressed with both the look and feel of the Sony XSMP1611 speakers. They are available in both black and white and, to be honest, they both look so great, it would be hard to choose one – but is suppose it depends on your boat. These speakers are sleek, beautiful and just plain impressive.
They are also water-resistant with an IPx5 certified design, as well as UV resistant and salt-water resistant – so no need to worry about installing these speakers in your ocean boat, as they will withstand the conditions just as well as on a fresh water lake. 
Available at: Amazon.com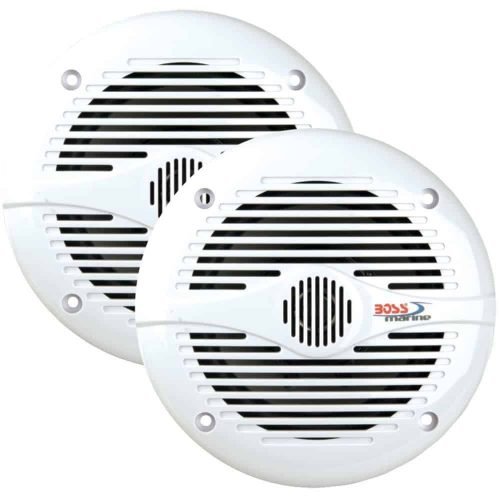 Our budget pick – Quality and simplicity at a low price
The Boss Audio MR50W is another speaker that has found a lot of fans amongst the marine crowd. This speaker features polypropylene woofer cone that has treated cloth surround, which means it is durable and sounds great. Connecting the cone to the basket is a rubber surround while the tweeter is made of Mylar. In addition, the voice coil of the speaker is made from aluminum and all the major components are treated to offer protection from corrosion. Bear in mind that this speaker is water resistant, not waterproof, so do drop it overboard!
Mounting the MR50W is as easy as can be thanks to the included template and replacing older speakers with these can be done in a matter of minutes. What impressed me the most about these speakers is the fact that they are able to hold their own against more expensive products, such as the Infinity Reference 612m. These speakers are able to deliver clear and crisp sounds, even at higher volumes, while the bass is also quite good.
If you are looking to listen to some music or radio while out fishing or cruising on your boat then the Boss Audio MR50W is hard to beat in its price class. If you plan on throwing any parties or really want to crank the volume you might be better off with a more expensive speaker though.
Available at: Amazon.com
For those of you who are looking for affordable but durable marine speakers
If you are looking for great and affordable speakers then the Pyle Dual 6.5" Waterproof Marine Speakers is perfect for you. With a 150 watt speakers are more than powerful enough to play your music at a decent volume and thanks to the molded ABS plastic basket, you can do so with little to no distortion.
Both speakers are marine grade waterproof so you won't have to worry about them getting wet when you take your boat out for a spin. You will have dual cone full range stereo sound reproduction so you can get the most out of your music.
With their rust-proof mesh covers, you also won't have to worry about any rust that might form due to the water and outdoor exposure. This is joined by the speakers' weather-proof characteristic which will allow you to leave her outside without having to concern yourself with environmental elements.
There are some people who have complained about the sound quality so perhaps it is best left up to your own interpretation. However, the vast majority of people who have made use of this speaker are more than satisfied – so let us leave it up to you.
Available at: Amazon.com
The Best Wakeboard Tower Speakers
The NOAM NUTV4 is one of the highest quality wakeboard tower speakers on the market and it is not hard to see why. Starting with the sleek black exterior that looks great on just about any boat, you simply can't go wrong with this design. This speaker is comprised of high-quality materials and offers a great water resistant feature that will withstand any and all elements that you might be exposed to on your water adventures.
The exterior of this impressive wakeboard tower speaker is merely the beginning. The pair of 4-inch, 2-way marine speakers are quite powerful at 100 watts. This is more than enough power and volume to ensure that you hear the music over the sound of your boat speeding through the water. However, as with pretty much any marine speakers, do not expect to get a ton of bass from these guys.
A pretty cool thing about the NOAM NUTV4 is that the pair of speakers come with a smart Bluetooth remote that allows you to stream your music straight from your phone to your wakeboard tower speakers with Bluetooth 3.0 technology. The remote features backlit buttons and gives you control over your music. On top of that, the system includes a 4-channel marine power amplifier that will give you the most from your speakers. In addition to the speakers, both the remote and amp is also water resistant.
This system might be a bit pricey which is somewhat of a downside but it is well worth it when you consider all the benefits and features that come with it.
Available at: Amazon.com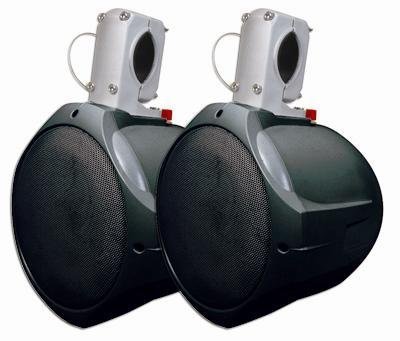 These wakeboard tower speakers are a close second to the NOAM NUTV4. While they might not be as stylish or come with as many accessories, these 8-inch, 130W black marine speakers make up for it in power and sound quality.  Two of these will give you 260W and even at top speed, out in the water, you should be able to hear your music loud and clear. They do not come with an amp but it is not really necessary, however, if you want to get more out of these marine speakers then hooking them up to an amp will definitely do the trick.
Once again, marine speakers are generally pretty weak when it comes to bass, so do not depend on them to make your boat shake. They offer powerful and clear sound at mid to high ranges. You will definitely be able to enjoy your music with these MCM wakeboard tower speakers.
As for the price, these guys are higher quality than many other wakeboard speakers so you will pay slightly more but as I said, you will get a lot more quality and they are generally still in the two-figure range so they are still definitely affordable.
Available at: Amazon.com
These speakers look so cool, they just had to be on this list. They have everything you want from a wakeboard speaker. They have power, volume, a totally awesome look, and they even have a bit of bass.
The main things you want from wakeboard tower speakers are power and durability. It should be loud enough for everybody to hear (including the person who is wakeboarding) and it should be able to withstand the elements that it will inevitably be exposed to. With the BOSS Audio MRWT69RGB, you get just that – and a bit more.
First of all, with 600 watts of power, these guys can make a lot of noise. Luckily, out on the water, you won't have any neighbors to worry about so you can just crank up the volume and enjoy your wakeboarding with some serious sound.
As for the sound quality, the BOSS Audio MRWT69RGB is not the best, but it is more than decent. After all, when you are buying wakeboard tower speakers, then you probably need more volume than you need crystal clear sound – so, audiophiles, you were warned, and the rest of you – well you probably wouldn't even be able to tell the difference.
Another awesome feature of this wakeboard tower speaker is its multicolor illumination which you will see inside the speaker, you can change the colors, brightness, modes, and even the speed with the use of a remote that you will get with your speaker.
All in all, this is a super cool loud speaker that is sure to make your wakeboarding even more awesome than it already is.
Available at: Amazon.com